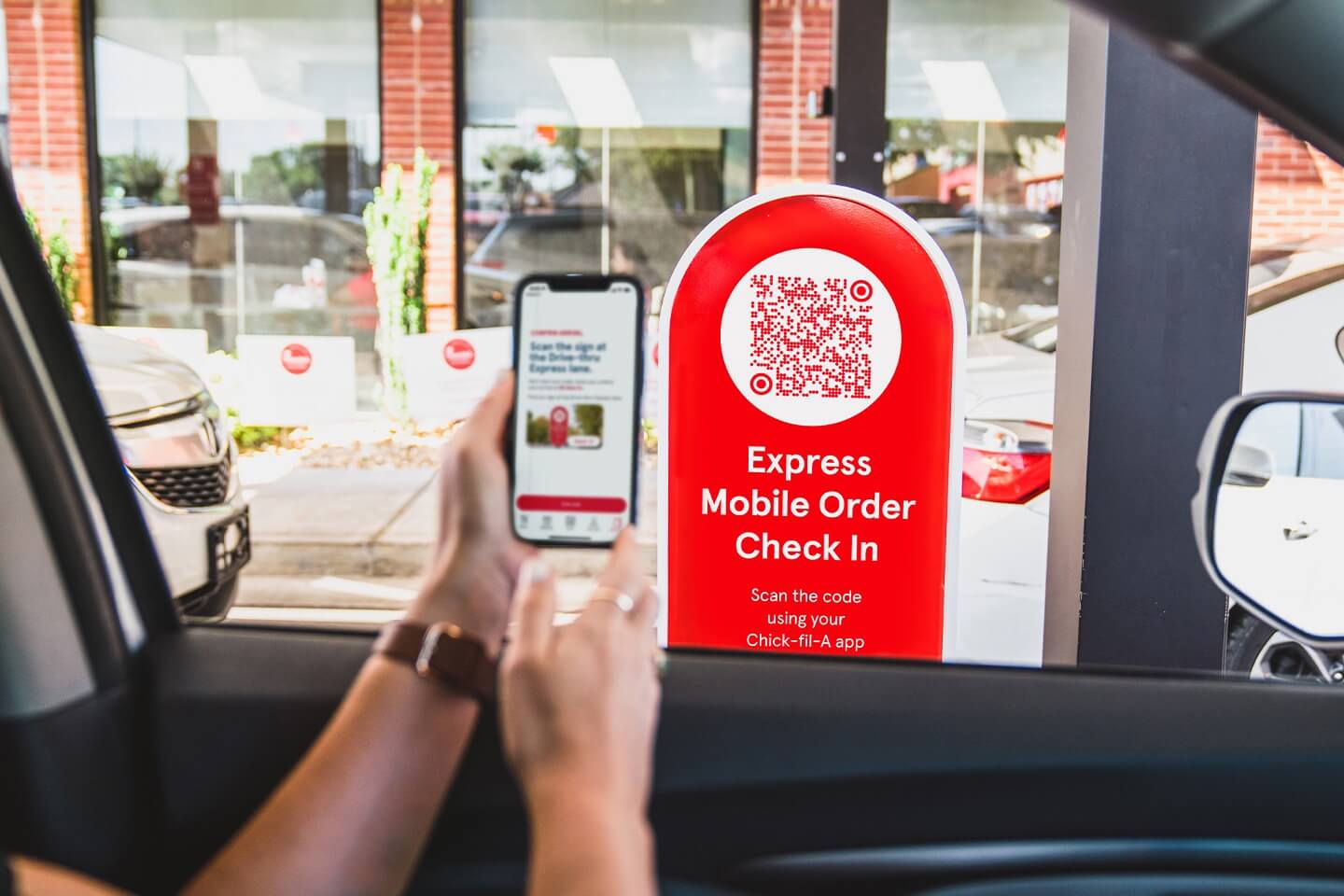 Select restaurants are testing a new express drive-thru lane for mobile orders, allowing guests to choose their own adventure
For so many, the struggle to balance it all is very real: a schedule booked solid, a laundry list of to-dos and, for some, a family to care for. When the schedule is too packed to cook, there's new peace of mind for some Chick-fil-A® customers: a dedicated drive-thru lane for mobile orders that could be the quickest and easiest way to order and pick up a meal yet.

"The express drive-thru lane is a game-changer for our busy customers and our Team Members," said Jonathan Lassiter, a senior integration leader on Chick-fil-A's Service and Hospitality team.

Introducing a new express lane for the drive-thru
What became a lifeline for restaurants and customers over the past two years, the drive-thru is constantly evolving at Chick-fil-A with new technology and elevated service process.

This latest innovation aims to "help guests move through the drive-thru quickly by dedicating one of our drive-thru lanes exclusively to mobile order pickup, creating a more streamlined experience for customers who order on the Chick-fil-A® App on the go," says Lassiter.

Though still in its initial testing phase at select restaurants, the express lane is a partially or fully dedicated lane in the drive-thru where customers who order on the mobile app can bypass the traditional drive-thru line to pick up their meal.

And it's simple. Customers choose a restaurant location and, if available, select "Drive-Thru Express" as the destination and then place an order. When they arrive at the restaurant, they follow signs to the express lane, use the app to scan a QR code in the dedicated lane, and then pull around to receive their order from a friendly restaurant Team Member.

"We see this as a way to serve customers more effectively and give them more control over their experience," said Lassiter. "The lengthiest part of our drive-thru ordering process is the brief wait to get your order taken. The express lane cuts down ordering and payment time significantly, granting customers access to greater speed, ease and convenience when they want it most."

Drive-Thru Express customers get the same points and rewards within the Chick-fil-A App, just in a more efficient way.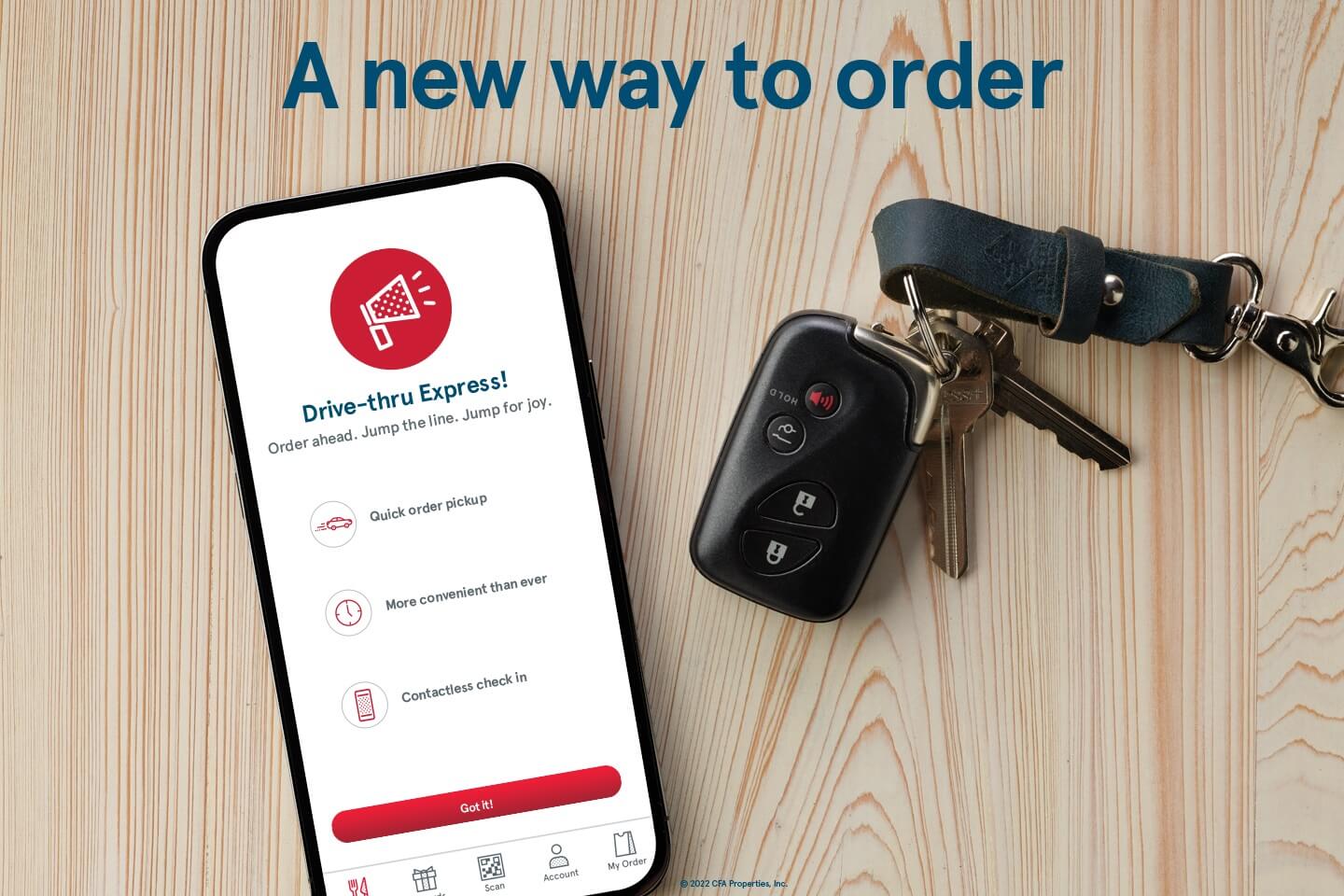 Choose your own adventure

But it's not the only way to enjoy your Chick-fil-A favorites. It's part of a more personalized experience where guests choose their own adventure.

Guests who want to place an order with a restaurant Team Member in the drive-thru still can. And those who want to stretch their legs can still carry out from the indoor counter or dine in, where available.

"We recognize that Chick-fil-A restaurants are busy because customers value the experience and hospitable service we offer," said Lassiter. "Speed, quality, accuracy and friendly service are a focus for us. By giving guests the opportunity to order and pay ahead through the Chick-fil-A App, checking in at the dedicated lane becomes a seamless experience, making the express drive-thru lane a convenient new option."

During testing, the express lane has shown to decrease the wait time significantly since guests have already ordered and paid ahead in the app, giving guests more time to focus on whatever life is throwing at them at that moment.

And customers can't get enough, with most guests choosing to use the express drive-thru lane again on their next visit to the restaurant.

Dedication to the drive-thru experience

In the past 30 years since Chick-fil-A opened its first drive-thru, so much has changed. But our commitment to great food, hospitality and finding ways to make guests' lives a little better never will.

Drive-Thru Express is currently available at approximately 60 participating restaurants nationwide with the potential to roll out at more locations in 2023, pending further testing. Check the Chick-fil-A App to see if a location near you offers Drive-Thru Express.