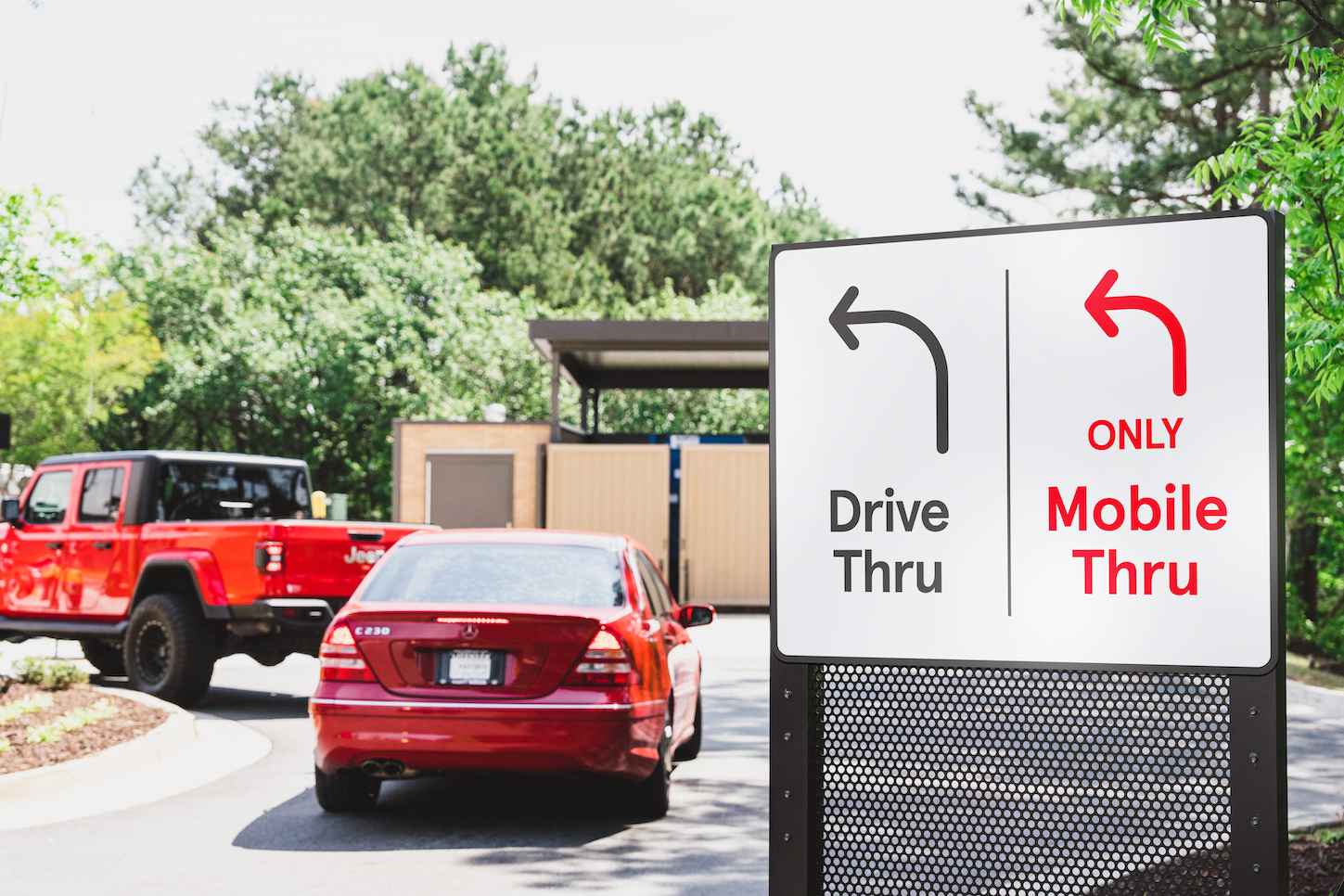 Participating restaurants offer a dedicated drive-thru lane for mobile orders, allowing guests to choose their own adventure
For so many, the struggle to balance it all is very real: a schedule booked solid, a laundry list of to-dos and, for some, a family to care for. When the schedule is too packed to cook, there's new peace of mind for some Chick-fil-A® customers: Mobile Thru, a dedicated drive-thru lane for mobile orders that could be the quickest and easiest way to order and pick up a meal yet.
Introducing a new express lane for the drive-thru

"Our hope with Mobile Thru is to help guests experience the drive-thru quicker than ever before. By dedicating one of our lanes exclusively for mobile order pickup, we are creating an easier and more efficient experience for our guests on the go," said Julie Ledford, the principal program lead on Chick-fil-A's Service and Hospitality team.

After a successful two-year test at select restaurants, Mobile Thru is rolling out to more than 300 Chick-fil-A restaurants across the country in 2023. The feature is being added in restaurants where it will optimize the experience for customers and make processes more efficient in the restaurant. With 85% of customers who used Mobile Thru reporting that they were likely to use the service again and 90% saying their experience went smoothly, the mobile-dedicated lane proved to help customers receive their order as quickly as possible in our fastest service channel, the drive-thru.

And it's simple. Customers choose a restaurant location and, if available, select "Mobile Thru" as the pickup destination and then place an order. When they arrive at the restaurant, they follow signs to the Mobile Thru lane, use the app to scan a QR code in the dedicated lane, and then pull around to receive their order from a friendly restaurant Team Member.

"We want our customers to be in control of their experience," said Ledford. "The Mobile Thru lane will give our guests access to greater speed in the drive-thru, cutting down on ordering and payment time significantly. Providing remarkable service starts with convenience and Mobile Thru is just one way we are continuing to elevate the pickup process for our busy customers."

Mobile Thru customers get the same points and rewards within the Chick-fil-A App, just in a more efficient way.
Choose your own adventure

But it's not the only way to enjoy your Chick-fil-A favorites. It's part of a more personalized experience where guests choose their own adventure.

Guests who want to place an order with a restaurant Team Member in the drive-thru still can. And those who want to stretch their legs can still carry out from the indoor counter or dine in, where available. Tests results show that Mobile Thru lanes can help customers receive their meal faster and don't diminish the experience for traditional drive-thru customers, truly making either avenue an easy way to get your Chick-fil-A favorites.

"We understand that Chick-fil-A guests can experience wait times while ordering at a busy restaurant, which is why we created a new convenient drive-thru option," said Ledford. "With Mobile Thru, guests will have the opportunity to order and pay ahead through the Chick-fil-A App, making meal pickup a seamless experience. Quality and efficient service are always a priority for us, and we are confident Mobile Thru will help guests better utilize the drive-thru."

Dedication to the drive-thru experience

In the past 30 years since Chick-fil-A opened its first drive-thru, so much has changed. But our commitment to great food, hospitality and finding ways to make guests' lives a little better never will.

Mobile Thru ordering lanes are anticipated to be featured in more locations in 2024. Check the Chick-fil-A App to see if a location near you offers Mobile Thru.