Following family and financial hardships, one Chick-fil-A scholarship recipient is making the most of a second chance to achieve her educational dreams and make her father proud.
In 2017, Jamie Oriente thought she'd hit rock bottom.
The 21-year-old's parents had recently divorced and money was tight. With no way to pay her tuition, she was forced to drop out of Stockton University, where she was studying to become a second-grade teacher.
Not long after, she got a call that her father John had been rushed to the hospital. He was in a coma after being struck by an SUV while bicycling.
Seeing her father lying unconscious was devastating. All Oriente could think at that moment was, "When was the last time I told him that I loved him?"
A turning point
John survived the crash, but it was unclear whether he'd ever walk again. He was entered into a rehab facility so he could receive around-the-clock care.
With her father's medical bills piling up, Oriente began looking for a job to help with expenses. Thanks to a recommendation from a friend, she applied to work at Chick-fil-A Fire Road in her hometown of Egg Harbor Township, New Jersey.
Amy McCloy Miles, local franchise Operator, was immediately impressed by Oriente's grit and passion for teaching people. She put her on the fast-track to become a training lead.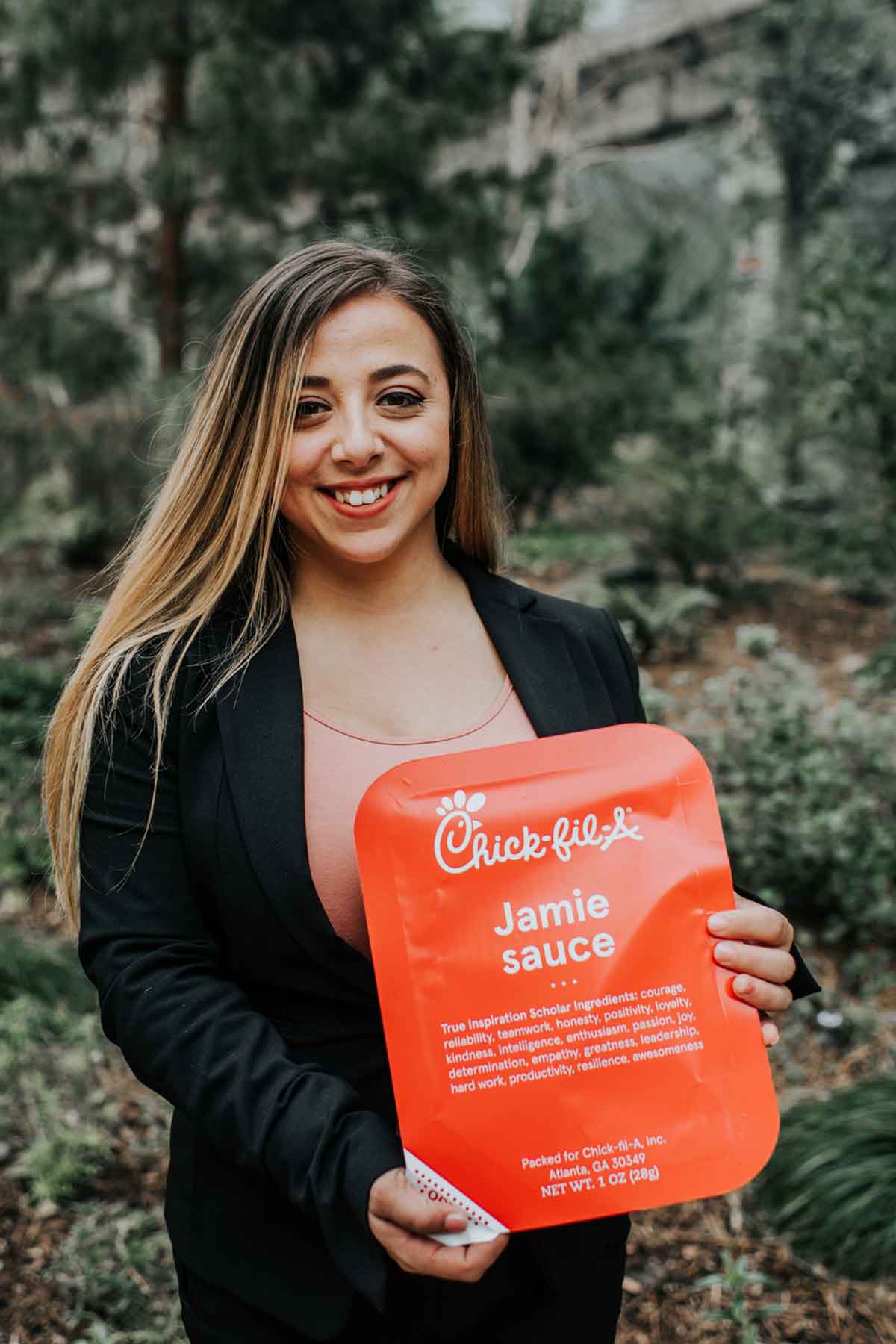 Chasing a dream
Despite her large strides at work and her father slowly regaining his ability to take steps again, Oriente worried that her two dreams — graduating from college and becoming a teacher — were slowly slipping away. She wanted to be the first in her family to graduate college and make her father proud.
Miles encouraged Oriente to apply for a True Inspiration Scholarship — a $25,000 scholarship that's awarded to 12 restaurant Team Members each year as part of Chick-fil-A's Remarkable Futures Scholarship initiative.
Oriente applied. A few months passed, and she grew busy in her new role as training lead, flying around the country to help with restaurant grand openings. When she was invited to accompany Miles to Chick-fil-A's annual convention, she gladly accepted – not suspecting it had anything to do with the scholarship.
That is, until CEO Dan Cathy called her and 11 other restaurant Team Members to join him on stage.
"In two seconds, literally, my life was changed," she recalls, as Cathy announced that she and the other Team Members were $25,000 True Inspiration Scholarship recipients.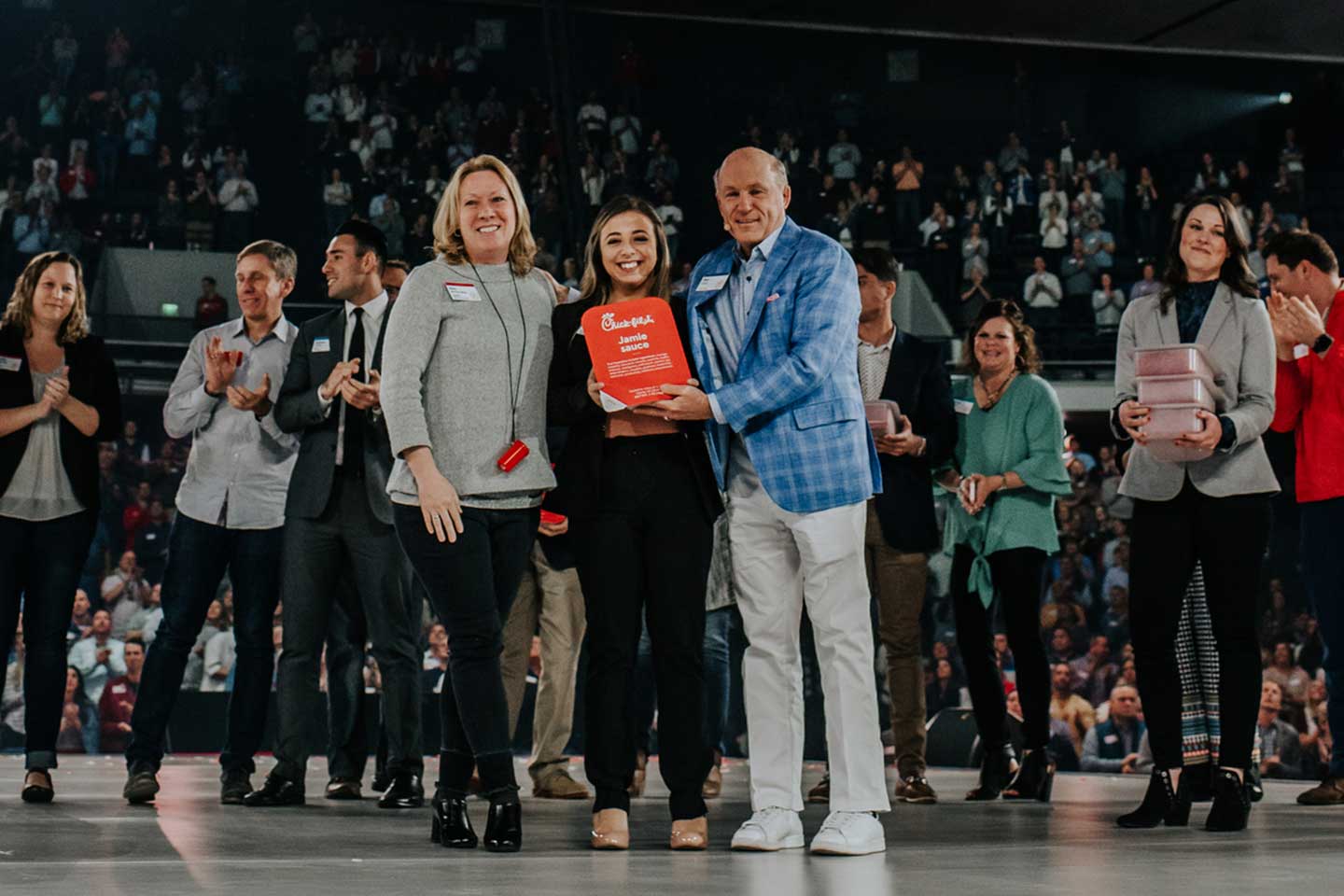 "Scholarship=Jamie"
After the announcement on stage, Miles showed Oriente a smartphone photo she'd saved from months before. It depicted a personal note she'd scribbled: "Scholarship=Jamie."
"Amy wanted to give me so much responsibility in the restaurant before I even knew what was on a Chick-fil-A Sandwich," Oriente says. "She saw that potential in me, and, ultimately, I just want to thank her for testing it and believing in me."
Oriente says Miles' example will guide her as a future teacher. And, now that she's once again enrolled at Stockton University studying education, Oriente is one step closer to achieving that dream – for herself, and for her father.
"This is it, this is what I've been working for," she says. "I wanted to make [my father] proud, and I'm able to do that now."