Chick-fil-A Foundation True Inspiration Award winner receives surprise guest on stage.
Stacy Johnson fidgeted with nervous energy at her seat. It was the evening of May 18, and she was at the Chick-fil-A Foundation's True Inspiration Awards red-carpet gala. Thanks to a nomination from University Boulevard Chick-fil-A Operator Jared Johnson, her nonprofit organization, a group home for foster children called Central Texas Table of Grace, was being awarded $75,000 — an amount it usually takes her a year or more to fundraise.
A video had just started highlighting her path to opening the group home.
"I was excited because I knew I was going to get to come home and show my kids the video," Johnson said. "Having been in foster care myself, anything that feels inclusive or feeling like someone cares or is reaching out means a lot to me."
Once the video ended, she walked on stage to accept the award. Rather than just walk back off stage, the announcer invited a surprise special guest to join them.
At that moment, the Chick-fil-A Foundation reunited Stacy Johnson with someone she had not seen in 18 years — the person who changed her life.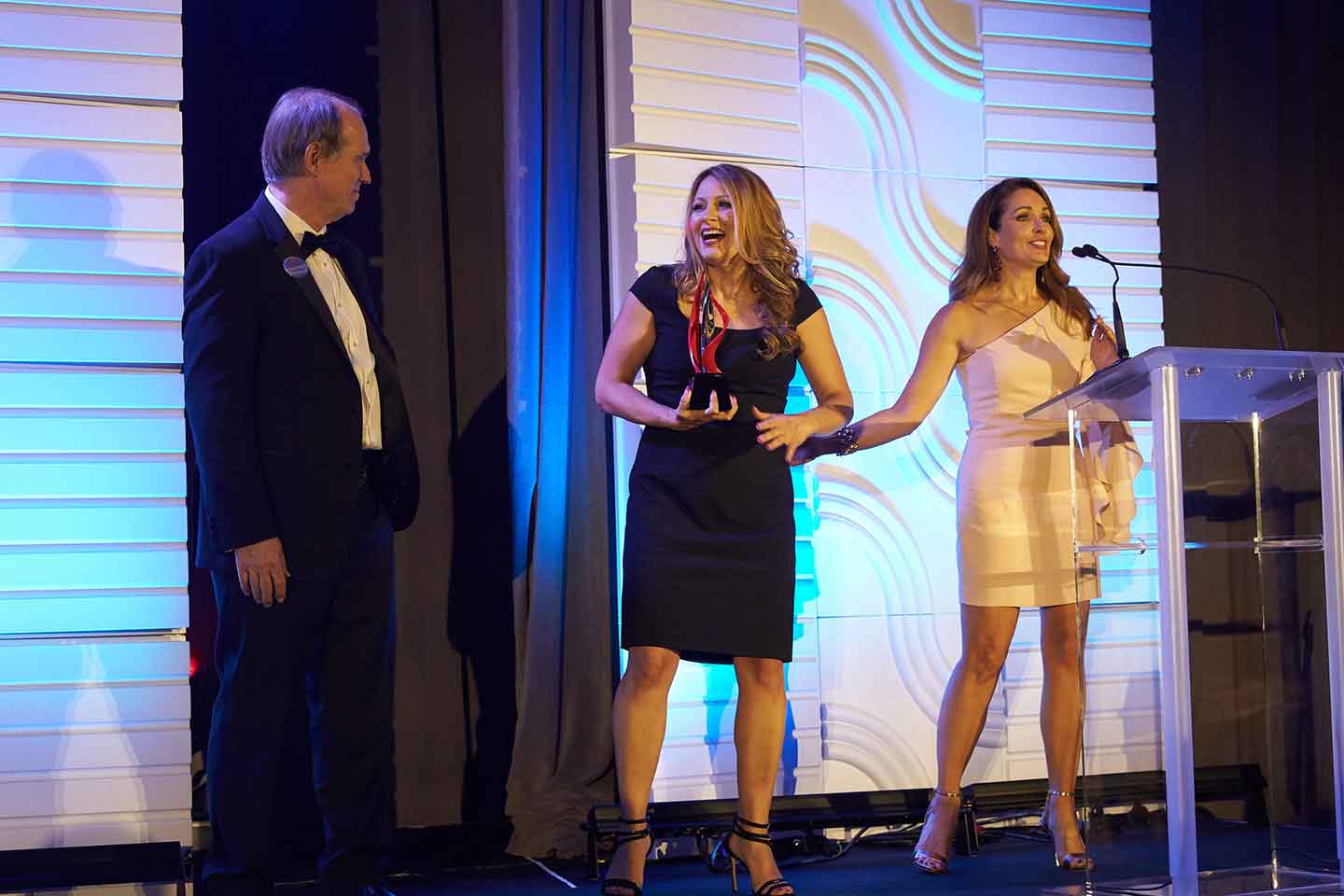 From foster child to foster care provider
Johnson entered California's foster care system at two years old and bounced from family to family until age 15, when she asked her social worker to be placed in a group home to provide her more stability and support.
Here she met Russ Hansen, then a residential therapist, and told him her goal was to be legally emancipated so that she could leave foster care once and for all. Hansen was immediately impressed by the teenager's drive and said he would help her in any way he could.
"Stacy was very motivated from the moment I met her," Hansen said. For her to shoot for [legal emancipation] — very few young people in the system are going to be able to demonstrate they have that level of maturity."
Johnson worked in a nursing home while in high school to demonstrate her financial independence. She was a role model at her group home. With Hansen's help, Johnson was legally emancipated at age 16. She left the group home to take control of her own life.
After graduating high school, Johnson spent eight years in Oregon working as a financial advisor. Shortly after giving birth to her daughter, she decided she needed a change and moved to Austin, Texas. She took a sales job at a car dealership but found herself constantly thinking about her childhood dream of opening her own group home for foster children.
Through hard work and the encouragement of her boyfriend, Johnson opened Central Texas Table of Grace on July 1, 2015.
Together again, 18 years later
Even though she no longer was in touch with Russ, Stacy remained grateful to the person who helped set her on the path to open her home for foster children.
"I emailed Russ maybe six months after I opened Table of Grace, saying, 'Maybe you don't remember me, but I was a resident 16 years ago, and the help you provided really meant a lot to me,'" Johnson said. He wrote me back a really nice letter it shows what kind of man he is."
Back at the True Inspiration Awards, 18 years of emotions overwhelmed Johnson.
"When he walked out and I saw his face, literally my heart was pounding so hard that my body was vibrating," Johnson said.
She hugged me so hard it hurt," Hansen added. "We were worried how they were going to get us offstage."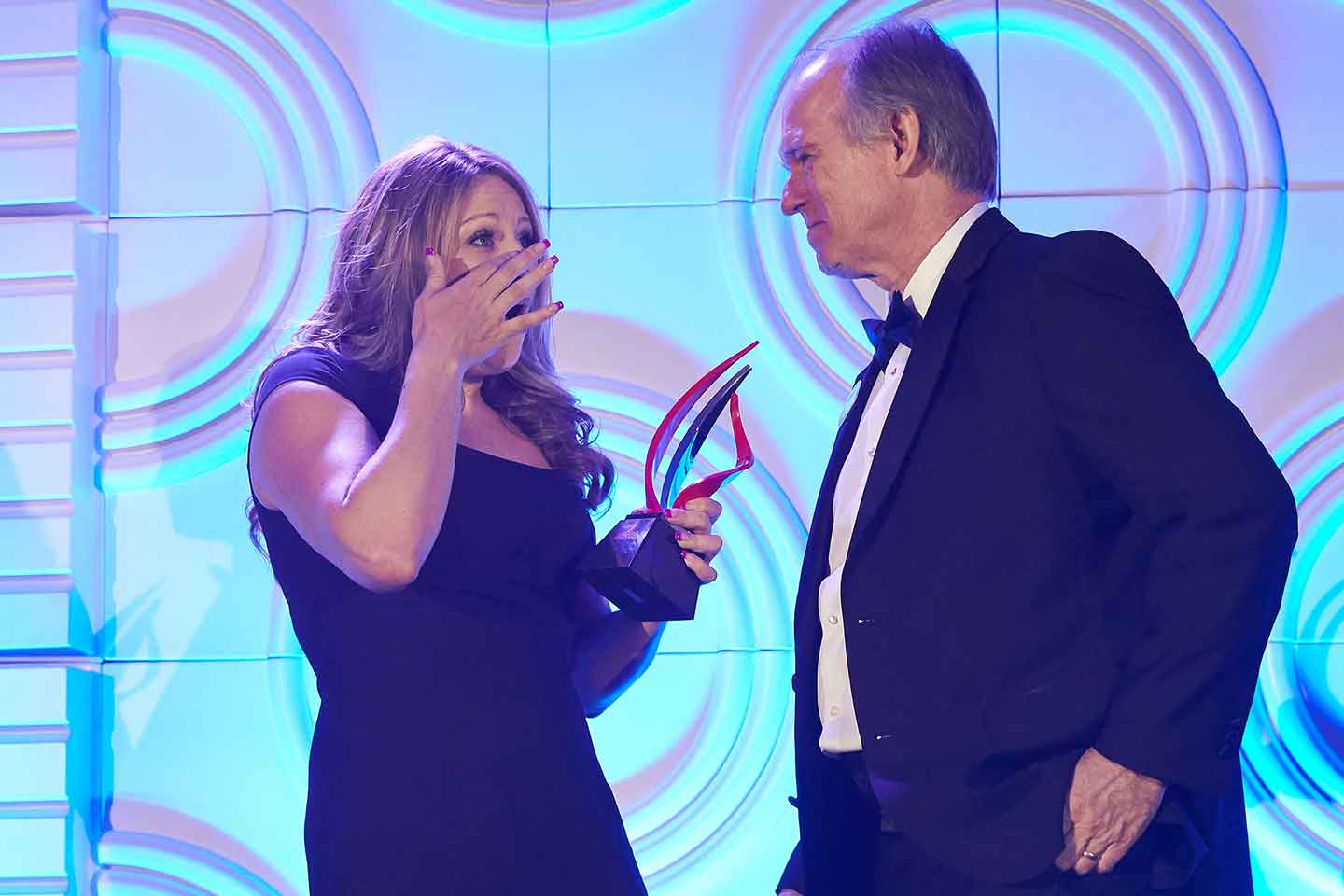 This reunion came about entirely because of the video. During Johnson's interview, she mentioned Hansen so much that the producer suggested to the Chick-fil-A Foundation that they fly him out for the event as a surprise. The Foundation jumped at the opportunity. In order to maintain the surprise, they had Hansen stay in a separate hotel from the other attendees and sat him on the opposite side of the room from Johnson during the ceremony.
"Sometimes you don't know if you made a difference [in a child's life], and to have this drop out of the air is amazing," Hansen said. "I don't think many people get the opportunity that the Chick-fil-A Foundation gave me to be involved."
Following the awards gala, the two spent the next few hours catching up and have since renewed their friendship. Hansen is encouraging Johnson to write a book and take up public speaking to share her story, and she has plans to visit his treatment facility to speak with the staff.
"He was only in my life for less than a year, but he changed the trajectory of my whole life," Johnson said.
The Chick-fil-A Foundation awards more than $1 million annually to non-profit organizations serving children and youth through the True Inspiration Awards. Visit chick-fil-afoundation.org/true-inspiration-awards to meet more of our 2018 winners.