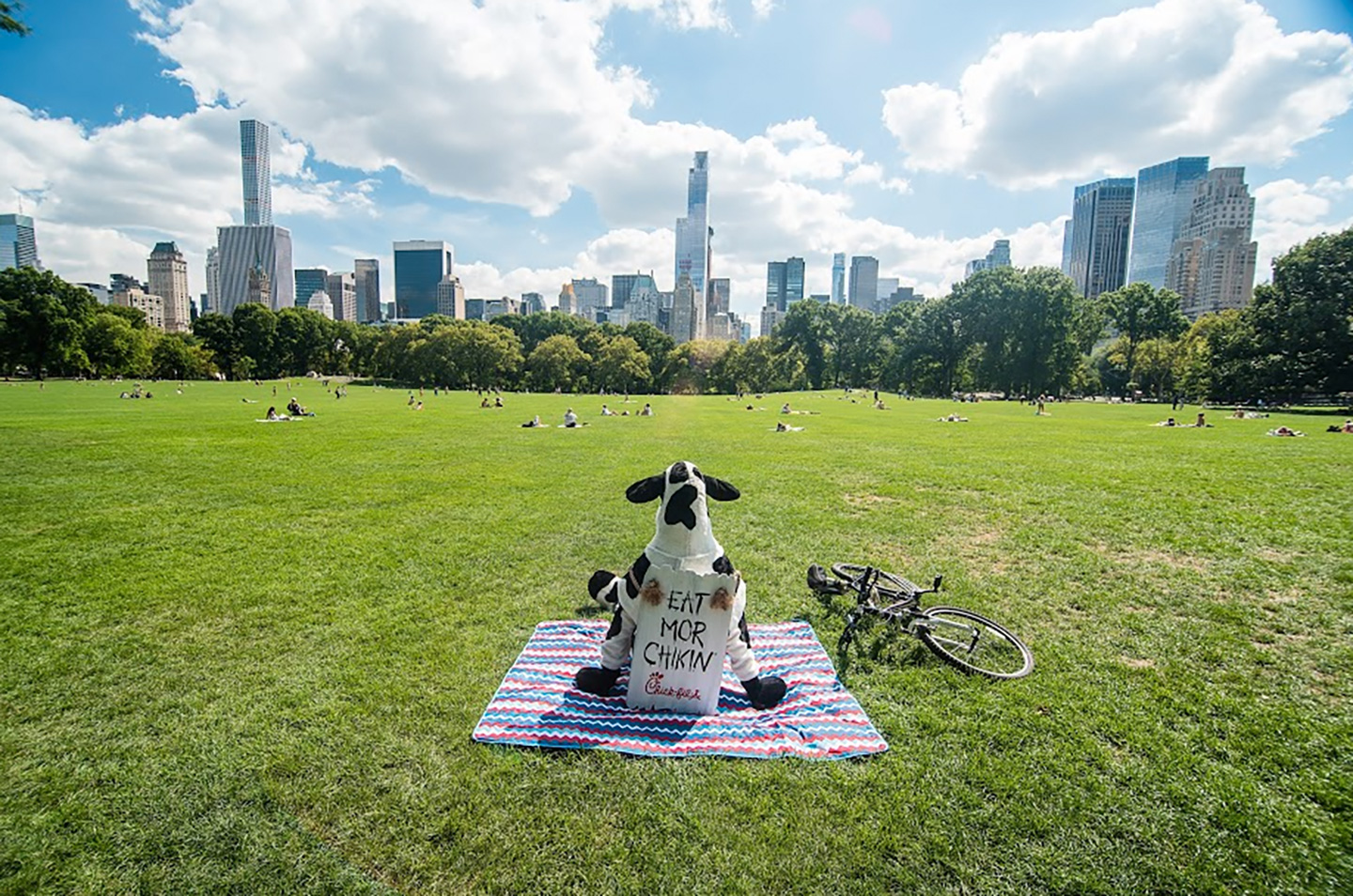 It all started in 1995 with one message: Eat Mor Chikin. Twenty-three years later, the Chick-fil-A Cows can still be spotted all over the country – from their original home on billboards, to water towers, Major League Baseball stadiums and even on television. And just once a year, the Cows (and their lookalikes) can be found in herds at Chick-fil-A restaurants from coast to coast.
July 10, 2018 will mark the 14th year of Chick-fil-A's annual Cow Appreciation Day, and to celebrate, here are a few of our favorite moo-ments with the Chick-fil-A Cows.
Cow on the Moooove: Among the largest of its kind, the 40-foot, 36,000-pound Chick-fil-A Cow at the Atlanta Braves' Turner Field was lifted by crane and given a little makeover in New Orleans to prepare for its move to the new SunTrust Park. The Cow now happily continues to root on its home team.
Cow Rites of Passage in New York City: Before Chick-fil-A opened its first New York City location in 2015, the Cow learned to do as New Yorkers do – from taking the subway to getting acclimated in a tiny apartment – before the restaurant set up shop in New York's Garment District.
Cows Flee the Barn: National Burger Day meant one thing for the Cows – it was time to get out of town. While they were away, they listed their barn on Homestay and invited guests to come stay in their digs – and of course, to Eat Mor Chikin during their visit.
Cows Make History: In 2007, the iconic Cows were inducted into the Madison Avenue Advertising Hall of Fame in New York City. A few years later, the Cows made their mark again, claiming their very own exhibit at the Smithsonian's National Museum of American History in Washington, D.C.
Record-Breaking Cows: In 2013, 470 cow-clad people gathered at George Mason University in Fairfax, Virginia to break the current Guinness World Record for "largest gathering of people dressed as cows." Talk about a herd!
Can't get enough of the Chick-fil-A Cows? Don't forget to show your spots on Cow Appreciation Day – coming up on Tuesday, July 10. Post about it on social media using #CowAppreciationDay for a chance to be featured in one of our "Best of Cow Appreciation Day" round-ups!