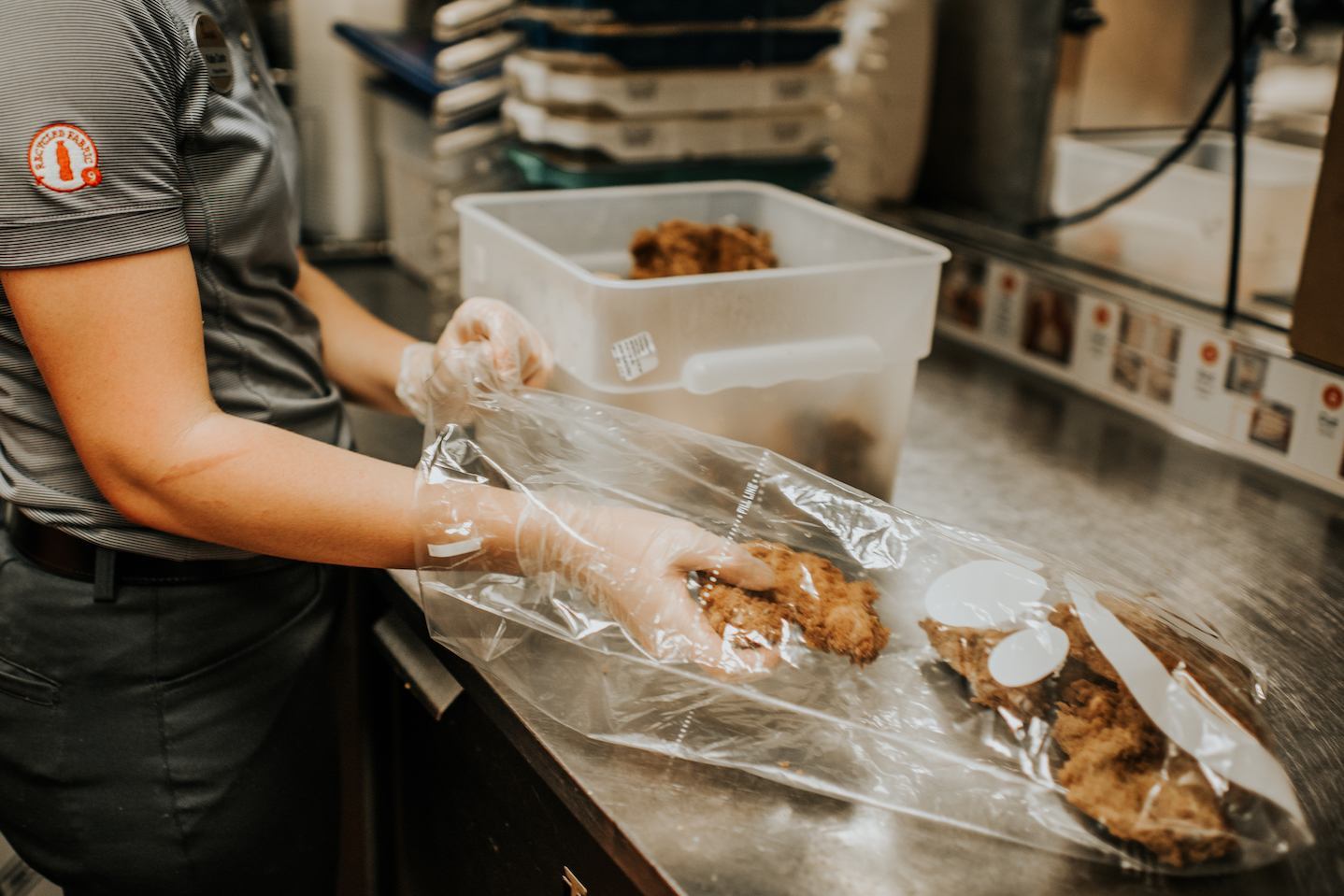 100% of Chick-fil-A Operators in Canada donate surplus food to feed those in need
As Chick-fil-A prepares to celebrate the opening of its 10th restaurant in Canada at The Shops at Don Mills, the company is also honoring another milestone: 100% participation in the Chick-fil-A Shared Table food donation program among its Canadian restaurants.
Showing care in Canada through Chick-fil-A Shared Table
The Chick-fil-A Shared Table program diverts surplus cooked and prepped food items from Chick-fil-A® restaurants to local non-profit partners, which use those ingredients to create meals for individuals and families in need.
As Chick-fil-A expands its footprint in Canada, that means even more food donations can be expected. To date, local Chick-fil-A Operators in Canada have collectively provided ingredients that helped create 44,000 meals for those who are experiencing food insecurity since 2019, working with Second Harvest Canada and its network of food providers.

Creating local impact
Wilson Yang, Operator of Chick-fil-A Yonge & Bloor in Toronto, has participated in the food recovery program since it opened its doors in September 2019. So far, the food donated by his team has helped create more than 35,000 meals for Yonge Street Mission, a non-profit serving the Toronto community.
Chick-fil-A Devonshire, just across the border from Detroit in Windsor, Ontario, has donated 4.5-6.8 kilograms of chicken and varying amounts of salad every week since opening two years ago. Operator Jordan Schmidt believes the program makes a big difference in his home province.
"Our donations go to Windsor Family Homes and Community Partners—specifically to their Kids First Food Bank," he says. He also shared that his restaurant Team Members appreciate that any unused food does not go to waste and is instead used to care for those in the community. "Several Team Members told me they have to make use of this food bank in the past, so they're very grateful to be assisting this cause from the other side now."
Jordan has heard that Chick-fil-A donations are the only way that dozens of families receive protein each week.
In Kitchener, Chick-fil-A Operator Olivia Efford and her restaurant have diverted over 5,400 kilograms of food from landfills through the Chick-fil-A Shared Table program—the equivalent of 9,598 meals—since she opened in August 2021. Her restaurant partners with The Food Bank of Waterloo Region, packaging and freezing unused items, which the organization picks up weekly. She's grateful her team has the opportunity to give back since there's so much need in Canada.
Addressing food insecurity for Canadians
According to the Canadian Public Health Organization, food bank use hit an all-time high during March 2022, with an estimated 16% of Canada's population living with inadequate access to food.
"Food insecurity and climate change are growing pressures in Canada, and around the world," says Winston Rosser, vice president of food rescue for Second Harvest Canada. "We're laser focused on rescuing food across the supply chain, limiting the harmful effects of food waste on the environment and ensuring everyone has access to the food they need to thrive."

Donating meals throughout the communities Chick-fil-A serves
Launched in 2012, the Chick-fil-A Shared Table program is just one way Chick-fil-A restaurants in the U.S. and Canada donate food in local communities. Many Operators also provide meals to support the activities of their local non-profits and help provide emergency assistance through the Chick-fil-A Mobile Kitchen when natural disasters occur. These efforts support larger 2025 corporate social responsibility (CSR) goals for Chick-fil-A, which include donating 200 million meals to communities and diverting 11.3 million kilograms of restaurant food waste globally from landfills.
"Chick-fil-A is proud to be in the fight against food insecurity," said Brent Fielder, Senior Director of Corporate Social Responsibility for Chick-fil-A. "Connecting our local Restaurants with community partners in the U.S. and Canada enables us to be responsible stewards of our resources while making a positive impact on the communities we serve."
More information about Chick-fil-A food donation efforts and other CSR initiatives is detailed in the Chick-fil-A 2022 Global Impact Report.