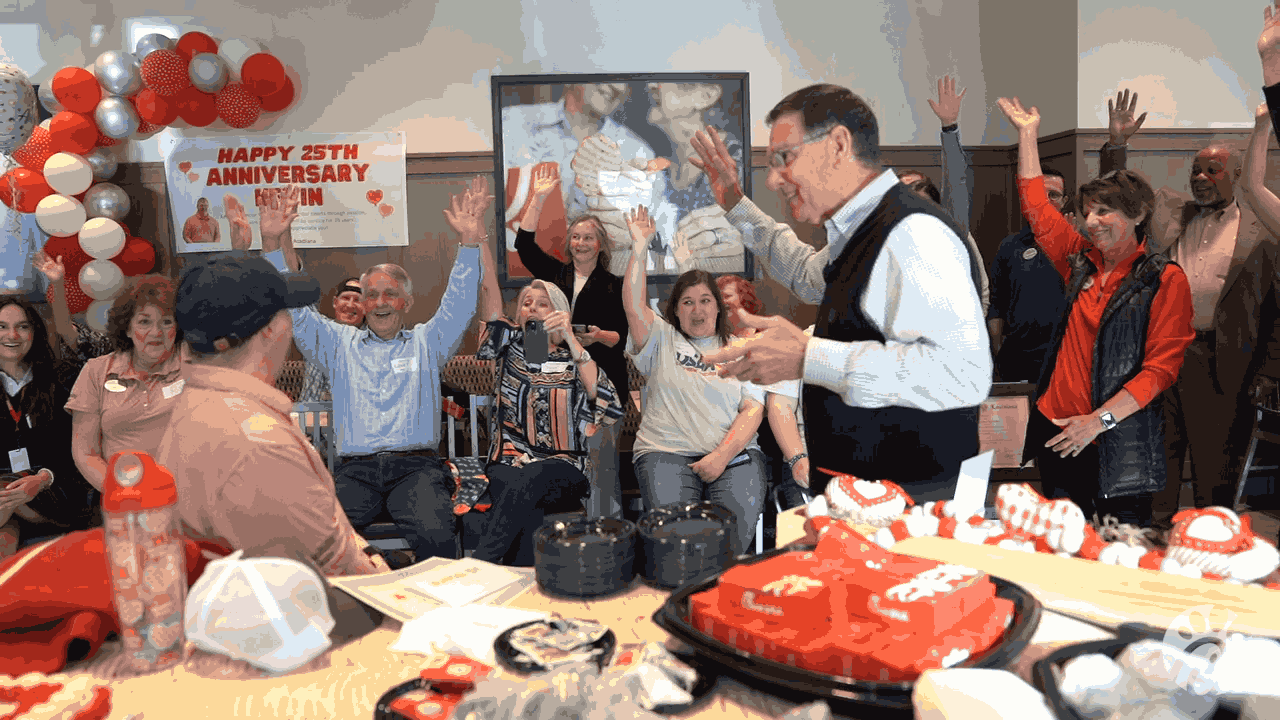 Celebrating Team Member's years of service
"Happy 25th anniversary Kevin" signs lined the parking lot at a Lafayette, Louisiana Chick-fil-A® restaurant. When walking into the dining room filled with balloons and hearts, guests were asked to fill out a name tag, each one titled "Kevin's BFF."
A little later, the guest of honor entered the dining room. Team Member Kevin Melancon walked in with a smile on his face and sounds of surprise, stopping to hug every family member, fellow Team Member, guest and friend along the way.
"Kevin is never shy, he's always extroverted," said his brother Jonathan Melancon. "From an early age, Kevin has always been the life of the party. We talk about how boring family events would be without him."
The guest of honor
Kevin was born with Down Syndrome. Growing up, he participated in Special Olympics events, enjoys bowling and has always been good about remembering birthdays. He has had a lifelong love for April Fools' jokes, like telling his parents they had a flat tire (they didn't) or saying he was getting married.
He's also always been a dancer. Jonathan recalled times when he and his older brother would have dance-offs in the living room, not stopping until they were sweaty. Dance-offs have continued through Kevin's life, extending to weddings and his disco-themed fiftieth birthday party last year. His signature move is to spin, look around and point to the person dancing next.
Kevin loves being an uncle and enjoys time with his nieces. Knowing their uncle is a bit of a prankster, the girls sometimes have to plan jokes of their own, like flipping his calendar upside down.
He's all about routine and one of his favorite shows is The Golden Girls. On nights before he's scheduled to work at Chick-fil-A Acadiana, he turns his television off at 10:20 p.m., before the episode ends. His weekend "treat" is to finish the episode, moving bedtime to 10:30 p.m.
Another part of Kevin's routine is to have bacon on Tuesdays and fries on Fridays. Since his celebration took place on a Tuesday, he was willing to give up his typical bacon order for a Chick-fil-A® Chicken Biscuit.
A person you can't help but love
Kevin has always had a love for watching wrestling. In high school, that prompted him to join the team.
"The coach and students were wonderful," his mom Susan Melancon said. "He has a personality that you can hardly not love. The coach just took him under his wing and helped him wrestle."
Ahead of one high school match, Kevin's opponent got injured and wasn't able to compete, prompting him to forfeit. Kevin excitedly shared with his parents "I beat forfeit!" with a smile.
After high school, Kevin participated in a program that taught activities and life skills like how to shave and wash his hair. He and his parents later began looking for job opportunities and partnered with a non-profit organization dedicated to serving the needs of people in Acadiana's community with developmental disabilities and their families. Their family also happened to attend church with local Chick-fil-A Operator John Arton and his wife, Annette.
John interviewed Kevin and offered him a job in the dining room. Kevin's job coach helped while he was onboarded. It didn't take long for him to catch on to the role. Twenty-five years later, he serves as hospitality management in the restaurant. His favorite thing to do is greet guests.
During Kevin's restaurant celebration, the "head rooster," as Kevin jokingly calls John, shared he recently saw Kevin hugging a guest in the dining room. When John asked Kevin who his friend was, Kevin responded "I don't know, we just met."
John also took a vote in the restaurant for who should be head rooster, him or Kevin. The room unanimously raised hands for Kevin, prompting a cheer.
Years of service
Friends and mentors continued to share stories about Kevin. The director of ministries for the church Kevin attends thanked him for his years of service there; he's worked in children's ministry and now greets people at the door on Sundays.
Louisiana State Senator Gerald Boudreaux recognized Kevin on behalf of the State Senate, which voted unanimously on a commendation and said he's a local treasure in Acadiana.
"For every single Team Member that's part of this store, you're the heart of Chick-fil-A Acadiana," said R.J. Root, Kevin's former team leader of 10 years, who attended with area Chick-fil-A Operators. "Every day with you is a bright, sunshiney day for Chick-fil-A."
Kevin's dad, Lonny Melancon, and his friends have had breakfast at Chick-fil-A Acadiana every weekday morning for the past several years. Kevin joins them around 8:45 a.m. when he gets off the bus, part of the routine he treasures so much.
"We enjoy being there and seeing the employees, they've been exceptional and a blessing to our family," Lonny said. "In the community we're known as Kevin's mom and dad."
A special nonprofit
During pregnancy, Lonny and Susan found out Kevin would be born with Down Syndrome. Seeking resources and support, they turned to the Down Syndrome Association of Acadiana, which became their lifeline.
Kevin, Lonny and Susan continue to be involved in the Down Syndrome Association of Acadiana. Kevin has served as the face of the Buddy Walk. In previous years, he, Lonny and friends have made jambalaya for Buddy Walk attendees, estimating to have fed more than 1,200 people on average each year.
To honor Kevin's years of service, Chick-fil-A, Inc. made a donation to the Down Syndrome Association of Acadiana. The donation will send two families, including the Melancons, to the National Down Syndrome Congress Annual Convention, in addition to funding scholarships for students with Down Syndrome.
Kevin loves to have fun and the community embraces it. For his twentieth anniversary, the restaurant held a Mardi Gras themed celebration with a king cake and made him king for the day. The community packed the restaurant.
Kevin's starting to think about how the restaurant will recognize his next life event, his birthday in June. Those around him have a feeling it will be a very, very busy day at Chick-fil-A Acadiana.