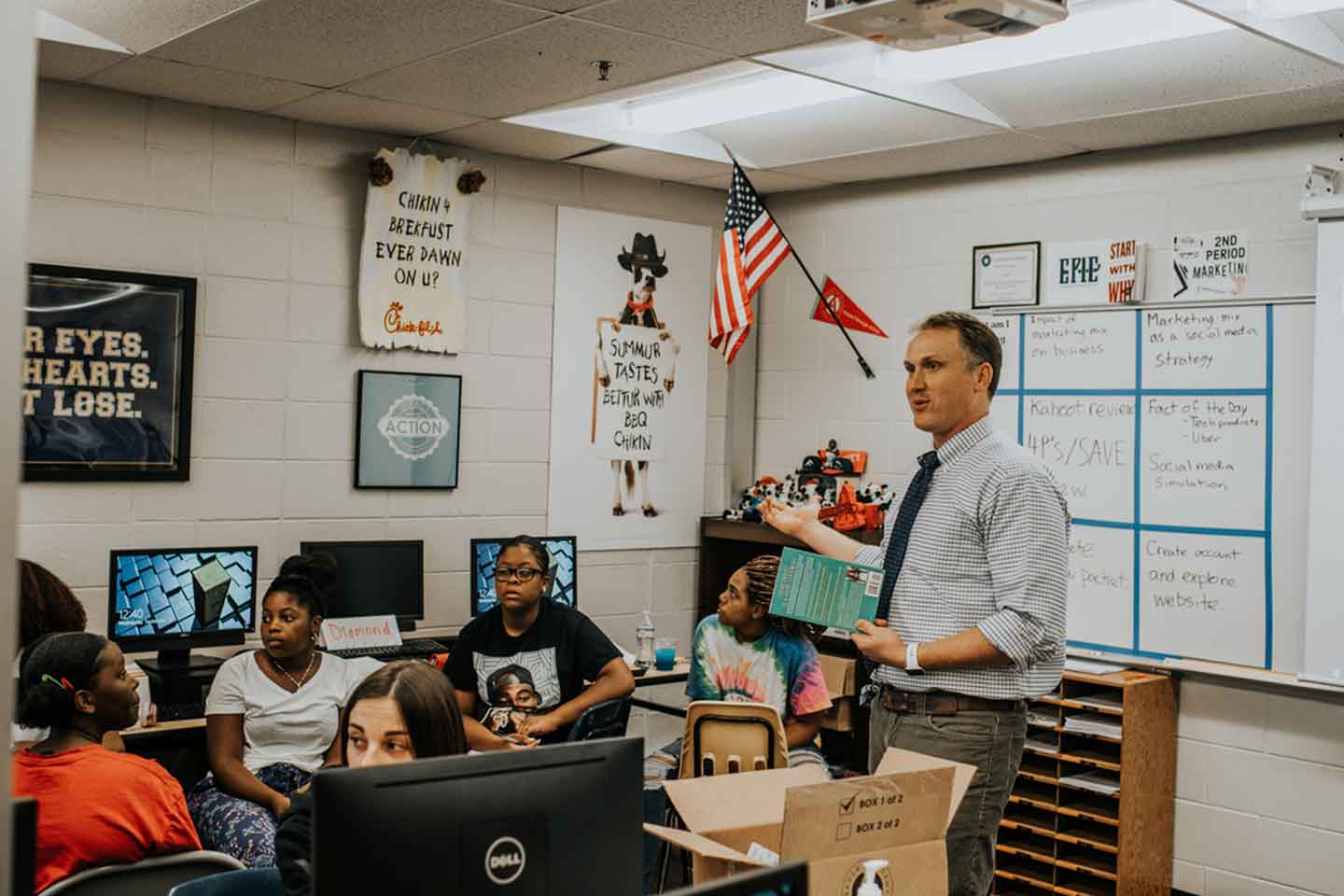 Empowering young people to make a true impact in their communities
For Shelly Young, Operator of Chick-fil-A Marbach at 410, in San Antonio, Texas, working with young people is not only a part of her and her husband Jack's daily life in the restaurant—it's their passion. So, when they first discovered the opportunity to start a Chick-fil-A Leader Academy program in their community, they jumped at the chance.
And they weren't the only ones to do so. This fall, more than 31,000 students in 1,050 high schools nationwide started their journey with Chick-fil-A Leader Academy, a national leadership program sponsored by local Chick-fil-A Operators who are passionate about the next generation of leaders.
Leading with heart
Four years ago, the Youngs began a partnership with not just one, but two high schools located down the street from their restaurant. They became staples at the schools' monthly meetings, providing meals for the students and engaging in discussion. They've answered countless questions and helped the students make connections in the community.
Since then, hundreds more students have participated in monthly Leader Labs to learn servant leadership principles, practice tangible skills and participate in student-led projects to impact their communities.
"It makes a difference to go to the meetings and be highly-involved," said Jack. "Chick-fil-A Leader Academy is another way to open our family to high school students. It allows us to be engaged in their lives and honor Truett Cathy's example of giving back and inspiring young people."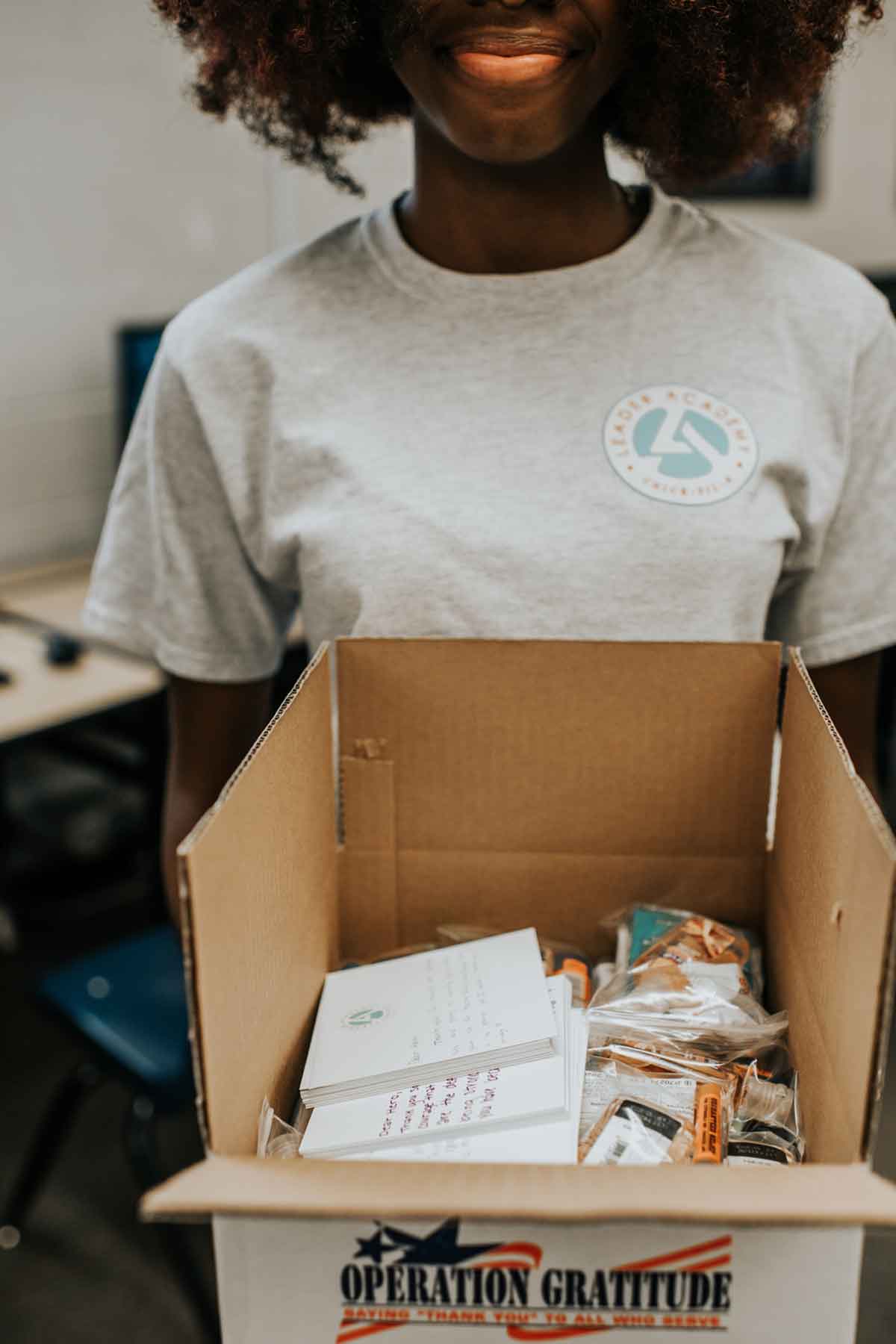 A graduate with gratitude
One student the Youngs welcomed to the program is Eric Caballero. Before joining Chick-fil-A Leader Academy, he felt stressed and isolated at his high school. Drawn at first by the offer of a free Chick-fil-A meal, it didn't take long for him to feel invested in the program and the Youngs' mission.
"After seeing their vision for bringing change to the community, I wanted nothing more than to help them succeed," Eric said. "I didn't realize at the time that Chick-fil-A Leader Academy was going to change my life."
He quickly developed as a leader in the program and helped spearhead a community impact project to provide boxes of toys, coloring books and surprises to The Children's Hospital of San Antonio to brighten patients' hard days.
"It was eye-opening for the students involved to see what those children have to go through at such a young age," Eric said. "It put my life into perspective and showed me how much I should be grateful for."
A bright future
During his senior year, Eric applied Chick-fil-A Fellows Program, along with 33 different scholarships.
Although he received 33 "no's," the one "yes," came from the Chick-fil-A Fellows program, through which Eric embarked on a year-long leadership program with 30 other students from across the country.
Eric now attends Arizona State University but still makes time to visit the high school and mentor students in the Leader Academy. He says the Youngs are "family" to him, and he loves going back to the place that helped develop his passion for leadership.
"It's amazing how a company I don't work for has invested in me and a community of students purely because they believe young people can change the world," Eric said. "I will forever be grateful to Chick-fil-A and the Youngs."
Lessons that last
According to Shelly, the curriculum is the key to Chick-fil-A Leader Academy's success—it's interactive, compelling and purposefully developed with students in mind. Using a combination of storytelling and technology, the program leaders equip students with the leadership skills they need to positively impact their local communities, and in turn, the world.
"The growth we see most is in their confidence," Shelly said. "When they graduate from the program, they have reassurance of what it looks like to be a servant leader."