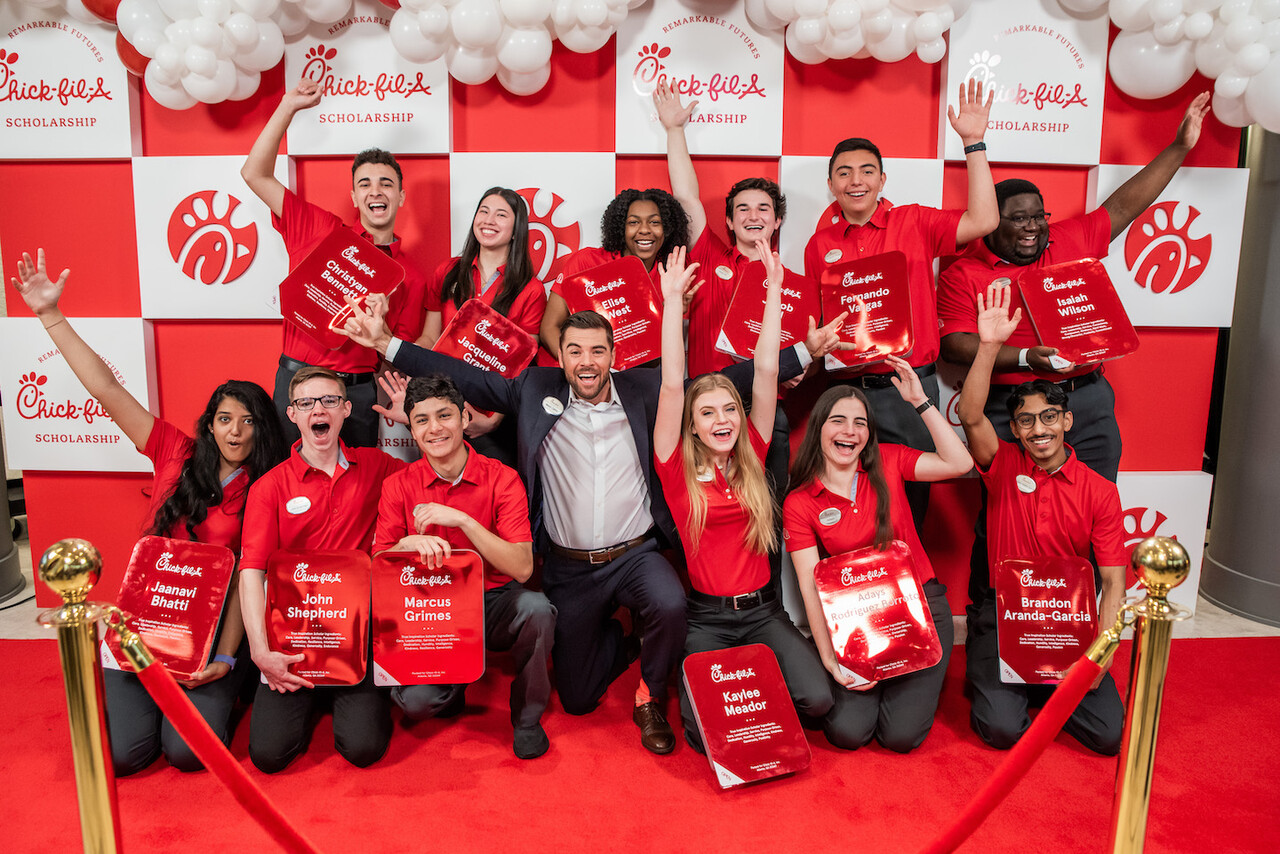 Chick-fil-A invests millions of dollars in Team Member scholarships
This spring, Chick-fil-A invested $24 million in Remarkable Futures™ Scholarships to help 12,699 restaurant Team Members pursue their dreams for higher education. Recipients can apply their scholarship to any area of study at any accredited institution, furthering Chick-fil-A's long-standing commitment to education and helping restaurant Team Members achieve their academic goals.

Twelve Team Members from eleven different states received the incredible news during a visit to the Chick-fil-A Support Center on March 18. After the surprise, the group met with Chick-fil-A, Inc. President and former Leadership Scholarship winner, Tim Tassopoulos, for a special celebration.
Watch this video to see how the twelve 2022 True Inspiration™ Scholarship winners reacted when they learned the news and read on to be inspired by their stories.
To learn more about all the benefits of becoming a restaurant Team Member, visit our Team Member Employment page.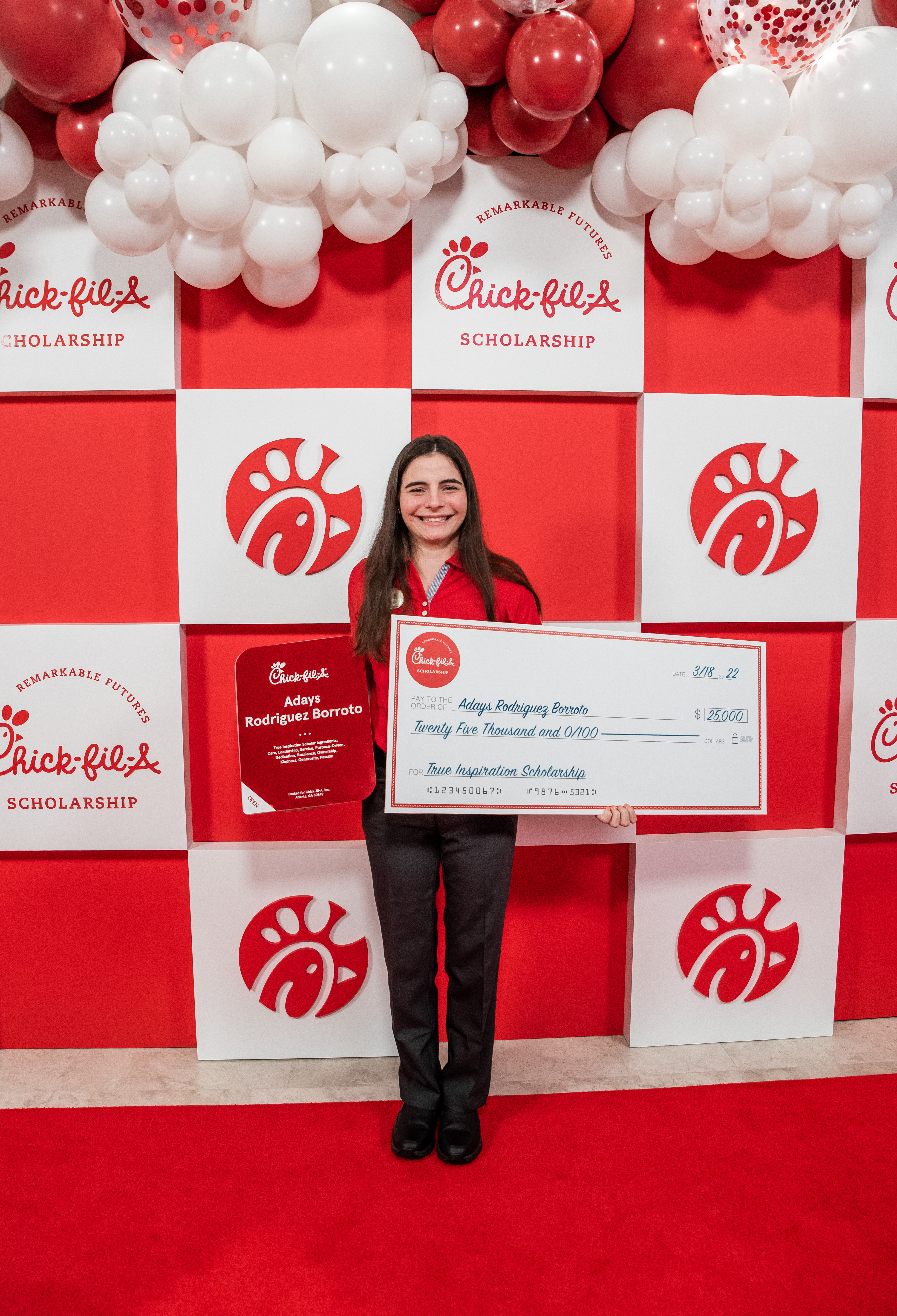 Adays Rodriguez Borroto, West Palm Beach, FL

The inspiration for Adays' college dreams began when her parents emigrated to the U.S. before her 10th birthday. The family knew that if they took the difficult step to leave their homeland it could make college a possibility for their children. The transition was hard for Adays who had to catch up on her English language skills, but by high school she was maintaining a high GPA while supplementing the family's budget with her job at Chick-fil-A's Okeechobee and Turnpike location.
Active in her church community, Adays finds joy in helping others and often assists elderly members of her community with errands around town. She is excited to pursue an Associate Degree in Diagnostic Medical Sonography from Palm Beach State College, with the goal of graduating in May of 2024.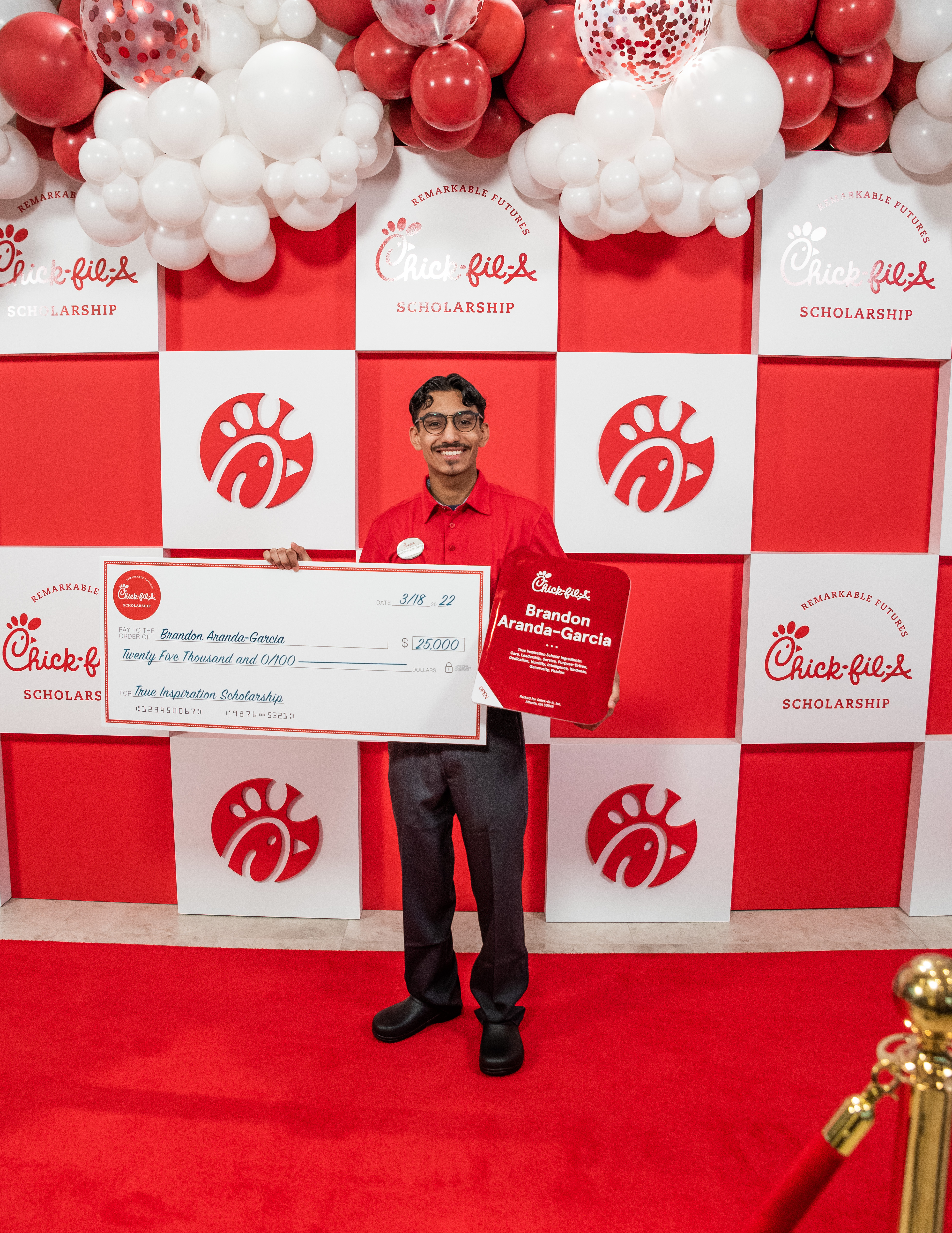 Brandon Aranda-Garcia, Greensboro, N.C.

Brandon is the first in his family to attend college, and he relies on his job at Chick-fil-A Gate City, some financial aid and the sale of his parents' homemade Latin foods to keep him there. His dream is to earn an aviation maintenance license—not to work for a commercial airliner, but to support the mission of Samaritan's Purse, which provides relief services to those in need around the world.
He's thrilled to now have the funding to pay for his licensing exams, along with the tools he needs to demonstrate his newly acquired maintenance skills when he graduates in 2023 from Guilford Technical Community College.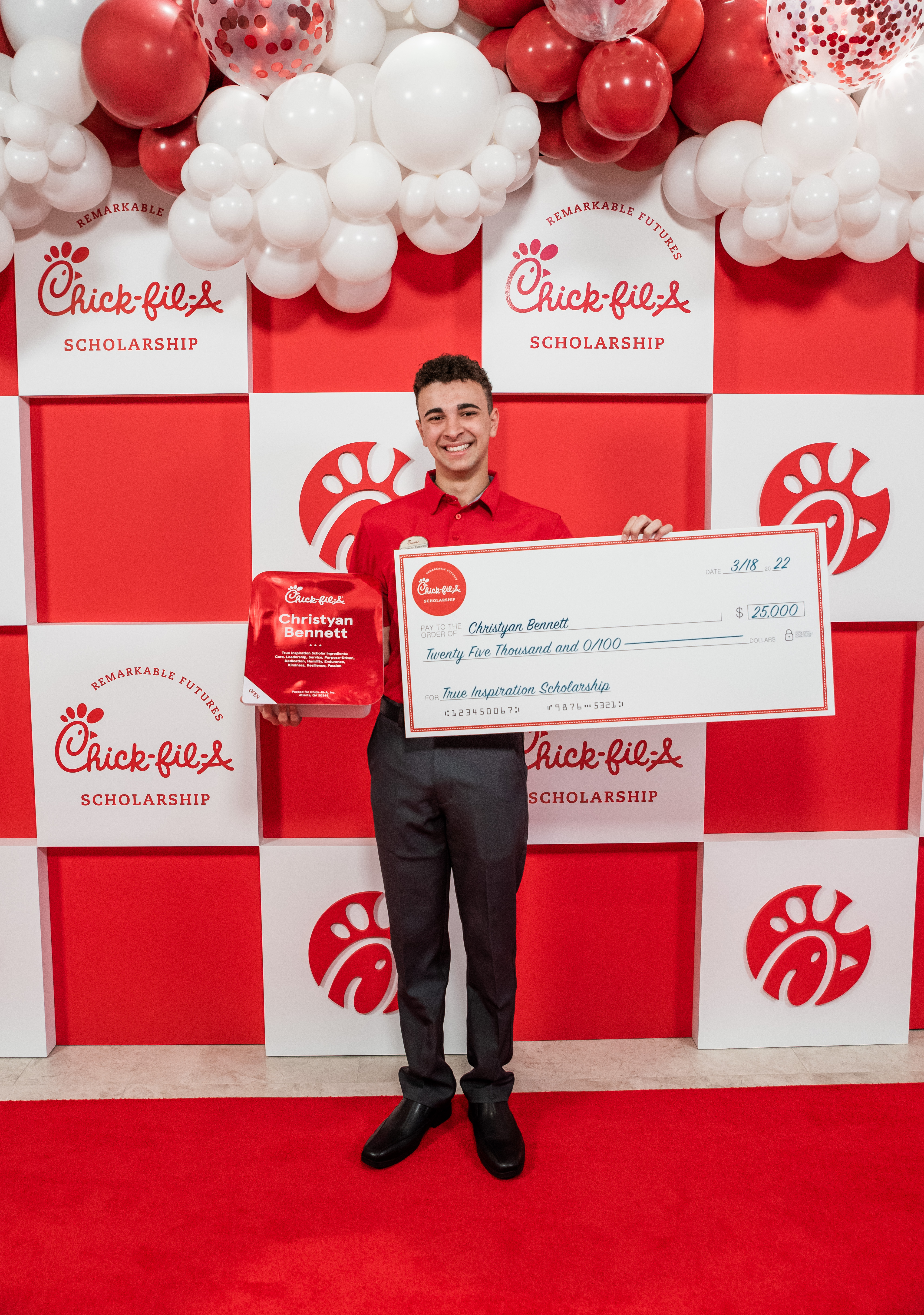 Christyan Bennett, Long Beach, MS

Early childhood was not all smooth sailing for Christyan, but despite some difficult experiences, he was determined to position himself for success. His life goal is to receive an advanced degree in law, so that he can become a corporate lawyer.
Christyan is a Team Leader at Chick-fil-A Gulfport, where he's worked for two years to help pay family expenses. His job hasn't deterred him from excelling in school, either, as he served the last two years as President of the National Honor Society, as a student council officer and a member of the band at Long Beach High School. Christyan will be the first in his family to attend college when he enters the University of South Alabama this fall.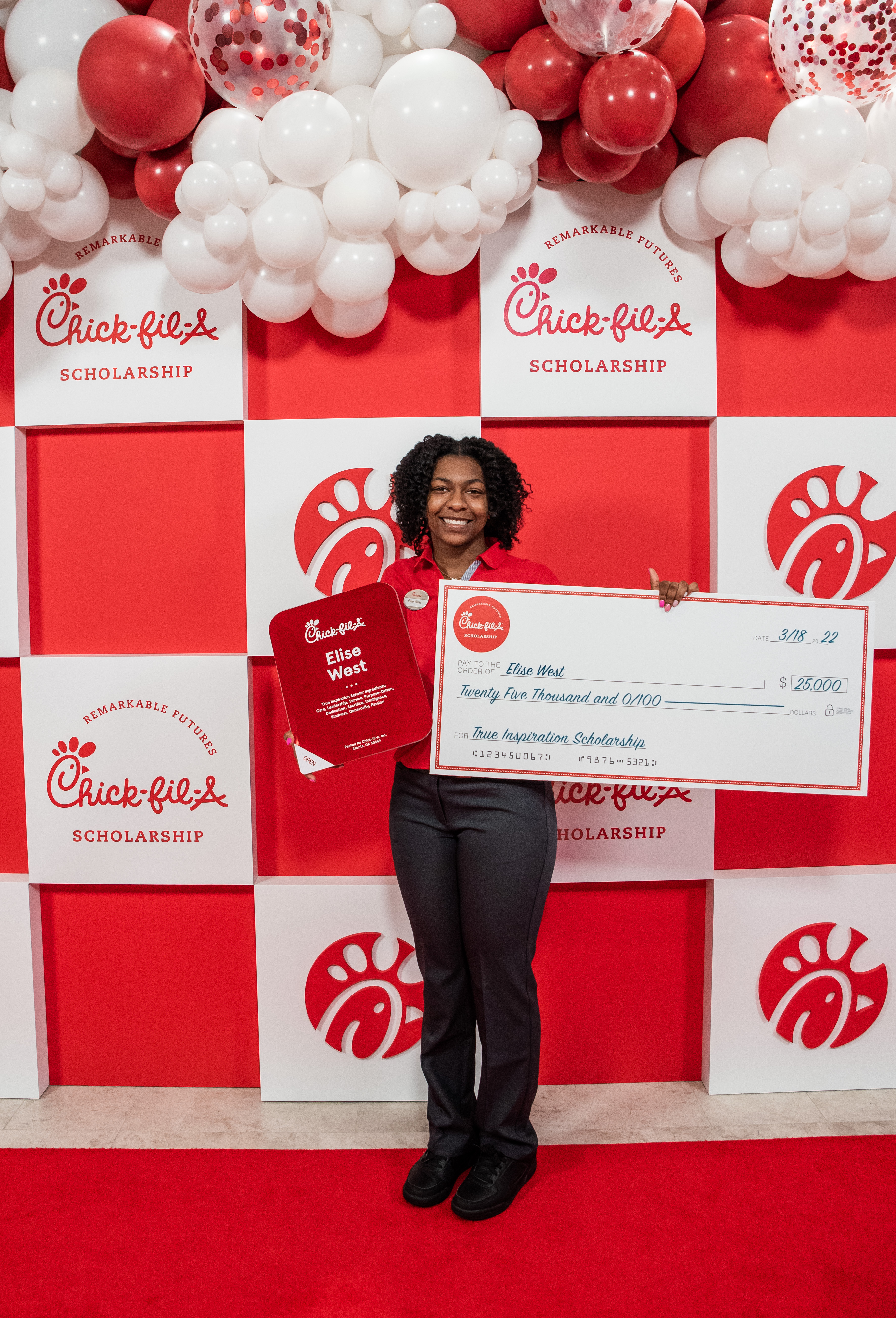 Elise West, Little Elm, Texas

When Elise started high school, she began thinking about a career in nursing. Her teachers and advisors observed that her 4.0 GPA, attention to detail and compassion for others would make her an exemplary nurse. But Elise comes from a single-parent home, and she knew that funding higher education would be a challenge.
She became a Chick-fil-A team member at The Colony when she was 16 and quickly established a strong work ethic that resulted in her working her way to become a Team Leader. She says winning the Remarkable Futures Scholarship, along with her savings, will help limit her dependence on financial aid when she graduates from Lewisville High School in May, before moving on to the University of Houston.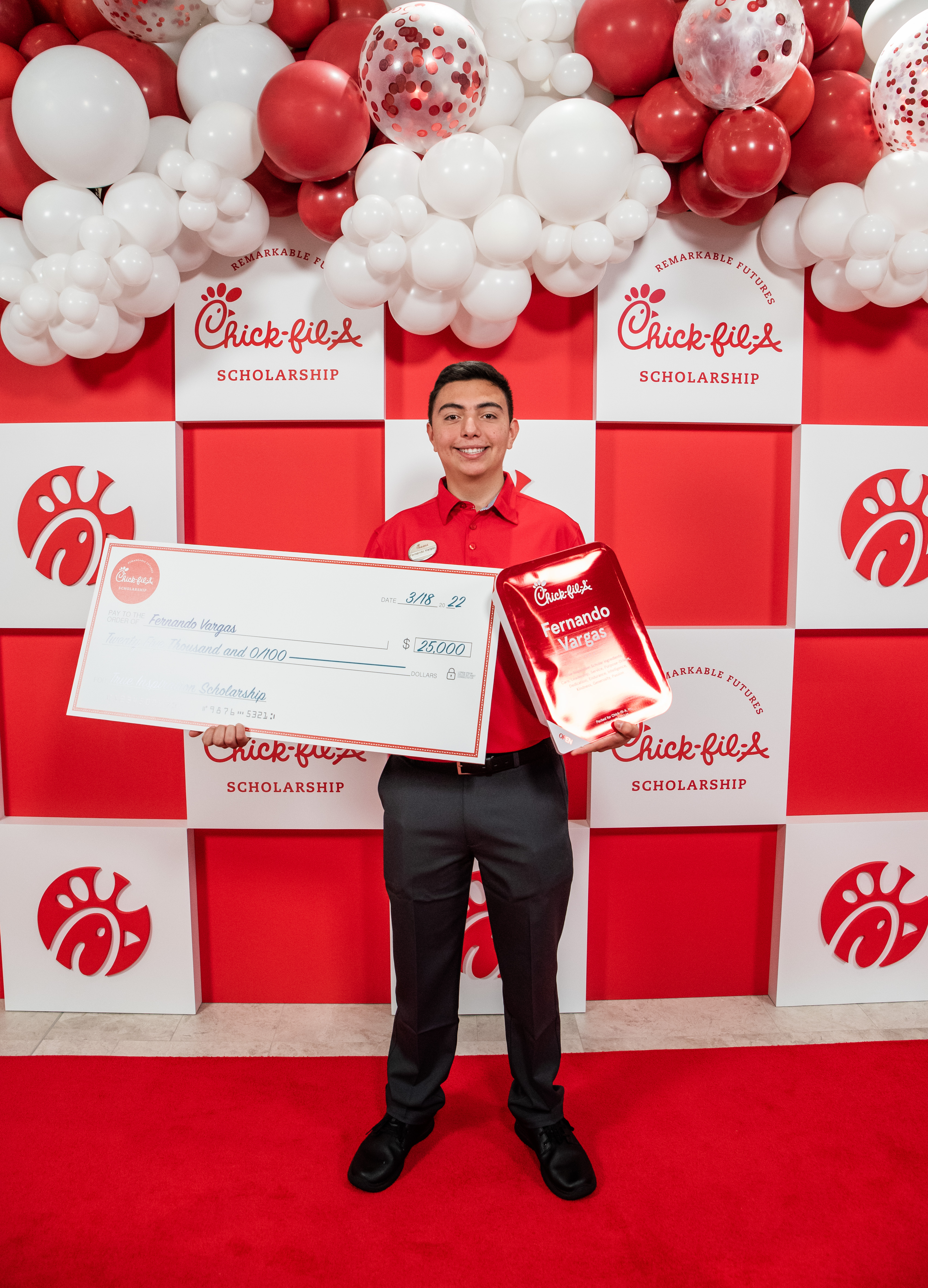 Fernando Vargas, Avondale, AZ

Fernando is a first-generation American who had to learn English when he moved from Mexico during his adolescent years. While this initially affected his grades, he was determined to master the language and excel. Fernando buckled down, enrolled in summer school and by high school was taking AP Literature.
In addition to his hospitality role at Chick-fil-A Avondale, Fernando helps his mom prepare Mexican foods and beverages for her small business every morning—long before school starts. His team leader says Fernando's positive attitude and engaging personality are contagious to others in the restaurant and will take him far as he pursues a degree in neuro sonography at Arizona State University.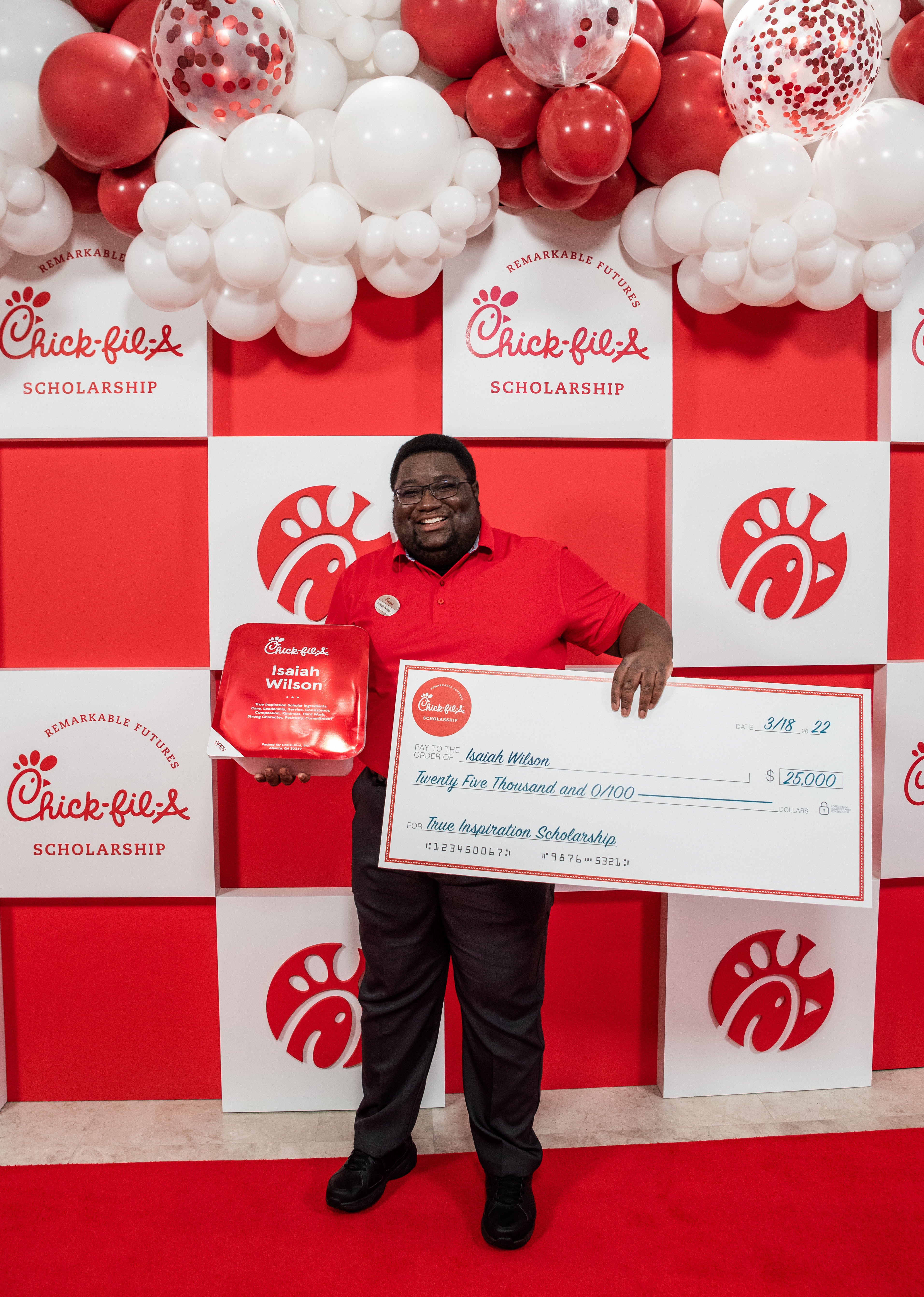 Isaiah Wilson, Columbus, OH

Isaiah is already thinking about how he can have a positive impact on the next generation. His goal is to achieve a master's degree in math education so he can become a middle school math teacher, paying forward the inspiration he gained from his own middle school instructors. Isaiah is currently in his fourth year of undergrad but wants to earn a master's without suffering financially.
This scholarship will help Isaiah achieve his career goals when he graduates next May from The Ohio State University. The team at Chick-fil-A Grandview Yard has no doubt that Isaiah will make them proud, exhibiting the high character and commitment that has made him an incredible asset to their restaurant.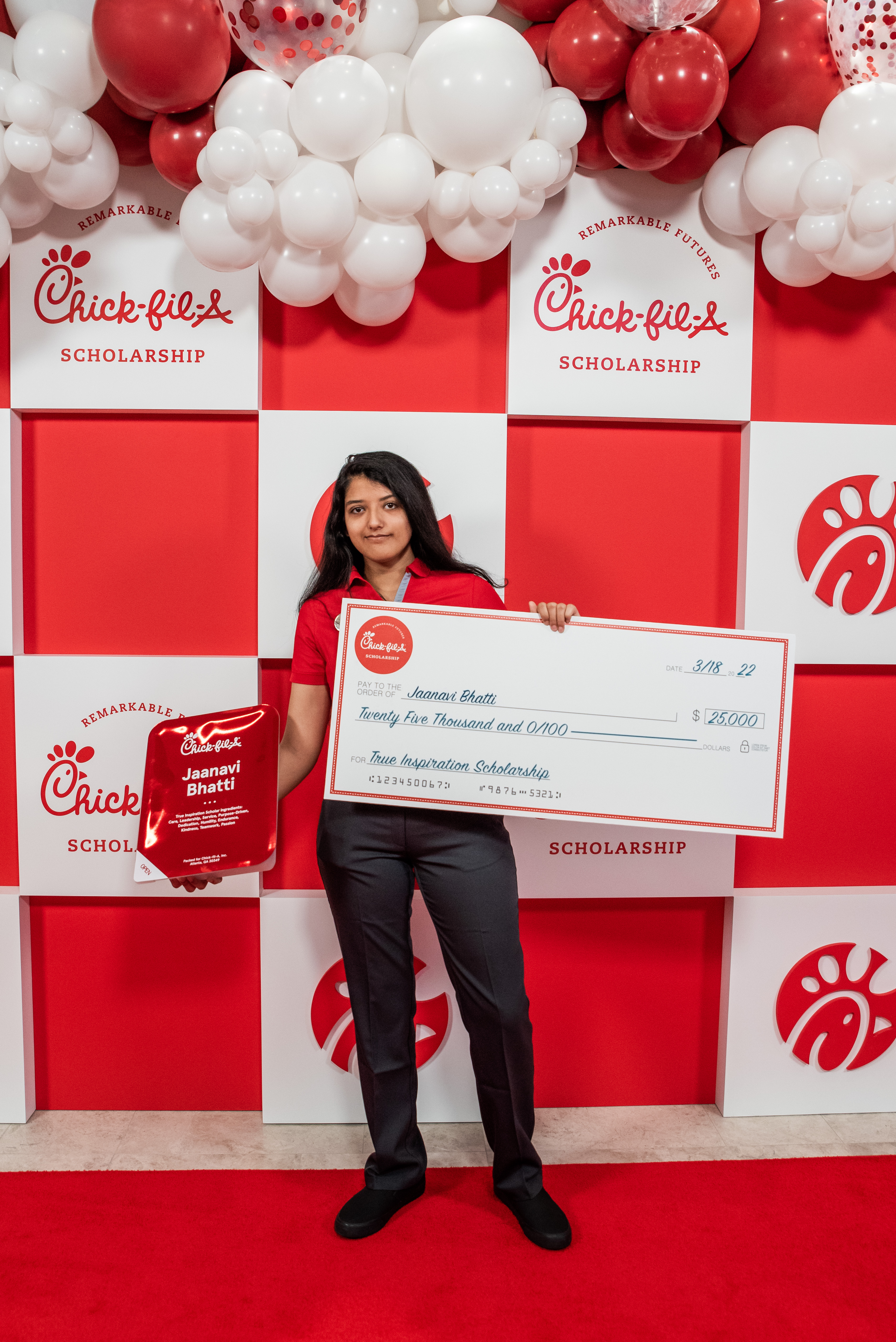 Jaanavi Bhatti, Reno, NV

Prior to Jaanavi's birth, her family moved from India to the United States in search of a better life. During her pregnancy, Jaanavi's mother learned that her baby would be born with serious health issues requiring multiple childhood surgeries. Undaunted, the family managed to obtain the medical procedures Jaanavi needed to "feel normal." This unique experience fueled a personal goal to one day become a plastic surgeon so that Jaanavi can help children born with visible impairments.
Currently a junior at the University of Nevada Reno, Jaanavi is majoring in microbiology and immunology while working part-time at the Sparks Blvd & 1-80 Chick-fil-A. Her father, who faced his own health scare last year, refuses to retire because he wants to continue helping Jaanavi pay for college. She is delighted that this scholarship will reduce the burden on her dad, who can now focus on himself after a lifetime of supporting her.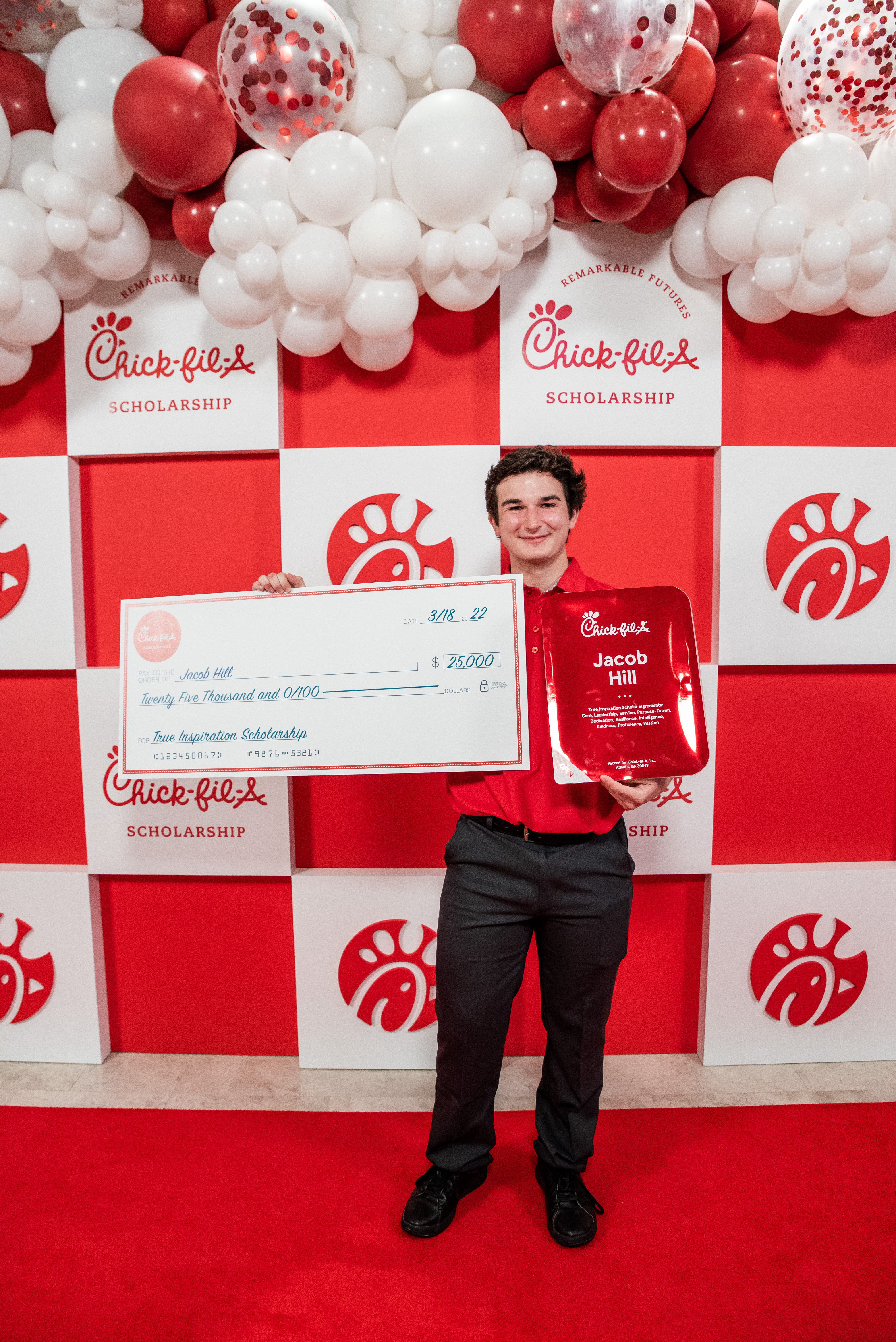 Jacob Hill, Carmel, IN
The COVID-19 pandemic presented a big challenge for Jacob as he had to maintain a high GPA to gain acceptance into the Weldon School of Biomedical Engineering while learning virtually. He managed to make the Dean's List and earn Semester Honors while working back-of-house at Chick-fil-A Purdue University and participating in campus activities.
Becoming a biomedical engineer is a lofty goal for many, but Jacob is on track to not only earn his bachelor's degree, but also to receive a master's degree in a 5th year program at Purdue University. The Chick-fil-A scholarship will allow Jacob to fund important non-paid internships that will position him well for graduate school. He plans to make Chick-fil-A very proud in the future by designing life-saving biomedical devices.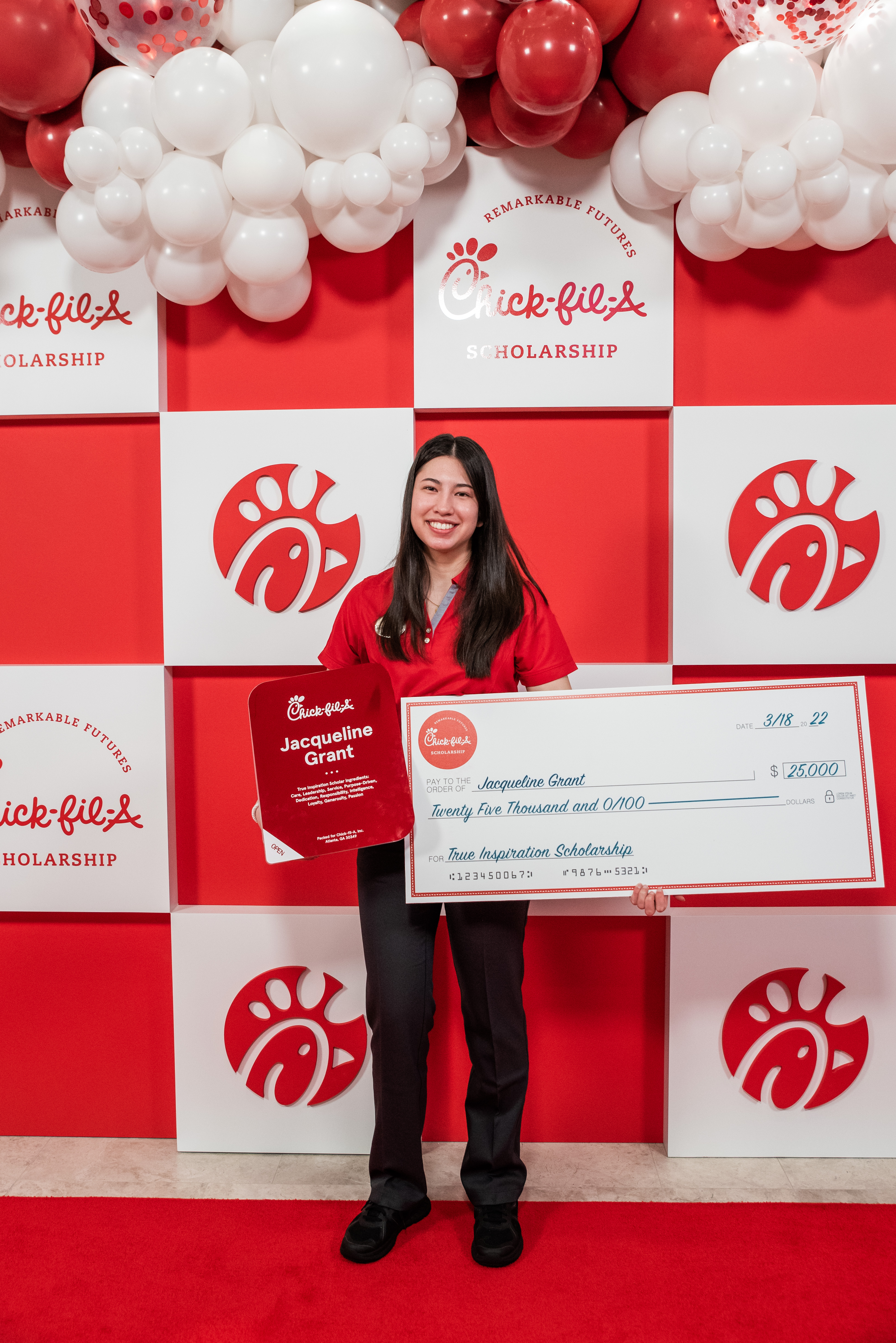 Jacqueline Grant, Moorestown, N.J.

Jacqueline began working at Chick-fil-A East Gate Square during the COVID-19 pandemic to generate both a social and financial boost during an uncertain time. Little did she know that this decision would influence her career choice moving forward. She will focus her college studies on developmental economics to help underserved communities. In fact, she thinks she may want to work on the corporate social responsibility team at the Chick-fil-A Support Center one day.
Jacqueline is inspired by the Operators and managers she's had during her time at the restaurant and is proud that they have encouraged her to advance to her current role as Leadership Development Director. Jacqueline says her Chick-fil-A experience has been transformational, and she hopes to use the lessons learned to change the lives of others in the future.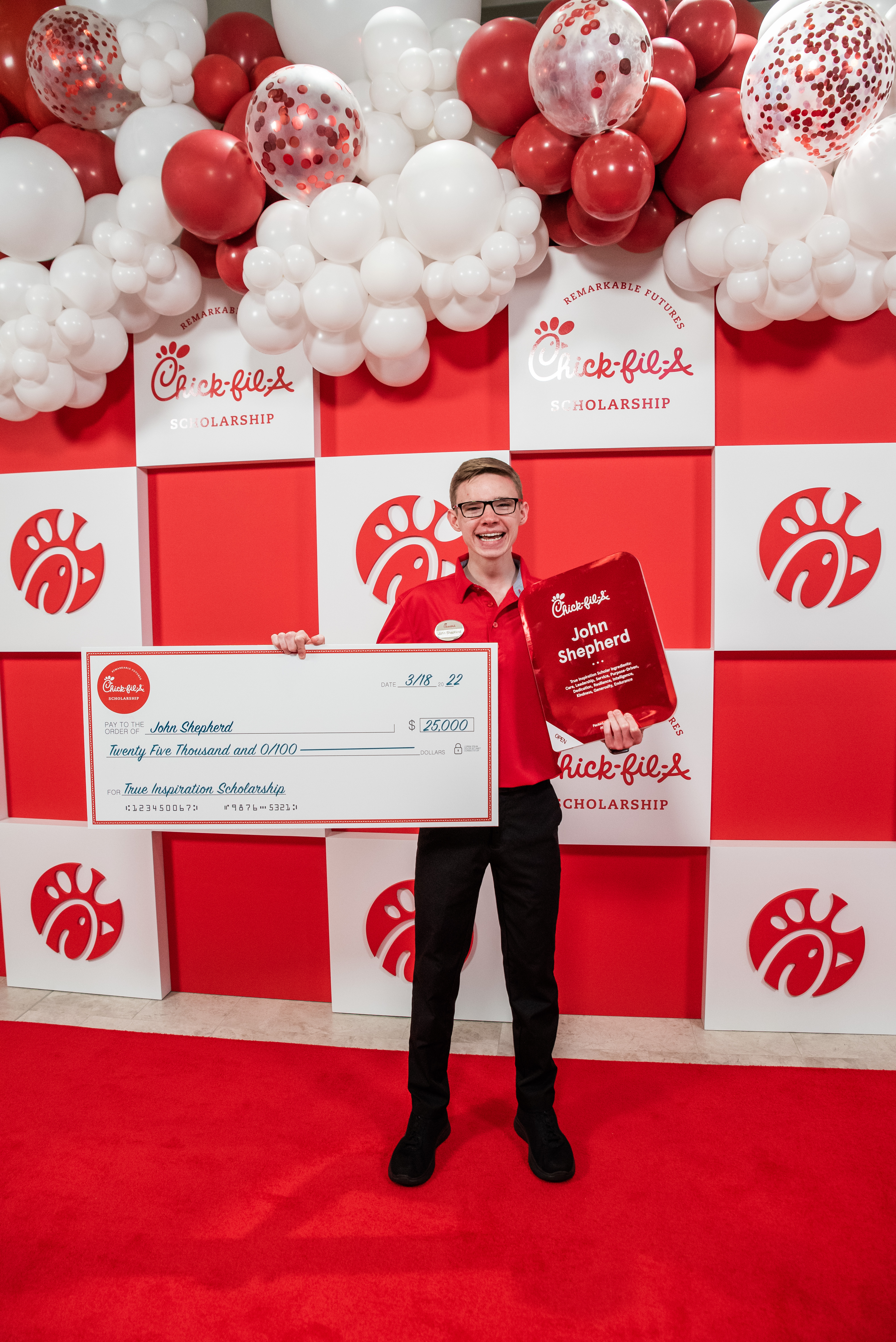 John Shepherd, Southbury, CT

John is working three jobs to support his criminal justice and sociology degree at Quinnipiac University. When he graduates next year, he'll be the first in his family to attend and graduate college. He's very grateful to be selected as a top scholarship winner, because it will help him eliminate 80 percent of his student debt and will make it feasible to consider a masters in business administration.
Seeing the work that Chick-fil-A has done, John hopes to now become an operator and be able to share the love and care that Chick-fil-A exhibits. His can-do attitude helped Chick-fil-A Wallingford get through unprecedented employee turnover despite a historic sales increase. Operator Todd Langston says Truett Cathy initiated this scholarship program for individuals like John who embody servant leadership.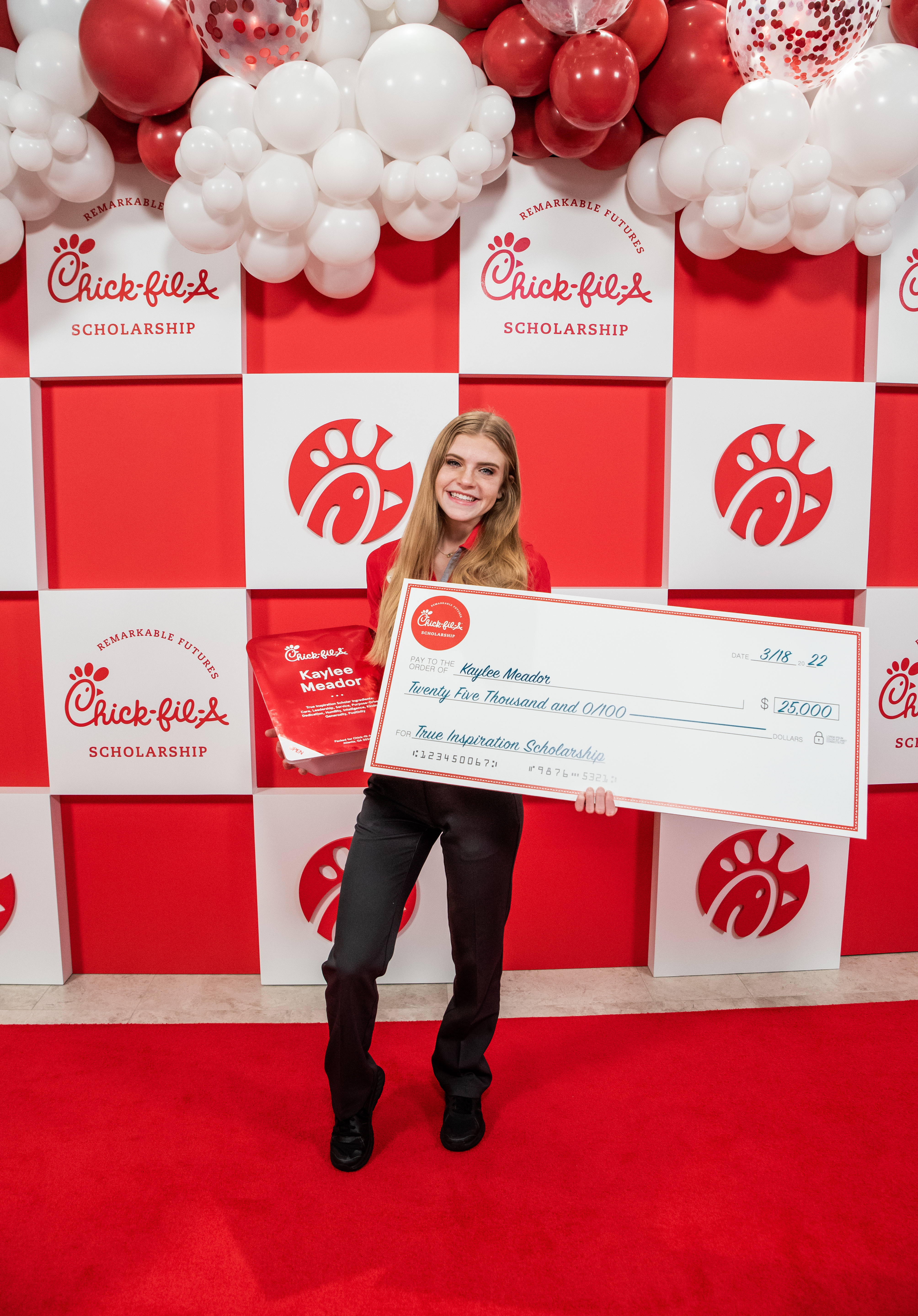 Kaylee Meador, Whitesville, KY

Kaylee has worked at Chick-fil-A Owensboro since high school, becoming a Team Leader and continuing in this role whenever she is available to work during college breaks. She's an excellent student who recently transferred to the University of Kentucky to become a licensed pharmacist while also earning her master's degree in business administration. Her long-term goal is to serve Kentucky communities by bringing pharmacists closer to patients for superior medication therapy management.
She is using the scholarship to defray the costs of tuition as she pursues her doctorate. It will also give her the opportunity to participate in a trip she previously postponed to Ecuador to gain practical experience in a small non-profit clinic.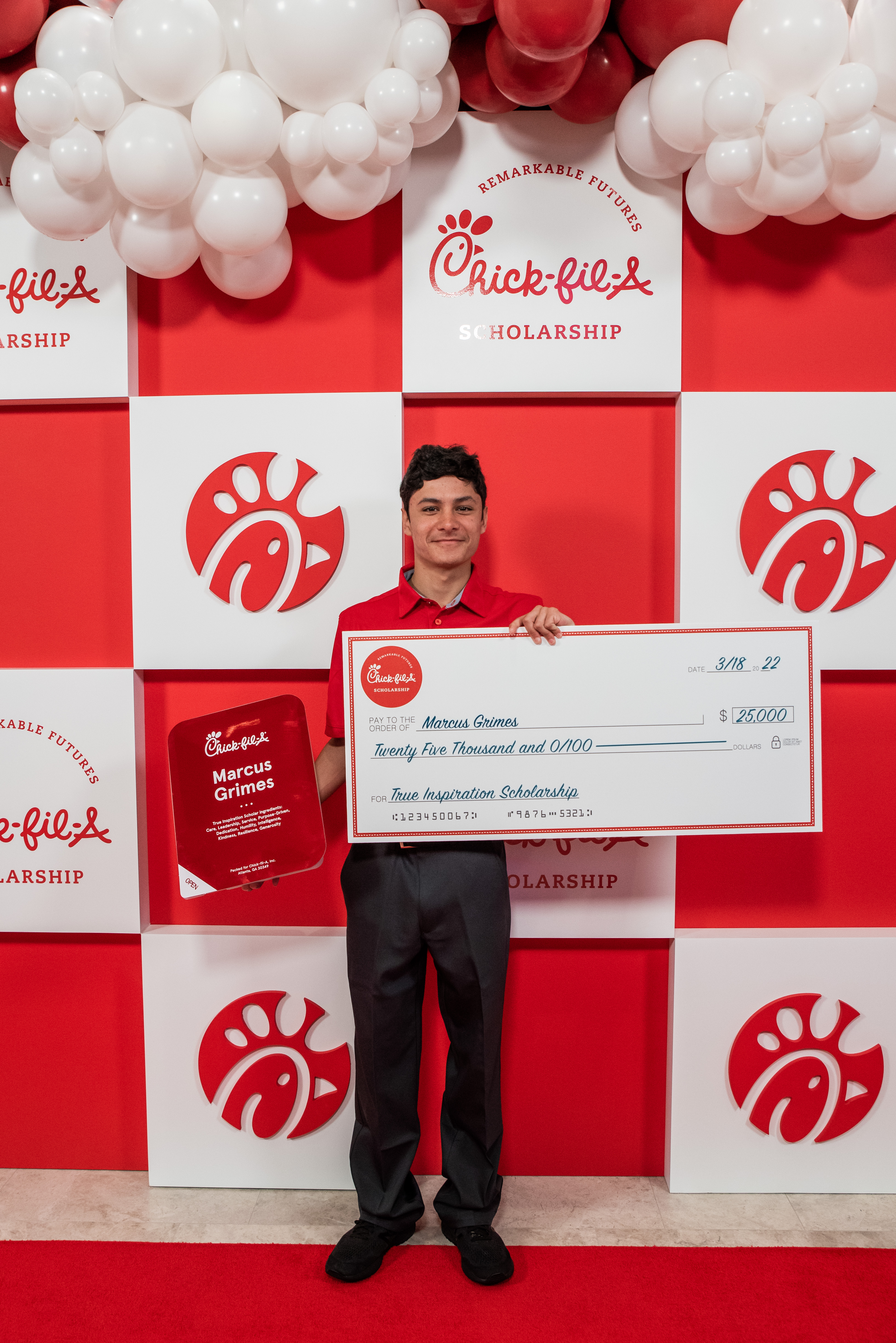 Marcus Grimes, Buda, Texas

The pandemic was especially hard on Marcus and his family. He worked at Chick-fil-A Buda to not only cover his personal expenses, but also to help his family get through a rocky time. His dedication to school and work paid off. He earned a 4.0 GPA, despite the virtual learning period, and achieved the highly unusual distinction of becoming a Chick-fil-A Trainer while still in high school.
Marcus will be graduating from Johnson High School this spring is thrilled to be attending The University of Texas at Austin with plans to become a civil engineer.

For more than 50 years, Chick-fil-A has helped over 80,000 Team Members achieve their remarkable futures through more than $136 million in scholarships.