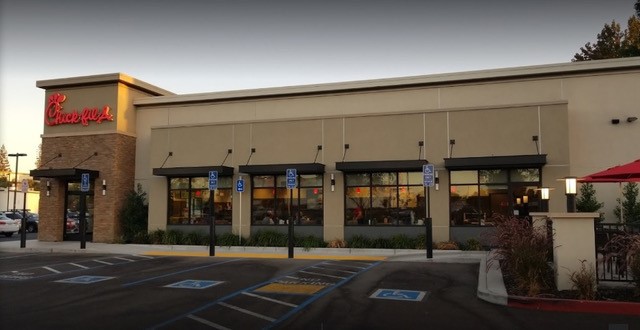 Three California Operators could flip the switch for the system
Chick-fil-A is launching a pilot this summer that could change the future of restaurant operations everywhere. The company will be the first business to pilot a microgrid system designed for a 5,000-square-foot building to save energy costs and help prevent power-related business disruptions.
"Our California Operators have been requesting help with the rising cost of energy, and we're excited to partner with three California Chick-fil-A restaurants to pilot a potential solution," says Stephanie Armistead, principal sustainability program lead for Chick-fil-A, Inc.
These restaurants — Chick-fil-A March Lane at I-5 in Stockton, Chick-fil-A Mendocino Avenue in Santa Rosa and Chick-fil-A Quarry Creek in Oceanside — will be the first to pilot the system. It blends an intelligent system that combines predictive analytics and artificial intelligence with solar, natural gas generators, and on-site battery storage to provide the reliability of continuous power during local utility outages.
The hope is that this combined technology will give local franchised restaurant Operators more control over peak power costs and power outages that negatively impact operations. Each restaurant will pilot the SolMicroGrid system for 90 to 150 days, measuring how well it worked, how much cost savings it provided, as well as the overall efficiency and resiliency.
How it works
The SolMicroGrid system uses photovoltaic panels that harvest energy on sunny days to run the restaurant or store excess energy in the system's battery on days, like Sundays, when restaurants are closed.
At nighttime, when energy costs are cheaper, the system pulls power from the electrical grid and stores it in the battery so it can be used during peak periods to lower energy costs. The intelligent system captures energy data and decides when it's advantageous to shift from the traditional grid to the microgrid.
The natural gas generator, located away from the restaurant, is only activated when the traditional grid experiences an outage. This multi-faceted technology works to give businesses more energy security and help them hedge against the rising cost of power.
"Giant retailers are using these systems, and we believe it could be the future for us, too," says Armistead.
A win-win for Operators
Large retail and distribution facilities use microgrid systems for peak load shaving, which is the practice of reducing the amount of energy consumed from utilities during the peak hours of energy demand. It's critical in markets, like California, where the energy grid has been prone to planned and unplanned blackouts. And its benefits can extend to smaller operations, like restaurants, as they face complications from increases in extreme weather.
"At a moment's notice, Chick-fil-A Operators might have to lock the freezers, purchase dry ice, and decide if they need to shut the restaurant down when high winds damage power lines or a heat wave puts too much stress on the existing grid," says Armistead. "Running a restaurant is already complex and this is a layer of complexity we hope to remove for them."

April Farage, a Chick-fil-A Operator in Stockton, Calif. who will participate in the pilot, can attest to this complexity.

"Our energy costs can jump 70% in the summer and that's money I'd rather reinvest in our team and the growth of our business," she says. "Unexpected power outages are problematic in lots of ways — they create uncertainty among our customers and cause waste. I'm really hopeful that this microgrid will provide some independence from commercial energy."

A benefit for guests, too
Another potential benefit? Being able to stay open and serve guests, even when power is out elsewhere.
"If we can help our Operators stay open when other businesses are closed and homes are without power, it helps us become that safe haven where residents can be nourished by food and community during a stressful time," says Armistead.
Chick-fil-A plans to complete the pilot this fall and will evaluate how well the system boosted business continuity and cost savings. Based on findings, the company hopes to begin a broader rollout to restaurants with the most urgent needs by the end of 2021.
"Community stewardship is part of Chick-fil-A's legacy, and this program is another step in that mission," says Farage. "The microgrid will help us improve not only our restaurants, but also the places and people we serve."
Want to learn other ways Chick-fil-A is finding sustainable community solutions? Visit our Chick-fil-A Shared Table program page.