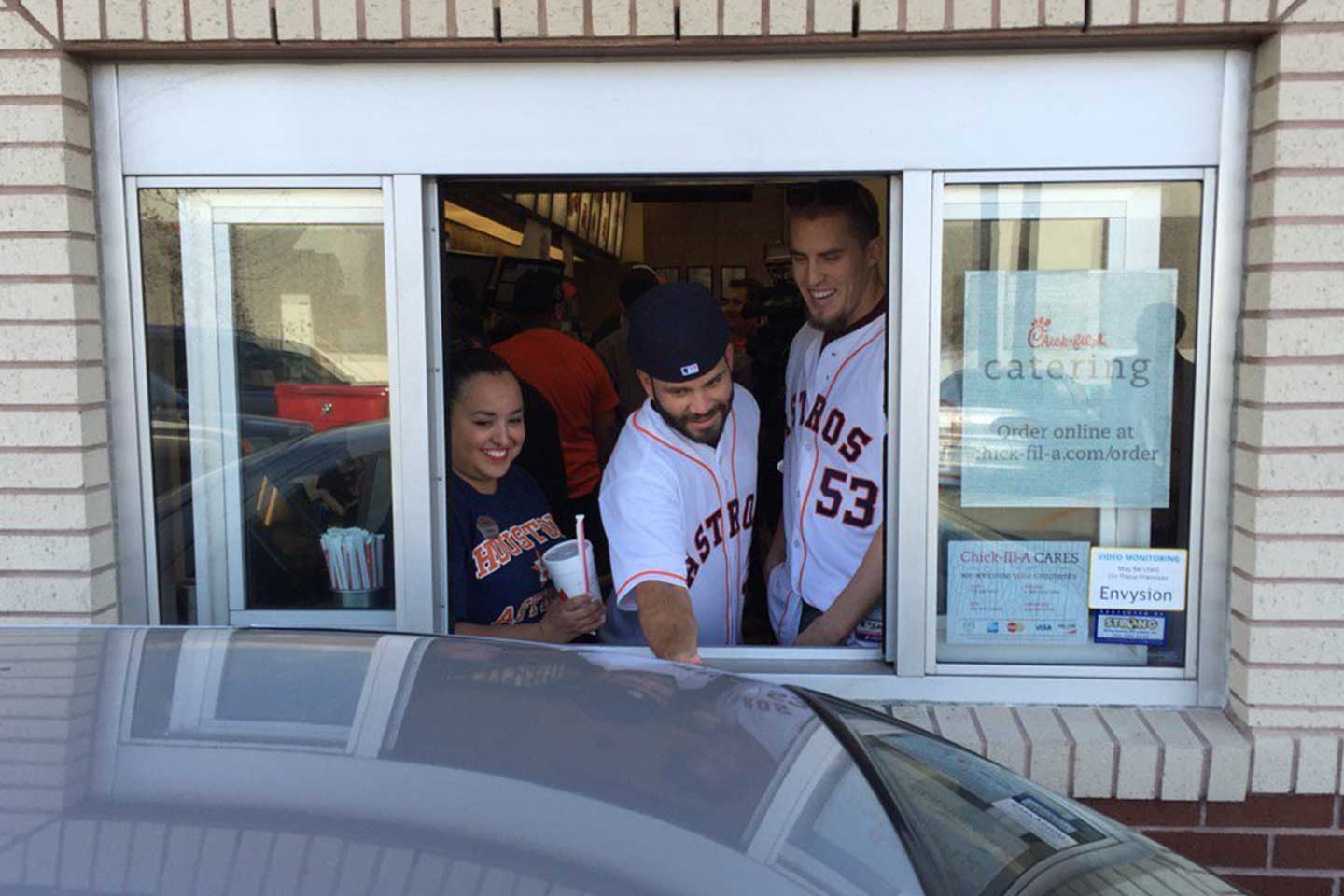 From backseat farm animals to famous sports players, you never know what you will see in a Chick-fil-A drive-thru
Every year, it's our pleasure to serve the millions of guests who pass through Chick-fil-A drive-thrus across the nation. We've served a lot of chicken and seen a lot of faces – some familiar, some new and some even furry. As another year comes to a close, Chick-fil-A is paying tribute to some of the most interesting drive-thru moments over the years.
1. Un-Herd of
This is Annie, the backseat passenger no one saw coming. She enjoys grazing peacefully, sleeping, taking long drives through the Chick-fil-A drive-thru and, apparently, dog treats too!
2. You've "goat" to be kidding

Chick-fil-A Nuggets may not be included in Violet's diet, but a salad wouldn't be so baaaa-d.
3. The most wonderful time of the year
Every once in a while, you can catch Old St. Nick trading milk and cookies for Chick-fil-A Nuggets and a Peppermint Chip Milkshake.
4. Take me out to the drive-thru
Putting @JoseAltuve27 and @KenGiles53 to work at the @ChickfilA drive thru! #AstrosCaravan pic.twitter.com/Y9GNcpXPhK
— Houston Astros (@astros) January 21, 2016

With baseball stars like Jose Altuve in the drive-thru window, your lunch is sure to be a homerun.
5. Dancing with the cars
Chick-fil-A Team Members are trained to keep it moving when it comes to the drive-thru, and some of them keep it moving in more ways than one, leading to a viral video shared more than 100,000 times!
6. Bone Appétit!
This guest's favorite menu item? Chick-fil-A Waffle Fries. He says they're to die for.