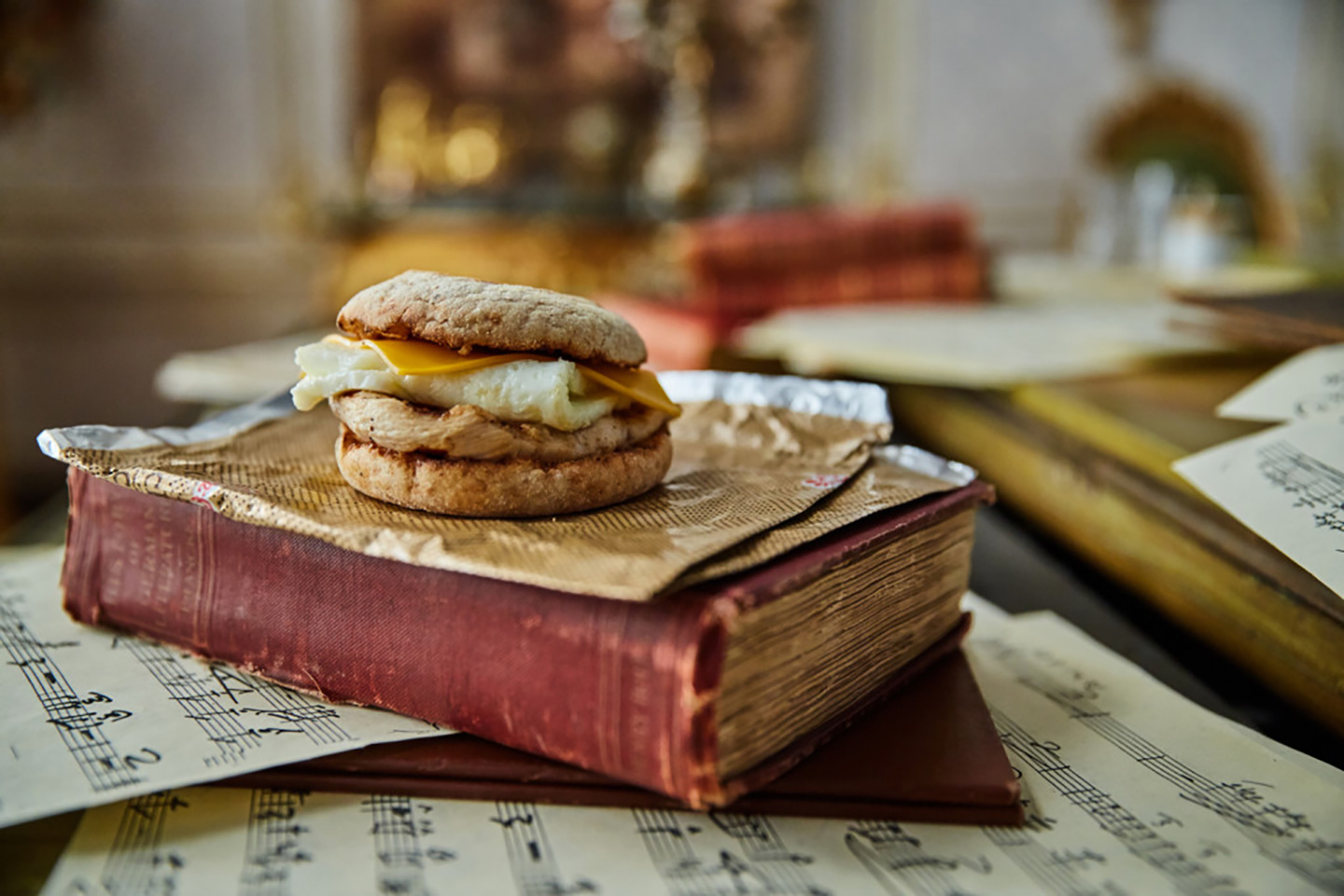 The sneak peek behind Chick-fil-A's newest commercials
Imagine, if you will, a world without lightbulbs or telephones. Art without Michelangelo. Music without Beethoven.
It seems crazy, right? Unimaginable even. That's how we feel about breakfast without chicken. But, we know not everyone wakes up thinking about tender, juicy chicken like we do. At least, not yet.
On July 30, Chick-fil-A is rolling out a new ad campaign that will hopefully get customers just as excited about Chick-fil-A's breakfast, especially the new Egg White Grill, as we are.
"The best advertising comes from going right to the point of tension," says Eric Kallman, co-founder of the San Francisco-based ad agency Erich & Kallman and the creative mind behind the new campaign. "So that's what we did."
The theme of the campaign is "Chicken for Breakfast - It's not as crazy as you think." The stars? Six historic figures—Susan B. Anthony, Beethoven, Alexander Graham Bell, Amelia Earhart, Thomas Edison and Michelangelo—whose ideas were considered a little loony for their time, but who went on to achieve incredible things. In the charmingly quirky ads, these legendary innovators eat the Egg White Grill and, to the surprise of their peers, they love it.
"These ads embrace the reality of what people are thinking," says Dustin Britt, who is part of Chick-fil-A's brand strategy and media team and worked with Kallman on the ads. "We heard from our customers, and we saw in our sales, that chicken and Chick-fil-A weren't top of mind for breakfast. These ads challenge that idea in an honest, but lighthearted and funny, way."
The Chick-fil-A Brand Strategy and Media Team on set with Beethoven (Dustin Britt pictured second from right).
Speaking of lighthearted and funny, Kallman and Britt share a few of their favorite moments from filming, like when the actor who played Beethoven stayed in character, even when the cameras weren't rolling.
"He would walk around and, in his Beethoven voice, say things to the crew like, 'Welcome to my parlor!'," Britt says.
Or, when the actor who played Michelangelo kept getting a crack in his voice at the same point in every take—cracking everyone up on set. (Hint: They left it in. You can hear him break at the 0:15 mark.)
While the silly scenarios are far from reality—we're pretty sure Amelia Earhart never snapped a selfie from the cockpit—one aspect of the commercials is very real. The Egg White Grill breakfast sandwiches shown in the ads were crafted from scratch right there on set using our very own equipment and ingredients.
"They were the real deal," Britt says. "When the historic figures take a bite out of the sandwich, they are eating the same quality ingredients our customers can get at our restaurants."
Now that you know chicken and breakfast go hand-in-hand like Edison and the lightbulb, do yourself a favor and get to the nearest Chick-fil-A to try the Egg White Grill, and let us know what you think.
(Pssst, here's an insider tip: Try it with the Honey Roasted BBQ Sauce. In the words of Michelangelo, "It's delish!")
While Edison, Beethoven and Earhart have joined the ranks as stars of Chick-fil-A's newest ads, the iconic "Eat Mor Chicken" cows aren't going anywhere.In fact, at the same time the new ads make their debut between rounds of the PGA Championship, the Cows will be rolling out a new TV spot of their own. The Holsteins are an essential part of our advertising and will continue to encourage people to "Eat Mor Chikin."