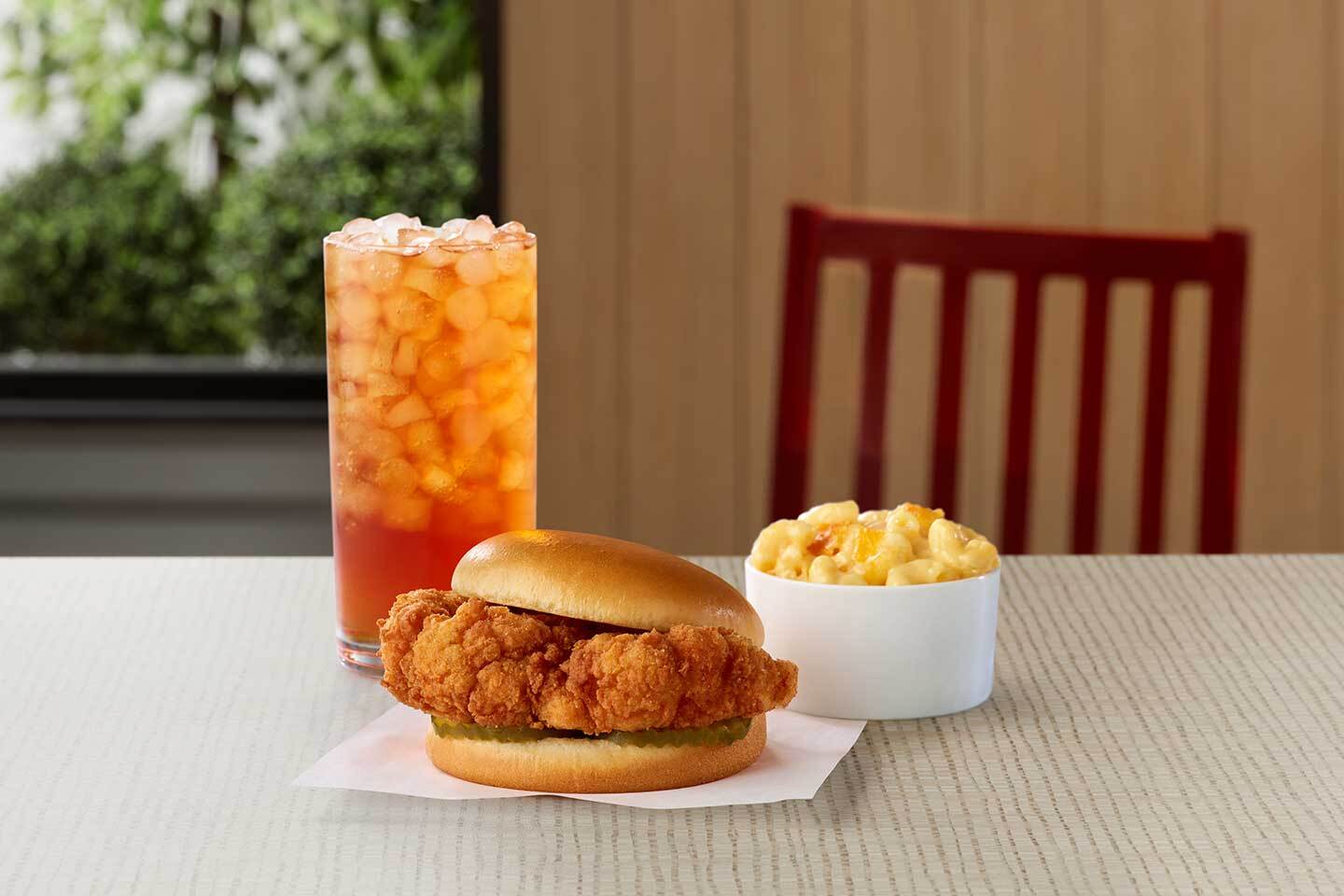 An interview with Stuart Tracy, principal culinary developer
Chick-fil-A® has exciting news for veggie lovers or anyone looking for variety from their go-to order: we're testing a brand-new cauliflower sandwich, the first ever plant-forward entrée on the Chick-fil-A menu. The Chick-fil-A Cauliflower Sandwich will make its debut for a limited time starting Monday, February 13, in three markets: Denver, Colo., Charleston, S.C. and North Carolina's Greensboro-Triad region. We sat down with chef Stuart Tracy, the Chick-fil-A chef who developed the sandwich, to learn how he and his team crafted and perfected the new recipe.
Q: What is the Chick-fil-A Cauliflower Sandwich?

A: The Chick-fil-A Cauliflower Sandwich is made with a real cauliflower filet and was inspired by our Original Chick-fil-A Chicken Sandwich. It's seasoned with the same familiar flavors and pressure cooked like the chicken sandwich to give it that special Chick-fil-A taste guests have come to know and love.

Q: When did you and your team start developing the Chick-fil-A Cauliflower Sandwich?

A: I created the very first iteration of the Cauliflower Sandwich in October 2018 after research showed our customers wanted a way to incorporate more vegetables into their diets. Our culinary team brainstormed and explored everything from mushrooms to chickpeas to chopped vegetables formed into patties, but we kept coming back to the cauliflower filet. Our team was so excited to take on the challenge to innovate and give our customers an entrée that met their needs and maintained the same quality they've come to expect from us.

Q: Why did you choose cauliflower as the centerpiece for the sandwich?

A: I've always loved cauliflower and cooked with it in my restaurants in Charleston and Atlanta before coming to Chick-fil-A. It has a mild flavor, making it a great alternative to chicken. We created several different iterations and conducted taste tests and once we saw the excited smiles of the taste testers from our team and various focus groups and heard the positive reviews, we knew we had found the right centerpiece for the sandwich.

Q: What makes this sandwich different from other plant-forward sandwiches?

A: At Chick-fil-A, we put any new menu concept through rigorous testing for taste, quality and ease for restaurants to prepare it consistently each day and those high standards really differentiate our process. We truly didn't stop collaborating and changing the recipe until we thought we had created a product we knew our customers would love. When most people think about a plant-forward sandwich, they might picture a patty molded from chopped vegetables, but this sandwich is what you could call a cauliflower steak. It's real cauliflower, cut then breaded in Chick-fil-A seasoning and pressure cooked, just like our original Chick-fil-A Chicken Sandwich. It's delicious and something you might not expect on a quick service restaurant menu.

Q: What was your favorite part about being a part of the process?

A: Creating something that customers love is always what inspires me. Everything we do to innovate our menu is done with the intention of giving our guests delicious choices of a wide variety. I am so grateful to get to play a role in that process by collaborating with the culinary experts and food scientists at Chick-fil-A to brainstorm new ideas for creative menu items that we know our guests will love. This sandwich specifically gave us an opportunity to pioneer a new plant-forward recipe, which makes the end result even more exciting and rewarding. I am so thrilled for customers in these test markets to take their first bite and can't wait to hear what they think.

Q: So, what can we expect that first bite to be like?

A: Even before the first bite, people might have to do a double-take. At first glance, some of those within Chick-fil-A who have tried it thought it was the Chicken Sandwich! At first bite, you can expect a lot of flavor. Reminiscent of the original Chick-fil-A Chicken Sandwich, the Cauliflower Sandwich is paired with two pickle chips and sandwiched between toasted, buttery buns. It's a really delicious and satisfying sandwich.

Q: Are you getting hungry after all of this talk about the new Chick-fil-A Cauliflower Sandwich?

A: Aren't you?

*Entrée not considered vegetarian.