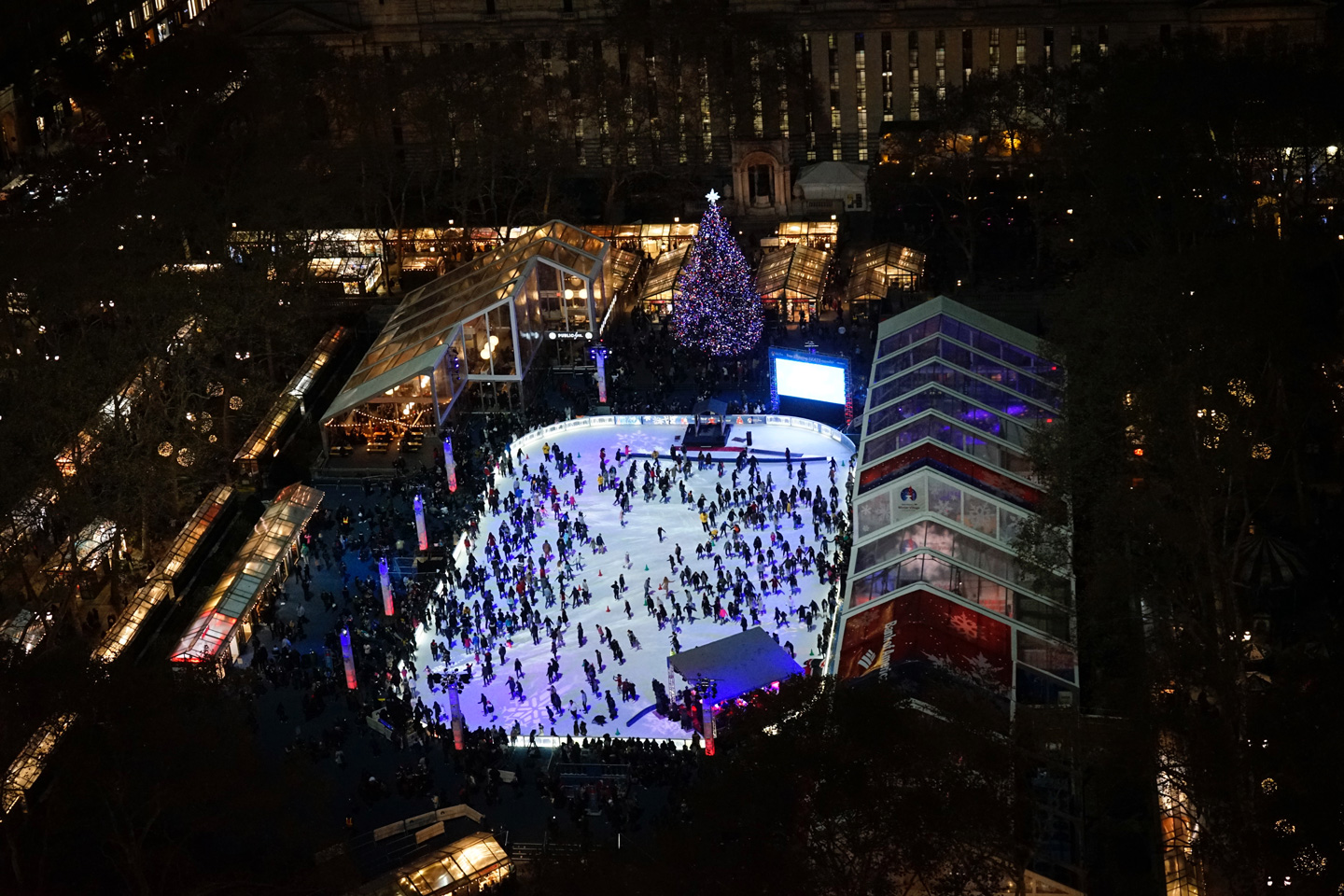 Get the details for the restaurant's 12-hour campout in Bryant Park
Chick-fil-A Operator Ellie Kim and the team at Chick-fil-A at 42nd & Madison are excited to serve customers when the restaurant opens on March 1. As a part of the grand opening celebration, residents of New York City are invited to participate in Chick-fil-A's signature First 100 Campout from 6 p.m. on Feb. 28 to 6 a.m. on March 1 in the Bank of America Winter Village at Bryant Park.
Participants must be 18 years or older and be residents of New York City. Below is a full list of eligible zip codes, which includes all zip codes in the five boroughs of New York City.
A valid ID is required to participate. If your ID does not reflect your current zip code, please click here to see a list of acceptable documents to verify your current residence.
Participants should arrive at Bryant Park to register no earlier than 5:30 p.m. on Wednesday, Feb. 28. The campout will officially begin at 6 p.m. and will take place indoors in the Bank of America Winter Village at Bryant Park.
Due to limited space and the indoor nature of the campout, tents are not permitted and personal items should be limited to one item such as a backpack or purse. Additionally, participants will not be permitted to bring a guest.
Chairs and blankets will be provided. Public transportation is encouraged as there is no on-site parking.
Additional details specific to this opening can be found here. For Official Rules specific to this location, click here.
06807, 06830, 06831, 06836, 06870, 06878, 07001, 07002, 07003, 07004, 07005, 07006, 07007, 07008, 07009, 07010, 07011, 07012, 07013, 07014, 07015, 07016, 07017, 07018, 07019, 07020, 07021, 07022, 07023, 07024, 07026, 07027, 07028, 07029, 07030, 07031, 07032, 07033, 07034, 07035, 07036, 07039, 07040, 07041, 07042, 07043, 07044, 07045, 07046, 07047, 07050, 07051, 07052, 07054, 07055, 07057, 07058, 07059, 07060, 07061, 07062, 07063, 07064, 07065, 07066, 07067, 07068, 07069, 07070, 07071, 07072, 07073, 07074, 07075, 07076, 07077, 07078, 07079, 07080, 07081, 07082, 07083, 07086, 07087, 07088, 07090, 07091, 07092, 07093, 07094, 07095, 07096, 07097, 07099, 07101, 07102, 07103, 07104, 07105, 07106, 07107, 07108, 07109, 07110, 07111, 07112, 07114, 07175, 07184, 07188, 07189, 07191, 07192, 07193, 07195, 07198, 07199, 07201, 07202, 07203, 07204, 07205, 07206, 07207, 07208, 07302, 07303, 07304, 07305, 07306, 07307, 07308, 07310, 07311, 07395, 07399, 07401, 07403, 07405, 07407, 07410, 07417, 07420, 07423, 07424, 07430, 07432, 07436, 07440, 07442, 07444, 07446, 07450, 07451, 07452, 07456, 07457, 07458, 07463, 07465, 07470, 07474, 07481, 07495, 07501, 07502, 07503, 07504, 07505, 07506, 07507, 07508, 07509, 07510, 07511, 07512, 07513, 07514, 07522, 07524, 07533, 07538, 07543, 07544, 07601, 07602, 07603, 07604, 07605, 07606, 07607, 07608, 07620, 07621, 07624, 07626, 07627, 07628, 07630, 07631, 07632, 07640, 07641, 07642, 07643, 07644, 07645, 07646, 07647, 07648, 07649, 07650, 07652, 07653, 07656, 07657, 07660, 07661, 07662, 07663, 07666, 07670, 07675, 07676, 07677, 07699, 07701, 07702, 07704, 07716, 07718, 07721, 07730, 07732, 07733, 07734, 07735, 07737, 07738, 07739, 07747, 07748, 07750, 07752, 07758, 07760, 07799, 07834, 07878, 07901, 07902, 07922, 07927, 07928, 07932, 07933, 07935, 07936, 07939, 07940, 07946, 07950, 07960, 07961, 07962, 07963, 07974, 07976, 07980, 07981, 07999, 08812, 08817, 08818, 08820, 08830, 08832, 08837, 08840, 08846, 08854, 08855, 08859, 08861, 08862, 08863, 08871, 08872, 08879, 08882, 08899, 08904, 10001, 10002, 10003, 10004, 10005, 10006, 10007, 10008, 10009, 10010, 10011, 10012, 10013, 10014, 10016, 10017, 10018, 10019, 10020, 10021, 10022, 10023, 10024, 10025, 10026, 10027, 10028, 10029, 10030, 10031, 10032, 10033, 10034, 10035, 10036, 10037, 10038, 10039, 10040, 10041, 10043, 10044, 10045, 10055, 10060, 10065, 10069, 10075, 10080, 10081, 10087, 10090, 10101, 10102, 10103, 10104, 10105, 10106, 10107, 10108, 10109, 10110, 10111, 10112, 10113, 10114, 10115, 10116, 10117, 10118, 10119, 10120, 10121, 10122, 10123, 10124, 10125, 10126, 10128, 10129, 10130, 10131, 10132, 10133, 10138, 10150, 10151, 10152, 10153, 10154, 10155, 10156, 10157, 10158, 10159, 10160, 10161, 10162, 10163, 10164, 10165, 10166, 10167, 10168, 10169, 10170, 10171, 10172, 10173, 10174, 10175, 10176, 10177, 10178, 10179, 10185, 10199, 10203, 10211, 10212, 10213, 10242, 10249, 10256, 10257, 10258, 10259, 10260, 10261, 10265, 10268, 10269, 10270, 10271, 10272, 10273, 10274, 10275, 10276, 10277, 10278, 10279, 10280, 10281, 10282, 10285, 10286, 10292, 10301, 10302, 10303, 10304, 10305, 10306, 10307, 10308, 10309, 10310, 10311, 10312, 10313, 10314, 10451, 10452, 10453, 10454, 10455, 10456, 10457, 10458, 10459, 10460, 10461, 10462, 10463, 10464, 10465, 10466, 10467, 10468, 10469, 10470, 10471, 10472, 10473, 10474, 10475, 10502, 10503, 10504, 10510, 10522, 10523, 10528, 10530, 10532, 10533, 10538, 10543, 10545, 10550, 10551, 10552, 10553, 10570, 10573, 10577, 10580, 10583, 10591, 10594, 10595, 10601, 10602, 10603, 10604, 10605, 10606, 10607, 10610, 10701, 10702, 10703, 10704, 10705, 10706, 10707, 10708, 10709, 10710, 10801, 10802, 10803, 10804, 10805, 10901, 10913, 10920, 10931, 10952, 10954, 10956, 10960, 10962, 10964, 10965, 10968, 10974, 10976, 10977, 10982, 10983, 10989, 10994, 11001, 11002, 11003, 11004, 11005, 11010, 11020, 11021, 11022, 11023, 11024, 11026, 11027, 11030, 11040, 11042, 11050, 11051, 11052, 11053, 11054, 11055, 11096, 11101, 11102, 11103, 11104, 11105, 11106, 11109, 11120, 11201, 11202, 11203, 11204, 11205, 11206, 11207, 11208, 11209, 11210, 11211, 11212, 11213, 11214, 11215, 11216, 11217, 11218, 11219, 11220, 11221, 11222, 11223, 11224, 11225, 11226, 11228, 11229, 11230, 11231, 11232, 11233, 11234, 11235, 11236, 11237, 11238, 11239, 11241, 11242, 11243, 11245, 11247, 11249, 11251, 11252, 11256, 11351, 11352, 11354, 11355, 11356, 11357, 11358, 11359, 11360, 11361, 11362, 11363, 11364, 11365, 11366, 11367, 11368, 11369, 11370, 11371, 11372, 11373, 11374, 11375, 11377, 11378, 11379, 11380, 11381, 11385, 11386, 11405, 11411, 11412, 11413, 11414, 11415, 11416, 11417, 11418, 11419, 11420, 11421, 11422, 11423, 11424, 11425, 11426, 11427, 11428, 11429, 11430, 11431, 11432, 11433, 11434, 11435, 11436, 11439, 11451, 11499, 11501, 11507, 11509, 11510, 11514, 11516, 11518, 11520, 11530, 11531, 11542, 11545, 11547, 11548, 11549, 11550, 11551, 11552, 11553, 11554, 11555, 11556, 11557, 11558, 11559, 11560, 11561, 11563, 11565, 11566, 11568, 11569, 11570, 11571, 11572, 11575, 11576, 11577, 11579, 11580, 11581, 11582, 11590, 11596, 11598, 11599, 11690, 11691, 11692, 11693, 11694, 11695, 11697, 11709, 11710, 11714, 11724, 11732, 11735, 11737, 11753, 11756, 11758, 11760, 11762, 11765, 11771, 11773, 11775, 11783, 11791, 11793, 11797, 11801, 11802, 11803, 11804, 11815, 11819, 11853, 11854