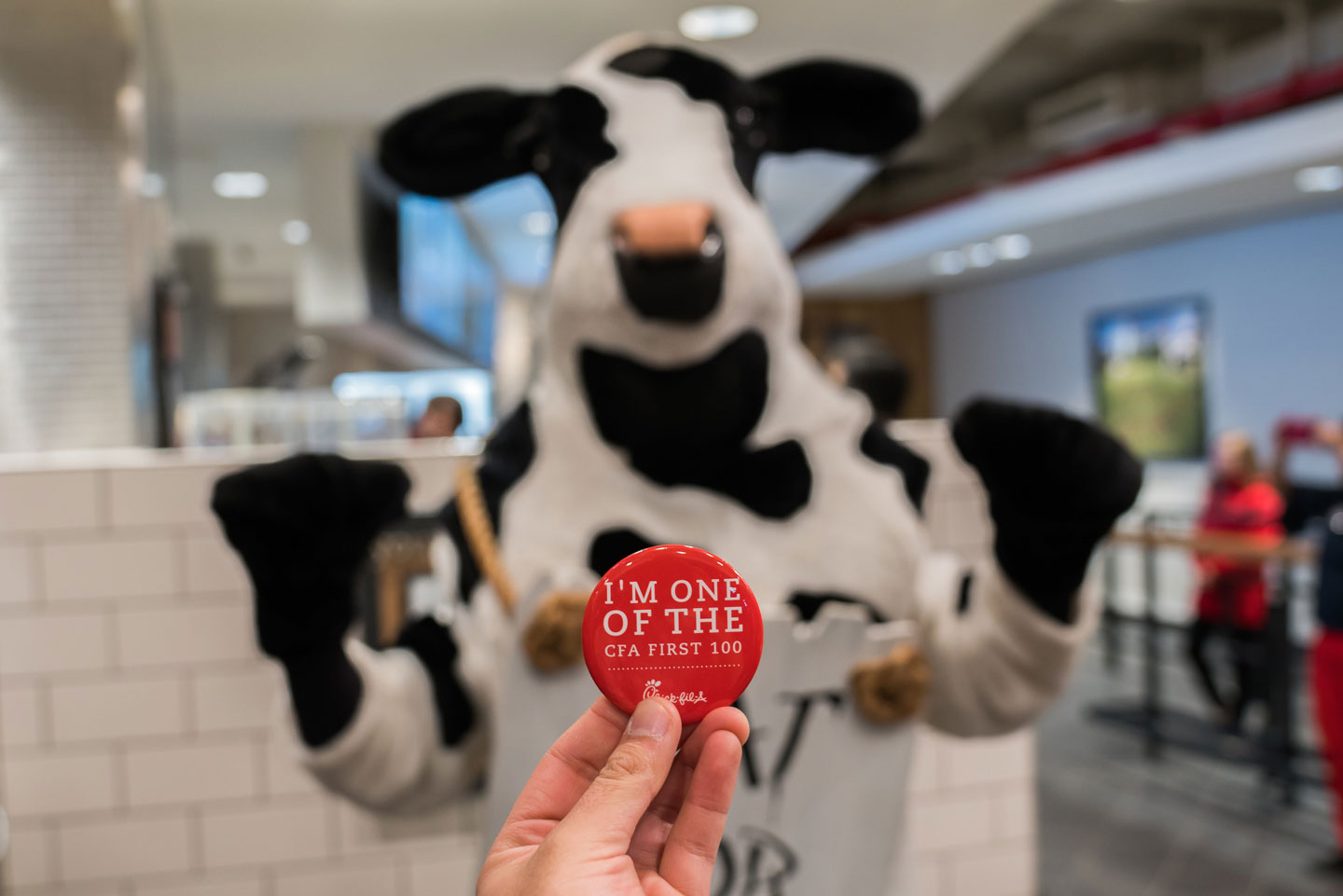 Lower Manhattan celebrates guests in grand style
Chick-fil-A Operator Luke Cook and the team at Chick-fil-A Fulton Street are excited to serve customers in Lower Manhattan when the restaurant opens on Thursday, March 29. As part of the grand opening celebration, residents of New York City are invited to participate in the First 100 Scavenger Hunt on Wednesday, March 28.
Registration for the scavenger hunt will begin at 6 a.m. on Wednesday, March 28 at the restaurant, located at 144 Fulton Street next to Fulton Center Station, and will continue until 100 eligible participants are registered or until 9:30 a.m.
The scavenger hunt will kick off at 10 a.m., and participants must visit each specified location, complete each activity, and return to the restaurant by 2 p.m. The scavenger hunt will consist of activities at various locations in Lower Manhattan, awarding a one-year supply for free Chick-fil-A meals (52 meals total) to all successful participants. An awards ceremony will begin at approximately 4 p.m.
This event is open to guests 18 years or older and residing in specific zip codes surrounding the restaurant, inclusive of all zip codes in the five boroughs of NYC.
A valid ID is required to participate. If your ID does not reflect your current zip code, please click
here
to see a list of acceptable documents to verify your current residence.
Details specific to the Chick-fil-A Fulton Street opening can be found
here
. For Official Rules specific to this location, click
here
. For additional information about the restaurant, please visit the restaurant
Facebook
page. We look forward to meeting you!
Please consider bringing a new or gently used children's book to be donated to
The Peck Slip School
.
Eligible Zip Codes:
06807, 06830, 06831, 06836, 06870, 06878, 07001, 07002, 07003, 07004, 07005, 07006, 07007, 07008, 07009, 07010, 07011, 07012, 07013, 07014, 07015, 07016, 07017, 07018, 07019, 07020, 07021, 07022, 07023, 07024, 07026, 07027, 07028, 07029, 07030, 07031, 07032, 07033, 07034, 07035, 07036, 07039, 07040, 07041, 07042, 07043, 07044, 07045, 07046, 07047, 07050, 07051, 07052, 07054, 07055, 07057, 07058, 07059, 07060, 07061, 07062, 07063, 07064, 07065, 07066, 07067, 07068, 07069, 07070, 07071, 07072, 07073, 07074, 07075, 07076, 07077, 07078, 07079, 07080, 07081, 07082, 07083, 07086, 07087, 07088, 07090, 07091, 07092, 07093, 07094, 07095, 07096, 07097, 07099, 07101, 07102, 07103, 07104, 07105, 07106, 07107, 07108, 07109, 07110, 07111, 07112, 07114, 07175, 07184, 07188, 07189, 07191, 07192, 07193, 07195, 07198, 07199, 07201, 07202, 07203, 07204, 07205, 07206, 07207, 07208, 07302, 07303, 07304, 07305, 07306, 07307, 07308, 07310, 07311, 07395, 07399, 07401, 07403, 07405, 07407, 07410, 07417, 07420, 07423, 07424, 07430, 07432, 07436, 07440, 07442, 07444, 07446, 07450, 07451, 07452, 07456, 07457, 07458, 07463, 07465, 07470, 07474, 07481, 07495, 07501, 07502, 07503, 07504, 07505, 07506, 07507, 07508, 07509, 07510, 07511, 07512, 07513, 07514, 07522, 07524, 07533, 07538, 07543, 07544, 07601, 07602, 07603, 07604, 07605, 07606, 07607, 07608, 07620, 07621, 07624, 07626, 07627, 07628, 07630, 07631, 07632, 07640, 07641, 07642, 07643, 07644, 07645, 07646, 07647, 07648, 07649, 07650, 07652, 07653, 07656, 07657, 07660, 07661, 07662, 07663, 07666, 07670, 07675, 07676, 07677, 07699, 07701, 07702, 07704, 07716, 07718, 07721, 07730, 07732, 07733, 07734, 07735, 07737, 07738, 07739, 07747, 07748, 07750, 07752, 07758, 07760, 07799, 07834, 07878, 07901, 07902, 07922, 07927, 07928, 07932, 07933, 07935, 07936, 07939, 07940, 07946, 07950, 07960, 07961, 07962, 07963, 07974, 07976, 07980, 07981, 07999, 08812, 08817, 08818, 08820, 08830, 08832, 08837, 08840, 08846, 08854, 08855, 08859, 08861, 08862, 08863, 08871, 08872, 08879, 08882, 08899, 08904, 10001, 10002, 10003, 10004, 10005, 10006, 10007, 10008, 10009, 10010, 10011, 10012, 10013, 10014, 10016, 10017, 10018, 10019, 10020, 10021, 10022, 10023, 10024, 10025, 10026, 10027, 10028, 10029, 10030, 10031, 10032, 10033, 10034, 10035, 10036, 10037, 10038, 10039, 10040, 10041, 10043, 10044, 10045, 10055, 10060, 10065, 10069, 10075, 10080, 10081, 10087, 10090, 10101, 10102, 10103, 10104, 10105, 10106, 10107, 10108, 10109, 10110, 10111, 10112, 10113, 10114, 10115, 10116, 10117, 10118, 10119, 10120, 10121, 10122, 10123, 10124, 10125, 10126, 10128, 10129, 10130, 10131, 10132, 10133, 10138, 10150, 10151, 10152, 10153, 10154, 10155, 10156, 10157, 10158, 10159, 10160, 10161, 10162, 10163, 10164, 10165, 10166, 10167, 10168, 10169, 10170, 10171, 10172, 10173, 10174, 10175, 10176, 10177, 10178, 10179, 10185, 10199, 10203, 10211, 10212, 10213, 10242, 10249, 10256, 10257, 10258, 10259, 10260, 10261, 10265, 10268, 10269, 10270, 10271, 10272, 10273, 10274, 10275, 10276, 10277, 10278, 10279, 10280, 10281, 10282, 10285, 10286, 10292, 10301, 10302, 10303, 10304, 10305, 10306, 10307, 10308, 10309, 10310, 10311, 10312, 10313, 10314, 10451, 10452, 10453, 10454, 10455, 10456, 10457, 10458, 10459, 10460, 10461, 10462, 10463, 10464, 10465, 10466, 10467, 10468, 10469, 10470, 10471, 10472, 10473, 10474, 10475, 10502, 10503, 10504, 10510, 10522, 10523, 10528, 10530, 10532, 10533, 10538, 10543, 10545, 10550, 10551, 10552, 10553, 10570, 10573, 10577, 10580, 10583, 10591, 10594, 10595, 10601, 10602, 10603, 10604, 10605, 10606, 10607, 10610, 10701, 10702, 10703, 10704, 10705, 10706, 10707, 10708, 10709, 10710, 10801, 10802, 10803, 10804, 10805, 10901, 10913, 10920, 10931, 10952, 10954, 10956, 10960, 10962, 10964, 10965, 10968, 10974, 10976, 10977, 10982, 10983, 10989, 10994, 11001, 11002, 11003, 11004, 11005, 11010, 11020, 11021, 11022, 11023, 11024, 11026, 11027, 11030, 11040, 11042, 11050, 11051, 11052, 11053, 11054, 11055, 11096, 11101, 11102, 11103, 11104, 11105, 11106, 11109, 11120, 11201, 11202, 11203, 11204, 11205, 11206, 11207, 11208, 11209, 11210, 11211, 11212, 11213, 11214, 11215, 11216, 11217, 11218, 11219, 11220, 11221, 11222, 11223, 11224, 11225, 11226, 11228, 11229, 11230, 11231, 11232, 11233, 11234, 11235, 11236, 11237, 11238, 11239, 11241, 11242, 11243, 11245, 11247, 11249, 11251, 11252, 11256, 11351, 11352, 11354, 11355, 11356, 11357, 11358, 11359, 11360, 11361, 11362, 11363, 11364, 11365, 11366, 11367, 11368, 11369, 11370, 11371, 11372, 11373, 11374, 11375, 11377, 11378, 11379, 11380, 11381, 11385, 11386, 11405, 11411, 11412, 11413, 11414, 11415, 11416, 11417, 11418, 11419, 11420, 11421, 11422, 11423, 11424, 11425, 11426, 11427, 11428, 11429, 11430, 11431, 11432, 11433, 11434, 11435, 11436, 11439, 11451, 11499, 11501, 11507, 11509, 11510, 11514, 11516, 11518, 11520, 11530, 11531, 11542, 11545, 11547, 11548, 11549, 11550, 11551, 11552, 11553, 11554, 11555, 11556, 11557, 11558, 11559, 11560, 11561, 11563, 11565, 11566, 11568, 11569, 11570, 11571, 11572, 11575, 11576, 11577, 11579, 11580, 11581, 11582, 11590, 11596, 11598, 11599, 11690, 11691, 11692, 11693, 11694, 11695, 11697, 11709, 11710, 11714, 11724, 11732, 11735, 11737, 11753, 11756, 11758, 11760, 11762, 11765, 11771, 11773, 11775, 11783, 11791, 11793, 11797, 11801, 11802, 11803, 11804, 11815, 11819, 11853, 11854