As one little red door closes, another opens.
The Dwarf House® restaurant in Hapeville, Ga.— where Truett Cathy created, tested and ultimately perfected the Original Chick-fil-A® Chicken Sandwich — has undergone an extensive transformation that pays homage to the restaurant's storied history while creating a larger space for future customers, more than twice the capacity of the original location.

The iconic location closed in April 2021 for a massive makeover and reopens February 17, 2022. When the restaurant reopens, Dwarf House guests will recognize many features they've come to love, like the iconic little red door, the dwarf mural and the original 14 stools.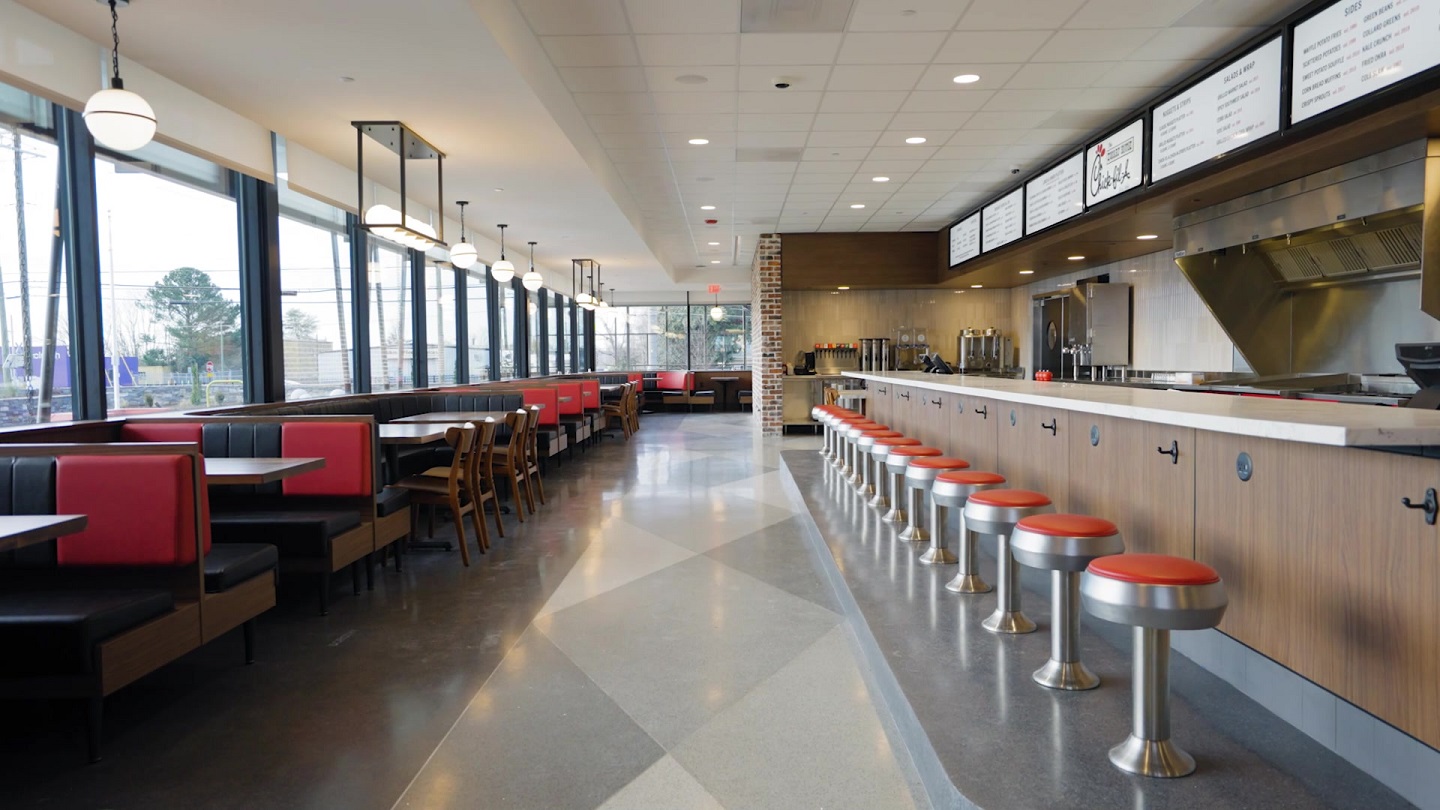 "The overall layout is going to feel very familiar," said Jenn Allstun, senior principal design lead. "It has the same sense of home."

A Chick-fil-A legacy

In 1946, Cathy opened the Dwarf Grill in a converted house with only 10 stools and four booths. The cozy, 24-hour-a-day, six-days-a-week diner served up steaks, hamburgers and other short-order favorites.

Truett and his brother, Ben, named the restaurant The Dwarf Grill because of its modest size. Despite its small size, it quickly grew. As word spread, the Dwarf Grill became The Dwarf House and, in 1957, added a chimney and front porch. In 1967, Truett tore down the original home and rebuilt a larger structure that stood until earlier this year to meet growing demand and better serve customers.

"The Hapeville Dwarf House was always Truett's restaurant," said Martha Lawrence, Truett's longtime executive administrative assistant. "That was his dream…one he built from ground up, literally, digging the foundation for the building."

It's also where Truett famously invented the Chick-fil-A® chicken sandwich, tinkering with ingredients and inviting customers to test recipes until landing on the signature recipe in 1964.

The Dwarf House clientele represented a melting pot of the community, thanks to its welcoming, home-away-from-home environment and staff that treated everyone like family. On any given day, couples on a date would be seated at the counter as business meetings were conducted in nearby booths. College students and workers at the nearby automobile plant and Atlanta airport stopped in for late-night (or early-morning) meals. Team members would sing to guests, picking up tips of nickels and dimes for honoring requests. Regulars laid claim to their favorite stools.

"The attachment isn't to the brick and mortar, but to the people and the relationships," said Ross Cathy, Operator at Chick-fil-A Midland FSU.

Honoring Truett's vision

Over the last 75 years, Truett made sure the Dwarf House restaurant was a place that evolved to meet the demands of customers and the community.

Before Truett passed away in 2014, he saw the obstacles the Dwarf House restaurant was facing and gradually purchased nearby property for expansion. The restaurant had been operating well over capacity for years, with an outdated and undersized infrastructure. Cars consistently lined up waiting for open spots in the parking lot. The kitchen had been expanded multiple times, creating a jagged, inefficient layout for Team Members to navigate.

Truett challenged his team to come up with innovative solutions. "There were ideas Truett was thinking about even back then," recalled David Millican, executive director, facilities and equipment. "We came up with a suggestion of expanding the kitchen and Truett's response was, 'Why aren't you thinking bigger?'"

After years of extensive design planning and research, ground broke in May 2021 on the reconstruction. John White IV, Truett's grandson and president of STC Brands, is leading the project. The rebuilt restaurant pays tribute to Truett's devotion to serving quality products and his beloved customers.

Dwarf House Executive General Manager Kevin Moss says it best: "I want my guests to walk in wide-eyed in a way that's like, 'I can't believe they did this for us!'."