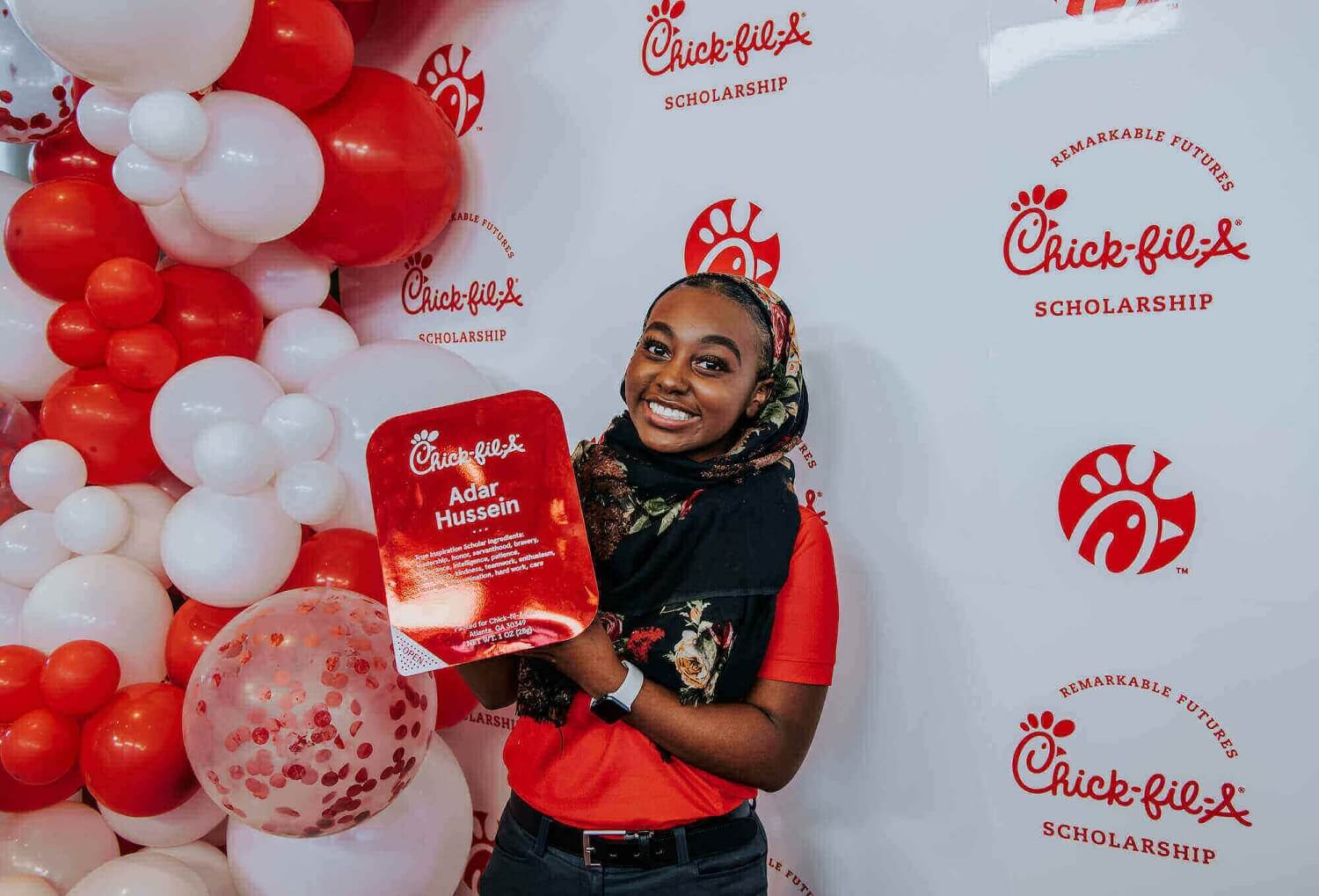 The youngest of 11 children, Team Member Adar Hussein is one of this year's $25,000 scholarship recipients.
Whenever she needs an escape, Chick-fil-A Team Member Adar Hussein reaches for a book. Her favorite book series features a family that uses creative solutions to overcome a cascade of obstacles — something she knows a thing or two about.
The youngest of 11 children, Adar was born in East Africa. Her family came to America as refugees in 2004. Despite bouncing around between several homes in her new country, Adar and her family always adapted.
While Adar's mother raised the children, her father — who struggled with his English as well as his health — worked in custodial services. To help supplement his income, Adar and her siblings were expected to earn extra money.
More than a paycheck
Throughout childhood, Adar loved visiting her local Chick-fil-A® restaurant. When she heard about the grand opening of a Chick-fil-A restaurant in North Decatur, Georgia, near her home, she applied for a job.
In her first few months at the restaurant, Adar — who had wrestled with self-doubt and inner criticism — made several rookie mistakes. Chick-fil-A North Decatur Operator Rodney Johnson encouraged her to keep trying.
Adar learned and adapted, eventually finding solace in her work, which offered "a way to break the train of negative thoughts," she said.
Her hard work has paid off. Two years later, Adar is a manager and leader in the restaurant.
"We can put her anywhere and she makes a difference," Johnson said. "She can go to the drive-thru and crush it. She can go in the kitchen and run lunch or dinner. She can engage with customers perfectly. There's a comfort knowing Adar's there."
Facing a new challenge
Now, the 18-year-old has a new challenge: balancing work with her freshman year of college, where she is majoring in business administration. Two days a week she attends classes, and four days a week she is managing the restaurant, clocking in at 5:15 each morning.
Adar is meticulous when it comes to planning. Monday and Wednesdays are reserved for schoolwork. Family time is scheduled for evenings following restaurant dayshifts. Prior to evening shifts, she arrives to the restaurant early, carving out time for conversations with colleagues and other managerial tasks. "It gets hectic, but I try to follow through with the system," she said. "A planner helps!"
This past March, Adar received welcome news: She was named one of 12 Chick-fil-A Team Members to receive $25,000 as part of the Chick-fil-A Remarkable Futures Scholarships initiative. In addition to the 12 $25,000 scholarships, Chick-fil-A awarded another 6,688 Team Members with $2,500 scholarships for a total investment of $17 million this year.
"A good soul"
With her father now retired, Adar used the scholarship money toward school loans, lifting a large burden off her family.
Johnson is proud of his protégée. "She's just a good soul," he said. "She cares about people. She wasn't born with any silver spoons. But she has a high standard of excellence."
With such a busy schedule, Adar still must remind herself to pause and breathe in the face of stress. But she knows she will get through it.
"Every problem has a solution," she said.