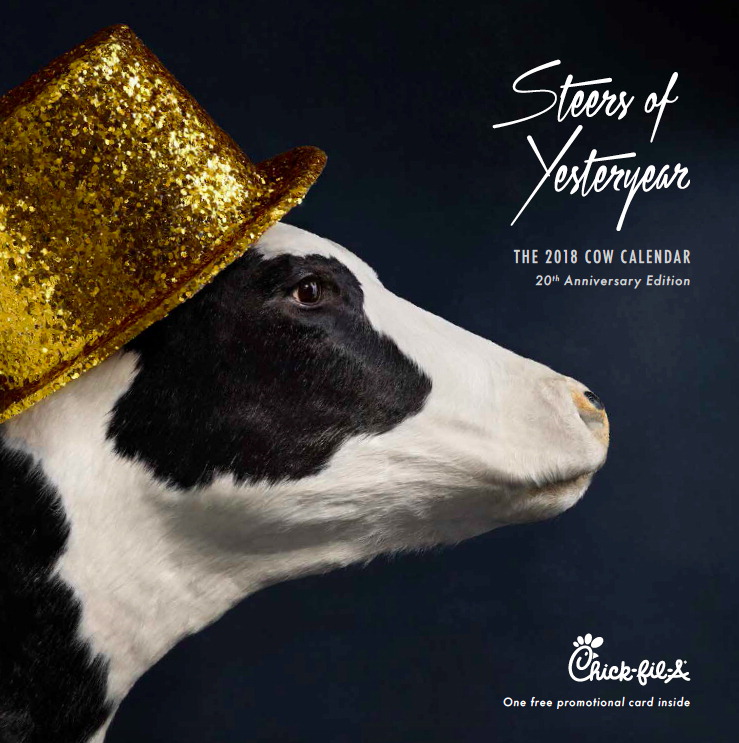 Everything you ever wanted to know about the calendar
What were you doing 20 years ago? "Titanic" was in theaters, the Spice Girls were climbing the charts… and the Chick-fil-A Cows were preparing for their calendar debut. It marked the beginning of a two-decade run filled with udderly ridiculous costumes, and opportunities for the Cows' biggest fans to collect free treats.
The 2018 Cow Calendar, a 20th anniversary retrospective titled, "Steers of Yesteryear," pays homage to those pioneering bovines. It includes a card with a wide range of free food offerings across the Chick-fil-A menu. Here's everything you need to know about it.

What is a Cow Calendar?
12 months of awesomeness, that's what. Each page includes a glimpse of what these zany cows do in their free time, along with an exclusive offer for free grub from the Chick-fil-A menu.
Where can I find the 2018 Cow Calendar?
At your local Chick-fil-A restaurant beginning Nov. 20.

How much does it cost?
$8 plus tax.

What's the free stuff you're talking about?
Chick-fil-A deliciousness! Each month gives calendar owners the chance to collect free Chick-fil-A menu items. The offerings vary each month, so over the course of the year, you'll sample a fun mix, including several months of mystery offerings! No hints here… You'll have to wait and see.

How do I cash in my monthly food offering?
Each 2018 Cow Calendar includes a digital offer card. Register that card through your
Chick-fil-A One App
or the
Chick-fil-A website
and receive a free food item at the beginning of each month.

Can I buy more than one?
Of course, but they can sell out quickly. Cow Calendars also make great holiday gifts.

I hear you can use the Cow Calendar for fundraising campaigns.
Yes, Cow Calendars can be purchased and resold for local fundraisers. Ask your local restaurant about ordering calendars in bulk. Keep in mind the 2018 calendars have already been ordered, so large orders may need to wait until next year. The best time to place bulk orders is in the spring.