One scholarship recipient's road to his college dreams
It didn't take long for Operator Kristie Bergstrom to see the potential in one of her new Team Members at Chick-fil-A Long Beach Traffic Circle. College student Nelson Rivera hit the ground running, working six days a week to help support his family and pay his way through school.
In his first few months at the restaurant, Bergstrom made it her mission to persuade – or "bug" – Rivera to apply for Chick-fil-A's Remarkable Futures Scholarships program. During the application process, Bergstrom learned the challenges that have shaped this young man's character.
"Nelson's faced many challenges in his life that I can't imagine going through ever, let alone at 20 years old," Bergstrom said. "He has an amazing heart and is always concerned about his fellow Team Members and how to help the team. He's always focused on someone other than himself."
Putting in the work
Rivera credits his work ethic and ability to overcome adversity to his parents, Sandra and Nelson Rivera, who immigrated to the U.S. and worked several jobs to support their three children.
On top of working for three years at his first job for Chick-fil-A Palmdale, Rivera studied diligently to become his high school's valedictorian and earned near-perfect SAT scores.
Despite being born with a learning disability and speaking his first words at age five, Rivera was passionate about learning and growing. Now, he speaks and signs four languages (including American Sign Language to communicate with guests at Chick-fil-A) and writes and plays music as a hobby.
He dreamed of being the first in his family to go to college and was accepted to several Ivy League schools. However, he chose to attend California State University Long Beach to save money, where he started working at Bergstrom's restaurant.
From dreams to reality
One day, he approached Bergstrom to share that for him to reach his aspirations of a college education, he would have to either take a semester off of school to work more or live out of his car.
"Neither of those options were acceptable to me," Bergstrom said. "He is so determined to be successful. I took this on as a personal responsibility. They [her Team Members] feel like my kids, and I want them to succeed."
Earning one of the 12 $25,000 True Inspiration Scholarships would mean that Rivera could continue his education. Rivera said it felt like a long shot, so when he was invited to attend the company's annual conference with Bergstrom, he thought he was along to provide Team Member input. Little did he know, his life would never be the same.
When Dan Cathy, Chick-fil-A Chairman and CEO, took the stage, Rivera said the next thing he remembers was confetti falling from the ceiling and the roar of music and cheering.
"I think the first words out of Nelson's mouth when he won the scholarship was, 'I get to go to school,'" Bergstrom said. "It was sheer joy, and you could just tell how passionate he is about education and learning to grow."
Rivera FaceTimed his dad, who cried and joined in the excitement. He credits Bergstrom for encouraging and pushing him to reach for his dream.
"I just want to tell Kristie thank you," he said. "Thank you for believing in me when I didn't believe in me. Thank you for being my mentor and giving me opportunities I thought I wouldn't ever have."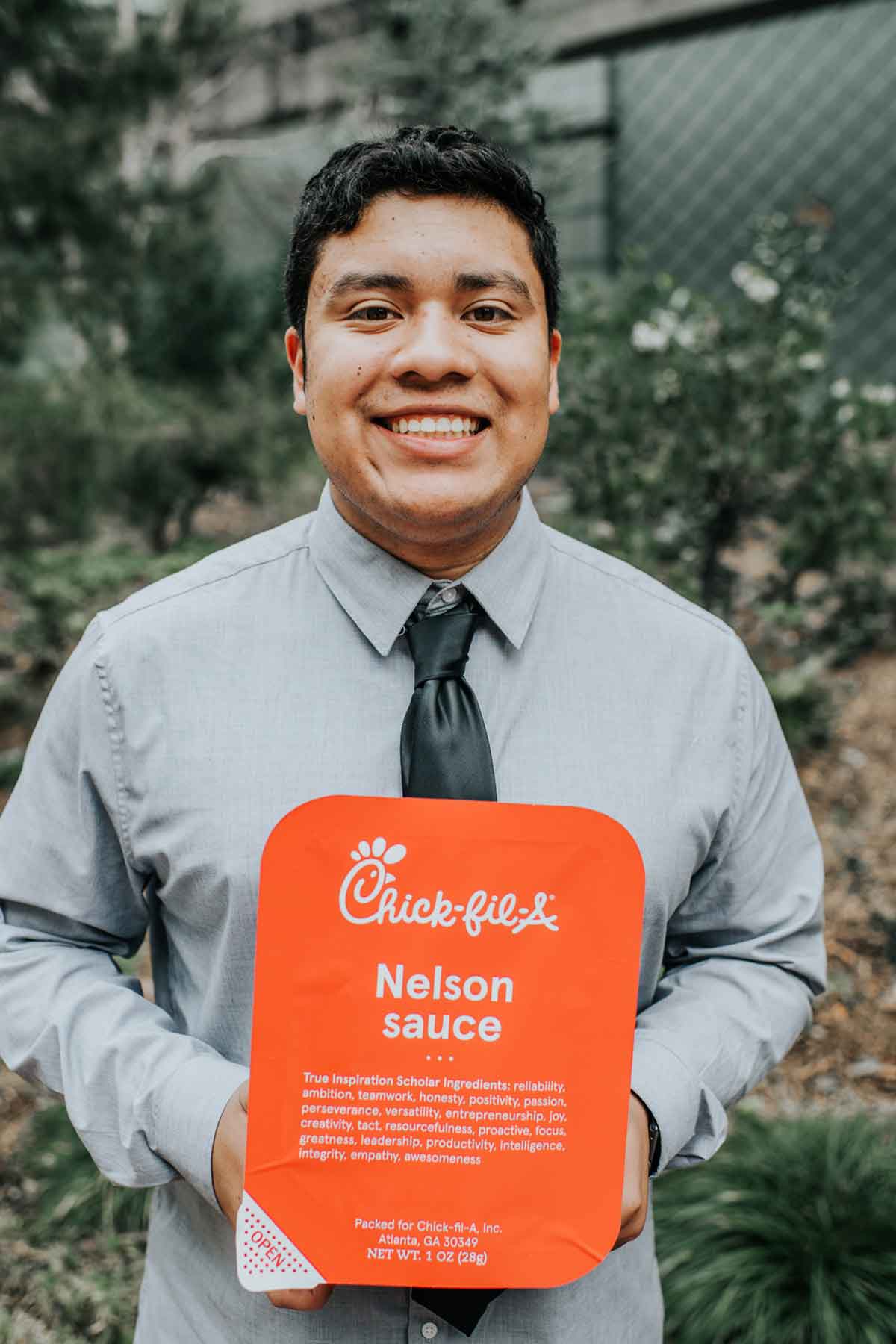 What's next
Rivera is now studying business at California State University Long Beach and hopes to become a Chick-fil-A Operator to personally invest in his future Team Members like his Operator did for him.
"Kristie's job is to help people like me, to help young people in high school or college figure out their lives," Rivera said. "She supports us in everything we do. If that's my job every day too, I'm good."
Rivera still works six days a week at Chick-fil-A Long Beach Traffic Circle but said it's not for the money anymore.
"I go to work because that's my family and my happy place," Rivera said. "For me, Chick-fil-A isn't just about food, it's a people company. It's about the lives you encounter while you work and the lives you see change – like mine."