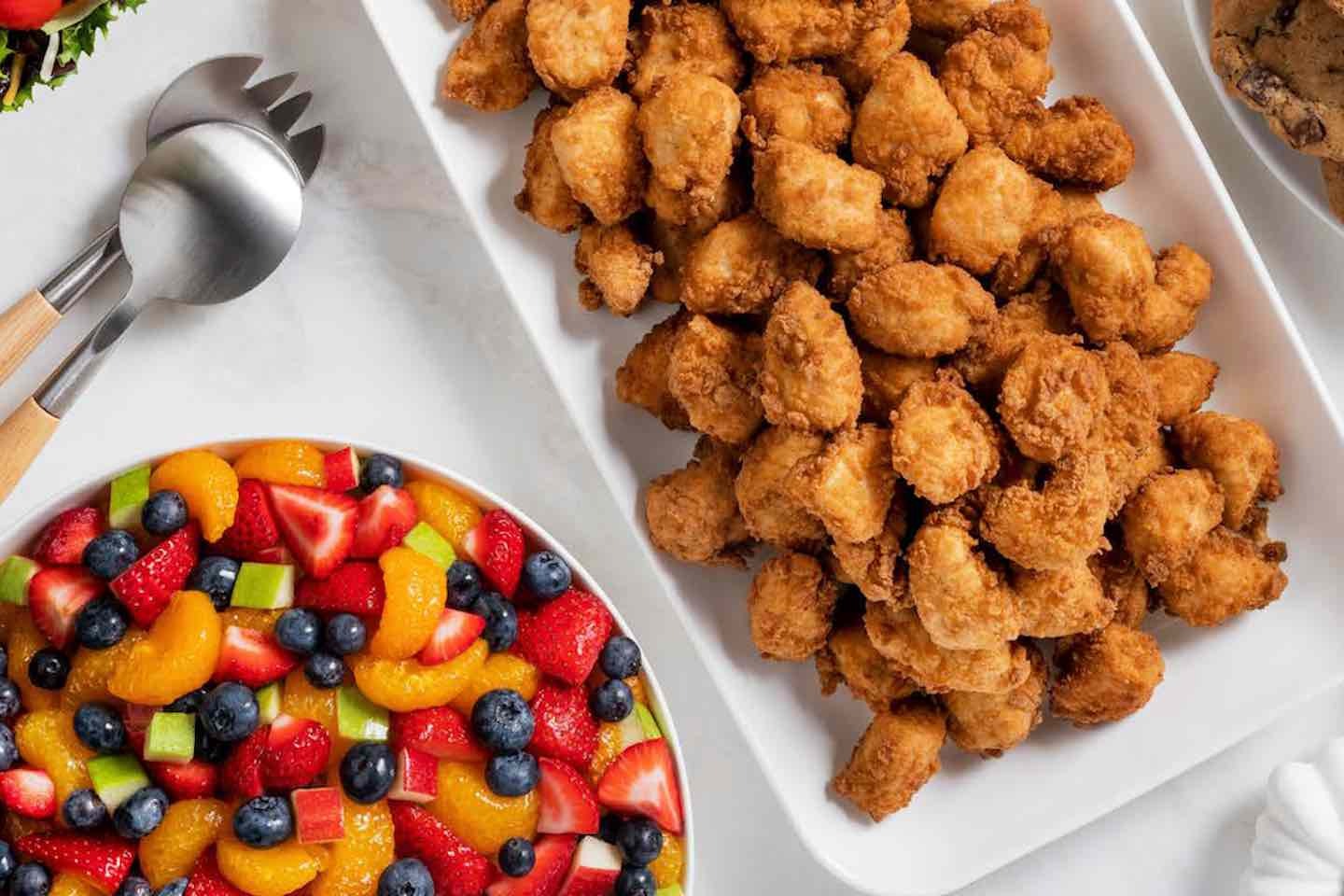 It all started with Truett Cathy and his passion for entrepreneurship and caring for others
Welcome to the beginner's guide to Chick-fil-A®. It's our pleasure that you're here.
If you have questions about chicken sandwiches, the "A" in our name and how our story began in the first place, you're in the right spot.
Read on to learn more about our history, delicious food and why we say we're not just in the chicken business, we're in the people business.
Who are we?
Atlanta-based and defined by our signature hospitality, Chick-fil-A is a restaurant company that offers the one and only original Chick-fil-A® Chicken Sandwich. We currently serve guests at more than 2,800 restaurants in 48 states, Washington, D.C., Puerto Rico and Canada with a team of more than 190,000 Team Members, Operators and staff.
We are a family-owned and privately held restaurant company, founded in 1967 by S. Truett Cathy. Cathy built our brand on a core set of principles that ensure we pursue more than profit. It's why we close on Sundays, a tradition that Truett honored as a day of rest. It's also why our restaurants often partner with local nonprofits to improve the lives of the people in our communities who need help most. As Truett Cathy always maintained – we're not just in the chicken business, we're in the people business.  
What is on the Chick-fil-A menu?
In the past more than 50 years, our menu has expanded beyond the famed Chick-fil-A Chicken Sandwich, which is served on a toasted, buttery bun, pressure cooked in 100% refined peanut oil, topped with two dill pickle chips, featuring No Antibiotics Ever chicken.
Our menu includes breakfast items, delicious desserts and health-conscious offerings for customers on the go. There are more than 50 items on the current menu, ranging from Chick-fil-A Chick-n-Minis® to Frosted Coffee, and each community has its favorite.
Our menu includes a variety of options to meet your dietary preferences, including the Spicy Southwest Salad and Grilled Nuggets. For those in search of vegetarian and vegan-friendly meals, you won't have to compromise.
But don't worry, we have treats to satisfy your sweet tooth too, like our seasonal Peppermint Chip Milkshake and Peach Milkshake, which return each year to cheer up your holidays with a cold, minty classic and brighten up your summer with a refreshing favorite. Our Chick-fil-A® Chocolate Fudge Brownie is another decadent dessert with rich semi-sweet chocolate melted into the batter and fudgy chunks.
We can't forget about our guests' favorite side: Chick-fil-A Waffle Potato Fries®. They're cooked until crispy outside and tender inside, making them the perfect companion for Chick-fil-A® Nuggets. Their bold shape has won the hearts of Chick-fil-A guests across the country.
Our loyal customers know that finding the perfect sauce pairing is as important as the meal itself, and with fifteen different dips, sauces and dressings (some of which are now sold by the bottle), we've got you covered.
Availability may differ depending on which location you visit, so be sure to scope out your local restaurant for more menu details.
When did the first Chick-fil-A restaurant open?
The short answer is 1967.
But if you want to know the long answer, the story of the very first Chick-fil-A restaurant begins with Truett Cathy and the famed the Dwarf Grill (now known as The Dwarf House® restaurant) in Hapeville, Georgia.
Truett's heart for serving others began at a young age, many years before he opened the Dwarf Grill (the diner-style restaurant is still open today, by the way, and just underwent a major renovation). At age eight, he sold soda bottles out of a small wagon throughout his town, reflecting his passion for entrepreneurship.
When he opened the 24-hour Dwarf Grill with his brother, Ben, Truett had a heart for his customers and worked 12-hour alternating shifts.
It was at the Dwarf Grill where Truett created, tested and ultimately perfected the irresistible original Chick-fil-A® Chicken Sandwich. Truett also made the decision to close on Sundays – a longstanding tradition that is still true of every Chick-fil-A restaurant today.
Because of the Dwarf Grill's early success and strong relationships with its loyal guests, Truett opened the groundbreaking, first Chick-fil-A® mall restaurant in 1967 alongside his wife, Jeannette, and three children, Bubba, Dan and Trudy. Team Member uniforms in the original restaurant featured candy-striped aprons, ascots, "soda jerk" hats and ties.
The name for the restaurant was a play on the "chicken filet," and that capital "A" was used on purpose: it represented the "grade A" quality chicken used in each sandwich.
From the Dwarf Grill to the first Chick-fil-A restaurant and in every event that followed, Truett was known for how he cared for others.
To this day, Chick-fil-A is committed to showing care and serving each local community that our local restaurant Operators and Team Members call home.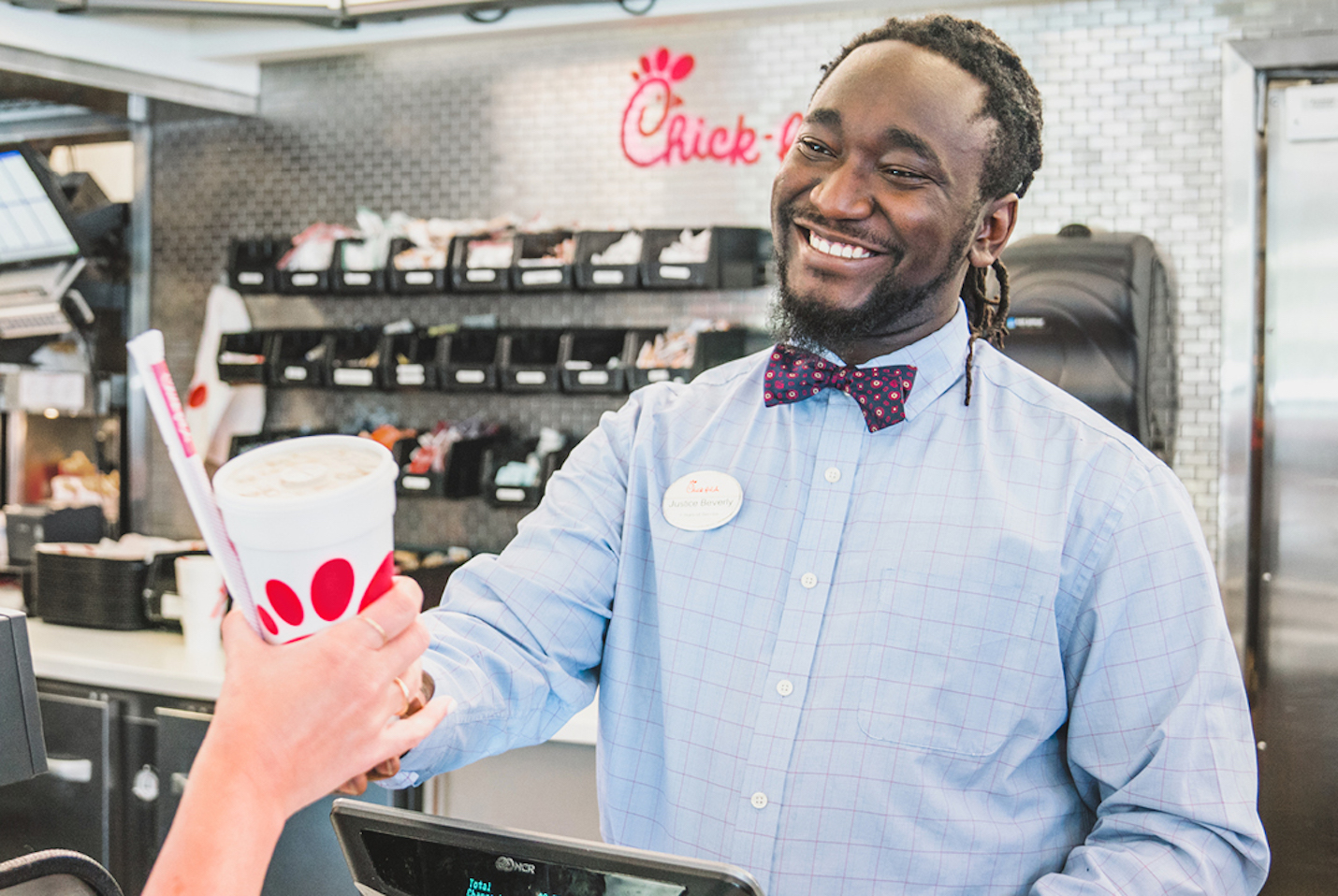 Where do Chick-fil-A restaurants operate?
There are currently more than 2,800 Chick-fil-A restaurants in 48 states, Washington, D.C., Puerto Rico and Canada.
In 2022, Chick-fil-A opened its first restaurant in the state of Hawai'i in Kahului, Maui, Hawai'i, in addition to opening its first two locations in Puerto Rico.
Search for the Chick-fil-A restaurant location closest to you and check out our future openings page for more information on our expansion plans.
No matter where we open, each new local Owner/Operator proudly resides in the communities in which they serve as full-time, hands-on leaders. Most Chick-fil-A restaurants are locally owned small businesses, creating full- and part-time jobs and investing in local communities.
Why do we do what we do?
At Chick-fil-A, we want to serve and share generously. From a Team Member's genuine "My pleasure" to Operators nominating local nonprofit partners for well-deserved funding each year, we believe kindness is our calling.
Our approach to Corporate Social Responsibility focuses on four pillars: Caring for people, caring for our communities, caring for others through our food and caring for our planet.
Through Team Member scholarships, community nonprofit grants and food donation, we aim to show kindness and lead positive change.
Chick-fil-A Shared Table® program
One of the many ways we aim to serve is through the Chick-fil-A Shared Table program. Created in 2012, the Chick-fil-A Shared Table program helps Chick-fil-A Operators reduce food waste and fight food insecurity. Team Members package surplus food for local nonprofits like senior centers, soup kitchens and after-school programs, and these organizations are then able to incorporate the donated food into the meals they serve weekly. More than 1,300 Chick-fil-A restaurants across the U.S. and Canada now participate in the program.
In August 2022, the program achieved a major milestone: donating more than 15 million meals in the local communities it serves.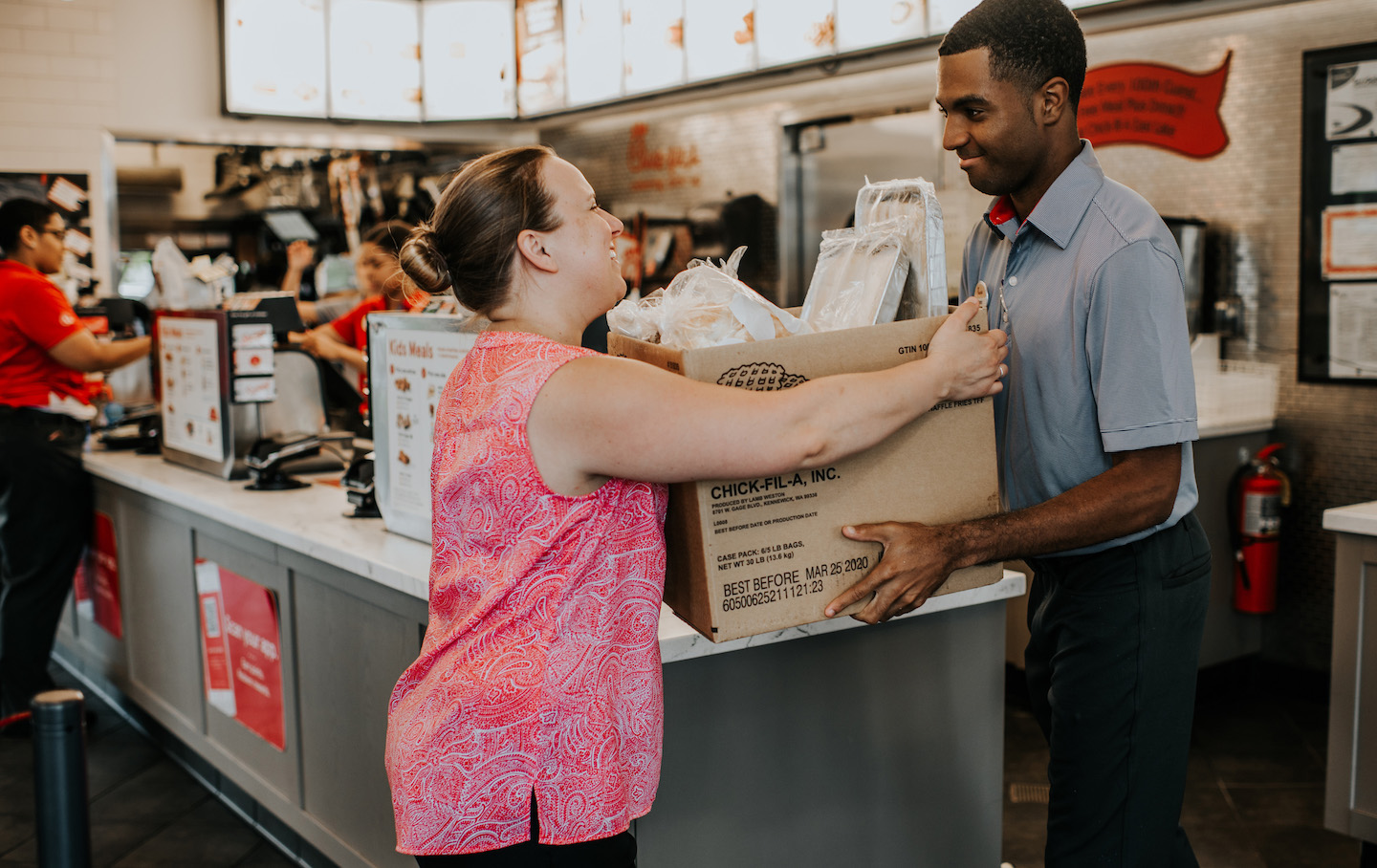 This effort to fight food insecurity in local communities also supports a broader sustainability goal for Chick-fil-A, which is looking to divert 25 million pounds of food waste from landfills by 2025 through programs such as the Chick-fil-A Shared Table program, composting and other programming.
Team Member scholarships
Since 1973, Chick-fil-A has also helped over 80,000 Team Members achieve their remarkable futures through a total investment of $136 million in scholarships. Every year through the Remarkable Futures™ Scholarship initiative, Chick-fil-A offers two scholarship opportunities — the True Inspiration™ Scholarship ($25,000) and the Leadership Scholarship ($1,000 or $2,500) — to Team Members who work at a franchised, company-owned and/or affiliated restaurant. The scholarships can be used at any accredited college, university, or technical or vocational school and are available for both full-time and part-time students.
Best of all? All scholarship funds are paid in advance.
Local community grants
Chick-fil-A also provides grants to local nonprofits that are working to strengthen our neighborhoods and cities. The annual nonprofit grant program, aptly named the True Inspiration Awards® program, was established in 2015 to carry on Chick-fil-A Founder S. Truett Cathy's legacy of generosity and community service. Since that time, 250 grants have been distributed to organizations located across 36 states, Washington, D.C., and Canada, impacting more than 3.5 million people.
Guests participate in the annual selection process by casting their votes through the Chick-fil-A® App. In 2022, more than 589,000 members voted through the app to help select the regional grant recipients for the 2023 True Inspiration Awards program.
How do I order from a Chick-fil-A restaurant?
Since the beginning, Chick-fil-A has found innovative ways to meet customer needs.
We opened our first drive-thru only restaurant in 1993 in Greenville, South Carolina, and in 2012, Chick-fil-A Cameron Village in Raleigh, North Carolina, opened as the first two-story Chick-fil-A restaurant featuring a conveyor system to transport food from the kitchen to customers upstairs.
Our restaurants have continued to innovate, and our drive-thrus are constantly evolving with new technology and elevated service process.
Delivery has become widely available nationwide at more than half of Chick-fil-A restaurants, including contactless delivery offered via delivery partners and at several hundred restaurants by Chick-fil-A Team Members.
Guests can also order ahead and pay via the Chick-fil-A website or Chick-fil-A App at participating locations for an even more convenient dining experience. Guests across the country have the ability to order ahead and pick up their meals through curbside delivery or through the drive-thru.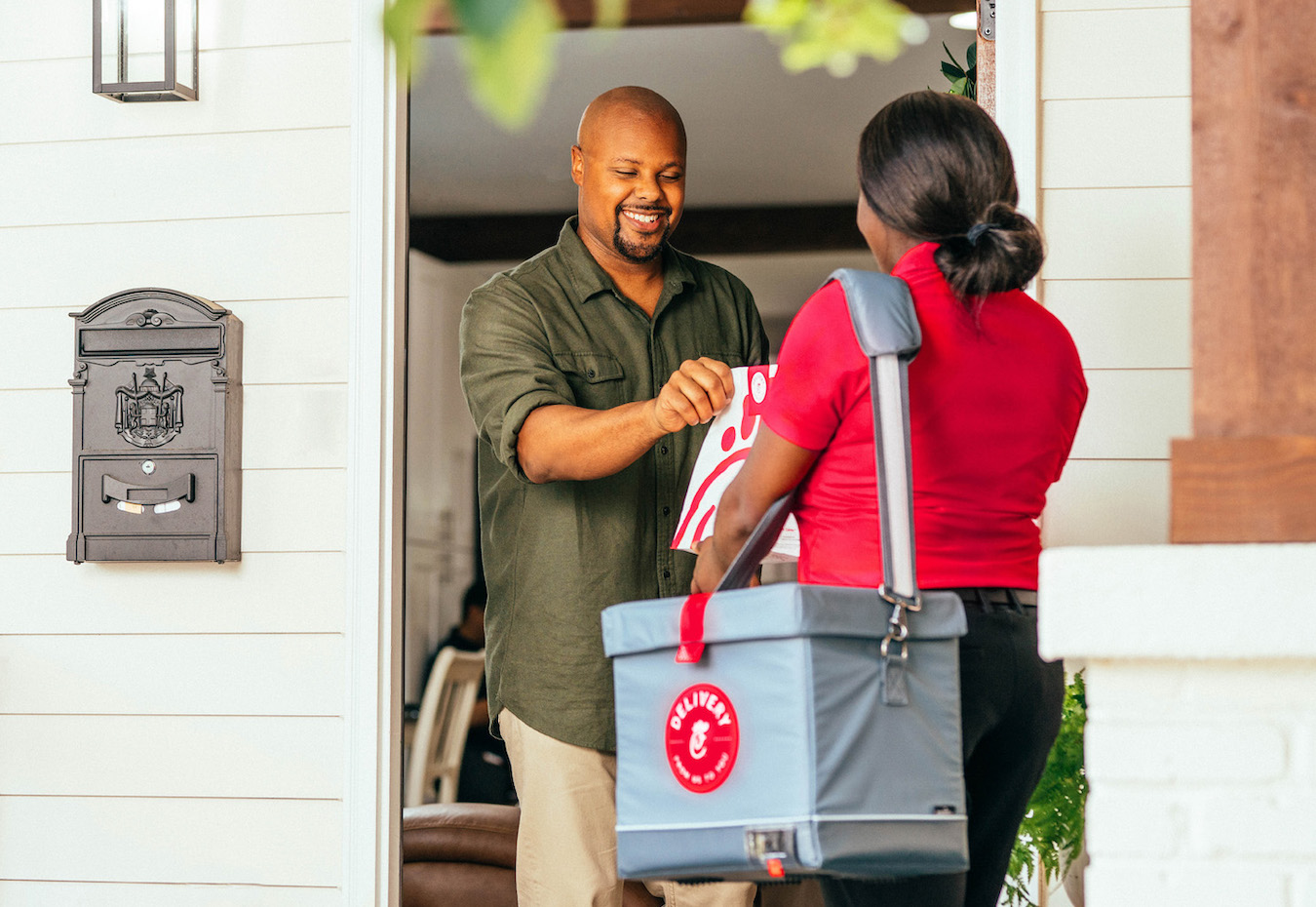 Chick-fil-A One®
Speaking of the app, we'd like to introduce you to our tiered membership program: the Chick-fil-A One program.
With a Chick-fil-A One membership, guests receive points with every qualifying purchase, increasing as you progress through tiers ranging from Member to Signature Member. Chick-fil-A One members can advance through tiers by receiving points when they make qualifying purchases of the food they love. It is free to join, and anyone who creates a Chick-fil-A One account is eligible to participate.
In 2021, we introduced the fourth tier of the membership program: Chick-fil-A One Signature Status. It is a step above Chick-fil-A One Red Status, making it the highest tier in the program. Along with previous benefits, Chick-fil-A One Signature Members have access to unique experiences and can participate in special voting opportunities.
Still craving more Chick-fil-A stories? Learn about what's cooking at our restaurants.