By adding to our distribution capabilities, Chick-fil-A Supply® will help ensure Chick-fil-A restaurants have the ingredients, packaging and other items they need to serve Customers — now and in the future.
Like many ideas and innovations, Chick-fil-A Supply® was born from a challenge: with Chick-fil-A® restaurants continuing to grow year-over-year, it was becoming more difficult to keep up with the volume of food and products through the company's existing distribution network.

As a result, Chick-fil-A piloted a new approach in 2019. To address the unique needs of Chick-fil-A restaurants, the company developed its own distribution capabilities through the creation of Chick-fil-A Supply.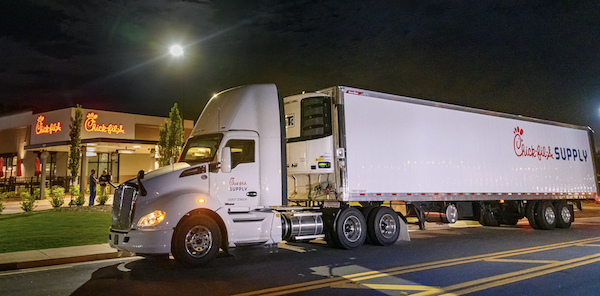 Supplying a solution

After a successful pilot, the first permanent, full-scale Chick-fil-A Supply distribution center (DC) opened in Cartersville, Georgia, in the spring of 2020.

Serving as part of Chick-fil-A's distribution network, Chick-fil-A Supply will help ensure restaurants have the ingredients, packaging and other items they need to serve our Customers.

It will also allow Chick-fil-A to innovate to address restaurants' distribution complexities, such as frequent, high-volume deliveries, varied delivery environments, and rapidly evolving needs. Another benefit? The ability to apply learnings across our full distribution network, which also includes partner distributors.

Centered on care

The Cartersville location is projected to serve about 90 restaurants by the end of the year. At full scale, the center will have the capacity to serve up to 300 restaurants and will create up to 300 jobs, including drivers, warehouse staff, support staff and DC leadership.

"We are excited to build a culture within Chick-fil-A Supply that creates a distribution environment centered on care, empathy and service," said Josh Grote, senior director, Chick-fil-A Supply. "The question we've asked ourselves is, 'How can we leverage the unique culture of Chick-fil-A and the level of service and care that our guests experience and transfer that to how we serve restaurant Operators and Team Members through our distribution network?'"
In early 2022, Chick-fil-A Supply will open its second full-scale distribution center. Located in Mebane, North Carolina near the Raleigh-Durham area, the DC will serve up to 175 Chick-fil-A restaurants.

To learn more about Chick-fil-A Supply, visit www.cfa-supply.com.