Robert Malone had grown tired of seeing negative news coverage of the young boys in his community outside of Washington, D.C. constantly involved in violence. When he asked himself what he could do to make a change in this pattern, a spark was ignited inside of him. He knew so many upstanding men in his community, men with good hearts and good intentions, and he decided to mobilize them to inspire these kids and lead them to a better future.
"We decided we should get involved, and mentoring was the way to go," Malone said.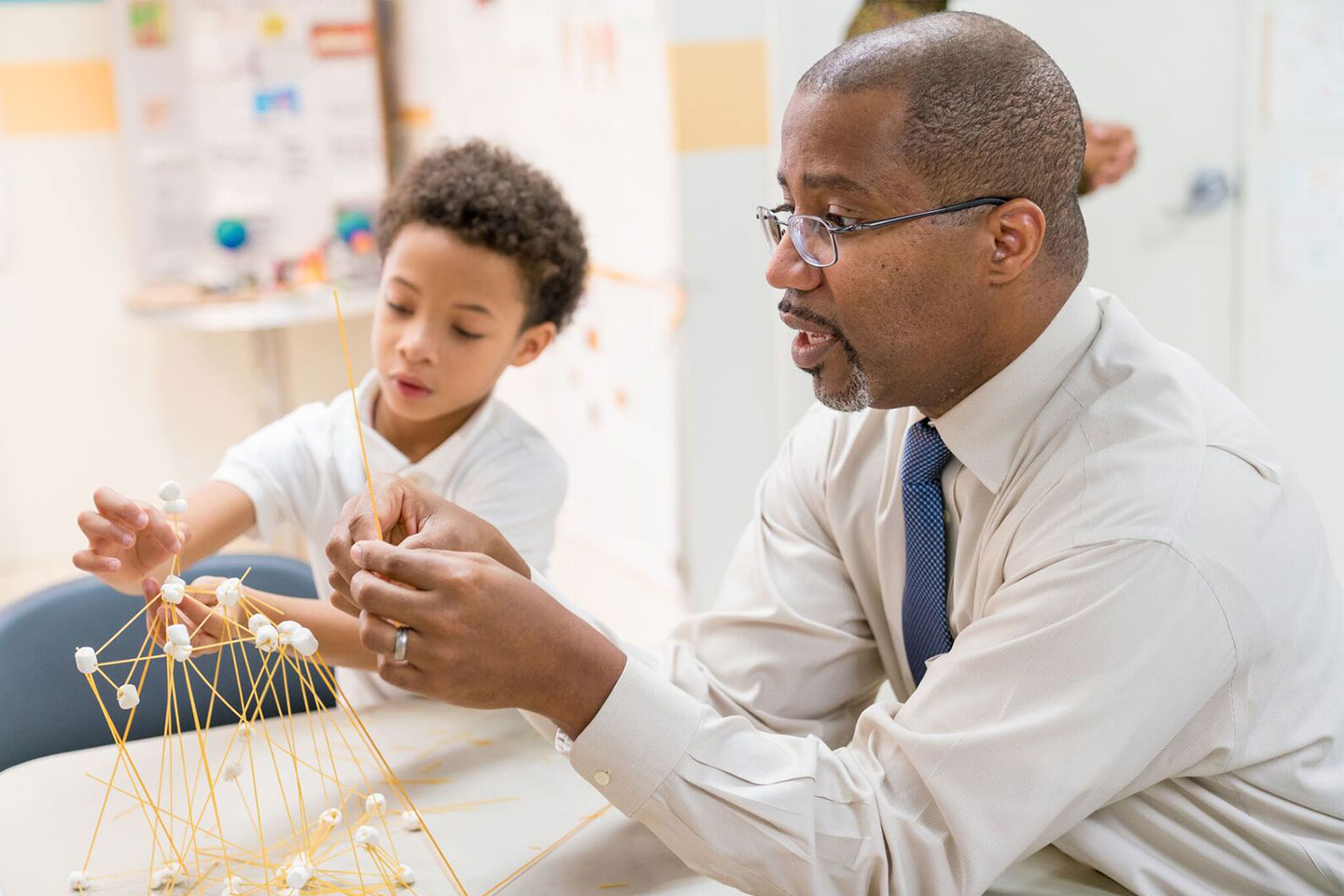 In 2005, Malone and three others founded Mentoring to Manhood, a nonprofit organization focused on providing personal and academic support to young boys in their community and instilling what he refers to as the 3 C's: character, communication skills and class.
Today, Mentoring to Manhood provides mentorship, academic tutoring and family support to more than 150 middle and high school-aged boys in Prince George's County, Maryland. Participants take part in a project-based curriculum throughout the year, learning the essential life skills needed to become productive and successful citizens.
"For many, it's changing the entire trajectory of their lives," says Malone.
When Opportunity Knocks
Eight years ago, local Chick-fil-A franchise Operator Keith Singletary was searching for more opportunities to get involved in the same community where Malone's organization was already making an impact.
"When I started at Chick-fil-A, I really found my passion, and that's mentoring and impacting kids' lives," Singletary says.
It wasn't long before he found an opportunity, when Malone visited one of his restaurants and told him about Mentoring to Manhood. The connection was immediate and soon Singletary was fully immersed, with his own mentee and a calendar full of speaking engagements to inspire students at local elementary and middle schools.
"It's a blessing for them, but for us, too." says Singletary. "I believe it's not just a family that raises a kid, it's a community – the people at work, the people in Mentoring to Manhood, the people in their neighborhood – it all culminates to build a kid."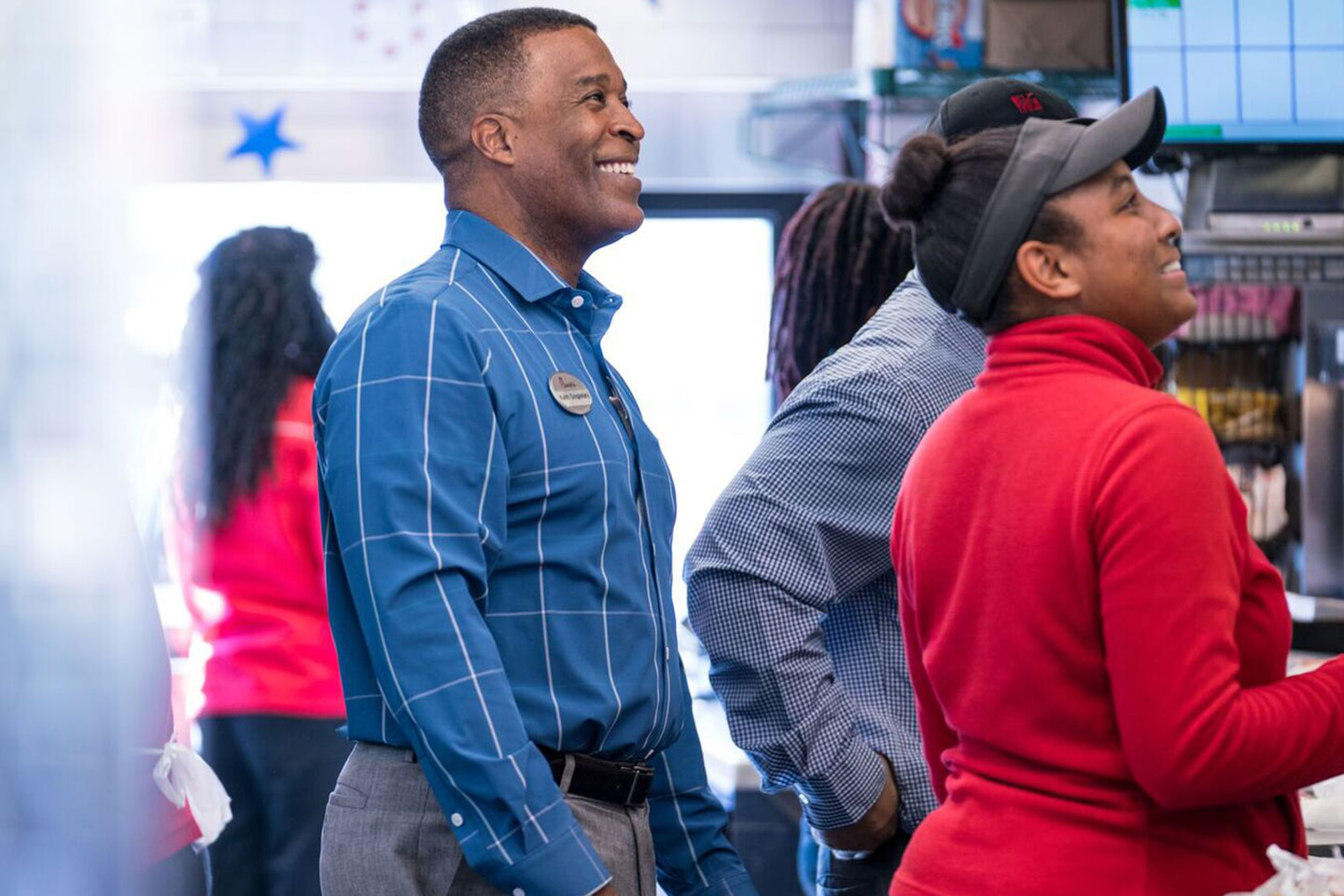 Honoring a Legacy
When local Chick-fil-A franchise Operators were invited to submit organizations for the 2019 True Inspiration Awards, Singletary was eager to send in his nomination. He knew Mentoring to Manhood was doing something extraordinary, and he wanted the Chick-fil-A Foundation to know it, too.
This year, the Chick-fil-A Foundation proudly selected Mentoring to Manhood as the 2019 True Inspiration Awards S. Truett Cathy Honoree – an award reserved for the organization that embodies the innovative and entrepreneurial spirit of Chick-fil-A's founder. As part of this recognition, the Chick-fil-A Foundation – in partnership with Singletary – surprised the leaders of Mentoring to Manhood with a $100,000 check to continue their work.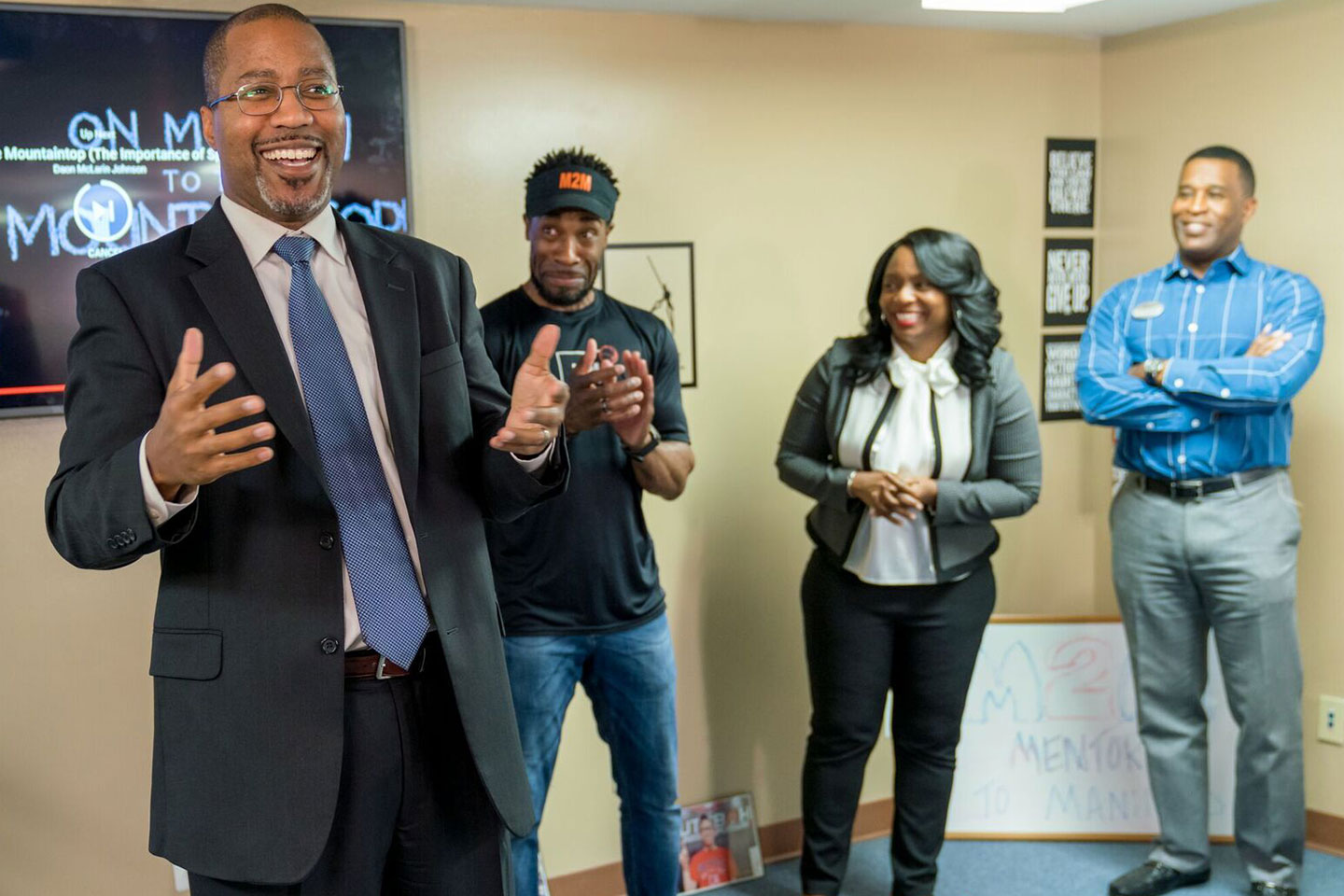 Recently, Mentoring to Manhood merged with longtime partner Community Tutoring Inc. to create Community Youth Advance, an organization dedicated to advancing the academic, social and career opportunities of boys and girls in their community. The merging of these two organizations has allowed Mentoring to Manhood to expand its services, offering more tutoring, learning opportunities and college prep services for both boys and girls.
"Receiving the True Inspiration Award has been a great inspiration to me," says Cindy Martin, co-founder and director of academic programs for Community Youth Advance.
"Educating and mentoring youth is hard, emotional and life-changing. But every day it makes all the difference for the youth we serve," Martin said.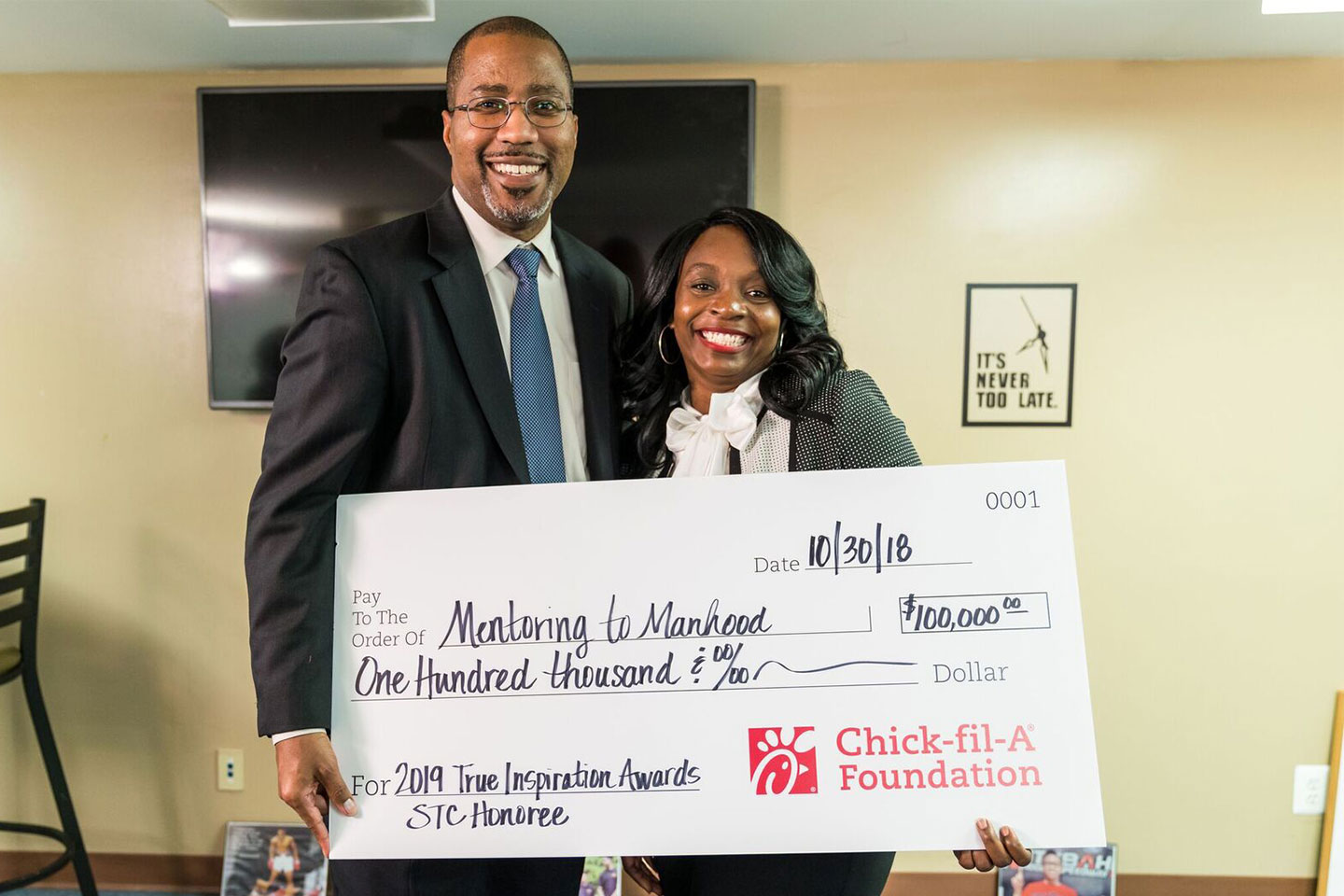 The grant will allow Mentoring to Manhood and Community Youth Advance to provide access to both mentoring and specialized academic support.
"We're on cloud nine," said Malone.
The True Inspiration Awards began in 2015 to honor and support inspiring organizations that are making a real difference in the lives of children and young people in communities across the nation. This year, the Chick-fil-A Foundation will award grants totaling a combined $1.23 million to 22 organizations nationwide (see the full list below).
"The True Inspiration Awards seeks to give organizations like Mentoring to Manhood the recognition they deserve," says Rodney Bullard, vice president of Corporate Social Responsibility for Chick-fil-A, Inc. and executive director of the Chick-fil-A Foundation.
"We're honored to invest in these organizations – in more ways than one – as they invest in our future generation."
Check out the full list of True Inspiration Award winners below and visit the True Inspiration Awards page to learn more about each of these incredible organizations.
2019 True Inspiration Award Winners
S. Truett Cathy Honoree
Mentoring to Manhood –Hyattsville, MD
Emerging Leader Development
National CASA – Seattle, WA
Girls on the Run Rockies – Aurora, CO
Thrive Support & Advocacy – Marlborough, MA
Innovative Education
Covenant House International – New York, NY
Folds of Honor – Owasso, OK
Friends of the Children – Portland, OR
Youth Entrepreneurship
Covenant House International – New York, NY
Heritage Academy Augusta – Augusta, GA
Junior Achievement of Northern New England – Waltham, MA
Atlantic Region
Ezekiel Ministries – Columbia, SC
Isaiah 117 House – Elizabethton, TN
Midwest Region
Dutton Farm – Rochester, MI
Kids Alive International, Inc. – Valparaiso, IN
Northeast Region
Cathedral Kitchen – Camden, NJ
The Reading Road Show "Gus Bus" – Harrisonburg, VA
Southeast Region
NG3 – Lawrenceville, GA
Place of Hope – Palm Beach Gardens, FL
Southwest Region
Familypoint Resources – Houston, TX
Friends of Down Syndrome – Houston, TX
West Region
Thanksgiving Point – Lehi, UT
Outreach United Resource Center – Longmont, CO