Chick-fil-A Foundation surprises local organization with $100,000 and awards more than 1 million dollars to nonprofit organizations.
It started as a side project. Once a week, husband and wife Jim and Melinda Hollandsworth stopped by a mobile home park in Loganville, Ga., to help local kids with their homework. Here in Gwinnett Estates, a predominantly Hispanic neighborhood, very few students were graduating high school — creating a cycle of poverty for the families who called this community home.
That was 2008. Today, Jim and Melinda, founders of the non-profit Path Project, operate community centers in eight mobile home parks in Georgia and Tennessee.
"Our goal is to empower kids to graduate from high school with a plan for the future," Melinda says.
According to Path Project, only 57 percent of Latino students in the U.S. graduate high school — due to issues such as language barriers, lack of basic academic skills by third grade, living below the poverty line, and parents who didn't complete high school.
Melinda, Jim and their staff of 24 are trying to change that statistic by offering a full range of programs at their community centers — starting with Mommy & Me interactive learning experiences for moms and babies, all the way to high school leadership clubs, which are individualized to the specific needs of each student. Currently, Path Project serves 625 children and youth across their communities.
And, their approach is working. In 2016, 88 percent of Path Project's participants graduated from high school with a college or career plan in place — compared to 33 percent of the kids living in the same neighborhood.
To help them expand and reach more children, the Chick-fil-A Foundation selected the Path Project as the 2018 True Inspiration Awards S. Truett Cathy Honoree — which is reserved for the organization that embodies the innovative and entrepreneurial spirit of Chick-fil-A's founder. As part of that recognition, the Chick-fil-A Foundation -- in partnership with Restaurant Operators Tom Balsamides, Steve Warnstrom and Colby Cameron -- surprised the Hollandsworths with a $100,000 check for the Path Project.
Stories like Jim's and Melinda's exist in communities throughout the U.S., where grassroots organizations are making a real difference in the lives of children and young people in their hometowns. That's why the Chick-fil-A Foundation created the True Inspiration Awards in 2015 to honor and support on-the-ground, community organizations. Each year, award winners receive grants totaling more than $1 million.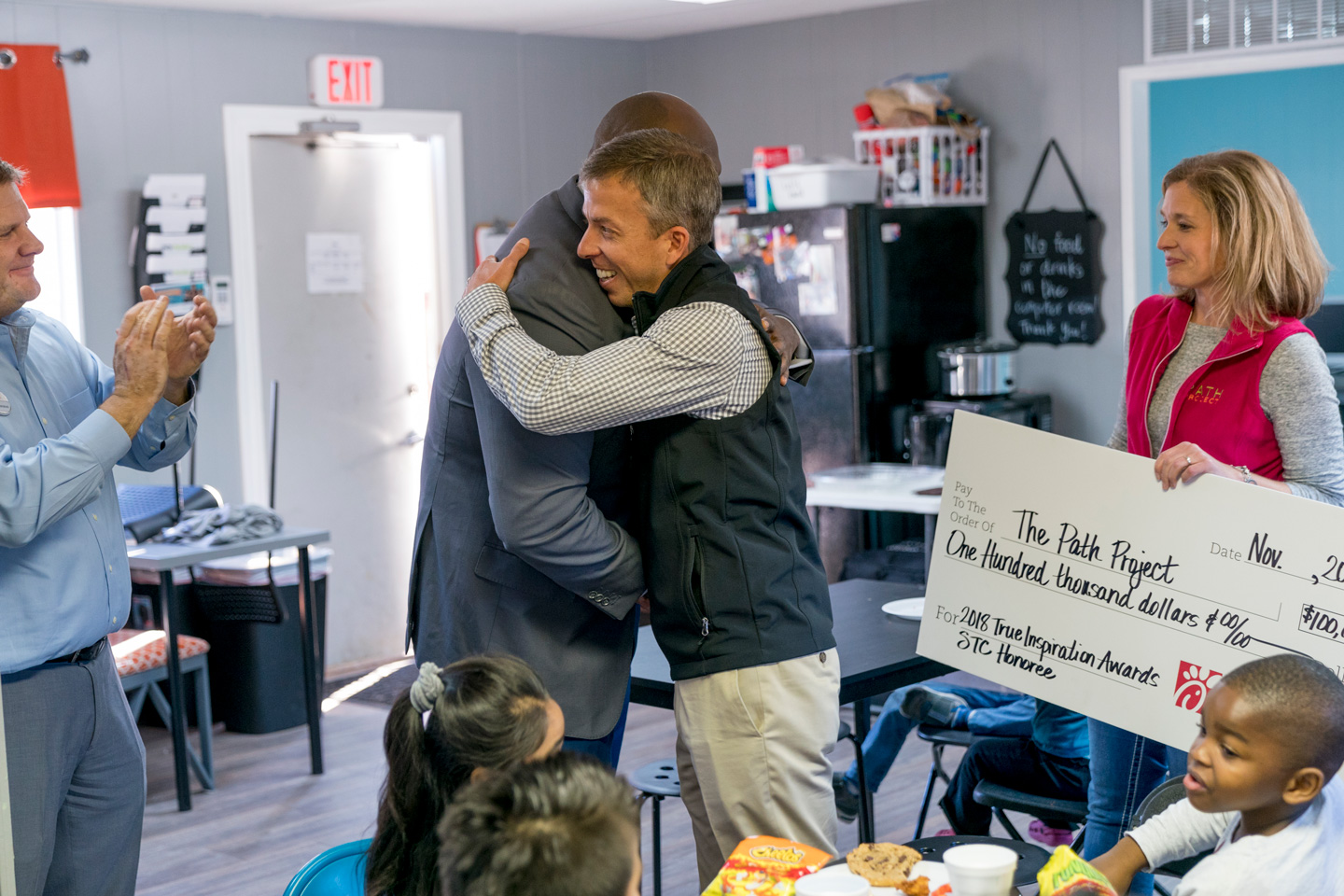 This year's 23 winners have gone above and beyond in the fields of innovative education, emerging leader development and youth entrepreneurship. They will be recognized at the 4th annual True Inspiration Awards celebration in Atlanta in 2018. In addition to the S. Truett Cathy Honoree, the group also includes 12 regional winners, nominated by local Chick-fil-A Operators and voted on by more than 750,000 customers through the Chick-fil-A One app.
"People like Jim and Melinda are changing lives, but don't always get the recognition they need and deserve," says Rodney Bullard, vice president of Community Affairs for Chick-fil-A, Inc., and executive director of the Chick-fil-A Foundation. "Through the True Inspiration Awards, we hope to reach community organizations and help them extend their impact. The Chick-fil-A Foundation exists to help every child reach their full potential, and that's exactly what these organizations are working to do."
From By the Hand Club for Kids, an after-school program for Chicago's high-risk, inner-city neighborhoods, to Celebrate EDU, a nonprofit in Boulder, Colo., focused on empowering young people with developmental disabilities through entrepreneurship, we're inspired by each of this year's True Inspiration Awards winners.
And, we couldn't do it without you! Thanks to our customers, Operators and team members, the Chick-fil-A Foundation is able to fund programs like True Inspiration Awards, and make a bigger difference in the lives of our children, families and communities.
Check out the full list of True Inspiration Awards winners below, and visit the True Inspiration Awards page to learn more about each of these incredible organizations.
2018 True Inspiration Awards Winners
S. Truett Cathy Honoree

Innovative Education

Emerging Leader Development

Youth Entrepreneurship

Atlantic Region

Midwest Region

Northeast Region

Southeast Region

Southwest Region

West Region