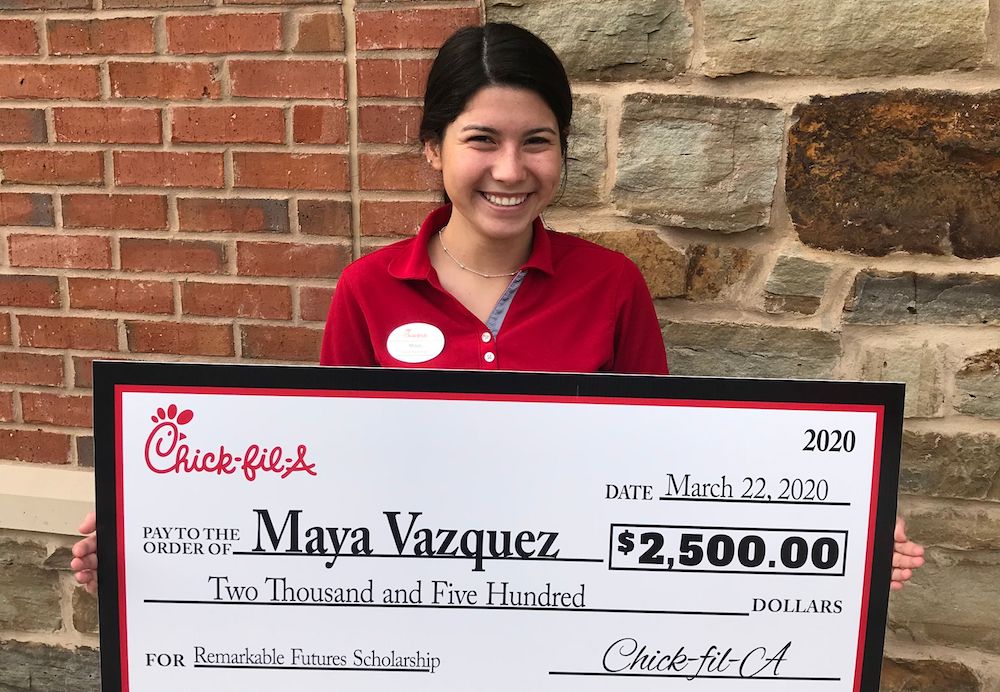 From Texas to California and beyond, Chick-fil-A® grants nearly 6,700 Team Members with 2020 Chick-fil-A Leadership Scholarships
This spring, Chick-fil-A Team Member Andrew Cox woke up one morning to discover an unusual sight outside his window: His restaurant Operator Carlos Mayen standing in his driveway.
Decked out with a handmade sign, plaque and his favorite candy, Mayen was there to surprise Cox with the news that he'd been selected as a 2020 recipient of the $2,500 Chick-fil-A Leadership Scholarship. Cox was one of 16 Leadership Scholarship recipients at Mayen's two locations near Los Angeles – Chick-fil-A Azusa and Chick-fil-A Glendora Commons – to be surprised that day, all while the camera was rolling. [Watch Video]
Finding a "Plan B"
Like Mayen, Chick-fil-A Operators across the country had to get creative with how they've presented Leadership Scholarships to Team Members this spring. These awards are part of the Chick-fil-A Remarkable Futures Scholarships initiative, which awarded 6,688 Leadership Scholarships in the amount of $2,500 and 12 True Inspiration Scholarships at $25,000 each in 2020.
By mid-March, Chick-fil-A Sienna Crossing Operator Tony Levine knew where the world was headed as COVID-19 began to spread rapidly and impacted day-to-day business.

For several months, he'd been working on a plan to surprise a group of his Team Members slated to receive the scholarship. When he opened the email and learned that 15 Team Members in his Missouri City, Texas, restaurant were scholarship recipients, he quickly came up with a "Plan B" that he could execute within the next few days as schools closed and restrictions tightened.
Levine and his team gathered awards, put on the Cow costume with oversized checks in-hand, and visited each Team Member's home (unannounced with simply an impromptu phone call to come outside), keeping their distance while celebrating with air hugs, heel kicks and some tears — all captured and shared on the restaurant's social channels. [Watch Video]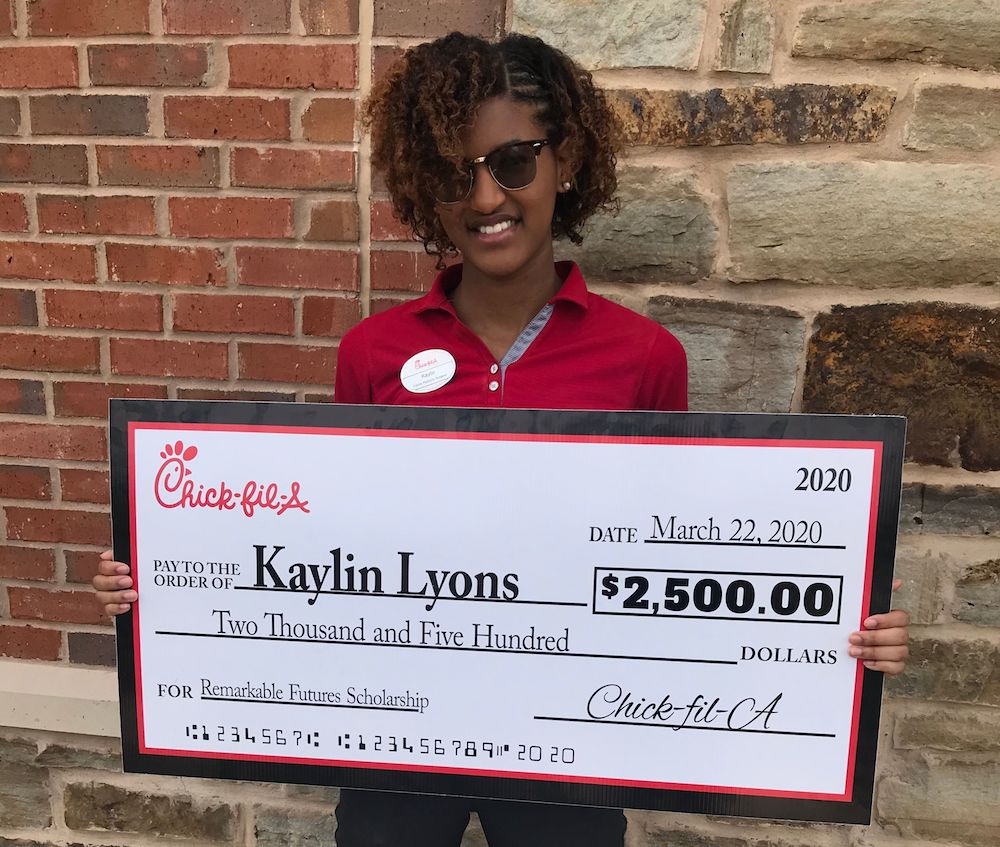 Ingredients of a scholar
With three high schools forming a triangle around Chick-fil-A Sienna Crossing, it's no surprise that half of Levine's workforce is made up of high school students. The Leadership Scholarships and what they represent have become an integral part of the restaurant's fabric for the past two years since opening.
"One thing we really look for in interviews is: Are these students active in their high school – from clubs and music to cheerleading and sports?" said Levine. "We are looking for students who already have an understanding of time management, teamwork, accountability and responsibility."
At his restaurants, Mayen has helped facilitate more than 30 Leadership Scholarships over the past five years. The common denominator, according to Mayen? "They all have a growth mindset, a servant heart and productive hands."
"We look to hire the students going above and beyond consistently, who are serving their team and guests but also activating in their schools, churches and communities to help people," said Mayen.
For Levine, the investment and payoff are two-fold. "I want to give high school students an opportunity for their first job as well as a chance to grow and develop and learn some skills they will be able to use beyond high school," he said.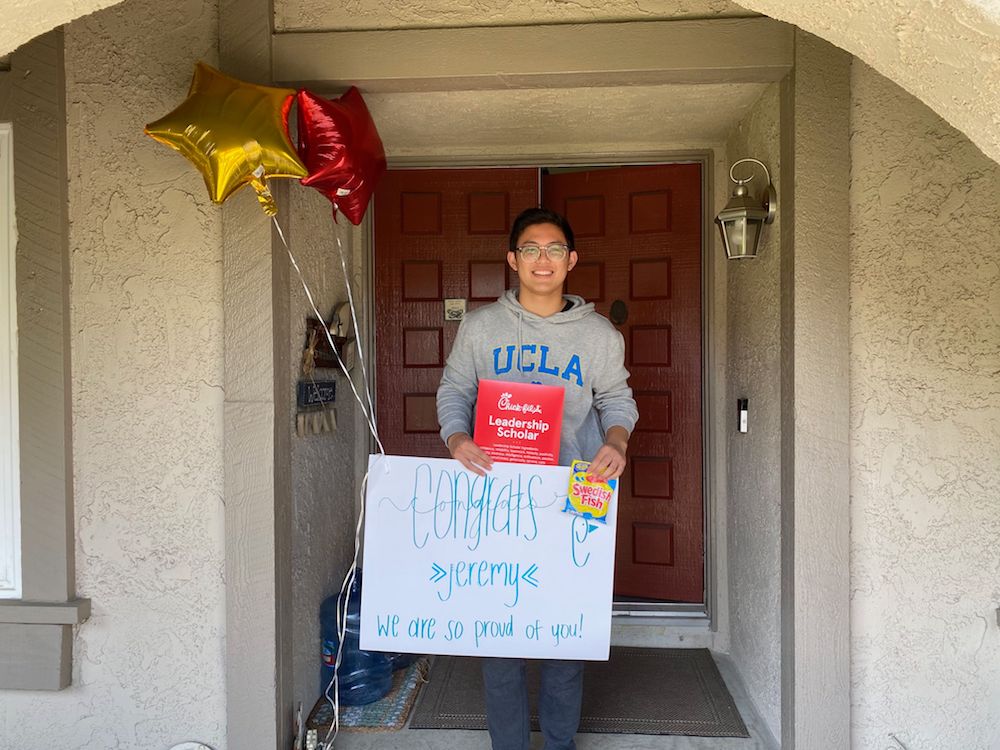 A bridge to the future
Team Member Kaylin Lyons is one of those students. Set to attend a Texas university this fall, the scholarship helped bridge the gap between her financial aid and remaining tuition. "With three younger sisters, this scholarship has helped with finances," said Lyons. "I'm honored and grateful. Without this, I wouldn't have been able to reach my goals."
Team Member Maya Vazquez, who spends most of her time serving customers in the drive-thru, is also a scholarship recipient at Sienna Crossing. While her senior year has played out quite differently than expected due to COVID — she has graduated and is headed to college in the fall with hopes of attending class in-person.
There, she plans to major in Business and Marketing, inspired by Levine and "his marketing efforts and output to the community." Planning to put the funds toward tuition and housing, Vazquez will continue to live out the values of "being the best I can be for everyone I serve."
As for Cox, he plans to use his scholarship to study Hospitality Management at a local university. The incoming college sophomore, who has worked part-time at Chick-fil-A since he was 16, aspires to open his own franchised Chick-fil-A restaurant one day.
These are just a few of this year's Leadership Scholarship stories, representing 1,352 colleges and universities across 1,625 Chick-fil-A restaurants. The next scholarship application period will open for Chick-fil-A Team Members in fall 2020. Visit chick-fil-a.com/scholarships to learn more.