We are continually making changes to prioritize safe service while providing the same level of hospitality, no matter how or where you dine with us. Here's what you can expect.
At Chick-fil-A, we are focused on finding ways to best care for our guests, particularly as we navigate the unparalleled circumstances of COVID-19. As social distancing guidelines continue to evolve, we continue to evaluate the way we extend hospitality.
Amid rapid changes, our commitment remains constant to Safe Service: for the customers we serve through carry-out, drive-thru, curbside pick-up, delivery or in-restaurant, the Team Members and delivery drivers who are serving in new ways, and all of the people working together in our local communities to help keep their neighbors safe.
Behind the scenes we are working with industry experts, local governments and health departments, our operations, delivery, mobile app, food safety and Customer CARES teams to constantly review the evolving situation and adapt procedures to help protect the health of anyone who orders from a Chick-fil-A restaurant during this time.
Team Members:
• Restaurants continue to follow guidance from local, state and federal leaders. Team Members are required to keep a face covering on hand and wash re-wearable masks after shifts and prior to reuse.


Inside select restaurants:
As guidance from government officials continues to evolve, and some states begin to ease restrictions on the closure of local businesses, you may see some Chick-fil-A restaurants open for carry-out and in-restaurant dining.
• Front counter plexiglass shields will be installed to make it easier to maintain six feet of distance between Team Members and guests. Some restaurants may also install a plexiglass shield in the drive-thru window.
• New signage will remind guests of our Safe Service guidelines and provide a clear path for guests to maintain social distancing. Social distancing floor decals will be placed six feet apart along the walking path inside and outside of the restaurant.
• Hand sanitizer stations for guests will be placed inside restaurant dining rooms.
• To allow guests to maintain a social distance while eating in restaurants where dining rooms are open, many tables will be closed to ensure at least six feet of distance between them. Some locations will offer outdoor seating, too. Hospitality amenities, like flower vases and napkin dispensers have been removed from each table.

• Team Members will clean and sanitize (or disinfect based on state or local requirements) indoor and/or outdoor tables/booths after every use and ensure space to allow Customers to maintain 6 feet of social distance if open for Customer use.
• Team Members will clean and disinfect all high-touch equipment and surfaces every 60 minutes, including: iPads, credit card readers, trays, POS, bump cars, door handles, cash and delivery bins, tables and shelves.
• At this time, playgrounds will remain closed.
• Our Operators are conducting regular evaluations of these new measures within restaurants, along with enhanced protocols for daily Team Member health checks, wearing face coverings , frequent hand washing, contactless ordering, payment and meal delivery, social distancing and disinfection.
In the drive-thru:
Even as some of our restaurant dining rooms remain closed, our drive-thrus are open. Guests will notice several differences meant to keep them – and restaurant teams – out of harm's way.
• We are installing new outdoor handwashing stations to make it as easy as possible for Team Members working outside of the restaurant to wash their hands (the best prevention, according to the CDC) regularly and after handling currency.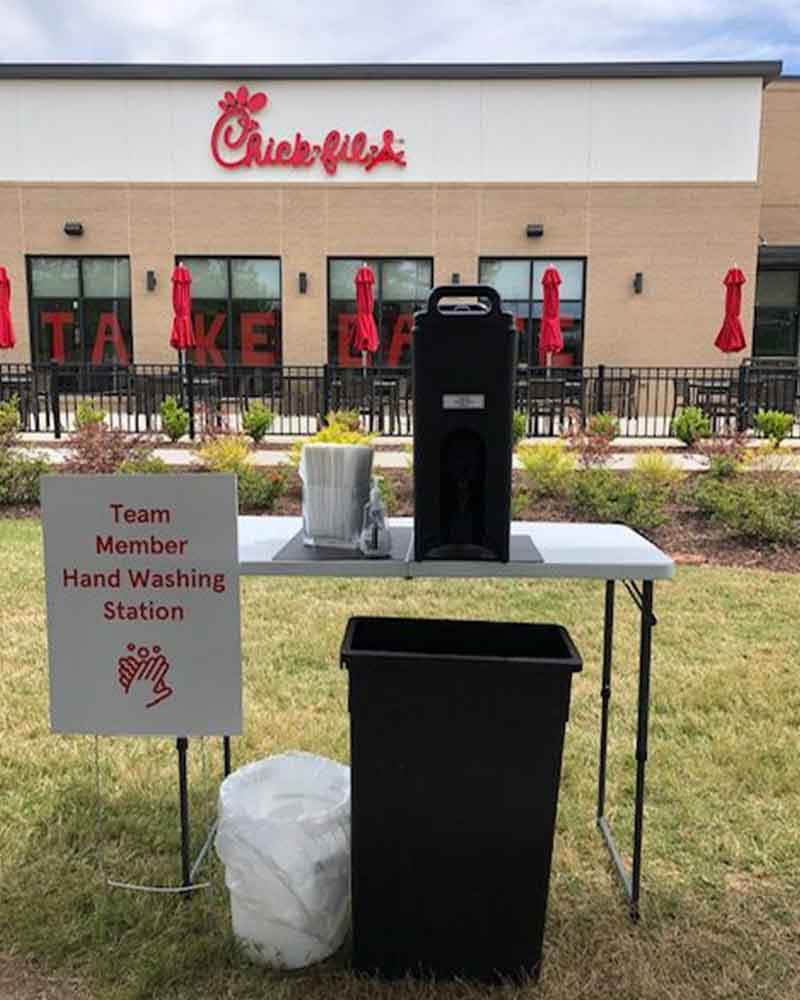 • Our "face-to-face" drive-thru experience has become a signature service for our guests, and we are committed to continuing this in new ways that attempt to meet social distancing guidelines and incorporate limited contact ordering, payment and meal delivery procedures.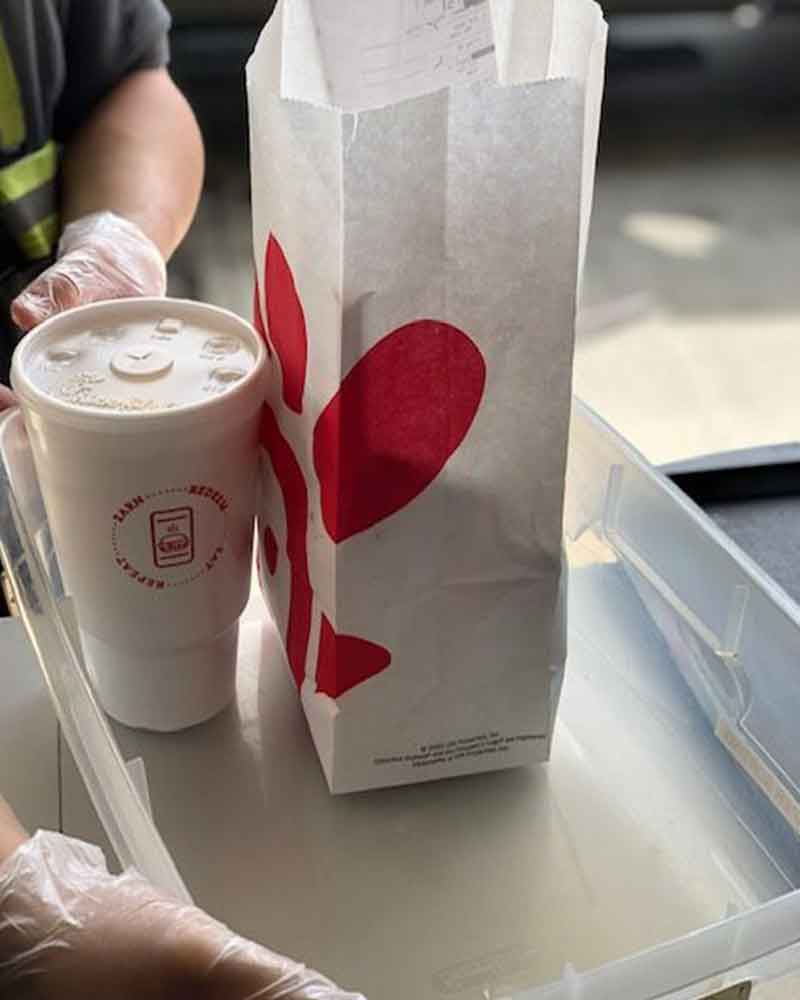 Payment:
• To limit person-to-person contact, guests are encouraged to utilize mobile ordering and mobile payment through the Chick-fil-A® App. Please understand that guests paying with credit or debit will be asked to swipe their own cards, and restaurants will no longer be offering the option to enter a credit card PIN or signed receipts at this time.
• When accepting cash, Team Members use a locally sourced plastic bin to collect cash and return change. Team Members handling currency (cash or cards) must wash hands and put on a new pair of gloves before touching food or packaging.
Getting Chick-fil-A delivered:

With more people staying inside due to coronavirus, there are several ways to order our Chick-fil-A® Chicken Sandwich, Chick-fil-A® Nuggets or a Family Meal without leaving home.
• At more than half of Chick-fil-A restaurants nationwide, our national delivery partners, DoorDash, Uber Eats and Grubhub are delivering our food. Each partner is also implementing options for limited contact or to have food left at the door.
• Select Chick-fil-A restaurants also offer delivery by Chick-fil-A Team Members through the Chick-fil-A App. The option will appear under "mobile orders" if it's available in your area. Read our guide to delivery and contactless ordering, and visit chick-fil-a.com/delivery for more details.
Packaging

We are reevaluating every aspect of our business to ensure we are taking every measure possible to prevent the spread of illness, including the way we package your meals.
• Delivery orders are served in tamper-evident packaging to ensure they have not been opened.
• For the time being, items like our signature Icedream® and other menu items will be served in different packaging to limit contact.
• For restaurants where dining rooms are open, meals will be served in to-go bags with napkins, condiments and utensils included. Self-service stations for condiments and beverages will not be open, and restaurants will provide each drink refill using a new cup and a new lid. Trays and table markers will not be used.
Behind-the-scenes:

Since its founding, Chick-fil-A has been rooted in a legacy of care. And that care, caution and attention to detail extends to the parts of our business guests do not see.
• When clocking in for their shifts at Chick-fil-A restaurants, Team Members are prompted to review a list of symptoms, including those of COVID-19, so they know not to clock-in, but to go home if experiencing symptoms, or if they have experienced symptoms in the past 24 hours. Team Members at Chick-fil-A owned and operated restaurants are provided paid sick leave for work missed due to COVID-19.
• We are also making thermometers available to our Operators for Team Members to be able to check their temperature upon arriving for their shift.
• To help restaurant Team Members maintain six-feet separation from each other and guests whenever possible, restaurants have been equipped with visual diagrams with guidelines.
• For restaurant Team Members, cleaning and disinfection is a top priority. Chick-fil-A restaurants utilize three different disinfectants that are on the United States Environmental Protection Agency's (EPA) list of disinfectant products effective for use against SARS-CoV-2 (the virus that causes COVID-19) to disinfect point-of-sale systems and other high touch points at least every 60 minutes.
• And, we understand that this is a challenging time for our independent restaurant owner Operators, as it is for most businesses. We are offering them financial support to help offset the hardships due to the current crisis. This is an unparalleled time in our nation's history, one which requires new and extraordinary measures. Please know that we are taking every precaution we can to keep our restaurants open to serve you and support our Operators and Team Members.
It is our pleasure to have served you over the years, and we continue to be here for you. While the ways we serve you may look different at the moment, your experience and well-being are as important to us now as ever. For more updates from Chick-fil-A, visit our coronavirus updates page.