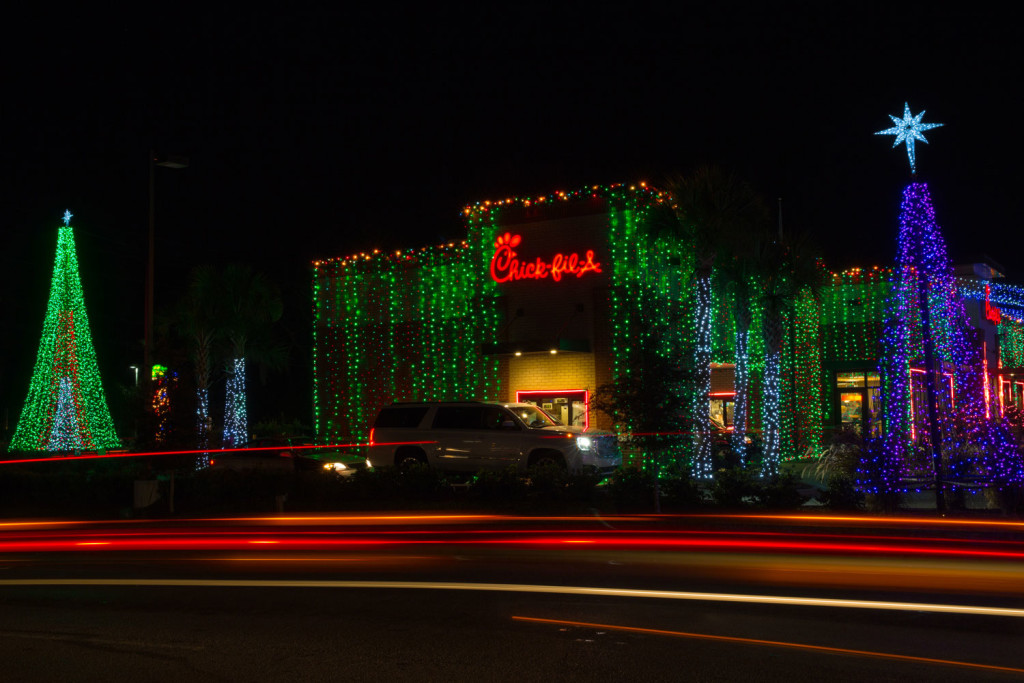 For those who live in Tampa, Fla., traveling down Waters Avenue for the annual array of Christmas lights that illuminate the outside of Jason Dittman's Chick-fil-A restaurant is an institution. While some call it a magical interlude before enjoying their favorite Chick-fil-A dinner, others simply call it tradition. As the Tampa Bay Times reports, it all started with one Christmas tree on the roof.
A Family Affair
After opening the doors of his restaurant at 6299 W. Waters Ave. in Tampa, Fla., 18 years ago, Dittman decided he wanted to do something festive for the holiday season. It started when he enlisted the help of his father to install a few lights and a Christmas tree on the roof. But it wasn't long before the display of one multiplied into something far more magnificent.
These days his teenage sons, two programming installers and other helpers have joined the fun in hanging close to one-million tiny, twinkling bulbs. The nightly display lights up the week before Thanksgiving and remains lit until a week after New Years. "Our customers are very appreciative", says Dittman. And according to him, there's no getting out of it now, "They enjoy coming each year, and it becomes a family tradition for our customers and our community."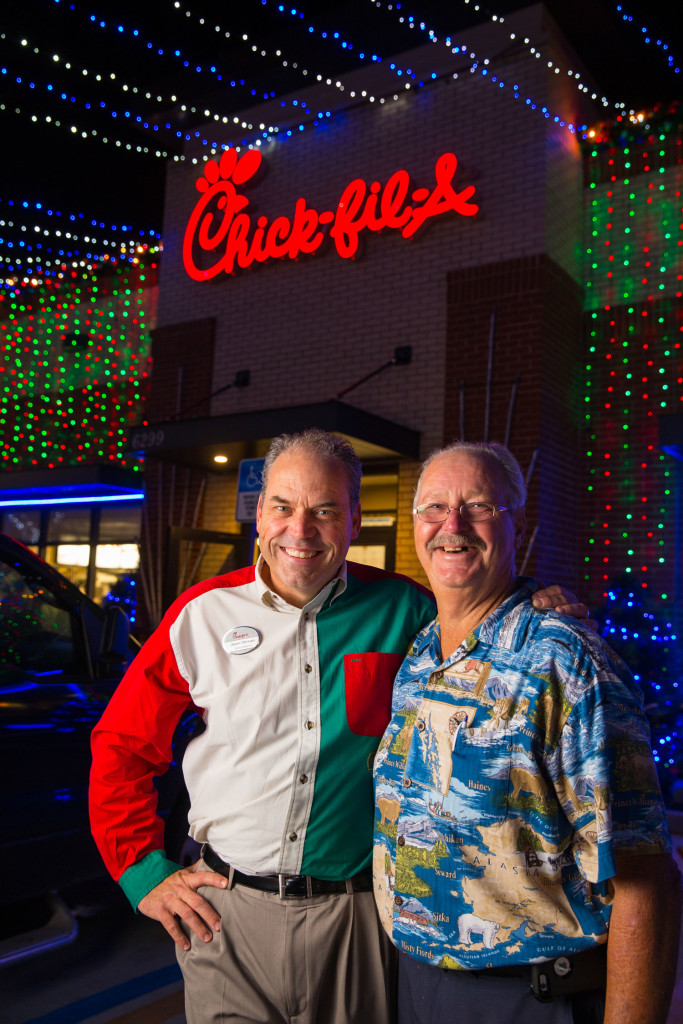 Operator Jason Dittman and his father Richard Dittman
A Bright Idea
Dittman's personal challenge to reach one million lights places him in good company. Fellow owner-operator David Jackson in neighboring Hoover, Ala., is also known for spreading Christmas cheer by building a giant light display.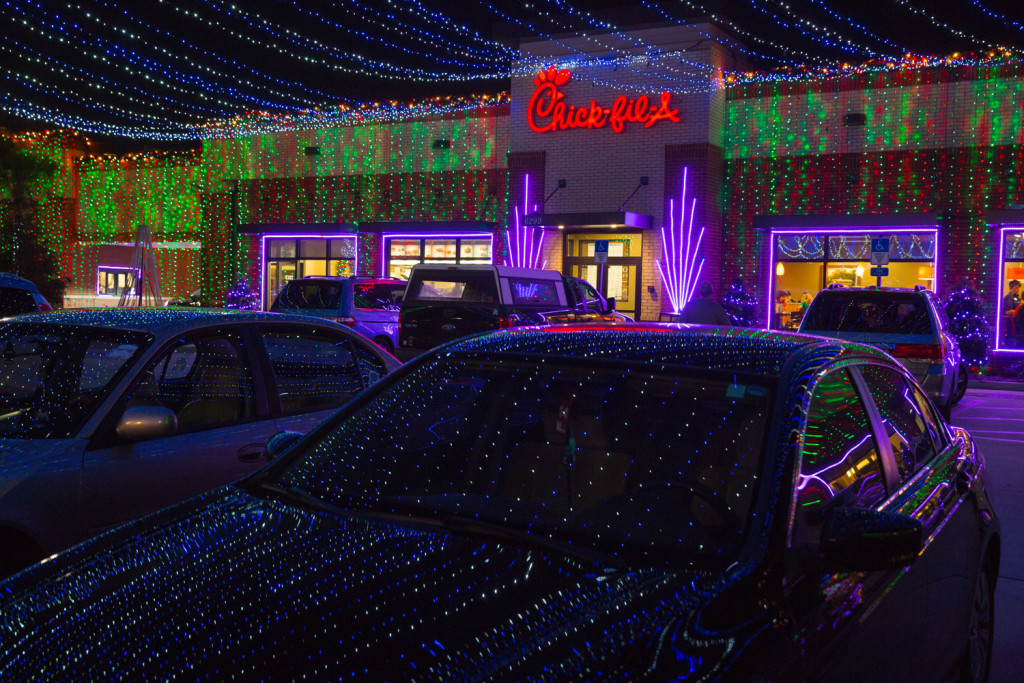 Tampa Bandstand
Experiencing the lights isn't reserved for the drive-thru, this is Florida after all where the average December temperature hovers at 73 degrees. Set to a radiant backdrop, spectators are invited to lounge on bleachers to take in the added sights and sounds of elementary school chorus concerts, movie nights, and a plethora of other festive outdoor events.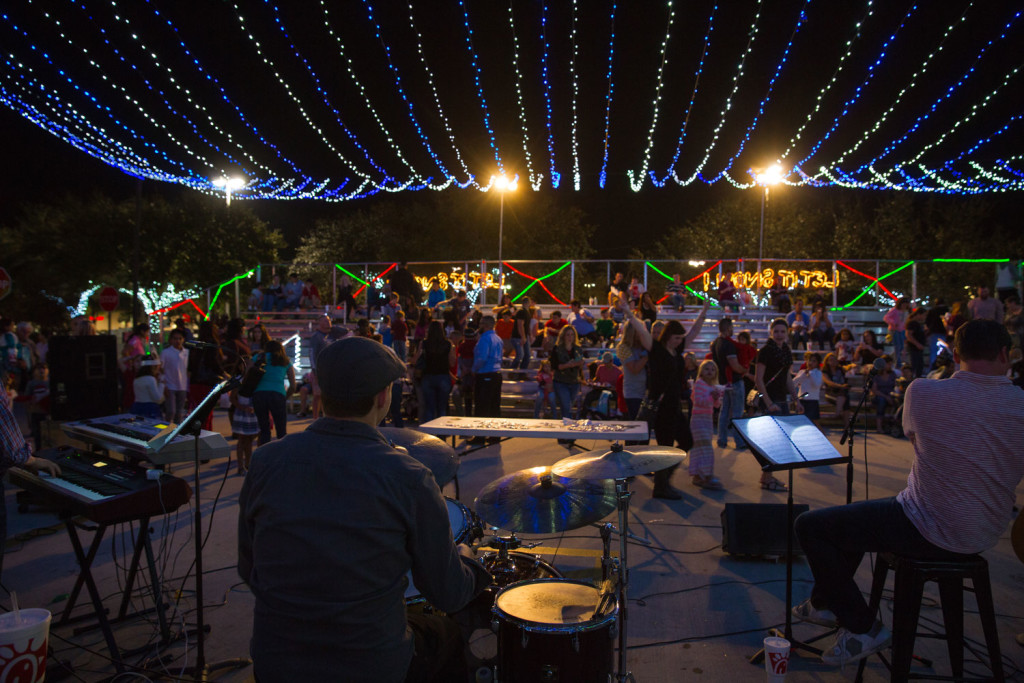 Among the many activities, customers have told tales of seeing laser-programmed lights, larger-than-life Christmas trees, a station for pictures with Santa Claus, and an unexpected snow shower that culminates into one colorful, holiday experience that's larger and more magical than one person can imagine. To witness Dittman's fascinating annual light display, view the images below: