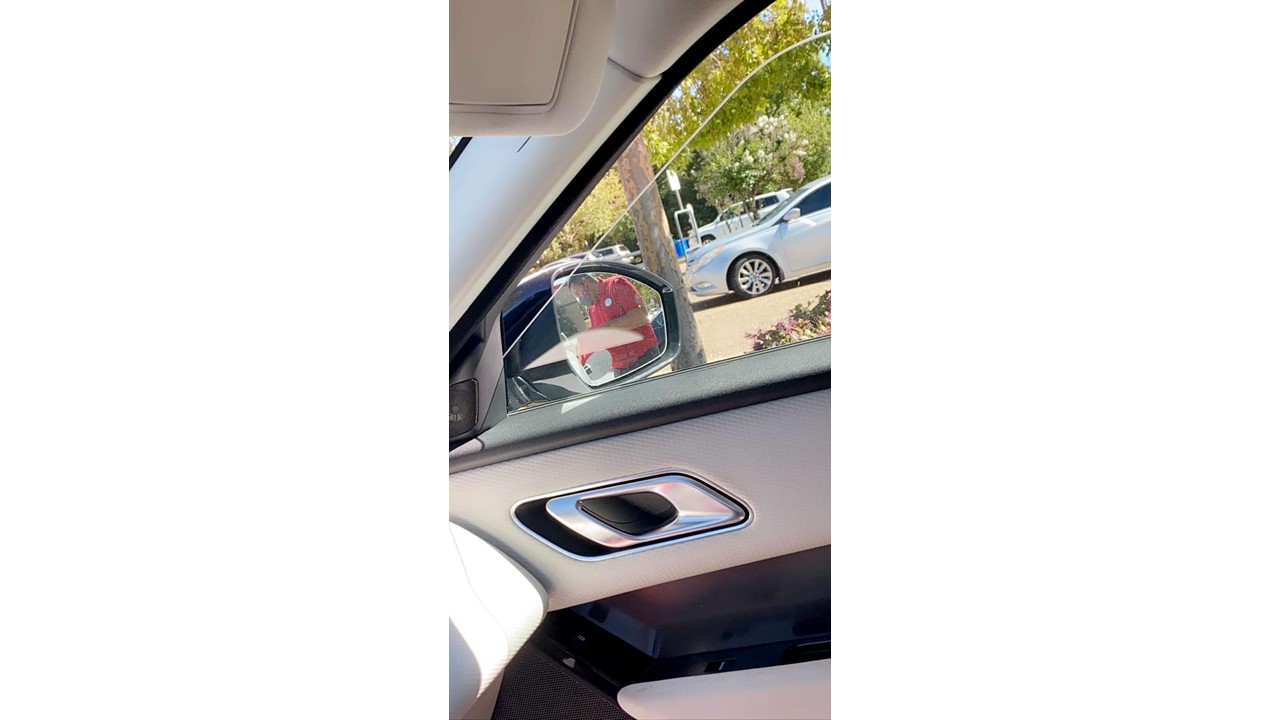 For Operator Lance Reed and his team at the West Jackson Ave Chick-fil-A restaurant in Oxford, Miss., speed of service is always top of heart and mind. But what do you do when a car stops working in the drive-thru during the busiest time of day?

That's just what happened to Ryann Williamson, a regular customer at the restaurant, last fall. As she picked up her Chick-fil-A® Spicy Chicken Sandwich and Chick-fil-A Waffle Potato Fries®, her car jolted to a stop.

"I had no idea what could be wrong," she said.
Then Williamson saw the problem: her gas tank was completely on empty. Team Member Josh Gordon and his drive-thru coworkers quickly jumped in to help. Gordon walked Williamson through several different possible solutions, even attempting to push the car into an empty parking spot to keep the drive-thru line moving.

Nothing worked.

Team Member(s) to the rescue

Armed with an empty gas can, several Team Members accompanied Ryann to the gas station across the street while Josh and the rest of the outside team continued to man the drive-thru.

They temporarily closed the entry points and had customers place Curbside orders to keep serving them as smoothly and quickly as possible. Thanks to their quick thinking, the rest of the lunch rush moved seamlessly — for the most part, it was as if nothing had happened .

And, returning with a full can of gas, Williamson was able to start her car.

"I kept apologizing for causing such an inconvenience," Williamson said. "But Chick-fil-A service is incomparable. Everyone kept saying 'My pleasure,' and that it wasn't a big deal and that things like this happen more often than you think."

Afterwards, Williamson shared her story on Twitter. "In that moment I was beyond embarrassed because this isn't the first time this had happened to me," she said. "But sometimes you just have to laugh it off."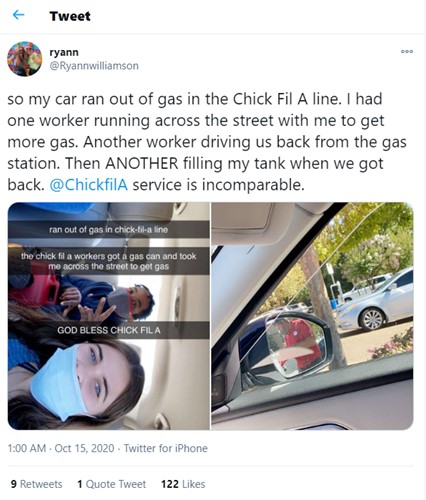 Reed said that, no matter what, Gordon is always there to lend a helping hand.

"I've always wanted to be a part of something greater," Gordon said. "Joining the Chick-fil-A team has allowed me to do that, from serving customers at lunch to helping start cars. It's just what we do."