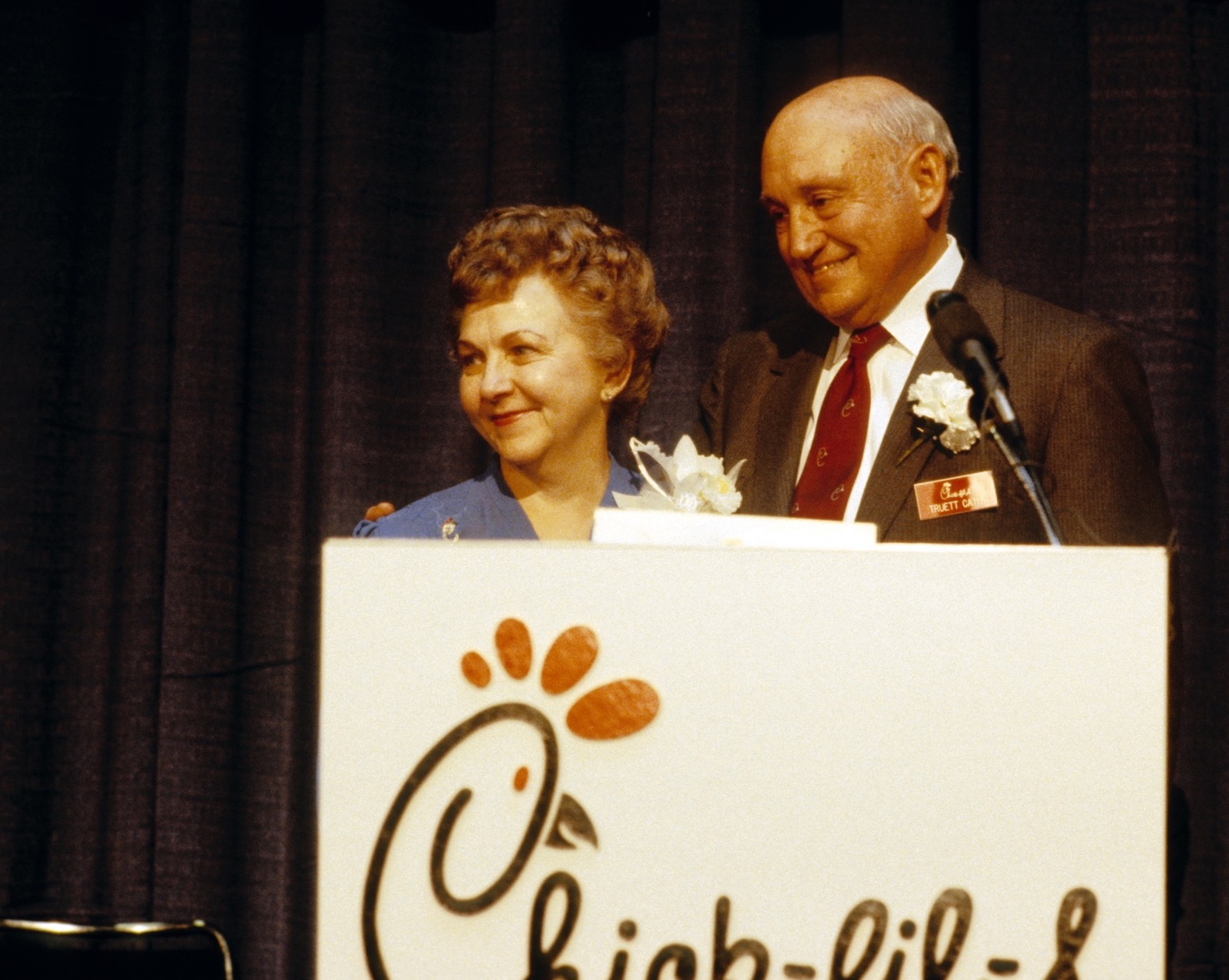 Jeannette Cathy, wife to S. Truett Cathy and first lady of Chick-fil-A, led a quiet yet impactful life
In a modest farmhouse situated outside Atlanta, Chick-fil-A Founder, S. Truett Cathy, and his wife, Jeannette, spent 57 years together. At the heart of their family was Jeannette, mother to three children and a secret ingredient behind the growth and success of Chick-fil-A through the years.
In addition to her "supporting" role with Chick-fil-A, Jeannette positively impacted the lives of many. She mentored and guided her children, the first Chick-fil-A Staff and Team Members, and countless young people over five decades teaching Sunday school.
Facing the Future Head On
A child of the Great Depression, Jeannette learned the importance of determination and hard work at an early age. At only 3-months-old, her father walked out on her and her mother, Ida, leaving them penniless with an uncertain future. Spending much of her youth backstage at Atlanta's Fox Theatre, where Ida worked as a seamstress, Jeannette's love of performance grew. She danced and sang throughout the Atlanta area from the age of three, eventually teaching herself piano and trumpet.
After graduating high school and landing a government accounting job, Jeannette did something that was rather unheard of at the time. Funded by generous women from her church, she left her job to attend college at New Orleans Baptist Seminary. Guided by her faith and love of learning, she went on to graduate with a double major in history and religion.
Upon graduation, she returned home where her focus was captured by a family friend – a young man named Truett Cathy. Truett had recently begun a restaurant with his brother following a stint in the Army. Called the Dwarf Grill, it would serve as the backdrop to many of Truett and Jeannette's early dates, where they sat at the counter enjoying a soda while listening to the jukebox.
 
'You Can"
Jeannette juggled many roles in her adult life, including mother, handywoman, musician, Dwarf House™ waitress, mentor and, eventually, first lady of Chick-fil-A.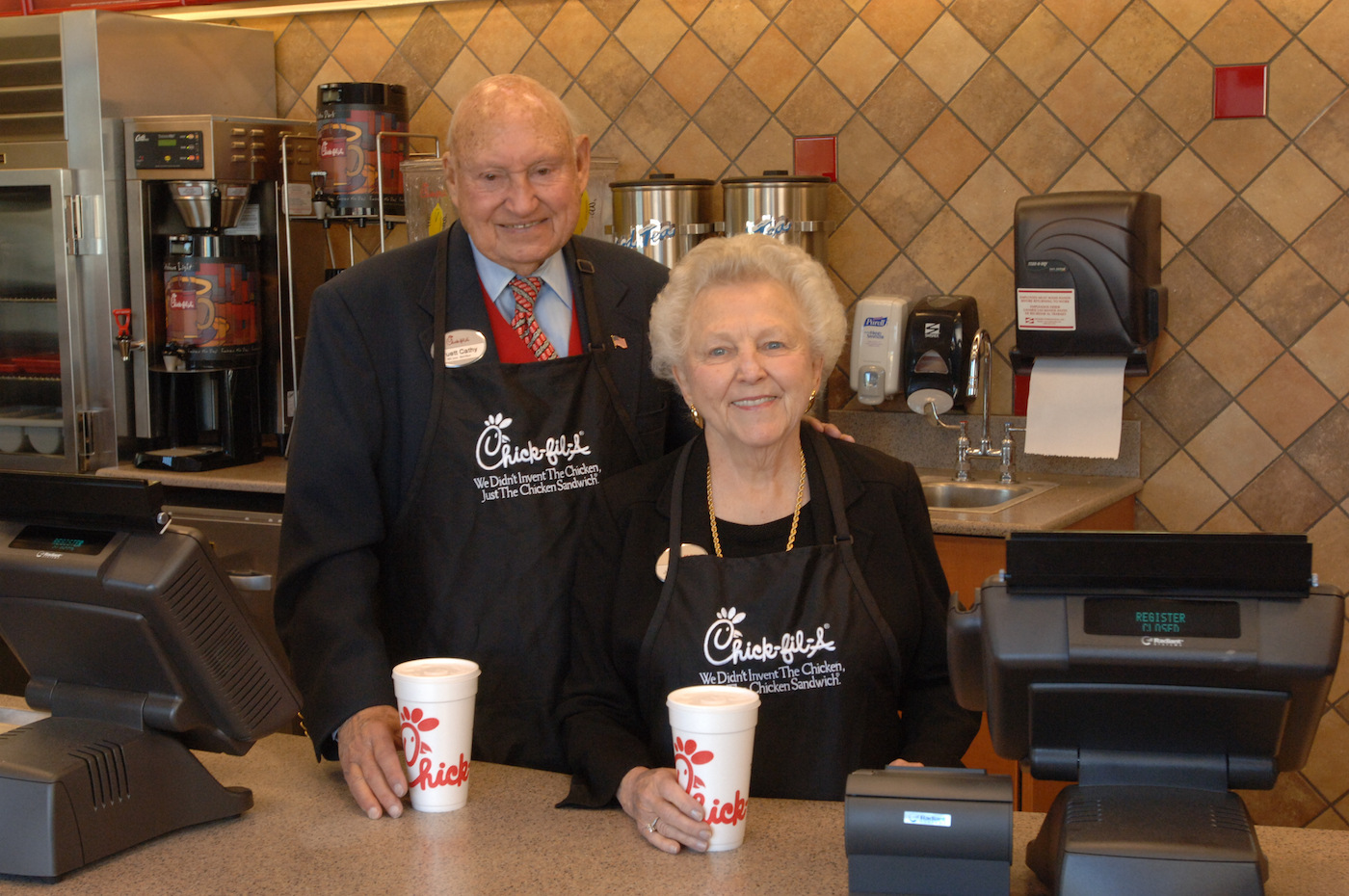 "Few had the pleasure of meeting my mom, who was a remarkable lady and had a significant impact on our family and business," says Trudy Cathy White, Truett and Jeannette's daughter. "She had an inner strength, and you weren't quite sure where it came from."
Her mom lived by the mantra, "You can with God." It's something that has played out in Trudy's own life over the years. Perhaps most significantly, when she moved to Brazil with her husband, John, and their children for 10 years after they felt drawn to international mission work. "It was a big step of faith," Trudy recalls.
Her mom also served as a role model in how she navigated her role as a wife. "They weren't perfect, and they worked hard at their marriage," Trudy says.
As Truett led the charge in growing Chick-fil-A, Jeannette's independence and bold determination shone at home. She took charge of maintaining the farm and ran the household, including any repairs. At the age of 65, Jeannette took up oil painting, creating detailed pieces on canvas. At 80, she learned how to use a computer. At 90, a smartphone.
Innovation, Humility and 'Lazy Sundays'
Though Jeannette passed away five years ago, her legacy lives on at Chick-fil-A restaurants throughout the country.
For one: her problem-solving spirit.
"Operators and restaurant Team Members have the opportunity to problem-solve in restaurants daily, and we're counting on them to do it," says Trudy, who points to innovations in the drive-thru and sauces served with Chick-fil-A® Nuggets.
But with any good innovation comes a lesson, one that her mom always reminded her of: "You can accomplish anything if you don't care who gets the credit," Trudy says. "Much of what Dad could do was because of what Mom was doing behind the scenes."
Yet there was a certain decision Jeannette and Truett made together, one that would withstand the test of time: the decision to close the Dwarf Grill on Sundays.
In Trudy's own written words: "Those slow Sundays meant everything to them. I can't tell you how often I heard both of them talk about those days with the unmistakable glimmer of love in their far-off stares."
For Trudy, she keeps that Sunday commitment alive, finding ways to contribute to other's lives by preparing a Bible lesson for second and third graders or hosting a group of young adults for dinner.
And of course, pausing to enjoy God's beautiful creation as her mother would – the perfect reminder to slow down and gain strength for the week ahead.
Read more stories from Jeannette's humble yet busy life in the newly released memoir, "A Quiet Strength: The Life and Legacy of Jeannette M. Cathy," written by daughter Trudy Cathy White. Learn more about "A Quiet Strength" at trudycathywhite.com.