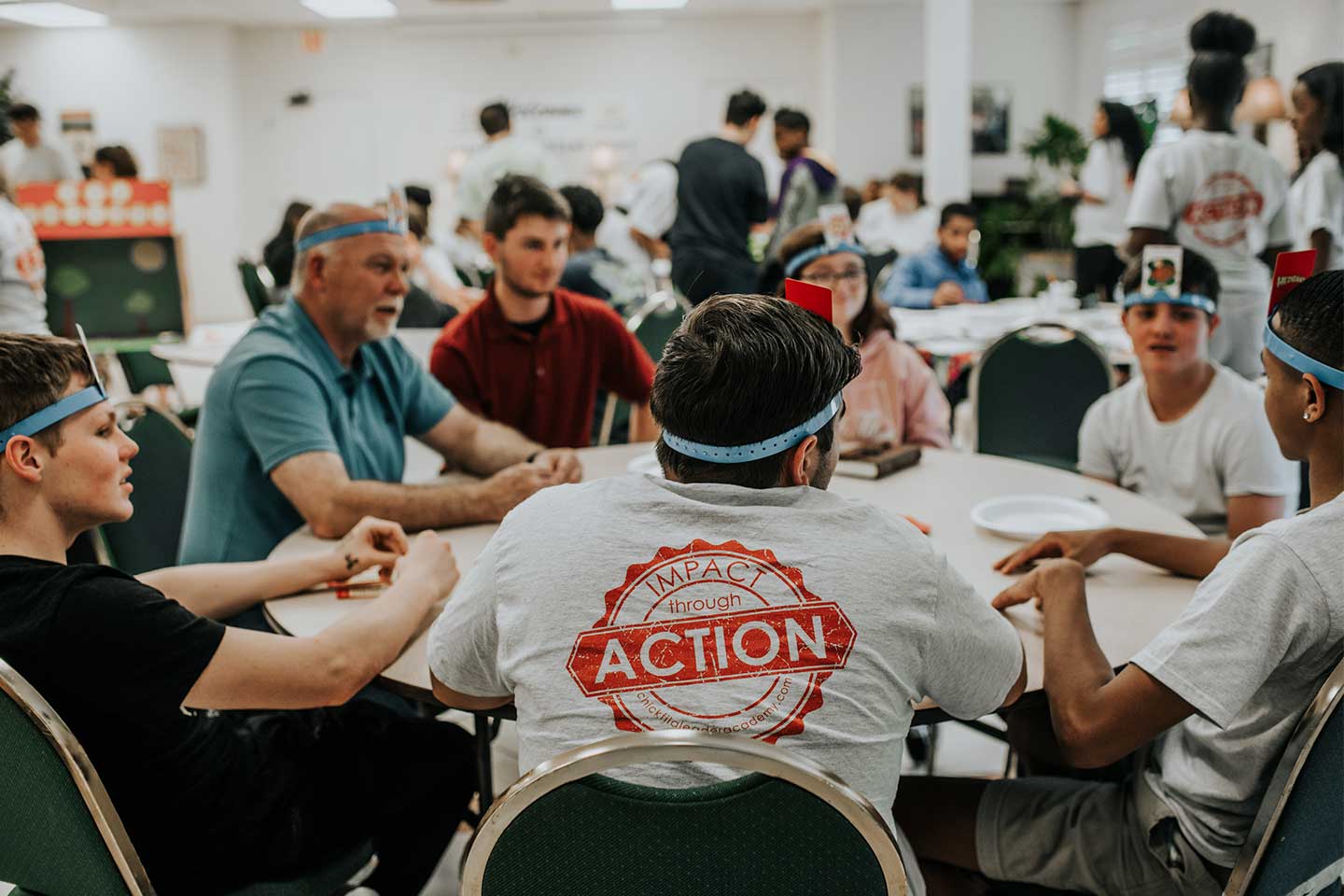 Chick-fil-A Leader Academy inspires high school students to improve their communities.
A room of 30 high school students watches a video explaining how to lead by serving others. This sparks a classroom discussion where students share stories about times when they have experienced the power of giving back. The class then brainstorms some ways they can give back to their community right now.
This is not your typical high school class. Chick-fil-A Leader Academy is an extracurricular activity in which students meet monthly to learn leadership skills. The class culminates with an Impact Project, a student-led community service project.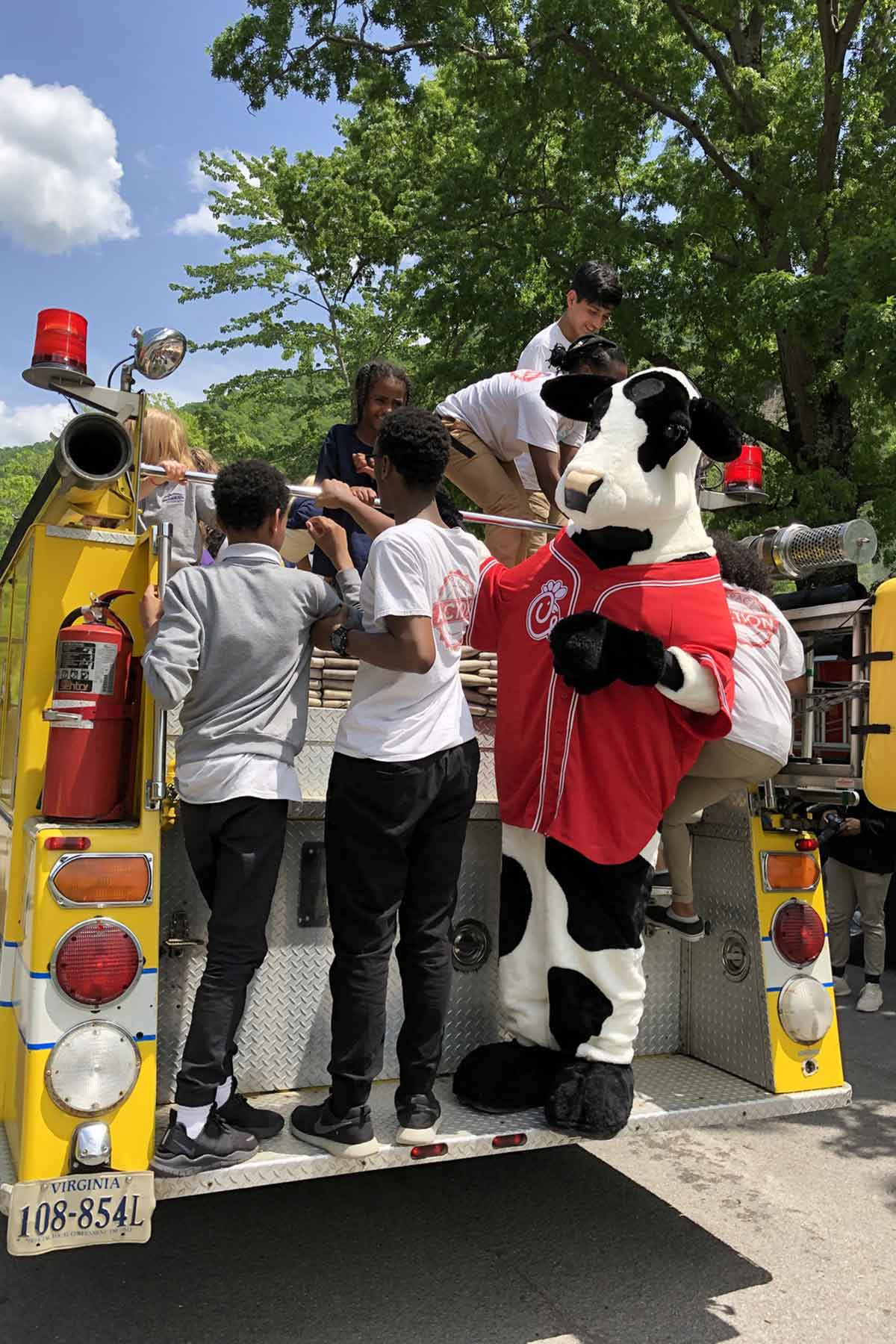 Chick-fil-A Leader Academy started in 2013 with three Atlanta-area high schools and has since grown to more than 1,000 high schools nationwide. The program has sparked a passion for service in many of its 80,000 graduates, who have gone on create nonprofits and even work with the United Nations.
"The program empowers students to see how they can make a difference," said Jessica Purser, senior team lead, programs and partnerships for Chick-fil-A. "Leadership shouldn't be just sitting behind a desk learning about leadership. We want them to get out of the classroom and do something, because leadership is taking action."
As schools across the country kick off the 2019-2020 academic year, let's look back at a few of the diverse ways last year's Chick-fil-A Leader Academy class took action and served their communities.
Firefighter Appreciation Day
Mountain Mission School - Grundy, Va.
Sponsored by Tim Burchfield - Chick-fil-A Johnson City Crossing
In April 2018, the boys' residence hall at Mountain Mission School caught fire and would have been destroyed, had it not been for the brave actions of local volunteer firefighters. A year later, Chick-fil-A Leader Academy students thanked these firefighters with a banquet in their honor. Afterward, firefighters treated students to fire truck rides — and the chance to spray the fire hose.
"On that day, as we exited the building under fire, we watched our local volunteer firefighters walk in to save our home," said Jessica Hertzog, the class facilitator at Mountain Mission School. "Thank you, Chick-fil-A Leader Academy, for giving our MMS family a platform on which to show gratitude to the men and women who are willing to walk through the fire every day."
Prom for Special Needs Students
Campbell High School - Smyrna, Ga.
Sponsored by Stephen Miltiades - Chick-fil-A South Cobb Drive
Campbell High School students partnered with the Atlanta Braves to throw a prom for special needs students with a red-carpet experience and an amazing venue — SunTrust Park. Local businesses generously provided dresses and tuxedos, gift bags, and a night of dancing that included special appearances by the Chick-fil-A cows and the Braves mascot, Blooper.
"Our Impact Prom was an incredible event to be a part of," said Michael Chasteen, the class facilitator at Campbell High School. "The event was entirely student driven, and it was amazing to see them work together to pull the event off as well as to see them engage with our guests to ensure a night to remember!"
Tiny Home Renovation
Mt. Tacoma High School - Tacoma, Wash.
Sponsored by Jason Davies - Chick-fil-A Bridgeport & 100th
When Chick-fil-A Leader Academy students learned that more than 100 fellow students are facing homelessness, they decided to build a home for one of them. With support from countless local tradespeople, students converted an RV into a tiny home, the first of what they hope will be a tiny home village that provides housing for homeless people in the community.
"Several of our Leader Academy students have experienced homelessness themselves and they understand the impact a roof over your head could make," said Trisha Tracy, the class facilitator at Mt. Tacoma High School. "In addition to helping their community, students are learning job skills they would have never had without this project. The impact beyond these walls has been incredible."
Group Home Game Night
Paulding County High School - Dallas, Ga.
Sponsored by Operator Kurt Davis - Chick-fil-A Dallas and Chick-fil-A Hiram
Children and teens living in a local group home were treated to a night of fun and games by Chick-fil-A Leader Academy students. The night's festivities included face painting, card games, a game of tennis baseball, and, of course, plenty of food. Students also brought gifts and donated supplies to the group home.
"My students were able to see the joy on the faces of these students and play with them, and were blessed in the process of serving," said Michelle TaiSee, the class facilitator at Paulding County High School. "I know this will be a project that will be remembered by all for years to come."
Senior Dog Sanctuary Service Project
Van Horn High School - Independence, Mo.
Sponsored by Lloyd Anderson - Chick-fil-A Independence Center
Students lent a helping paw to Shep's Place Senior Dog Sanctuary, which takes in abandoned older dogs. Students worked with the Industrial Tech class to design and build outdoor dog pergolas to provide shade and shelter for these dogs. Students sawed lumber, nailed shingles and assembled the pergolas themselves. The project was such a hit that two local TV stations covered the event.
"This project showed Van Horn students what they can accomplish when they work together, and local media coverage highlighted the project, drawing additional needed funds and volunteers interested in helping out at the sanctuary," said Andrea Martin, the class facilitator at Van Horn High School.
Parents' Night Out
Liberty High School - Louisville, Ky.
Sponsored by Operator Micah Childs - Chick-fil-A Jefferson Commons and Chick-fil-A Jefferson Mall
Students held a parents' night out at a local elementary school in which a donation to local homeless nonprofit Choices, Inc. bought parents a night to themselves. Liberty High School students played games with the younger kids and helped them make crafts, which were donated to Choices, Inc. After the event, Liberty students planted roses and shrubs in an outdoor relaxation area at Choices, Inc.
"Our students said that their impact to the community seemed small compared to the impact it had on them," said Sarah Rhodes, the class facilitator at Liberty High School. "They taught children, overcame obstacles, grew together as a team, learned that it is easy to quit but important to persevere, and learned that they could achieve more together than as individuals."