Former Argentine Navy Seal turned Chick-fil-A Operator
"My ultimate goal has always been to get to New York City. It's crazy, but I love it." And for Oscar Fittipaldi, who was born and raised in Concordia, Argentina, this American dream is so close he can taste it – literally. Fittipaldi is the man on the mission to bring Chick-fil-A to New York City, a mission he'll mark "accomplished" this fall when the chicken restaurant company makes its mark in Midtown Manhattan.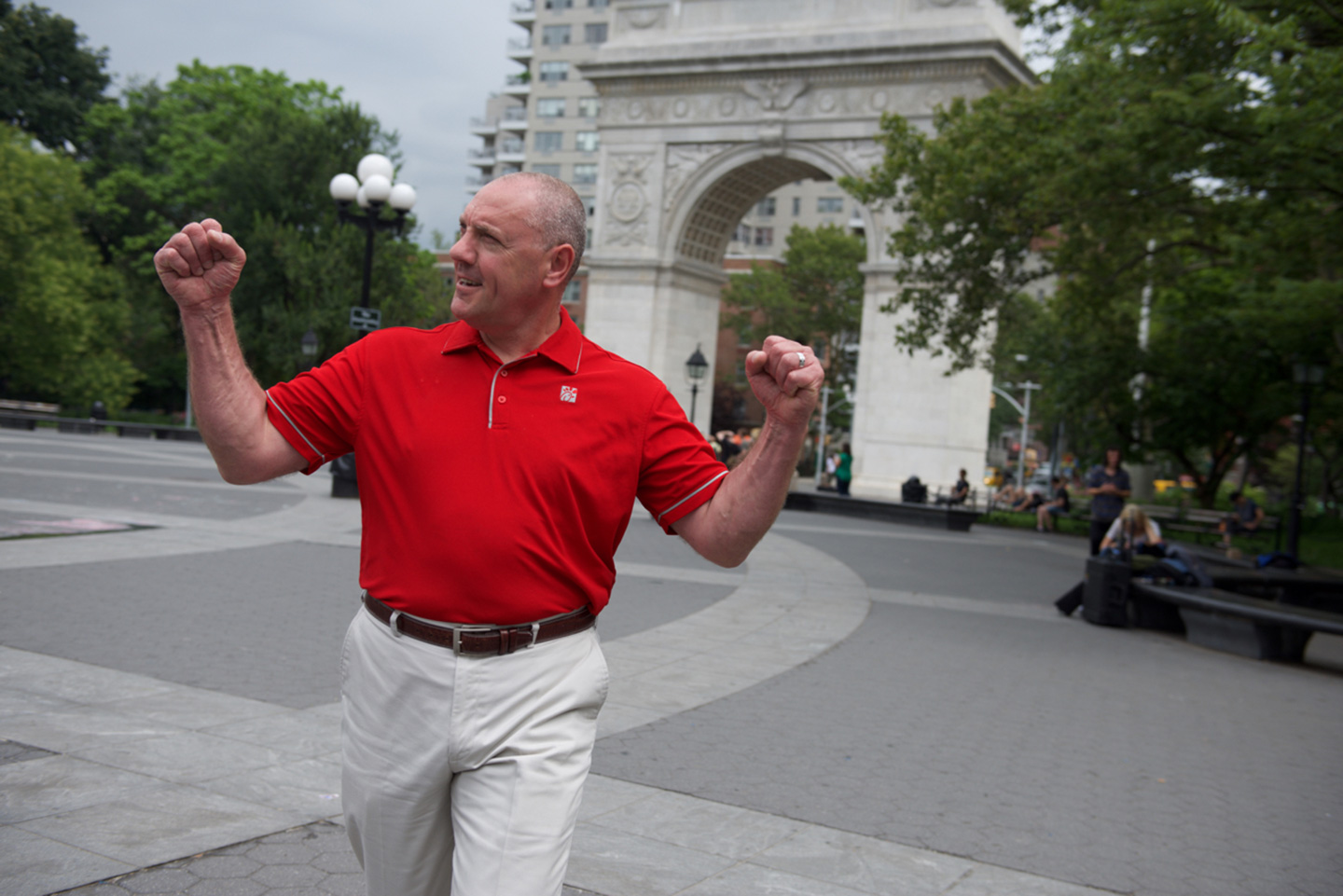 Chick-fil-A Operator Oscar Fittipaldi
While Fittipaldi's journey living life in NYC is about to begin, it has been quite a voyage getting here. Growing up in Argentina his dreams as a young boy did not include Chick-fil-A, the island of Manhattan, or even land for that matter.
Setting Sail
"I always wanted to be a sailor," says Fittipaldi, who was 12 years old and the youngest of three boys, when a Navy recruiter visited his school in Argentina. From then, he was hooked and so began a dream, not to follow in his father's footsteps owning and running a print shop, but to enter the Argentine Navy. Three years later, Fittipaldi's first career began when he was just 15 years old.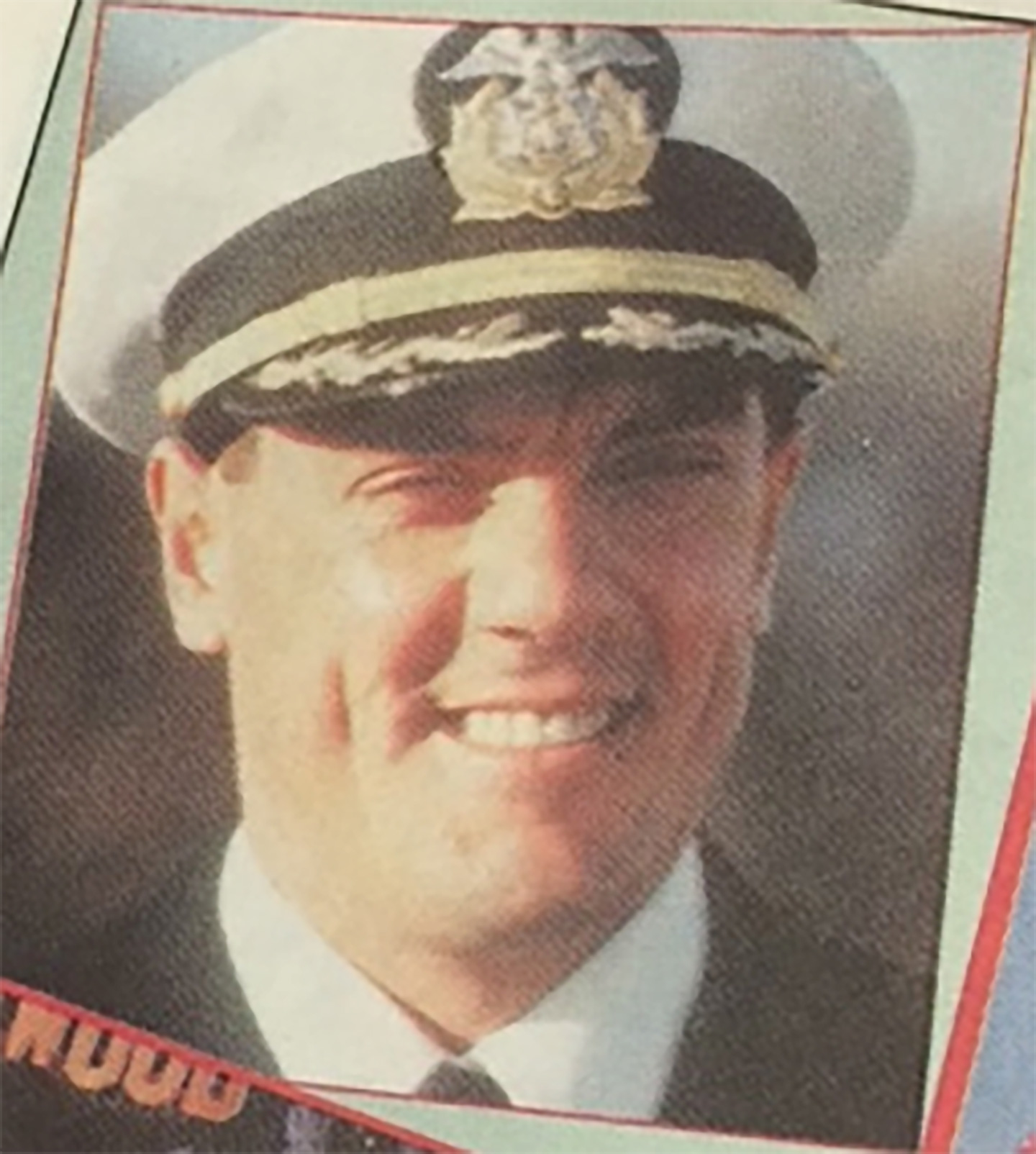 "I convinced my brother to be my tutor, told my parents my decision, and joined the Navy," he says adding that in Argentina, service members can finish high school while serving their country.
By 18, Fittipaldi was a seasoned sailor and high school graduate, but it wasn't enough. That's when the Argentine Navy Seals came calling – and Fittipaldi answered, ranking first in his class. As a seal and combat diver, Fittipaldi says, "If someone fell overboard, I had to save them," but won't reveal any missions to which he was assigned or whether he served in any conflicts. "There's a code of silence."
What he will share – and remembers vividly – are the destinations and adventures his nine years of service in the navy made possible. Spain, France, Norway, Morocco, and Hamburg – were just a few of the ports in 22 countries where Fittipaldi set sail with the navy.
"Oslo was my favorite place. It was stunning, so beautiful," he says of Norway's capital city, known for its museums and green spaces surrounded by water and where he spent two weeks. "It was amazing. I was being exposed to God's creation."
Oh Captain, My Captain
His assignment in the navy would eventually find a port in Norfolk, Virginia – a city synonymous with nautical life in the United States. After nine months at sea for his final naval mission, Fittipaldi began navigating a new career, this one still at sea.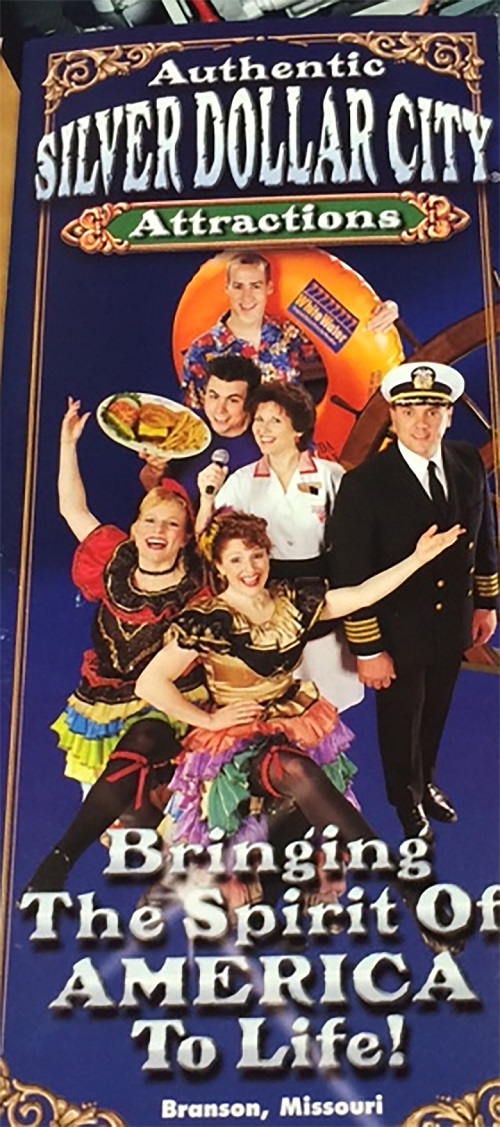 After his vessel docked near a dinner cruise ship, Fittipaldi struck up a conversation with the ship's captain who eventually offered him a job, a path to U.S. citizenship and a new career as a U.S. Merchant Marine.
"It was an incredible journey," he says, explaining that, serving aboard a Tall Ship (a floating embassy) was an opportunity to represent his country as well as meet people from different nations, including dignitaries. And of course, as an experienced swimmer, Fittipaldi was also charged with the duty to rescue anyone who fell overboard.
"I never had to. I threatened them – if you fall over the side, I'll punch you," he joked.
During his 21 years as a ship captain with the Merchant Marines, Fittipaldi worked on just about anything that floated, from military vessels to tug boats to cruise ships.
Hired to oversee construction of the largest paddle wheel ship on a U.S. lake, and captain it once built, Fittipaldi embarked on his next adventure, with Herschend Family Entertainment in Branson, Missouri.
And despite all his worldly travels – it was here – in Middle America – where his life truly changed.
The Love Boat
"I didn't really care for him at first," admits Melissa Fittipaldi, Oscar's wife of 18 years and mother of two daughters, "because he was so meticulous and detailed. If there was anything out of place, he would point at us to fix it."
Oscar met Melissa on a ship carrying 700 tourists. He was in charge of navigating the vessel. She was in charge of feeding those onboard. They fell in love, married and worked together for nine years until Herschend Family Entertainment Corporation's "Ride the Ducks" venture -- a land and water sightseeing tour -- moved the Fittipaldis to Philadelphia.
"It was kind of a culture shock to me; I was from a small town," Melissa says.
It was in Philadelphia where Melissa made a career move that would set the course in motion to eventually move their family to New York City to open a Chick-fil-A restaurant.
"My background was in fine dining, so I was sort of a food snob," says Melissa, admitting that at first, she had no interest in Chick-fil-A. That was before she met a local restaurant owner at church.
"Then I got a behind-the-scenes tour and saw how team members prepare the really fresh food, and the culture and approach to service was something I was drawn to."
So impressed – she and another restaurant operator pushed Oscar to apply, own and open the Chick-fil-A at Aramingo in Philadelphia, where the two have worked together for more than five years, often with their teenage daughters helping in the family business.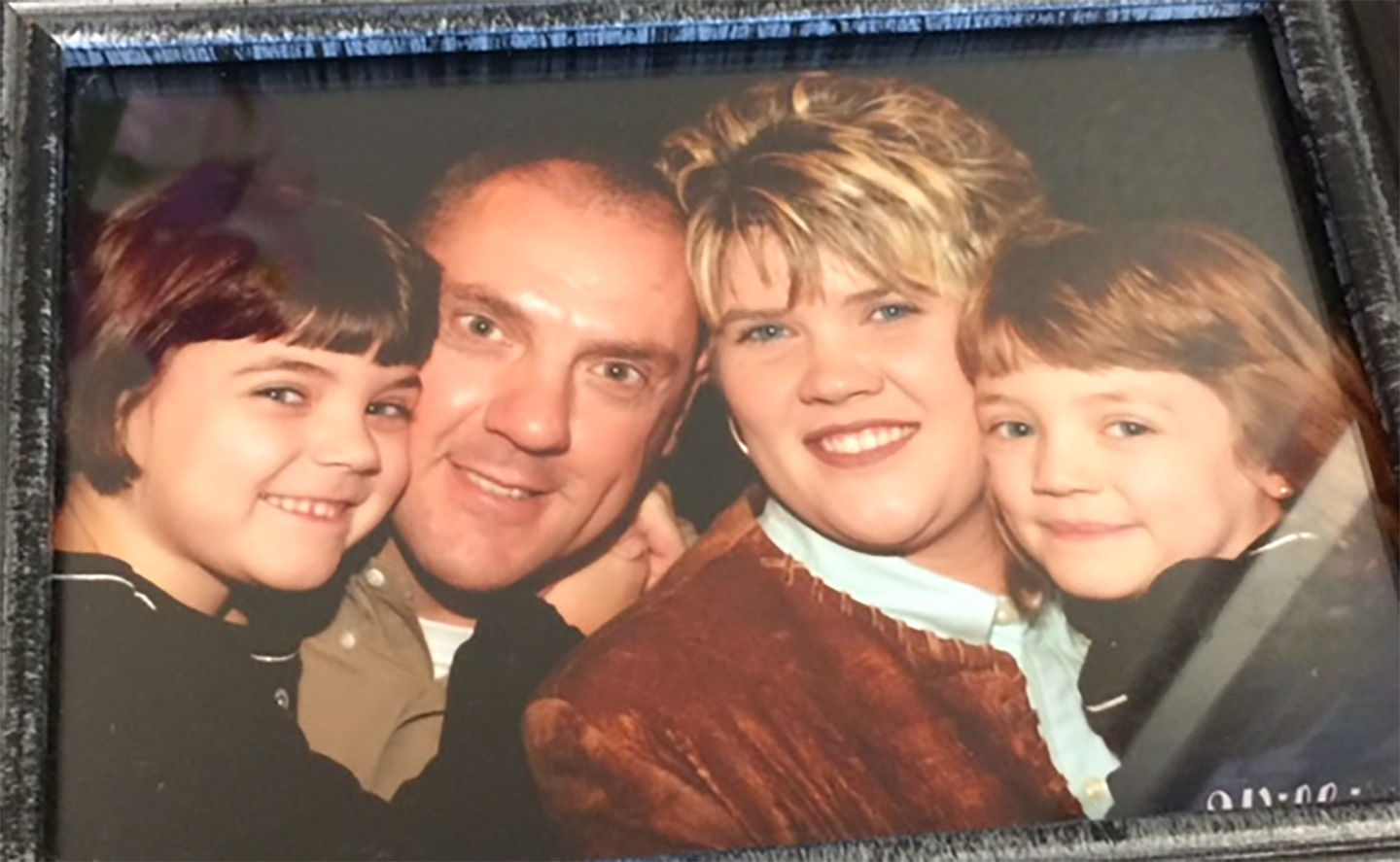 Oscar Fittipaldi with wife and two of their daughters.
Diamond in the Rough
"My desire was to own my own business, to be totally independent," says Fittipaldi. "And Chick-fil-A provided the ultimate opportunity."
But the neighborhood, less than eight miles north of downtown Philadelphia, may not have been what he expected; his restaurant was located across the street from a graffiti-covered abandoned warehouse where many crimes were taking place.
"My desire was to own my own business, to be totally independent, and Chick-fil-A provided the ultimate opportunity."
"Our police officers tell me that Philly has some of the most dangerous drugs in the country, right down the street" Fittipaldi says. "We have a great relationship with our local officers."
While it would be easy to only see the bad in this transitional part of town, it's where Fittipaldi has experienced some of his most rewarding opportunities.
"I can recall a time a mom came with her two daughters and a Ziploc bag with coins. She ordered two kids meals and my wife asked if she would order a meal for herself," he remembered. "She said no, her house burned down. She had no money. My wife paid for her meal and invited her back for a meal, on the house, anytime."
And it wasn't just customers in need of help at times. The restaurant became a way to help young team members too.
"I am who I am because of what my parents invested in me. I grew up poor, but I feel like I grew up very rich because of the love and commitment from my parents."–Oscar Fittipaldi
"I am who I am because of what my parents invested in me. I grew up poor, but I feel like I grew up very rich because of the love and commitment from my parents," Fittipaldi says, adding that "We're like a family here and we just want to love and teach our team members that if you work hard and tell the truth, you will succeed," he says.
"He's been a really good mentor to me growing up," says Alexander Velez who, when he's not managing the restaurant, is working toward his MBA in finance with dreams of becoming a forensic accountant for the FBI.
"He's a big lead-through-example guy. That's something I always took to heart," says Velez.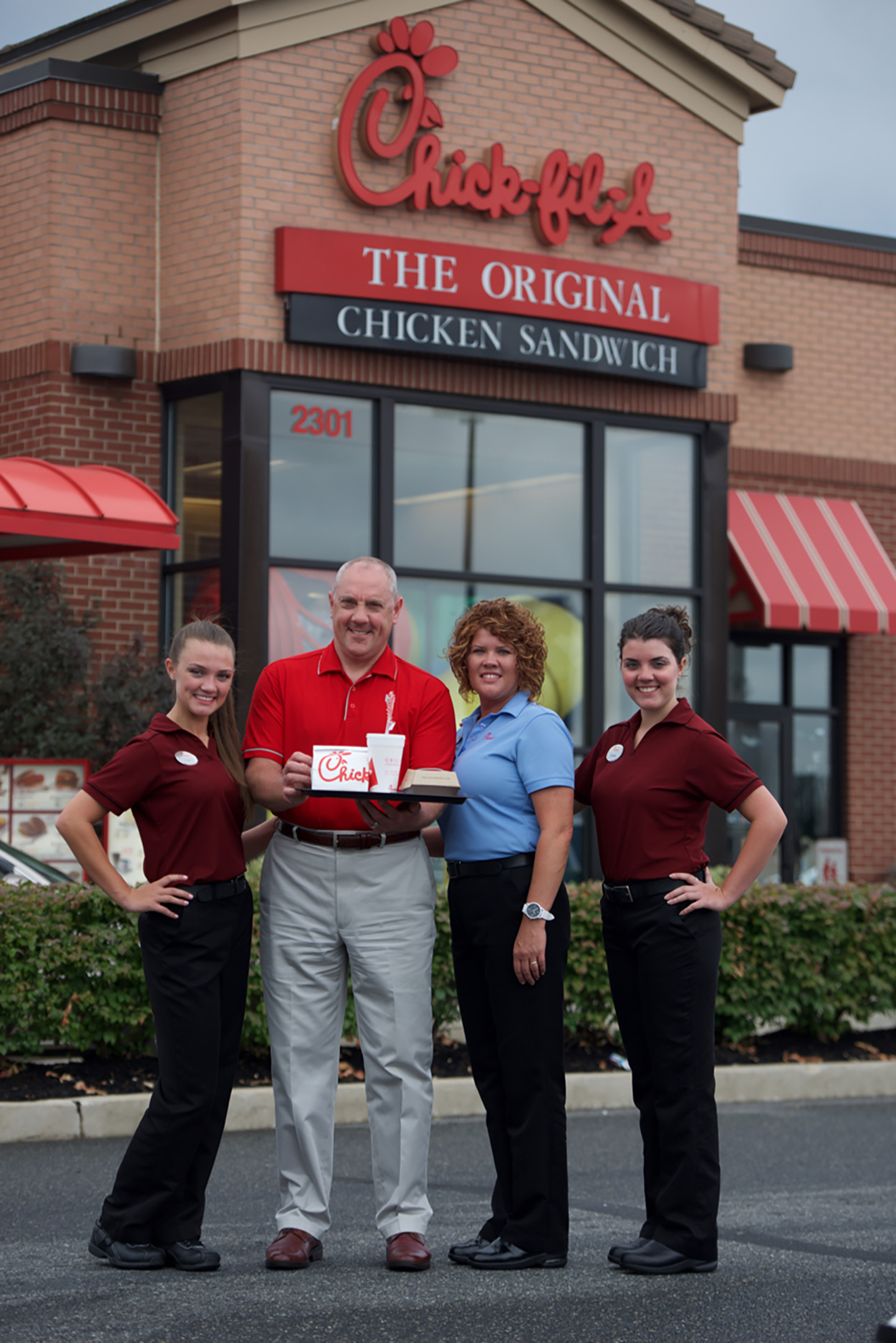 Chick-fil-A local owner Oscar Fittipaldi with wife Melissa and daughters Amelia and Alexandria.
New York Bound
Perhaps it's the teamwork mentality learned in the navy, or his leadership as a ship captain, or his mentorship as a restaurant owner in Philadelphia – or more likely a combination of it all – that made Oscar Fittipaldi the clear choice to open the Chick-fil-A at 37th and 6th in Midtown's Garment District.
"What excites me? The sheer amount of people when you enter or exit the subway. It's amazing. The people in the city are laser-focused. I absolutely love that."
Or, it could be his indisputable love of New York City.
"What excites me? The sheer amount of people when you enter or exit the subway. It's amazing, he says." The people in the city are laser-focused. I absolutely love that."
Fittipaldi says he will be deeply rooted in the city and can't wait to serve and welcome his new neighbors into the restaurant.
Will he miss Philadelphia? A little, but when he looks ahead to New York he says excitedly, "I'm going to stay in this city forever." Be the first to receive updates on upcoming events in NYC by following Oscar on Facebook.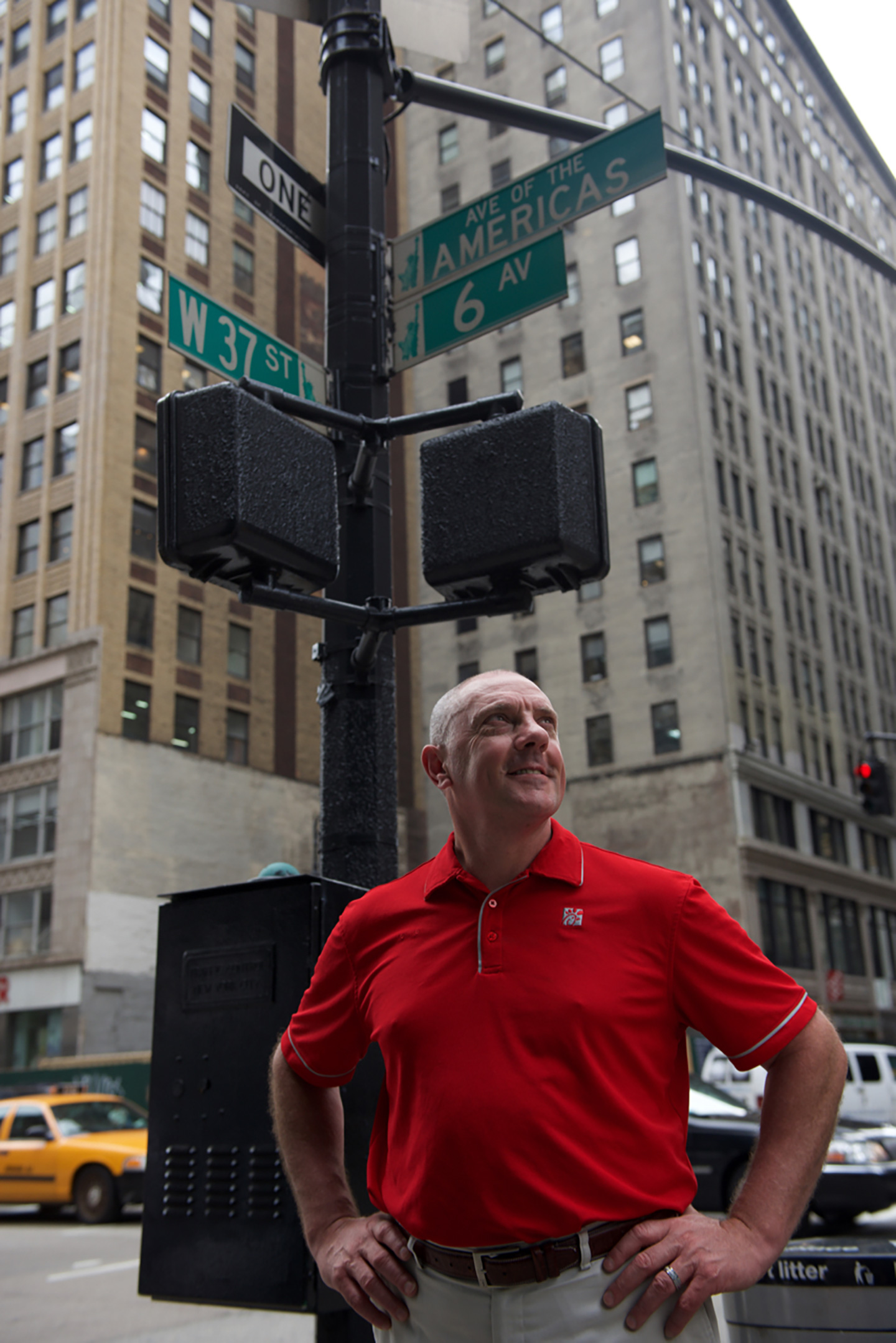 Oscar Fittipaldi will open New York City's first Chick-fil-A restaurant in the Garment District this fall.
Video: NYC Chick-fil-A Owner Explores His New City