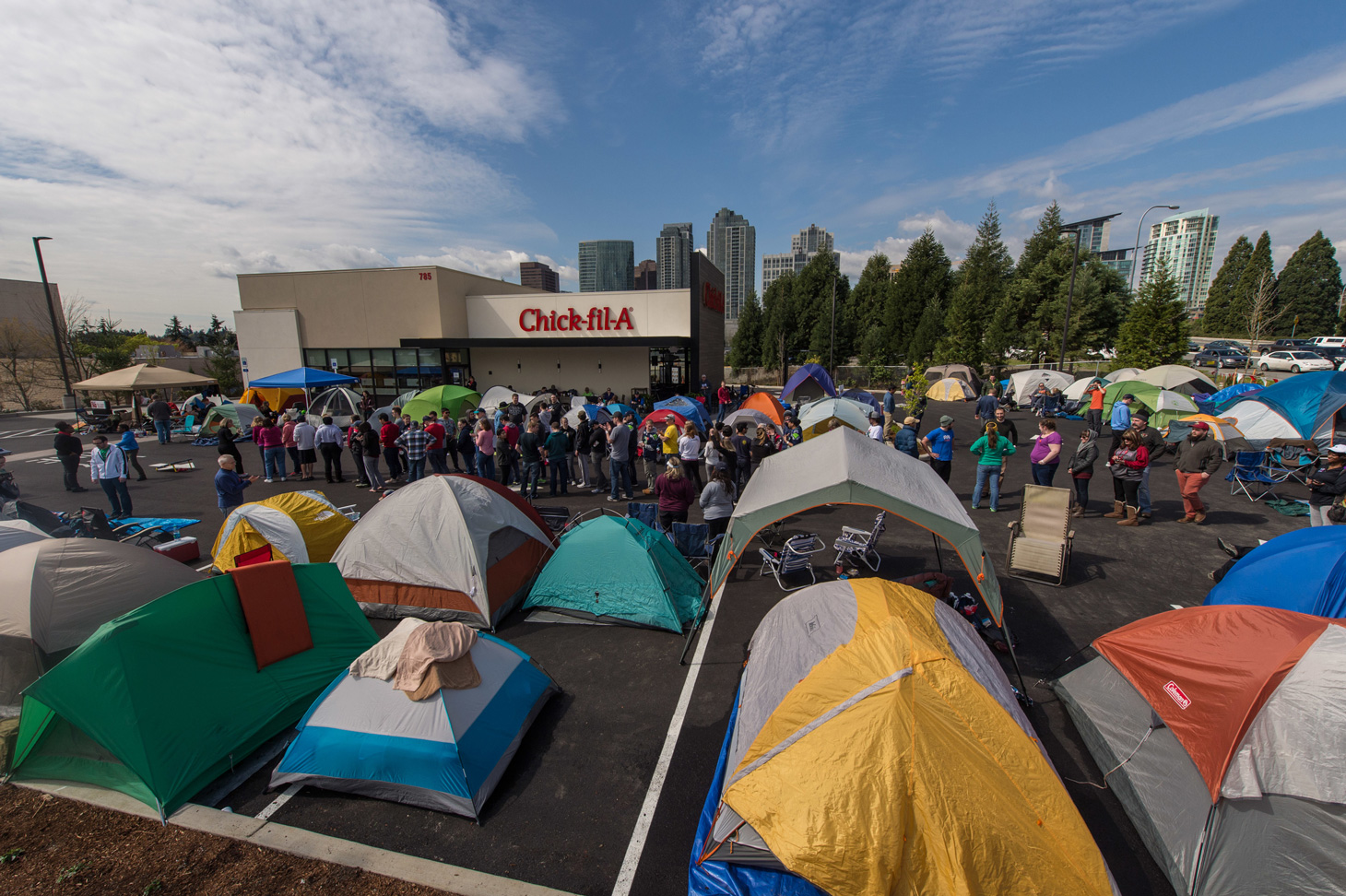 Turns out, there's so much more
Last week we published a story on
The Chicken Wire
, "
You Might Be A Serious Chick-fil-A Fan If….
" We included our favorite stories from some of our biggest fans: Chick-fil-A themed wedding cakes, Chick-fil-A food served at weddings, walking for miles (in the snow) just to get a chicken sandwich and sleeping outside of a Chick-fil-A grand opening.
As soon as our story went live on Facebook,
you didn't disappoint
. Chick-fil-A fans flooded the comments section, telling us about their biggest Chick-fil-A fan moments.
Here are a few of our favorite comments:
Like 'Cheers' but with Waffle Fries
Norm's got nothing on some of you. Chick-fil-A team members know your names, your orders and even your voices in the drive-thru. Some of you have even attended a Chick-fil-A team member's wedding. That is love, right there.
Kyna Acosta
: When they know you by name... and recognize your voice at the drive thru.....
Holly Wilson Johnson
: When you walk in and most of the employees greet you by name and say it's good to see you again today!! #markhamchickfila
Lisa Crockett
: Lmbo not only do the crews of every shift know my name...'MS CROCKETT' half of them are on my facebook page!!! I went to one of my 'kid's' weddings this past weekend!!!
Betty Cornelison
: The employees call you by name and ask if you want "the usual"!

Life's biggest moments with Chick-fil-A
Whether you've been in the hospital recovering or bringing a new little nugget into the world, it's Chick-fil-A you're craving. And it's our pleasure to be there for you
.
Sherrie Wilkins Moore
: When you can't wait to eat in the hospital cafeteria after chemo. Yep MD Anderson in Houston has Chick-fil-A . I actually crave it!
Christina Collins
: After giving birth i made my husband get me a sandwich and 2 large fries...i hadnt eaten since midnight! But we had to go across the street. Memorial hermann sugar land
Alice Browning Dix
: Chick-fil-A...at my bridal shower, baby shower, day of my wedding, at the hospital after having babies, etc.
Megan Alvarado
: If your husband took you there the night he proposed for your engagement dinner!!
Distance makes the heart grow fonder
Don't have a Chick-fil-A near you? That's nothing that a cooler and full tank of gas won't fix.
Andrea Schamberger
: Or driven 6.5 hours in a day just to have lunch there, bringing back food in a cooler for your poor upstate NY friends who didn't go with you.
Robert Carroll
: If you travel from NY to Fredericksburg VA for vacation and eat chicken sandwiches and waffle fries FOR EVERY MEAL until you leave. Then you bring a dozen for the road
Nicholas Jacobs
: When I lived in Georgia, I was there every chance I got. Now that I live in Buffalo, my family and I regularly drive an hour and a half to Erie, Pa to get our fix. If we're there for breakfast, which we normally are, I never leave without at least a half dozen chicken biscuits, to have for every meal and snack until I run out. I currently have eight in the fridge. Is that number-one fan material? XD

And finally… Sunday, Sunday, Sunday
You know we're closed on Sundays, but it doesn't stop you from driving to see us by mistake
.
Jessica Poling
: If... like clockwork you get your Sunday chick fil-a crave on
Theresa Love Johnson
: When you forget their closed on Sunday's but remember that their closed after you drive there.😂
Cathy Cummings
: When you think about eating there all morning at work, then pull into the parking lot, only to realize it's Sunday....again