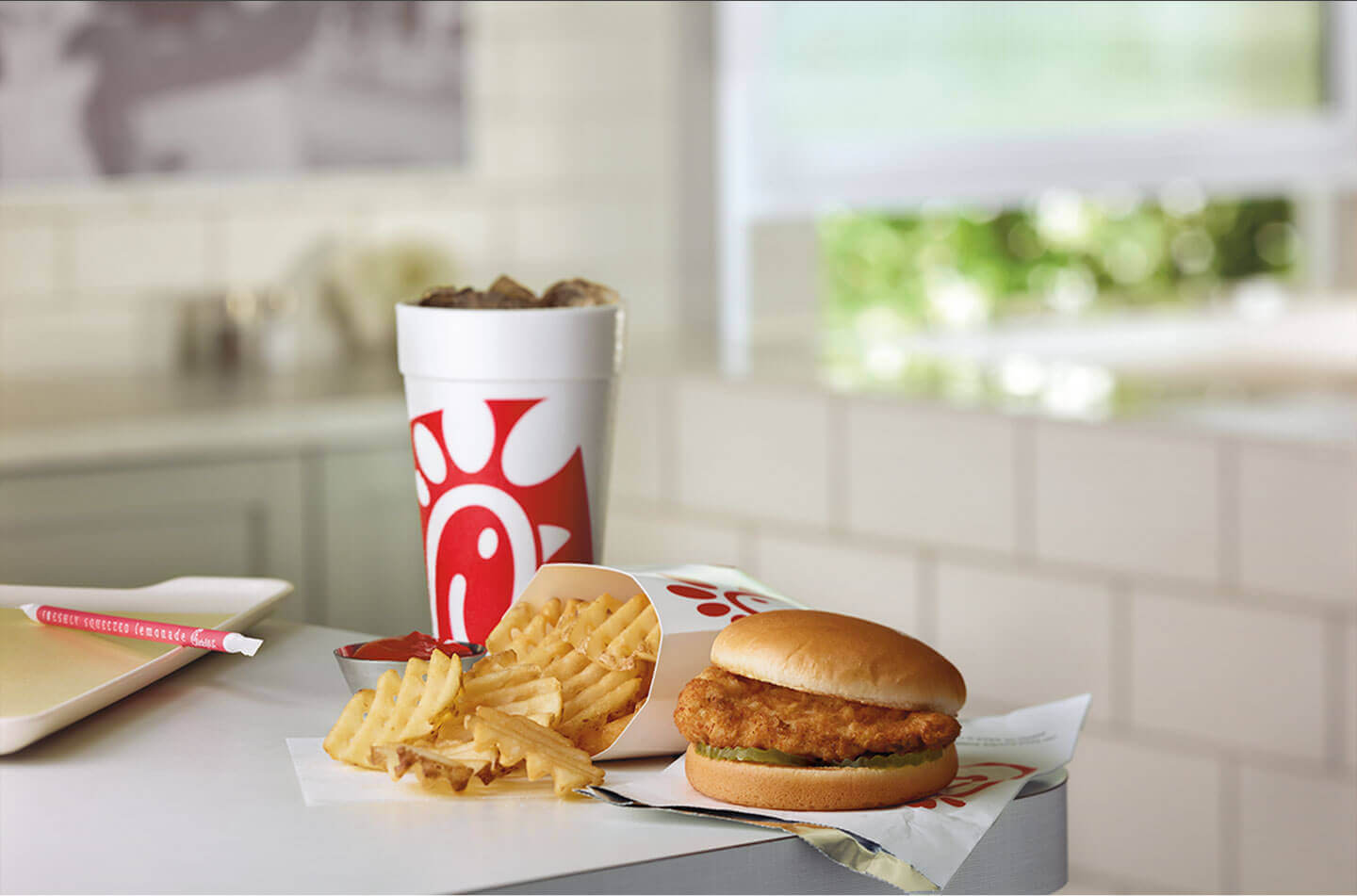 We're proud to serve No Antibiotics Ever chicken nationwide
Every journey has a beginning.
There is a central point of origin that not only points the way forward, but also answers the questions of why it began.
For the past five years, Chick-fil-A has been on its own, unique journey, pursuing an intentional path toward an improved chicken supply.
And it began where all menu initiatives typically do for Chick-fil-A – with the company's customers.
Increasingly, consumers want to buy food that is free of additives, including antibiotics and hormones. Chick-fil-A customers are no different, seeking not merely new flavors in menu options, but also increasingly cleaner menu options.
"We know our customers care about what they're eating, and when they told us they want antibiotic-free chicken, we took note," said Matt Abercrombie, director, menu and packaging. "Our goal was to pursue the highest standard – No Antibiotics Ever chicken - and partner with the USDA to verify it," said Abercrombie.
The company declared its intent nearly five years ago to achieve 100-percent No Antibiotics Ever chicken, and became the first quick-service restaurant company to have the USDA verify that our suppliers are continuously meeting Chick-fil-A's commitment to No Antibiotics Ever.
Chick-fil-A reached the milestone ahead of schedule, serving only No Antibiotics Ever chicken at each of its restaurants in the United States about halfway through 2019.
As the nation's largest quick-service chicken restaurant, this was a significant endeavor – at the time the chicken industry was not yet operating under No Antibiotics Ever standards, especially not on the scale Chick-fil-A needed to serve. Building the infrastructure to provide a stable, sufficient No Antibiotics Ever chicken supply to all Chick-fil-A restaurants would require ample investments and strong partners across the chicken industry.
What does No Antibiotics Ever chicken mean?
A big driver behind the market forces pushing the meat industry toward more meat and poultry produced without antibiotics is the available research on the impact of the overuse of antibiotics. The dangers of antibiotic-resistant bacteria are becoming more well-known and have been documented by third-party research, leading to calls for responsible use of antibiotics in people and animals. This has led to various programs that can be confusing for consumers seeking meat and poultry produced without antibiotics since many standards leave open doors for antibiotics to be used in some circumstances.
Chick-fil-A made a commitment to serve only No Antibiotics Ever chicken – meaning no antibiotics will ever be used in the Chick-fil-A chicken supply, starting all the way back with the egg. While the claim is easy to understand (No Antibiotics Ever), it represents a stringent commitment for antibiotic use.
The completion of the No Antibiotics Ever commitment by Chick-fil-A required suppliers to overhaul how chicken is raised and processed to ensure that no antibiotics of any kind are used in feed, water, commercial vaccines, or other treatments. Chick-fil-A suppliers are audited by the U.S. Department of Agriculture to ensure they meet Chick-fil-A's commitment.
"We know our customers want food they feel good about eating," said Abercrombie. "Rather than quickly moving to adopt a more lenient standard, we worked with our suppliers to create a stable supply of No Antibiotics Ever chicken for every customer, everywhere, every day."
The road to No Antibiotics Ever
Transitioning to chicken raised with No Antibiotics Ever isn't as simple as flipping a switch. There are various complexities and challenges that come with such a decision that go far beyond the restaurant.
Achieving such a shift would require diligent planning and partnership between Chick-fil-A, its suppliers and the USDA.
"We asked ourselves 'Can we do it and is it the right thing to do?,' and the answer to that was obviously 'yes,'" said Steven Lyon, Ph.D., a former USDA researcher on antibiotic resistance and currently a principal lead of Chick-fil-A's restaurant food safety solutions. "Once we recognized that, it was imperative that we engage with our suppliers because this impacts their entire operation."
There were considerable operational challenges ahead of Chick-fil-A and suppliers. For instance, the transition to NAE chicken necessitated developing new approaches to sanitation and cleaning, as well as an antibiotic-free feed strategy to help nurture animal welfare, such as introducing natural alternatives to help support bird health.
Those investments took time, and Chick-fil-A was intentional in building out a timeline that allowed for a careful and responsible transition.
"It's a behavioral change as much as a technological one, and it would have been irresponsible and unwise to force this magnitude of change any sooner than when we did," said Lyon. "It wouldn't have benefitted us, our customers or our suppliers."
As Chick-fil-A moves into an era of No Antibiotics Ever chicken, it is working with seven major poultry providers that are now NAE certified.
Delivering for customers and beyond
Consumers were eager for this transition. In fact, in a recent survey suggests that 81% of consumers consider antibiotic-free as an issue that matters to them when purchasing poultry.*
"Providing our customers with high-quality menu options has always been our goal, and we are always looking for ways to care for our customers," said Abercrombie, adding that Chick-fil-A remains committed to serving great tasting food made with high-quality ingredients.
Chick-fil-A's transition to No Antibiotics Ever chicken doesn't merely benefit its own customers, as it has impacted the chicken industry more broadly as well. For instance, since Chick-fil-A primarily relies on breast meat for its sandwiches and nuggets, the dark meat and other white meat, which are still raised with the same standards, can be distributed to other retailers.
And all of this began because Chick-fil-A did what it has done for years: listened to customers and crafted new ways to serve them.
"We love our customers, and we want to listen to them even more," said Lyon. "What do they want, and not just now, but what do they want in the future? How can we anticipate that so we can best serve them? At the end of the day, we are a customer-service driven company, and what our customers want is what we want."
*Technomic 2019 Center of the Plate: Poultry Consumer Trend Report