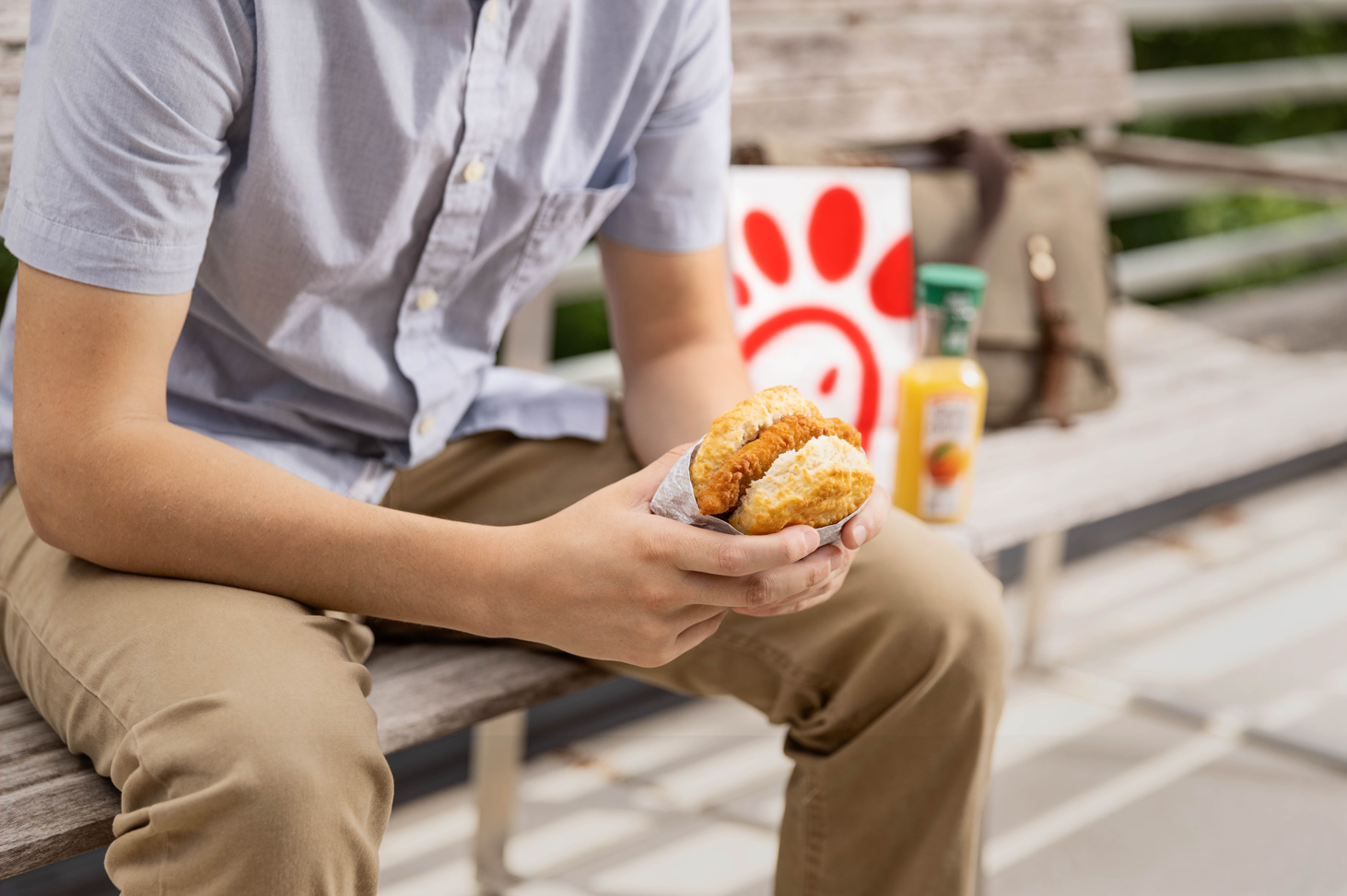 Check out the 10 top-selling towns for our breakfast favorite
Thirty-seven years ago, Chick-fil-A changed the concept of enjoying chicken only during lunch and dinner time. To serve our customers quality food during the most important meal of the day, we hatched the Chick-fil-A® Chicken Biscuit, a portion of our tender, juicy chicken paired with a freshly-baked buttermilk biscuit.
The chicken biscuit is a fan favorite morning entrée in cities from coast-to-coast, proving that biscuit love has no bounds. Is your city one that can boast the most about its devotion to the Chick-fil-A Chicken Biscuit? Read on to find out where we sell the most of these savory staples.

10. Columbus, Mississippi

For the past 80 years, Columbus has hosted its annual Spring Pilgrimage, a tour of the town's most notable homes and buildings. Before locals explore these historic mansions and churches, they start their day with a protein-packed chicken biscuit.

9. Savannah, Georgia

Coined the "Hostess City of the South," Savannah is known for its hospitality. By the number of avid fans of the chicken biscuit in this historic town, they know it is our pleasure to serve them their breakfast favorite each morning.

8. Jackson, Mississippi

This capital city was home to Pulitzer Prize-winning author Eudora Welty, whose work depicted the realistic South. If she was still alive, do you think she would share the local love for the Chick-fil-A Chicken Biscuit?

7. Macon, Georgia

The International Cherry Blossom Festival and the Georgia Music Hall of Fame are just two reasons to visit this city in Georgia. Before exploring museums and taking in the beautiful scenery, tourists can start their day with a Chick-fil-A Chicken Biscuit.

6. Chattanooga, Tennessee

You can work up quite an appetite in this Scenic City, between rowing on the Tennessee River and rock-climbing the best boulder fields in the country. Maybe that's why our best-selling breakfast entrée is a big hit here.

5. Monroe, Louisiana

The town was named after the "James Monroe" steamboat, the first steamboat to ascend the Ouachita River, advancing industry and trade in the region. Since then, Monroe has expanded to become one of the largest cities in northeast Louisiana and to have some of the most avid fans of the chicken biscuit.

4. Gainesville, Florida

Gainesville is home to the University of Florida. When the students at this college aren't cheering on the Gators, they can be seen relishing their favorite breakfast sandwich from any Chick-fil-A restaurant in town.

3. Memphis, Tennessee

The Bluff City may be known for the Blues and BBQ on Beale Street, but lately it's known as a prime spot to purchase our popular breakfast sandwich. In fact, you can find it at 17 different restaurants in the Greater Memphis area.

2. Atlanta, Georgia

It's probably no surprise that our hometown sells a ton of our best-selling breakfast entrée. (Nearly 21.3 million were ordered in Atlanta last year alone!) The city where Chick-fil-A started is also clearly full of residents who start their day with a savory breakfast sandwich.

1. Jackson, Tennessee

This "birthplace of Rockabilly Music" topped the charts for the most chicken biscuits sold in 2021. Wonder if they'll be singing the same tune next year?

Were you surprised about who ate our chicken biscuits the most last year? Should your community be a contender? Only time will tell, but you can increase the stats by visiting your local Chick-fil-A restaurant for a satisfying start to your day.