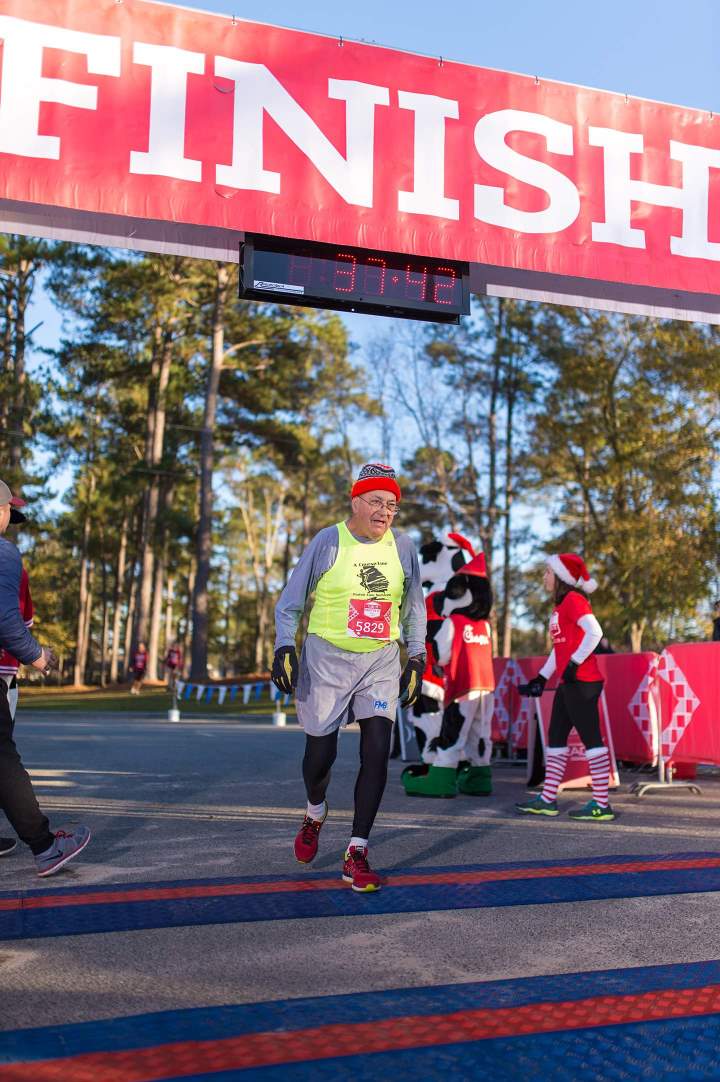 For the last 40 years, Joe Christian has run almost every day. In fact, he estimates that he has hit the pavement about 250 days each year, averaging eight miles per run.
That's 80,000 miles. Did we mention he's almost 80 years old?
He is a bit of a legend in his town, especially in the running community. His age and mileage always headline the conversation. But Christian's sense of humor is as smooth as his stride: "I keep telling everybody I need an oil change."
The Valdosta, Georgia resident has been a runner his whole life. It was part of his routine for the 22 years he spent in the United States Air Force. After he retired from the military, he started working for the Postal Service. There, a co-worker invited him to join a running group that circled a 9-mile loop every week. He was about 40 years old, and that's when he started running races.
Since then, he's logged more than 1,100 races including 18 marathons, more than 50 half marathons, and countless 5K's. He crossed race finish lines 102 times last year.
"My first goal was 1,000 races," Christian says. "I hit that a year and a half ago. The next goal is 1,500 before I'm 85."
There's time to spare. He's 78 and nothing stops him. Not even a stroke. He suffered from one this year. Less than one month after the episode, he had run five more races.
"My day just isn't complete if I don't run. Any day I don't run is a day lost," Christian says. "I feel great when I'm out there. It's where I get most of my thinking done."
There's plenty of opportunity for thought, as he still manages to do two to three 5K's every single weekend.
Two of his recent 5K's were Chick-fil-A races, part of the Chick-fil-A Connect Racing Series. Sponsored by local restaurants, the series primarily operates across the southern United States. So far, Christian has run in two of them: one in Douglas, Georgia and other in his hometown of Valdosta.
His tenacity caught the attention of organizers. Scarlett Keown coordinates the races through Connect Ministries and was at the 2015 Valdosta 5K.
"Our team wanted to make sure our announcer was aware of Mr. Christian's accomplishments, as well as the crowd at the finish line," she says. "Everyone encouraged him as he completed the race."
Christian says it was a great race. He has a tradition of bringing his own racing number. It always corresponds with the number of races he's run. So he wore the official Chick-fil-A Racing Series bib, as well as his own. People noticed.
"They thought it was wonderful that I was this age and still running."
In a far different age bracket was 16-year-old Lanier Godwin. He's a Chick-fil-A team member at the Chick-fil-A North Valdosta that hosted the race. He's been running for about six years now, both for fun and for exercise, and tries to do one 5K race per year.
"I work for the company and I thought it would be a fun race to run," Godwin says. "I've never run a race that was part of a major company."
He finished third in his age group and says the race exceeded all expectations.
"Whether it's the 5K or 1 mile, it's a great experience. It's like no other," he says. "I've run a good number of races and this is one of the best environments I've been in in a race setting. It's not only people working at the restaurant, it's also people working the race series that are making sure you have an awesome time."
That's exactly what organizers like Keown want to hear.
"It's a family fun event that gives a unique experience only Chick-fil-A can provide," she says. From the cows, to the chicken biscuits, to the Family Fun Zone, it is all about offering that fun, supportive environment."
The Valdosta race was just one of dozens that happen each year across the country. The Chick-fil-A Connect Race Series began in 2011, and has taken place in nearly 60 cities. Chick-fil-A restaurants in different communities volunteer to host races and usually offer a 5K and 1-mile Fun Run. Some include a 10K, while others take a different approach. Kicking off 2017, the series' first race will take place in Henderson, Nev.
"We have a Chick-fil-A in Vinings, Ga. that does a race called the Nugget Point Niner," she says. "It's completely up to the individual restaurant and what they decide works best."
A 5K was a perfect fit in Valdosta for Godwin and Christian, who have crossed paths at the race. Godwin says seeing the local legend run was eye-opening.
"If someone like that can still run races, I can too. It's pretty cool to see someone at that age out competing with people."
Christian encourages runners like the young Godwin to take every opportunity they can to keep running, continue racing. He certainly plans to take his own advice: "I took a vow years ago with my wife - until death do us part. When I started running, I took the same vow."
Here's to 1,500 races and many, many more.