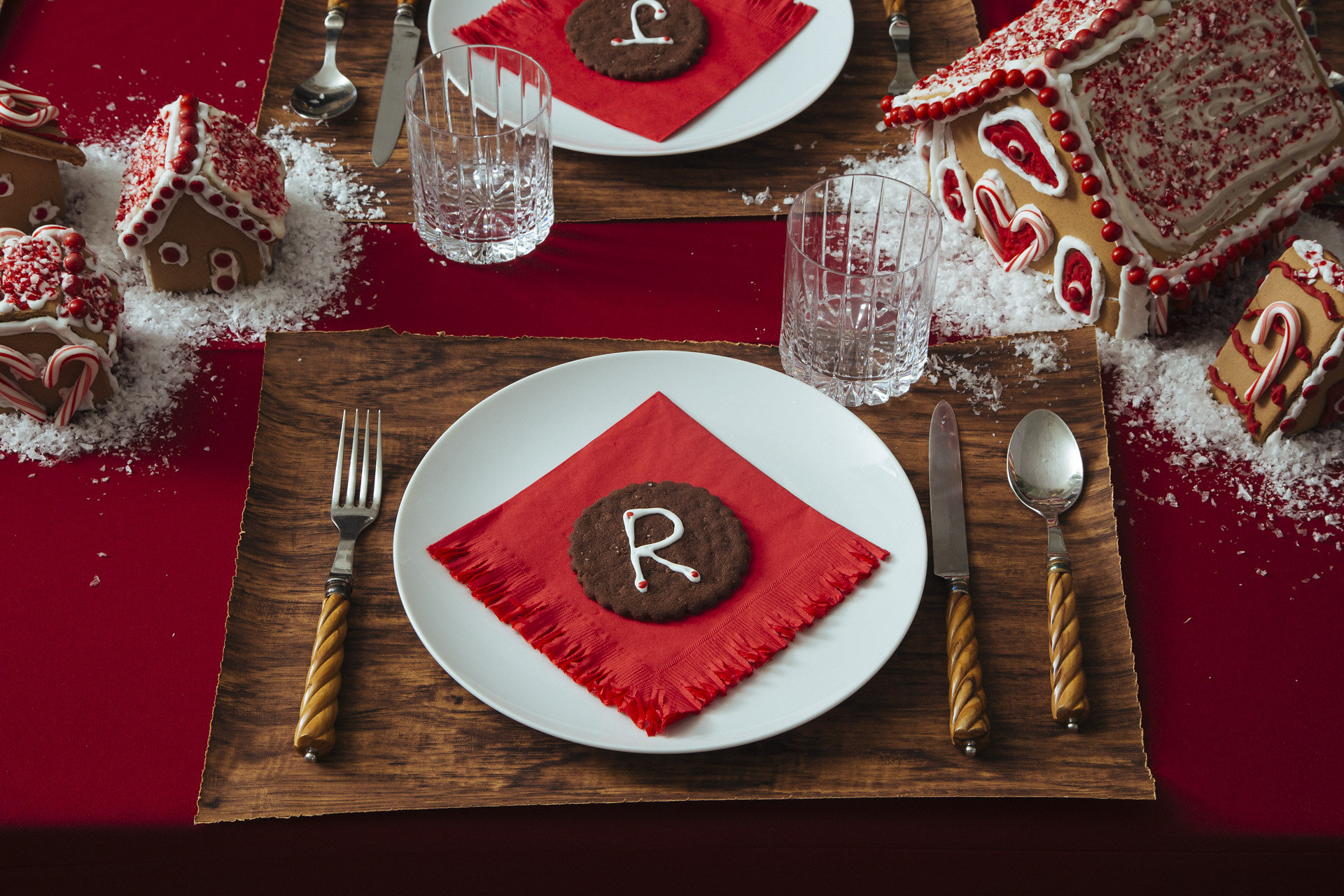 This crafty table is an easy way to keep kids entertained this holiday season
For this kids' table design, let the children be part of making the center master piece. "Just like hanging artwork on the fridge can celebrate your child's creativity, it's nice to celebrate their efforts by making gingerbread houses the centerpiece of their table," Kimberly Schlegel Whitman, author, TV host and editor-at-large of Southern Living says.
Supplies:
• Four-top rectangular table
• Four red chairs (rental)
• Red tablecloth
• Faux Bois, or fake wood-looking, paper placemats (Kimberly recommends Joanne's craft paper roll)
• Plates
• Red paper napkins
• Round gingersnaps
• Gingerbread village kit with only peppermint candies (no gum drops or other candies)
• Faux snow
• Red and white icing with pipes (or buy the icing that you can decorate with)
Step One: Place paper placemats over your table linens to protect your table from any stains. In this setting, Kimberly recommends using faux bois papers from the craft store as placemats but you can use anything! Wrapping paper or newsprint will work, too.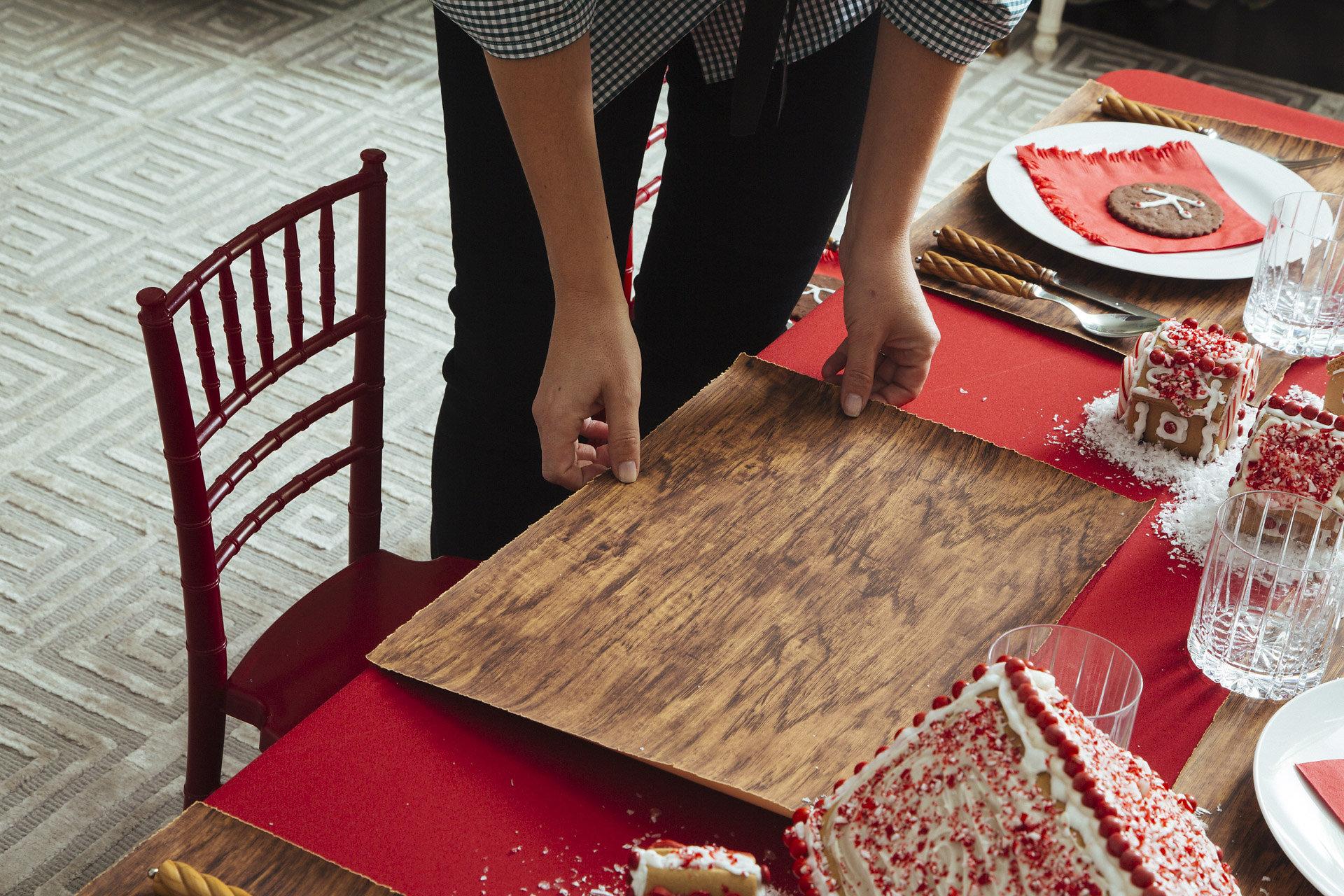 Step Two: Get your children involved in the centerpiece! In the days leading up to your dinner, make gingerbread houses with them. You can use a kit to make it easier. "I recommended only giving the little ones red and white peppermint candies to decorate with to keep the peppermint theme throughout the tablescape," Kimberly says. "I like the more 'polished' look that comes along with limiting the color palate."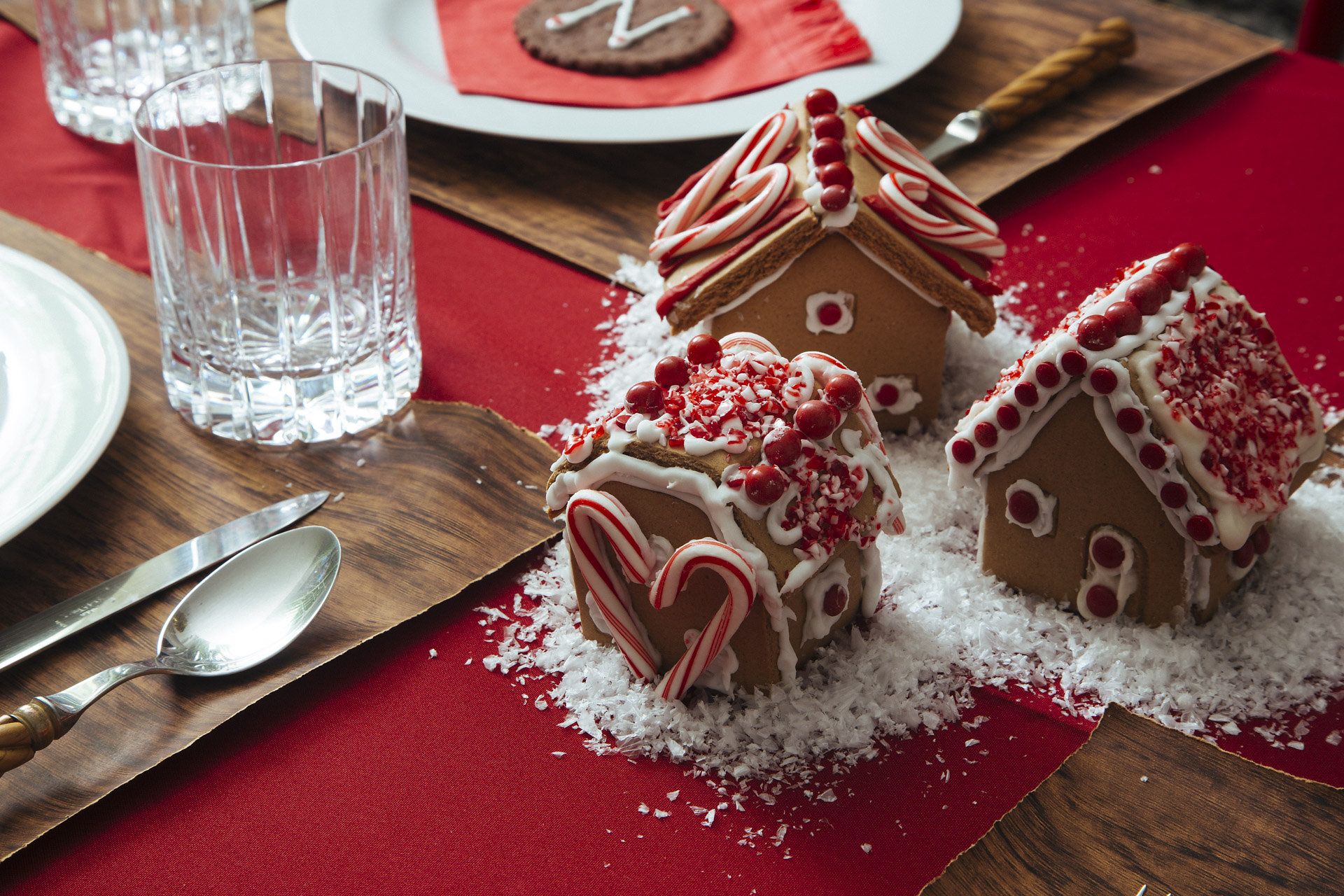 Step Three: Monogram a gingersnap cookie with red and white icing to create a place card that doubles as a sweet treat! Kimberly likes to buy pre-made gingersnaps and uses her favorite icing recipe in a piping bag to personalize.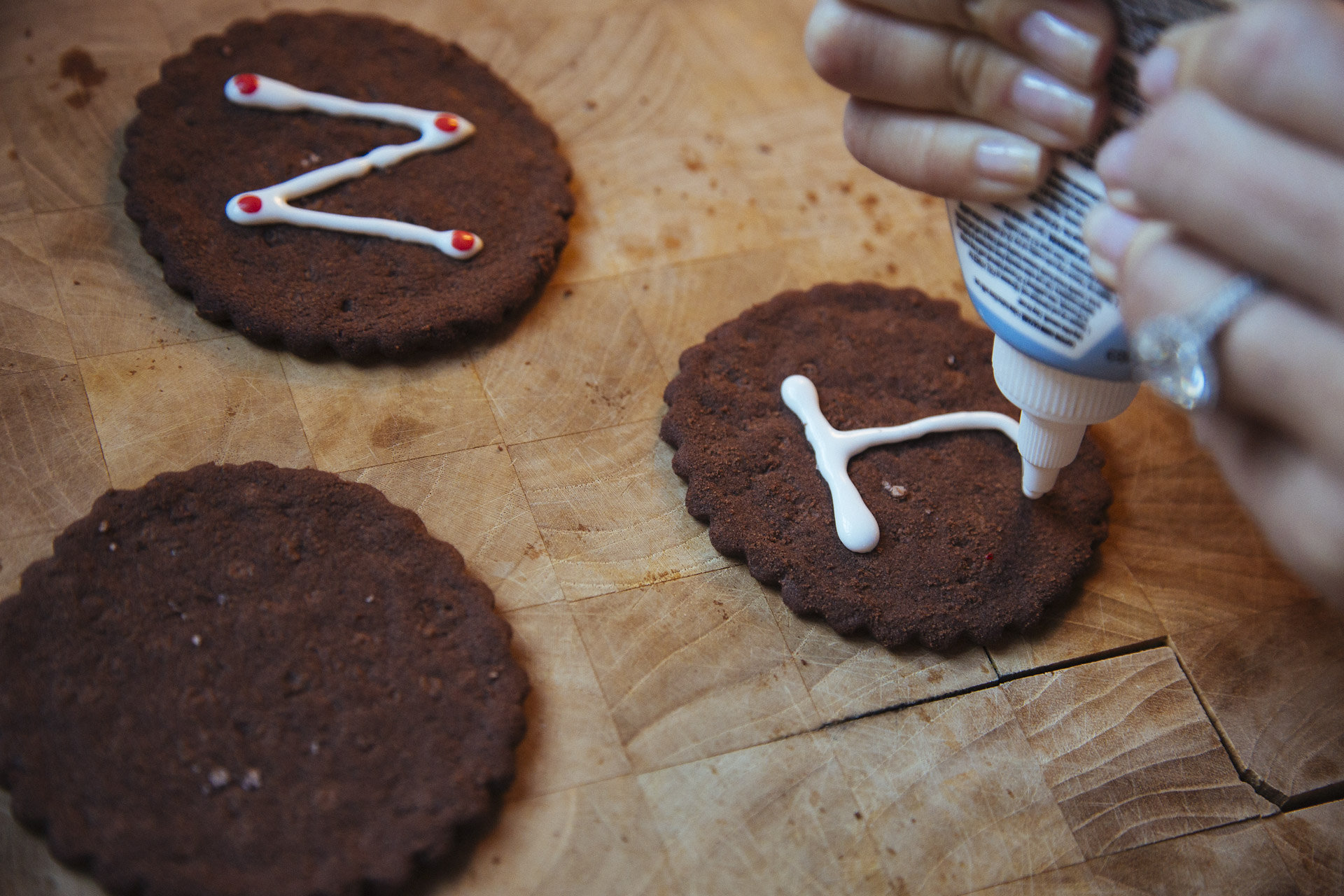 Step Four: Place the cookie and gingerbread house creations your kids are proudest of in the center of the table. Sprinkle faux snow around the gingerbread houses to add a finishing touch.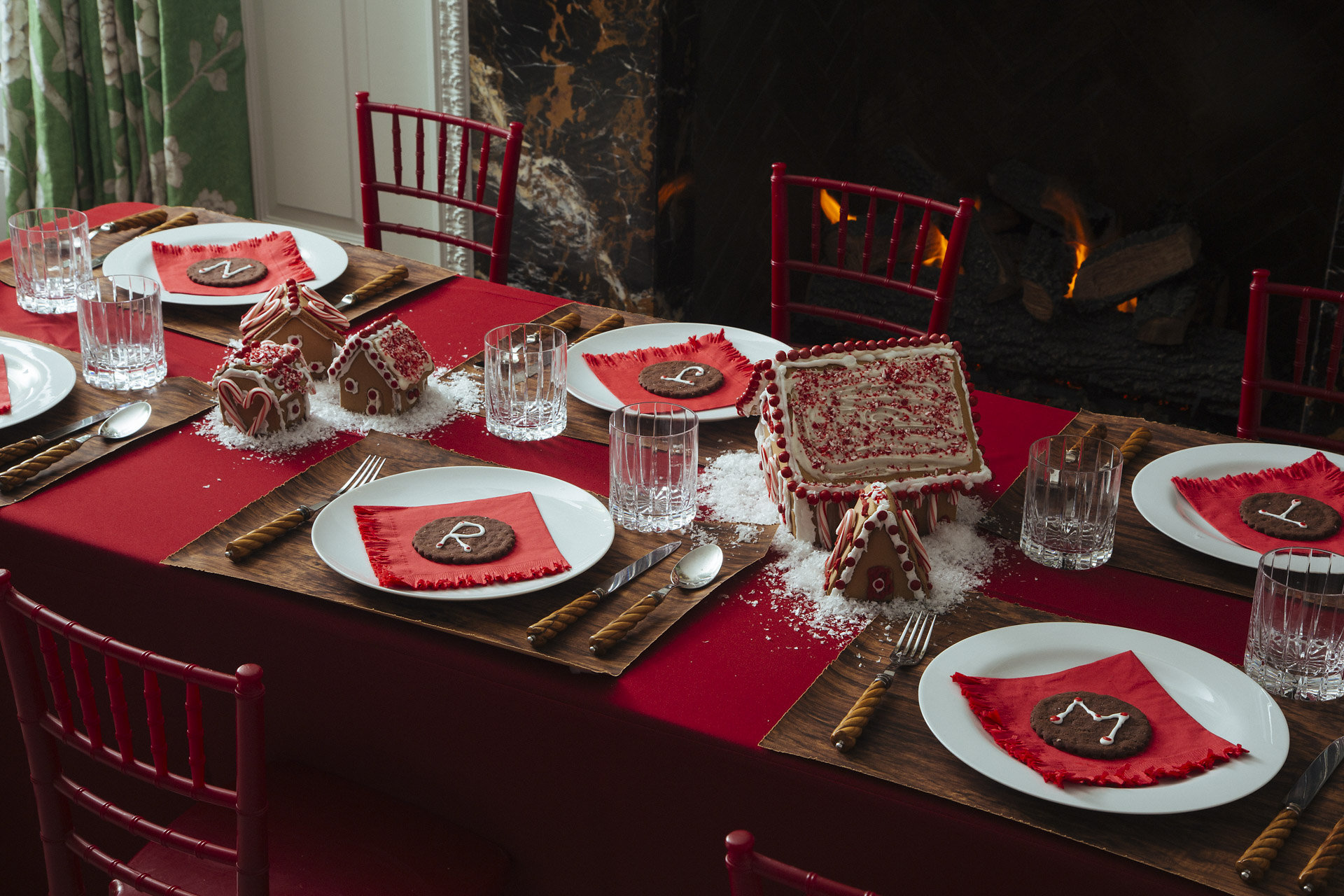 "Get your children involved in the centerpiece! In the days leading up to your dinner, make gingerbread houses with them."
Read about more fun children's table ideas, including a Winter Wonderland, on The Chicken Wire.
Have a kids' tablescape idea of your own? Share your creations on social with Kimberly Schlegel Whitman and The Chicken Wire with the hashtag #happyhosting. For more tips on party hosting, table decorating and event planning, visit Whitman's website, or follow her on Facebook, Instagram or Twitter.