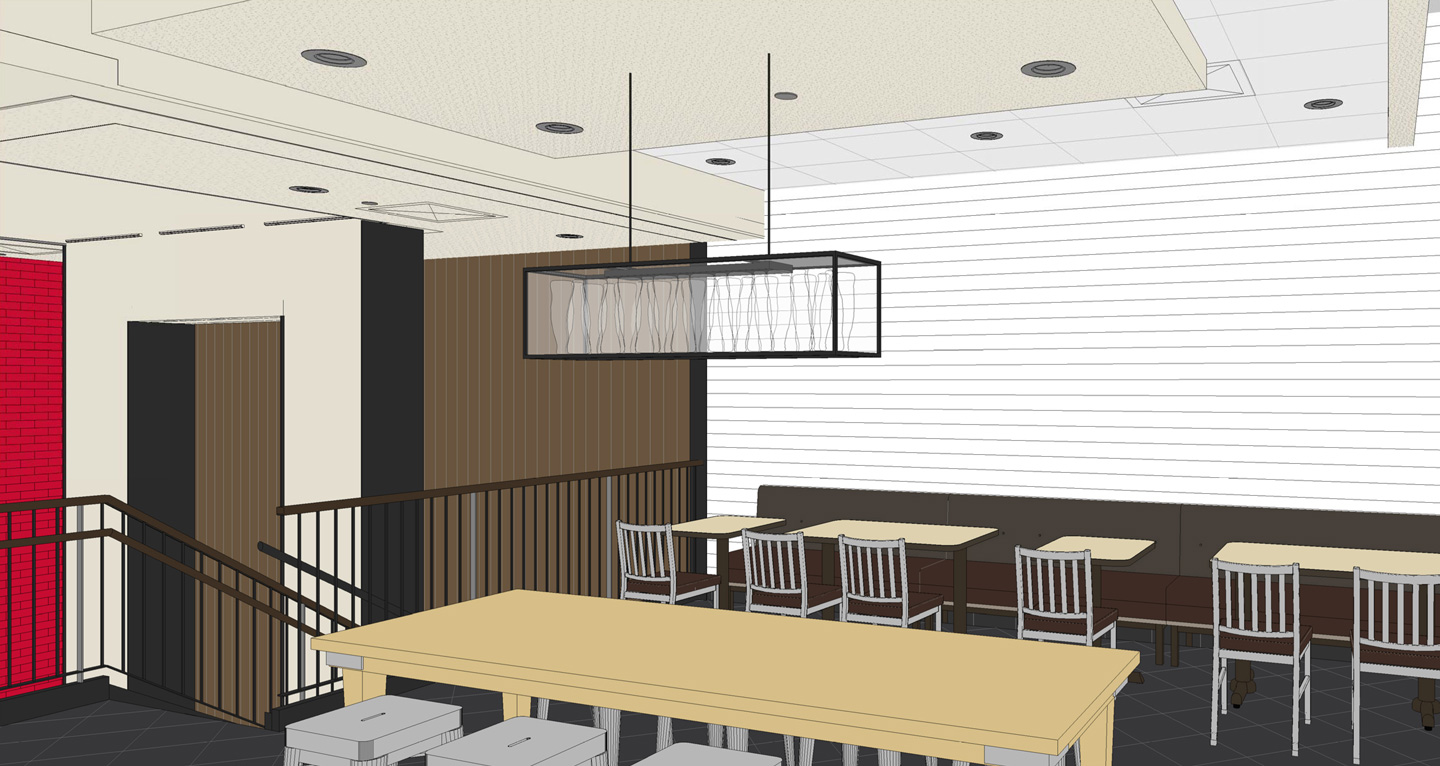 Largest Chick-fil-A Ever to Open in New York's Financial District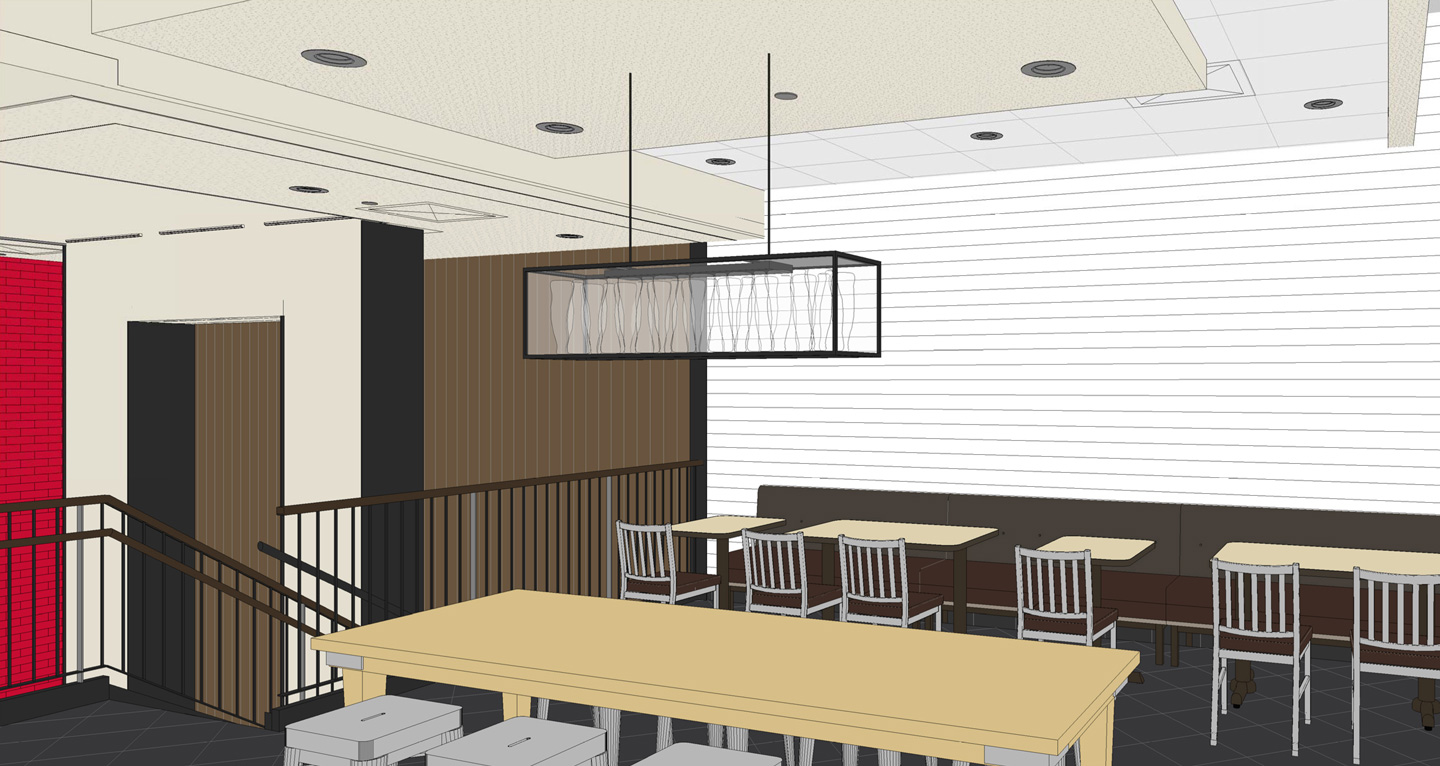 Restaurant will have signature features never seen before at a Chick-fil-A.
In 2018, Chick-fil-A will bring its third restaurant to Manhattan, branching out from Midtown and entering the Financial District. At more than 12,000 square feet, the new Chick-fil-A restaurant located at 144 Fulton Street will be the largest the company has ever built, with five levels, including a rooftop terrace that will offer unimpeded views of Freedom Tower.
Getting to this point wasn't easy though. Along with its record-breaking footprint for Chick-fil-A, the restaurant location came with some of the most unique challenges the company has ever faced. But those challenges led to several firsts – including design elements that have never been featured at a Chick-fil-A restaurant before.
"We pushed ourselves to break into new ways of thinking and try innovative solutions we've never implemented before," says Nathaniel Cates, design manager for restaurant development at Chick-fil-A. "We are always thinking about how to make the dining experience feel as comfortable as possible for our customers."
Natural Light in the Middle of a City Block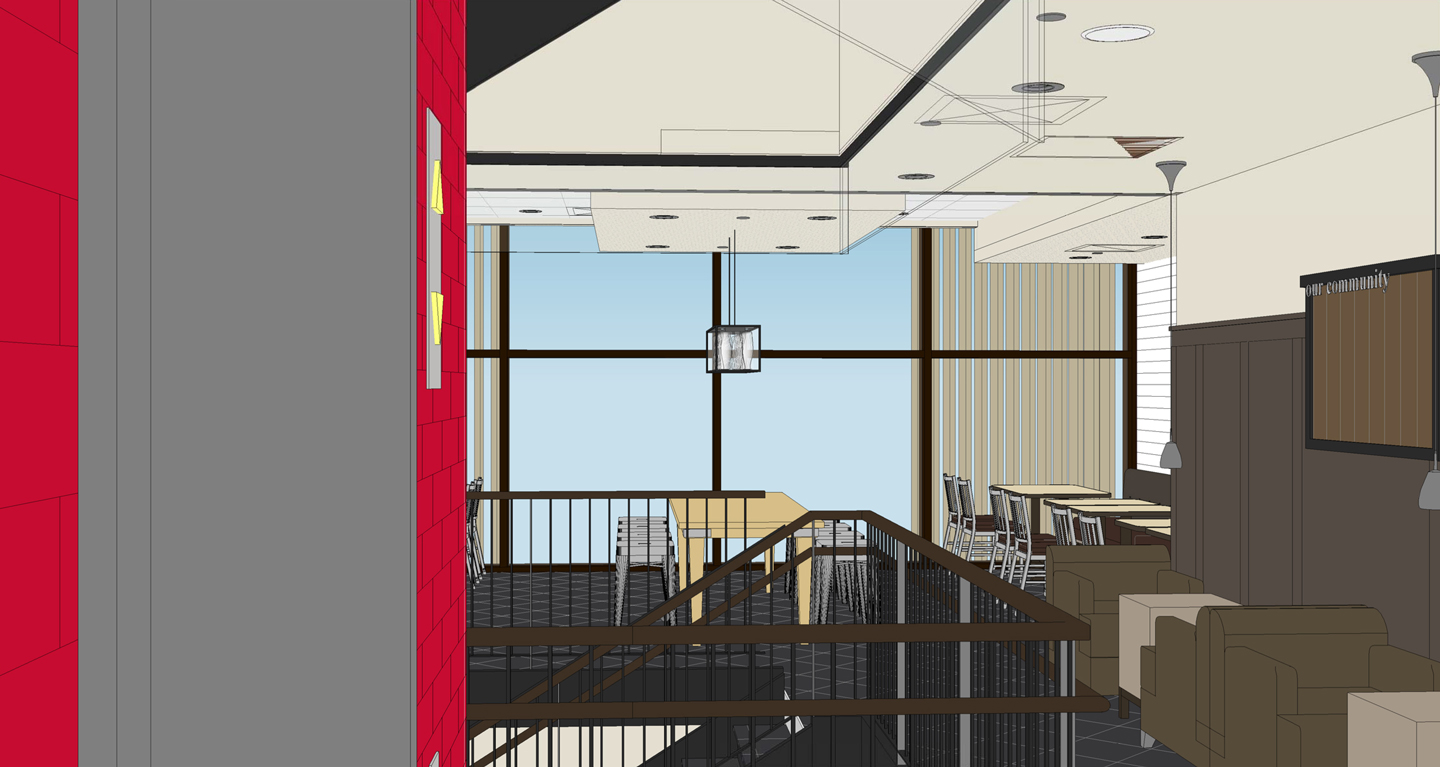 One such comfort: natural light. The Fulton Street Chick-fil-A is smack dab in the middle of a city block, unlike the first two Manhattan restaurants (37th and 6th, and 46th and 6th) that are located on corners. That means the Fulton Street space is naturally darker because sunlight doesn't easily pour into the building. But the design team didn't let that stop them.
"There were a couple things benefiting us – first, there's an open courtyard behind the building, and second, we have no tenants upstairs," Cates says. "We took advantage of the courtyard by adding a large window in the back of the restaurant, and since Chick-fil-A has the whole building, we brought in natural light through a skylight."
Cates says it's extremely rare for mid-block sites to have skylights. They're rare in Chick-fil-A restaurants too – only three of the company's more than 2,100 restaurants across the U.S. have skylights.
In addition to the skylight, the Fulton street restaurant will have floor-to-ceiling windows on each level and brightly colored interior finishes. Starting on the second floor, there is a window that also spans the second and third floors, allowing natural light to flood in from the rear courtyard.

Monumental Staircase Connecting Five Stories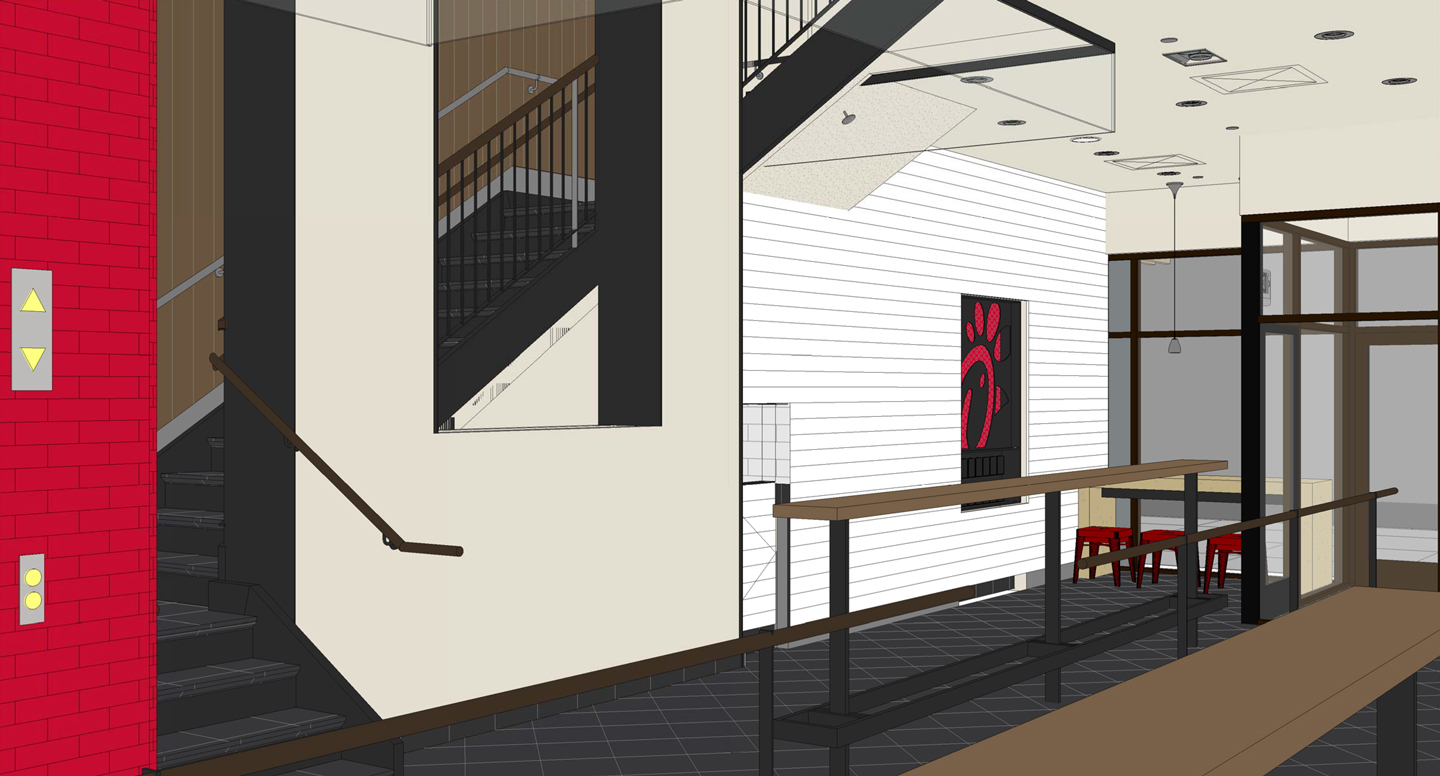 At only 15 feet wide, no other Chick-fil-A is as narrow as this one – not even the restaurant at 46th and 6th Street in Manhattan. But the beauty of the site is that it has five levels, including two levels of kitchen space for food prep, and three levels of dining areas to seat 140 guests.
To tie the five levels of the restaurant together, a signature monumental staircase – the first one ever to be built for a Chick-fil-A restaurant – will extend from the fourth level to the ground floor, accentuated by the skylight. Cates says that, together with the skylight, the staircase will make a big difference by letting customers know there is dining upstairs.
"A huge, white wall also extends along the staircase to reflect light down from the top floor to the ground floor," Cates says. "This entire feature brightens the space and nicely creates an illusion of space."

Rooftop Deck with a View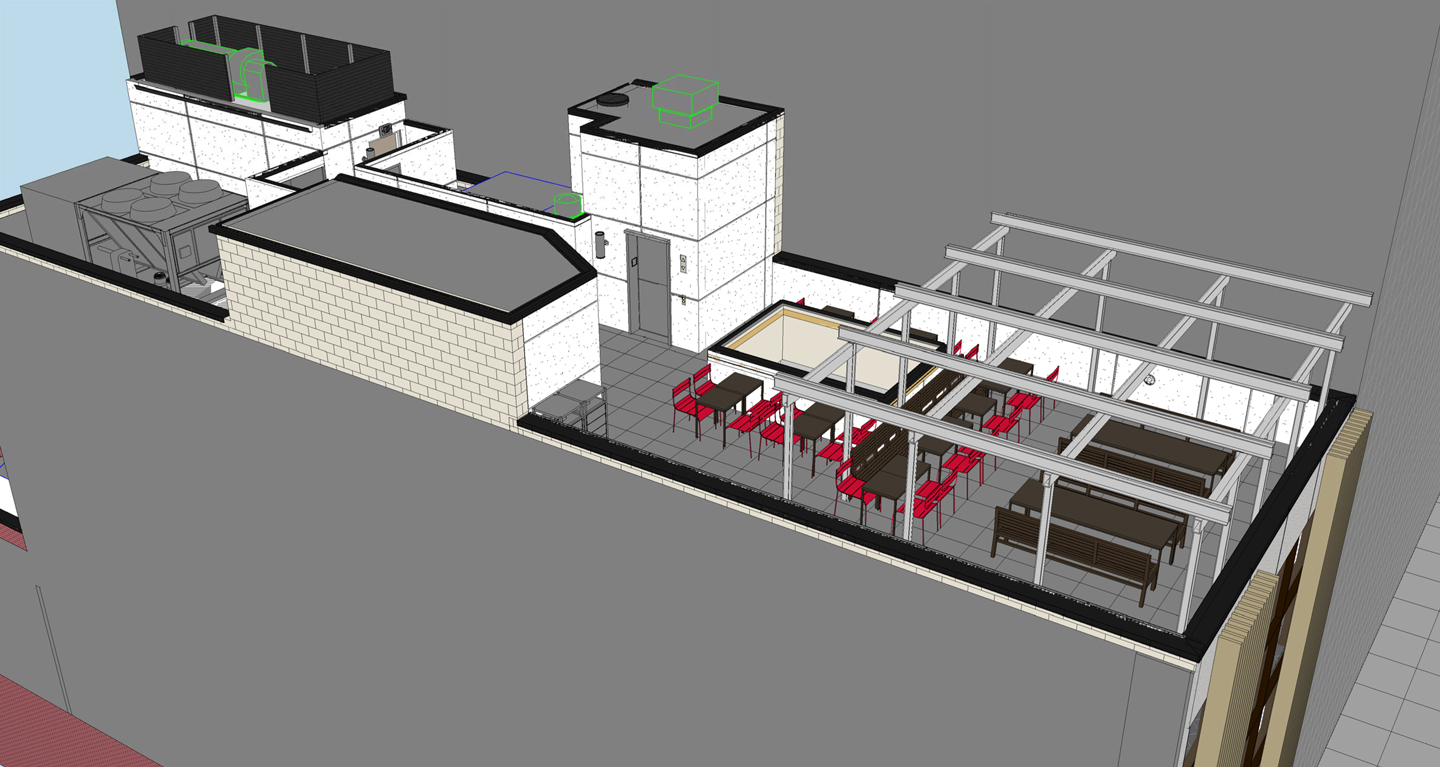 With no neighbors upstairs since Chick-fil-A occupies the entire building, the team was also able to add a rooftop terrace – the second ever at a Chick-fil-A restaurant. From the rooftop, guests will be able to take in unimpeded views of Freedom Tower. That will never change, Cates says.
"The Fulton Street metro station is right next door to the restaurant, and no one will ever build on top of it," he said. "That means our guests will always have the same views of Freedom Tower. That was another advantage of the building that we were grateful to have."
Inside on the uppermost floor, Cates' team added yet another first for Chick-fil-A restaurants: a bonus multi-purpose section of the dining room that is semi-private and can be set up to reveal white boards and cork boards for group trainings or meetings. Designed with the Operator's restaurant team in mind, the space may be available for other groups in the future, too.