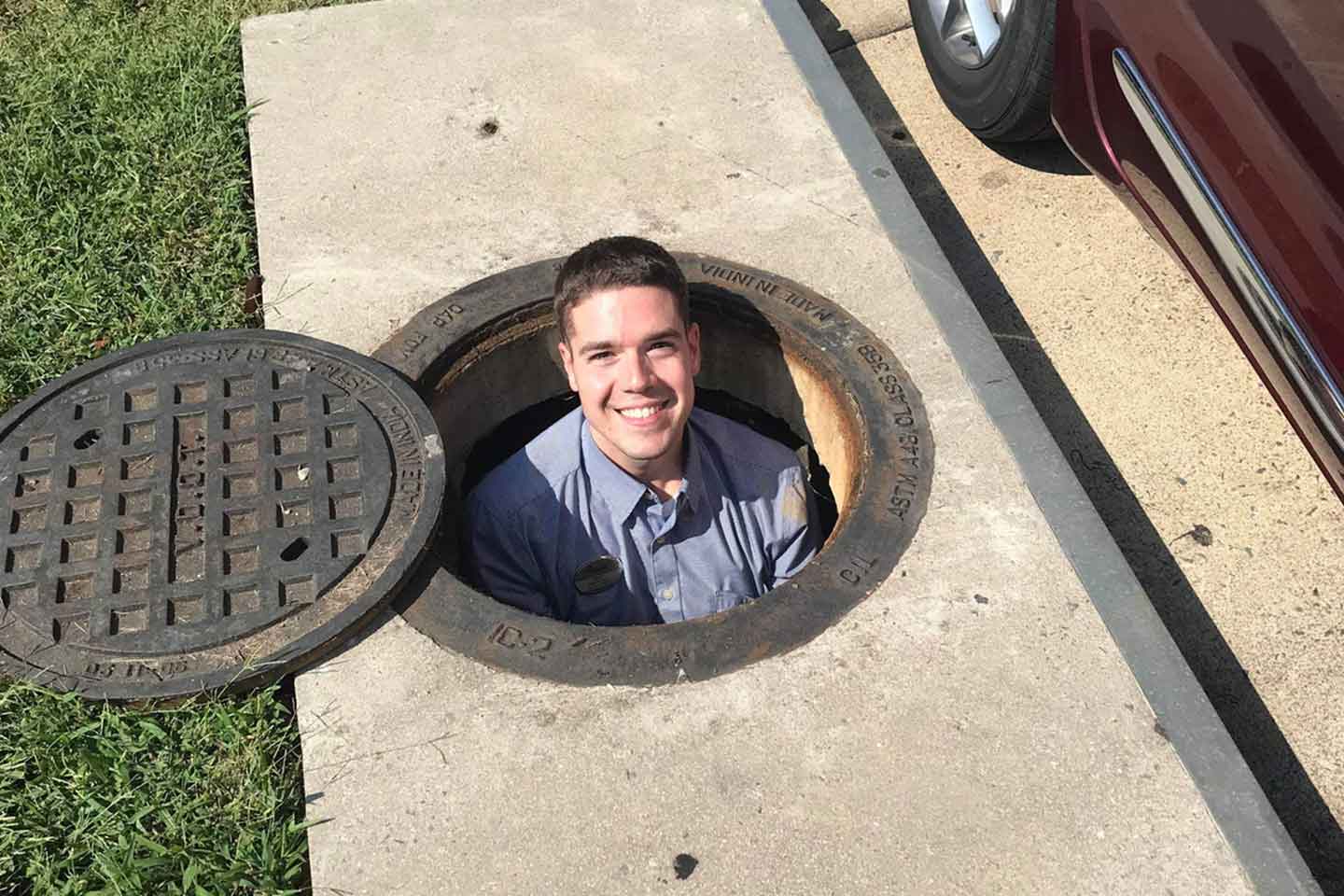 The story behind the viral photo
An unusual image of a Chick-fil-A restaurant Team Member in a manhole recently created buzz online. Who is this Team Member, and why did he climb into a storm drain?
It all started on a normal day at a Chick-fil-A restaurant in Fredericksburg, Va. While finishing his lunch time shift, Team Member Seth Ratcliff had the opportunity to step up and save a guest's day.
Shauna Hall, a frequent Chick-fil-A guest, stopped by the restaurant with her family when her day took an unexpected turn. After parking her van, she went to get her son out of the backseat and dropped her cell phone. To her dismay, it bounced into the dark abyss of a nearby storm drain.
She recently paid off her phone and purchased a brand-new case, making this tumbling tragedy even more frustrating.
After attempting to reach for the phone, Hall ran inside to see if anyone was able to help her.
"She was nearly in tears when she came in and asked for a manager to help," said Seth Ratcliff, who had just ended his shift. "I just wanted to help."

Ratcliff first laid on the ground and tried to reach the phone with a tool used to reach items on high shelves in the restaurant. Determined to save the phone, he noticed the manhole was not bolted to the ground, lifted it up and climbed inside.
"I wasn't going to stop until I got her phone back. She was so upset – her whole life was on that phone," said Ratcliff, who was able to recover the phone once inside the manhole.
"I was so thankful…I hugged him!" said Hall, in a Facebook post that has been shared more than 17,000 times. "Not only was he…filthy from laying on the ground and climbing in the hole, I find out he had actually just gotten off his shift and was still willing to help me."
Ratcliff captured the image that went viral to show his girlfriend what he did at work that day. Little did he know the impact this image and his random act of kindness would have.
"I was happy to help Shauna, and I think a lot of people would have done the same thing. Chick-fil-A's heart is to go above and beyond for our guests, so I'm glad I had the chance to show her that compassion."