Grant recipient SEMO Alliance for Disability Independence (SADI) empowers individuals to pursue lives on their own
For high school graduates with developmental disabilities, it can be challenging to find a first job. However, these individuals have ideas, dreams and hopes for the future and want to live a full life, like their peers.

But in Missouri's rural, disadvantaged counties – like Cape Girardeau, Bollinger, Scott, Perry and Mississippi – employment choices for these young adults can be even more scarce.

For the past 30 years, SEMO Alliance for Disability Independence (SADI), a nonprofit located in Cape Girardeau, has been a voice for adults with special needs, seeking to enrich their lives in a multitude of ways.

This year, the organization was selected as the top beneficiary of the 2023 Chick-fil-A True Inspiration Awards® grant program for its commitment to providing independent living services to people with disabilities in the Cape Girardeau area, helping them reside in their own home and community. Named this year's S. Truett Cathy Honoree for embodying the generosity of Chick-fil-A's late founder, SADI received a $350,000 grant to further its impact throughout Missouri. With the grant from Chick-fil-A, SADI plans to build a new outdoor recreation and garden area, providing an opportunity for the nonprofit's attendees to enjoy fresh air and exercise, as well as hone their gardening skills as they cultivate their own produce.

"Our daytime habilitation programs are intentionally designed so each individual can learn new skills in a fun way and form close friendships," said Donna Thompson, who has served as SADI's executive director for the past 21 years. "The clinic's overarching goal is straightforward: create more opportunities for special needs adults to learn, grow and become more independent."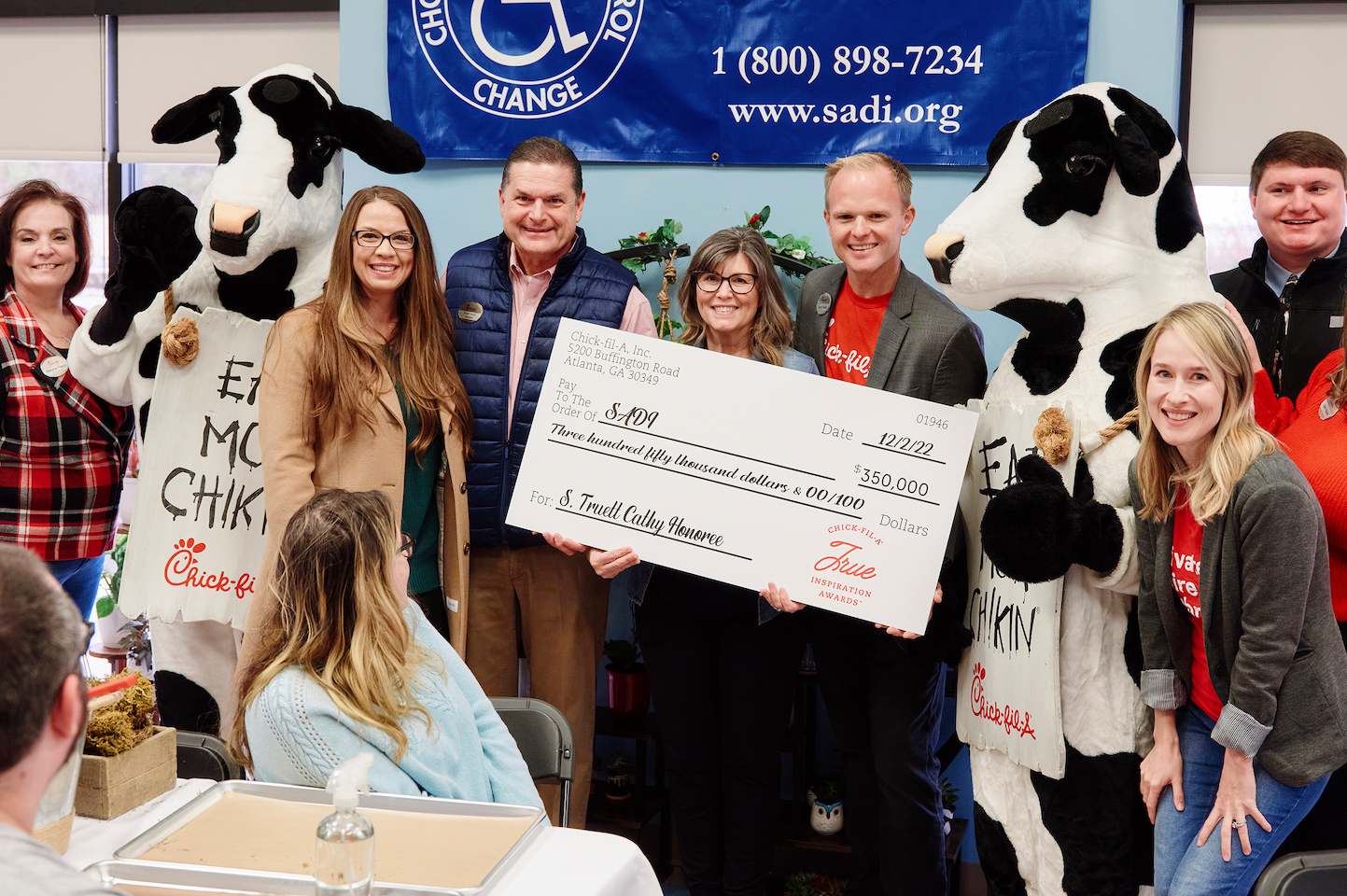 An Operator's personal connection

Brian House, local restaurant Operator of Chick-fil-A Cape Girardeau, has special firsthand experiences with the nonprofit, which led him to nominate the organization for a True Inspiration Awards grant. Brian's daughter has special needs and participates in SADI's daytime programs.

"The work that SADI does is so meaningful and really does change lives," said Brian. "They mean so much to me and my team, and it's truly an honor to partner with them."

Brian and his Team Members at Chick-fil-A Cape Girardeau have also regularly donated food to the nonprofit's Payday Café, a unique skills training program. Twice per month, SADI attendees set up menu items for sale, take orders from staff, serve meals and clean the kitchen after the cafe closes. Proceeds from the Payday Café go toward outings for clinic and daytime habilitation visitors.

"Most companies charge us for the food we order for our Payday Café, but Brian's Chick-fil-A team insists on donating," said Donna. "Brian has always been so supportive of the services we provide in the community. He was donating food to our activities and events long before his daughter started attending. We are so grateful for him."
Leading with empathy

SADI's management is deeply and personally motivated to help those they serve in a meaningful way.

As a center for independent living, more than half of SADI's staff has a disability, as well as over half of the Board of Directors. The nonprofit's programs are implemented by those who have a firsthand understanding of the daily difficulties and barriers that people with disabilities face.

"Our loving and caring staff will always fight for equality for those living with a disability," Donna added. "We know what they are going through. We stand with them, and we stand for them."

Preserving a legacy

Since 2015, the True Inspiration Awards program has carried on Chick-fil-A Founder S. Truett Cathy's legacy of generosity and care, with $22 million awarded to date. This year, Chick-fil-A granted $5 million to organizations throughout the U.S. which work in the areas of Caring for People, Caring for Communities, Caring for others through Food, or Caring for our Planet.  

Visit our  True Inspiration Awards program page to learn more about our other 2023 grant recipients.