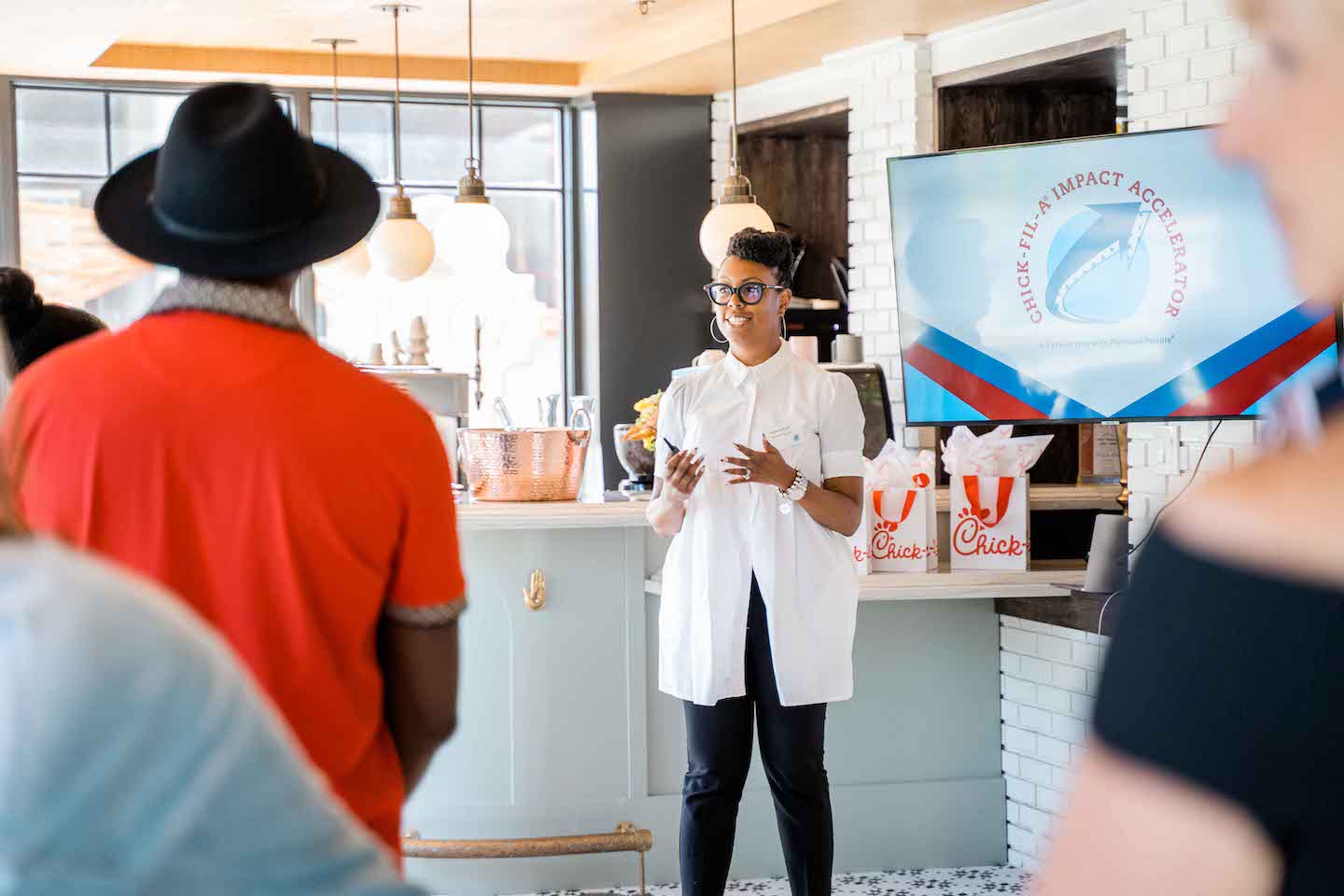 Nonprofit leaders utilize resources and develop long-term plans to increase their organization's impact
On April 26, 14 nonprofit leaders from across the U.S. gathered in celebration at Plywood Place in Atlanta. These community-minded leaders spent the last 10 months participating in the 2022-2023 Chick-fil-A Impact Accelerator cohort program. As a cohort, the group engaged in training and networking sessions, explored development resources and leveraged opportunities to take their organizations to the next level.

Sharing stories of impact

Each Chick-fil-A Impact Accelerator cohort program participant is committed to sustaining their organization's purpose and scaling their impact. The cohort program culminated in a "Stories of Impact" event, where five participating nonprofit leaders shared their journeys and learnings over the past 10 months, detailing how each organization plans to elevate their community influence.

While participants represented an array of organizations and objectives, they all share the vision of making a positive difference in their local community. To conclude the evening, each organization was presented with a $10,000 grant to support their next chapter as cohort graduates.

Meet the leaders and organizations making a difference

Over the last 30 years, Connecting Generations has provided mentoring and social emotional learning programs to thousands of children across Delaware. Executive Director Cassandra McKay believes every child in the state should have access to a positive, caring adult. In joining this year's Chick-fil-A Impact Accelerator cohort program, Cassandra explored ways to propel the nonprofit's mission to provide children resources and mentorship to become emotionally strong, resilient and socially competent individuals. Cassandra emphasized the importance of her organization's work with this statement, "Imagine your life without that one person that believed in you, supported you, encouraged you, gave you a voice and lifted you up. Where would you be?"

Family Promise of Brevard is committed to transforming the lives of local families experiencing housing instability in Brevard County, Florida. Executive Director and 2023 cohort participant Tara Pagliarini believes "every family, regardless of their zip code, deserves a home, a livelihood and a chance to launch a stronger future." The nonprofit repurposed a firehouse to bring housing services, along with health, career, food, childcare, transportation and education resources to its local community.

Morganne Campbell's involvement with KiDsGyM USA® started the day she was born. Founded by her parents in 1986, it is one of the first preschool gymnastics programs in the country and is based in Atlanta. As a leader of the organization, Morganne joined the Chick-fil-A Impact Accelerator cohort program to develop a plan to meet current and future demand for KiDsGyM USA's programming. "It's time we expand into our own facility, elevate our brand and extend our reach far beyond greater Atlanta," she said. In its 37 years of operations, KiDsGyM USA has provided after-school development programming for more than 100,000 children.

Growing up in a low-income, rural community with scarce resources is what inspired Anna Blount to found Team Up Mentoring in 2006 in Monroe, Georgia. The nonprofit works with families affected by high-level trauma by providing mentoring, case management, mental health services, support groups, summer camps and more. As the Executive Director, Anna joined the Chick-fil-A Impact Accelerator cohort program to elevate the unique model the organization implements that surrounds each child in the program with a group of caring professionals committed to providing long-term, trauma informed care.

Usher's New Look has been transforming the lives of teens through comprehensive school programming since 1999. President & CEO Careshia Moore became a Chick-fil-A Impact Accelerator cohort program participant with the goal of elevating the nonprofit's "Disruptivator Club" initiative. The student-led clubs provide an enriching curriculum that teaches students how to use their talents and passions to bring positive change to their communities. Primarily serving teens in Atlanta and New York, the nonprofit aims to expand the reach of the initiative across the U.S. and internationally.

The other nine nonprofit organizations that participated in the 2022-2023 Chick-fil-A Impact Accelerator cohort program include:
Accelerated Momentum

The Chick-fil-A Impact Accelerator cohort program was created in 2021 in partnership with Plywood People as an extension of Chick-fil-A's commitment to care for local communities through its corporate social responsibility efforts.

In addition to the year-long cohort program, the Chick-fil-A Impact Accelerator also offers an annual, one-day conference – both in person and virtually – to provide resources to more leaders throughout the country.

In just three short years, the Chick-fil-A Impact Accelerator has helped over 450 nonprofit organizations take their support of children, families, and neighborhoods to the next level. With each Chick-fil-A Impact Accelerator conference and cohort program to come, Chick-fil-A is invested in the positive long-term impact of nonprofits and their contribution to the empowerment of local communities.

Nonprofit leaders who have attended the Chick-fil-A Impact Accelerator conference and are interested in participating in the 2023-2024 Chick-fil-A Impact Accelerator cohort program can apply online through May 19, 2023.

Organizations that would like to attend next year's Chick-fil-A Impact Accelerator conference should register online in March 2024.