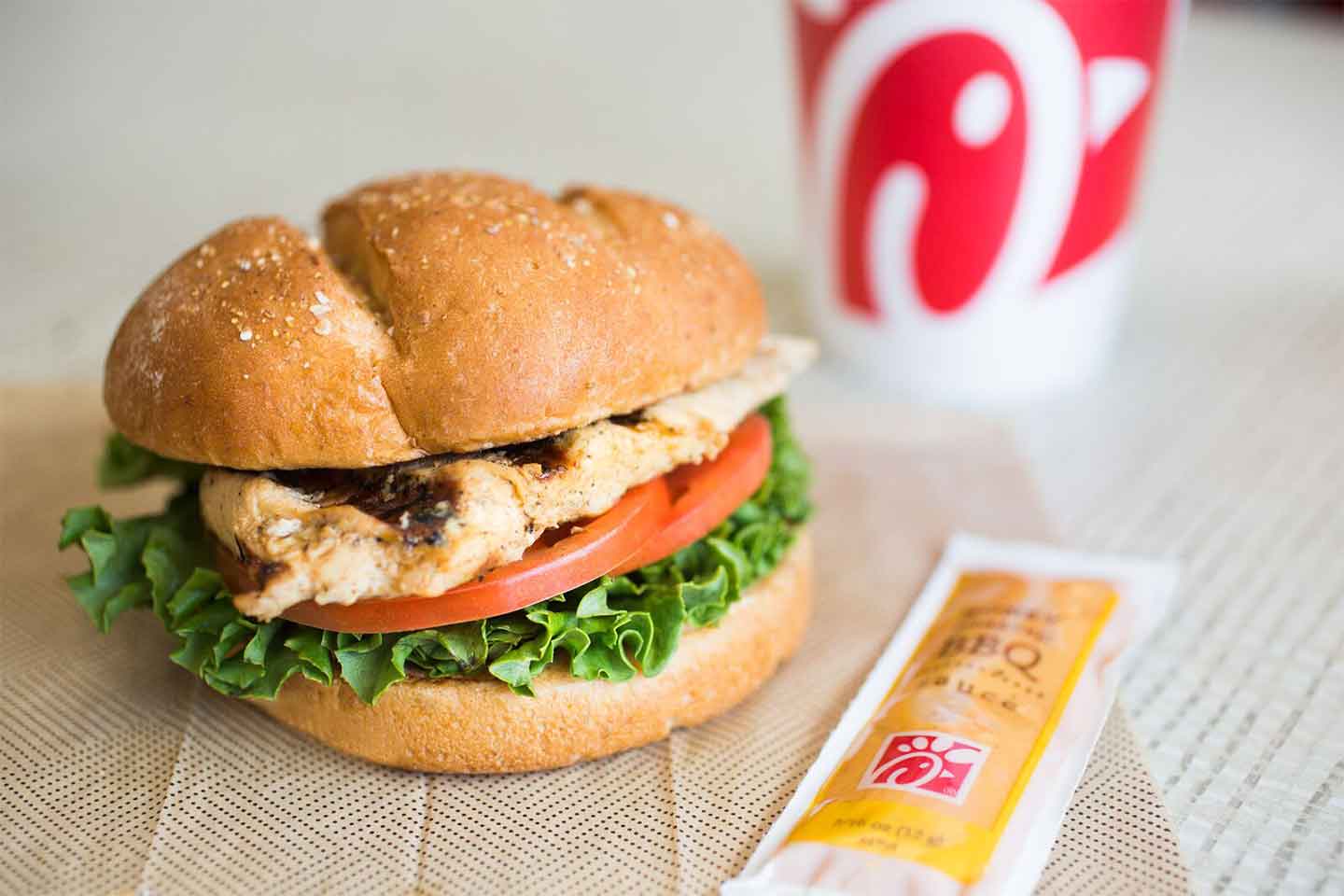 A delicious and nutritious way to end your day
Dinner can be the most complicated meal of the day. After hours of working or running errands, preparing a meal for the family (or even just for yourself!) can feel like a daunting task. And if you're trying to eat on the lighter side, your decision becomes even more complex.
So, are you dreading dinner now? Don't – it's time to relax! When making your own meal just isn't on the menu, we've got you covered with our five favorite Chick-fil-A dinner orders for 500 calories or less.
Chick-fil-A® Nuggets, Buddy Fruits Apple Sauce and Sweet Tea
Classic Chick-fil-A® Nuggets and Sweetened Iced Tea for less than 500 calories? You got it! Enjoy eight bite-sized pieces of all breast meat chicken, seasoned, hand-breaded and pressure cooked in 100 percent refined peanut oil. Are you a dipper? Good news — we spared enough calories for you to try our Barbeque Sauce! You can even finish it off with an all-natural sweet side of Buddy Fruits® Apple Sauce.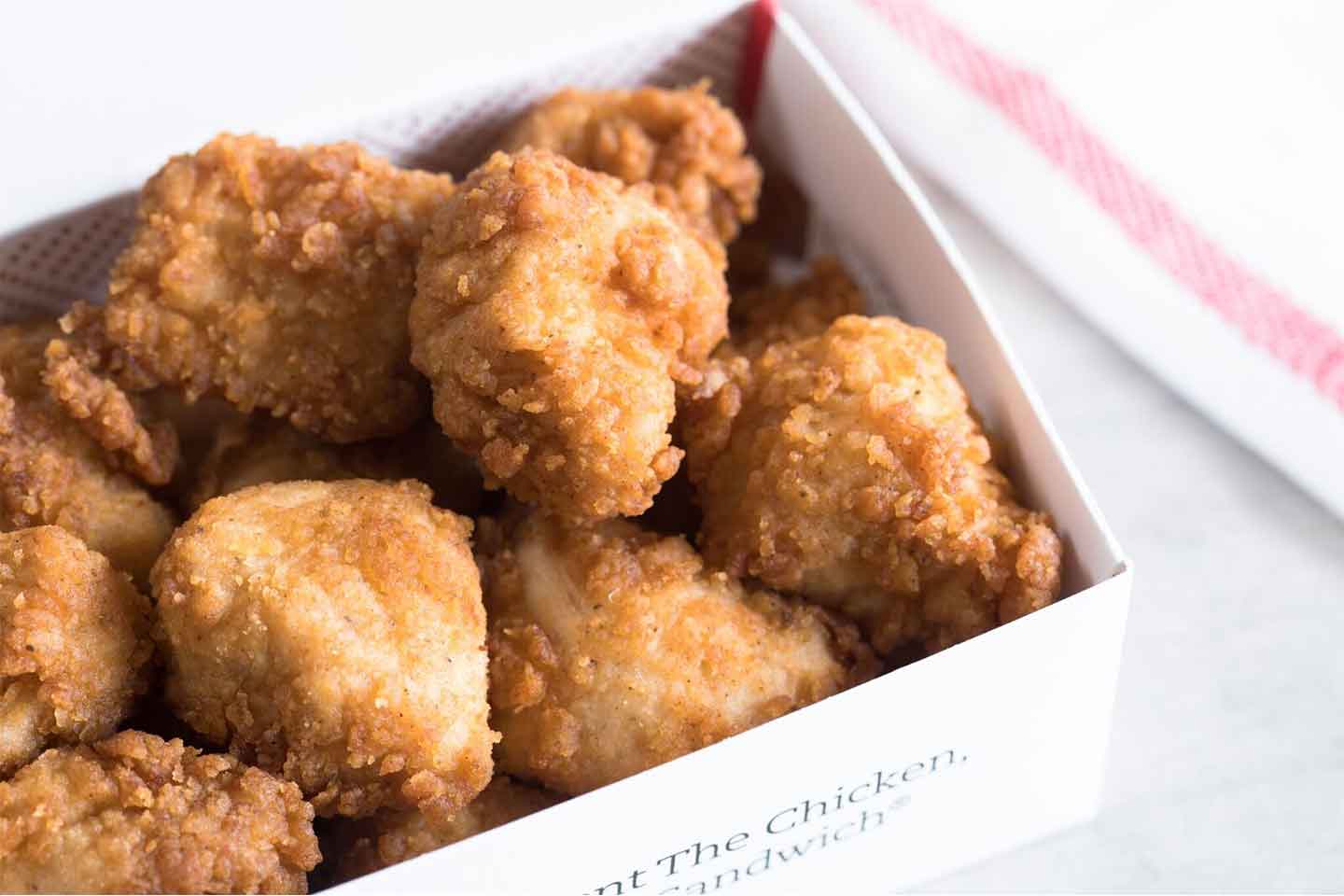 Chick-fil-A® Nuggets (8-count): 260 calories
Barbeque Sauce: 45 calories
Buddy Fruits Apple Sauce: 60 calories
Medium Sweetened Iced Tea: 120 calories
Total meal: 485 calories
Grilled Cool Wrap® and Kale Crunch Side
In a hurry? Refresh your taste buds with a Grilled Cool Wrap®. With sliced grilled chicken, green leaf and a blend of shredded Monterey Jack and Cheddar cheeses, this flaxseed flour flatbread wrap packs a powerful punch as a convenient on-the-go entrée. If you're hungry for more (and have time for a fork), round out the meal with our Kale Crunch Side— a blend of curly kale and green cabbage tossed with an apple cider and Dijon mustard vinaigrette and topped with salted, crunchy roasted almonds.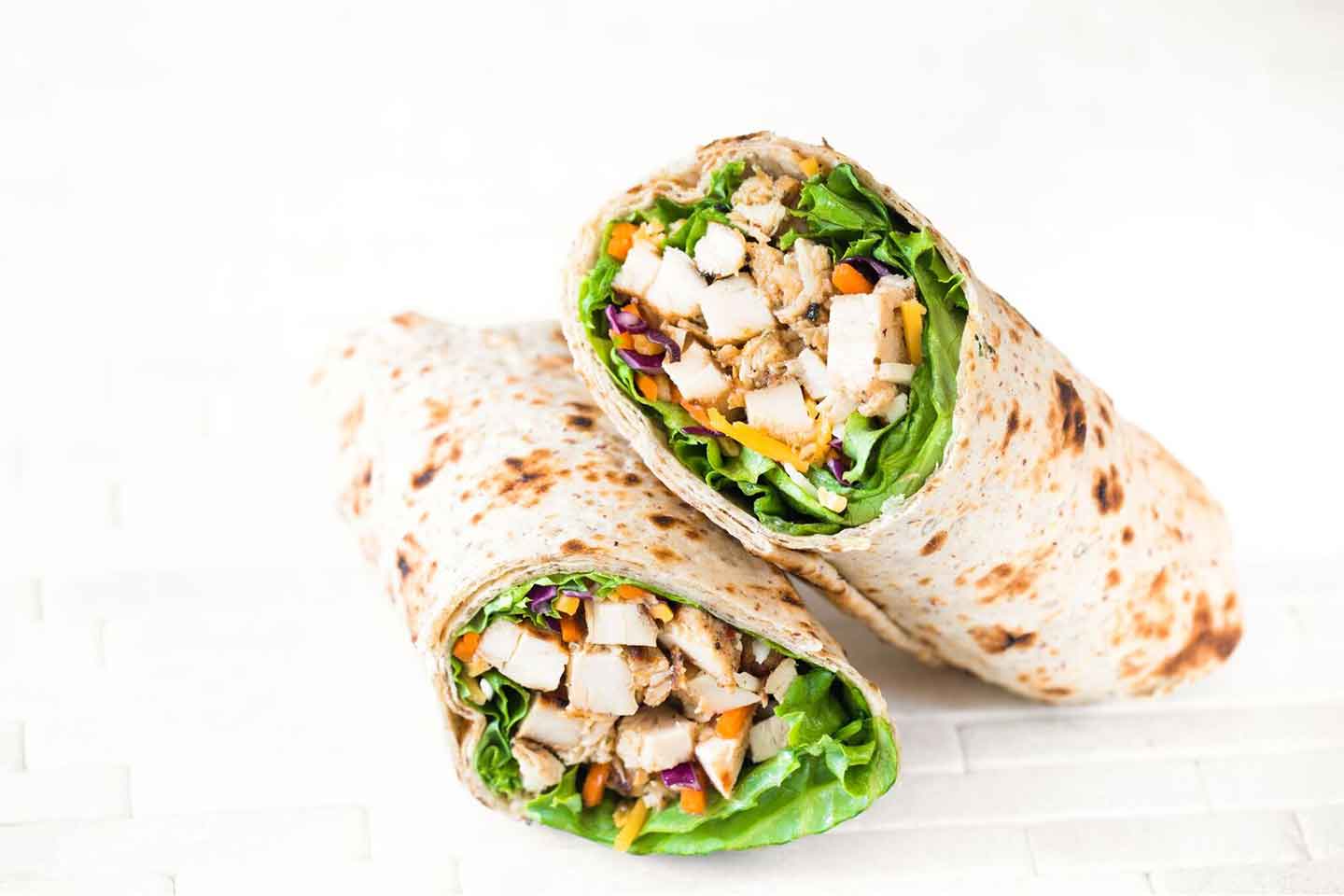 Grilled Cool Wrap®: 350 calories
Kale Crunch Side: 120 calories
Water: 0 calories
Total meal: 470 calories
Grilled Chicken Sandwich and Side Salad
Grilled chicken is a protein-packed staple, and our Grilled Chicken Sandwich certainly doesn't disappoint. Anchored by a boneless breast of chicken, marinated with a blend of seasonings and grilled for a tender, backyard-grilled taste, this entrée is served on a toasted multigrain bun with green leaf lettuce and tomato. Add some extra veggies with our Side Salad and quench your thirst with our Diet Lemonade.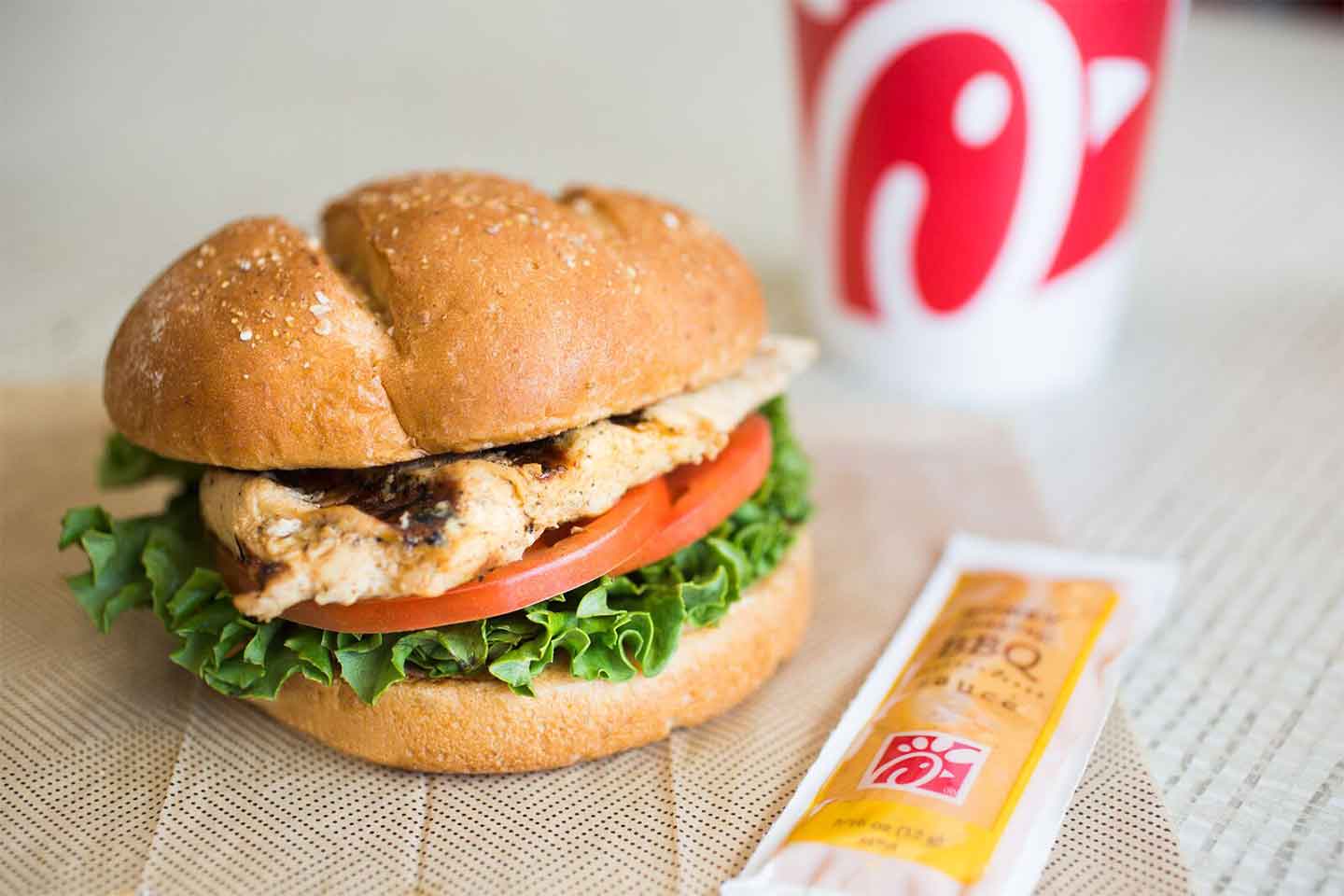 Grilled Chicken Sandwich: 330 calories
Side Salad: 160 calories
Water: 0 calories
Total meal: 490 calories
Grilled Cobb Salad and Large Fruit Cup
A salad that's equally as filling as it is nutritious? It does exist - the Cobb Salad is a salad lover's dream! Made fresh daily, this salad features a bed of mixed greens and is topped with roasted corn kernels, a blend of Monterey Jack and Cheddar cheeses, crumbled bacon, diced eggs and grape tomatoes. Just ask for it with Grilled Nuggets to keep the calories down. Top it off with our light Italian dressing for extra flavor, and add even more nutrients to your meal with a fresh Fruit Cup of mandarin orange segments, strawberry slices, red and green apple pieces and blueberries.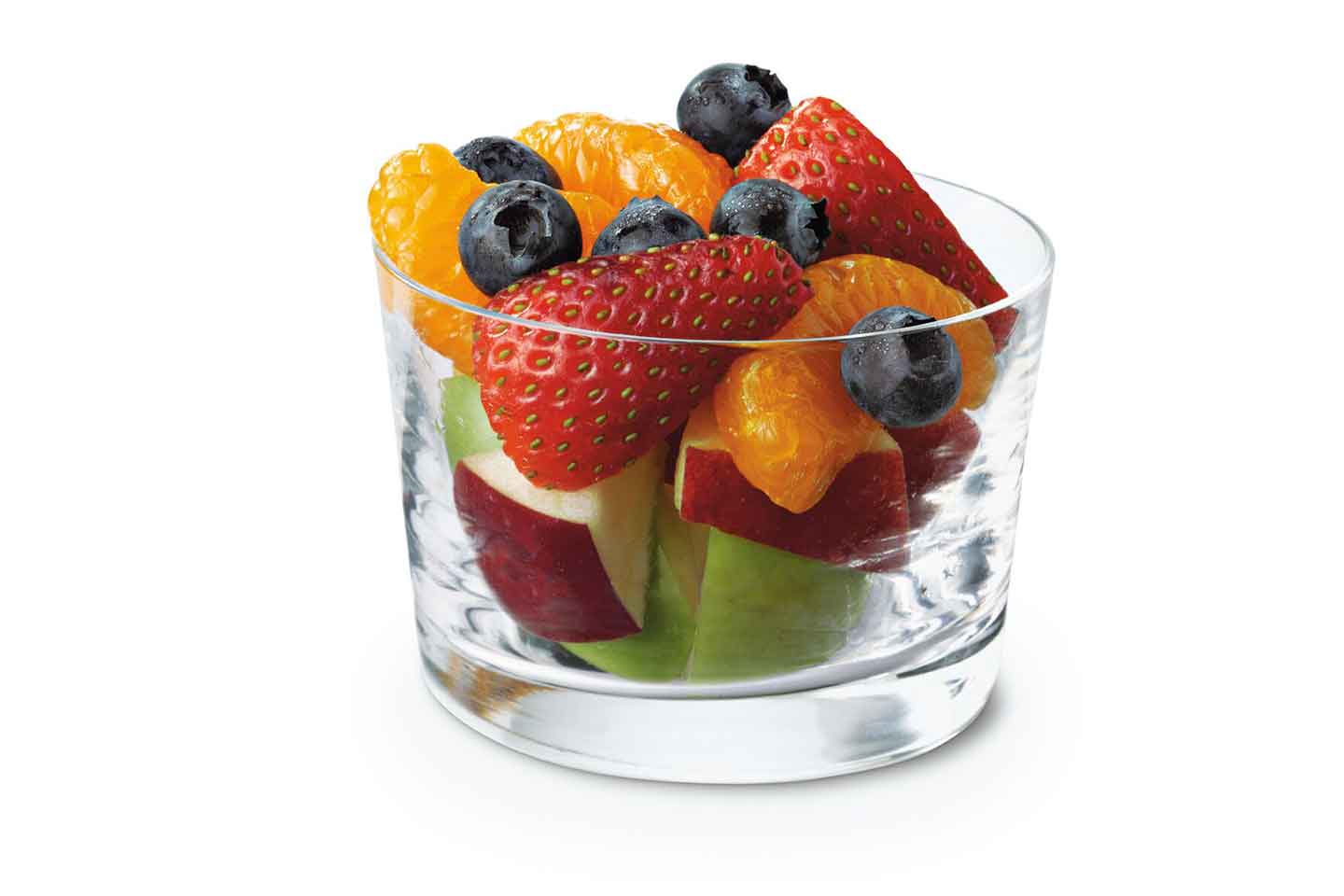 Grilled Cobb Salad: 400 calories
Light Italian Dressing: 25 calories
Medium Fruit Cup: 60 calories
Water: 0 calories
Total meal: 485 calories
Spicy Chicken Sandwich and Medium Fruit Cup
Spice up dinnertime with our Spicy Chicken Sandwich! Curb your cravings with our classic hand-breaded boneless breast of chicken seasoned with a spicy blend of peppers and served on a toasted, buttered bun with dill pickle chips. Gluten-free and multigrain buns are also available! Cool it back down with a Fruit Cup to complete your delicious dinner.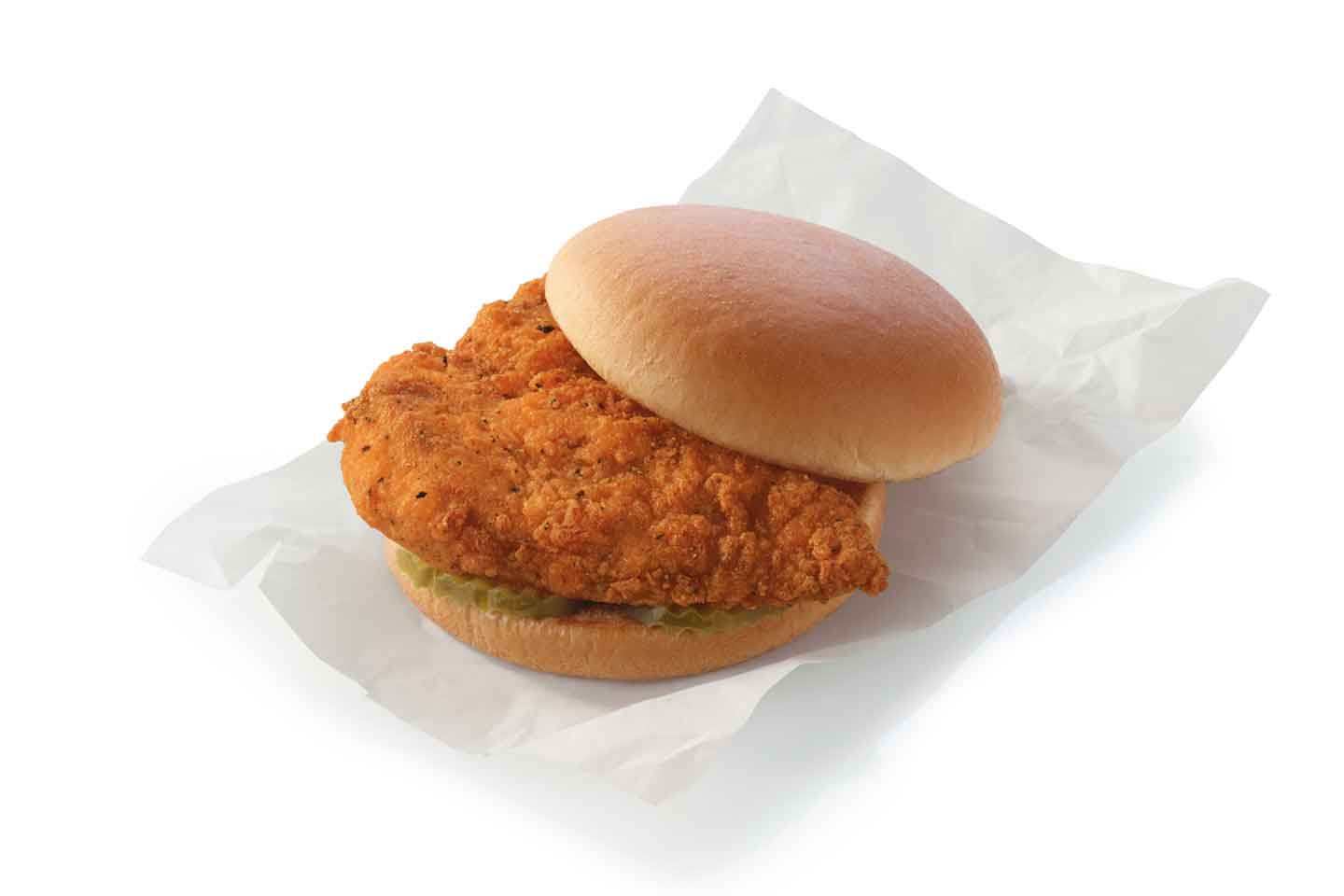 Spicy Chicken Sandwich: 450 calories
Small Fruit Cup: 45 calories
Water: 0 calories
Total meal: 495 calories
You don't have to sweat dinnertime after a long day. When you're in need of an easy, delicious and nutritious meal (or are just in the mood for a special treat!), enjoy the evening at your closest Chick-fil-A restaurant with a fresh and tasty meal — made just for you by one of us!