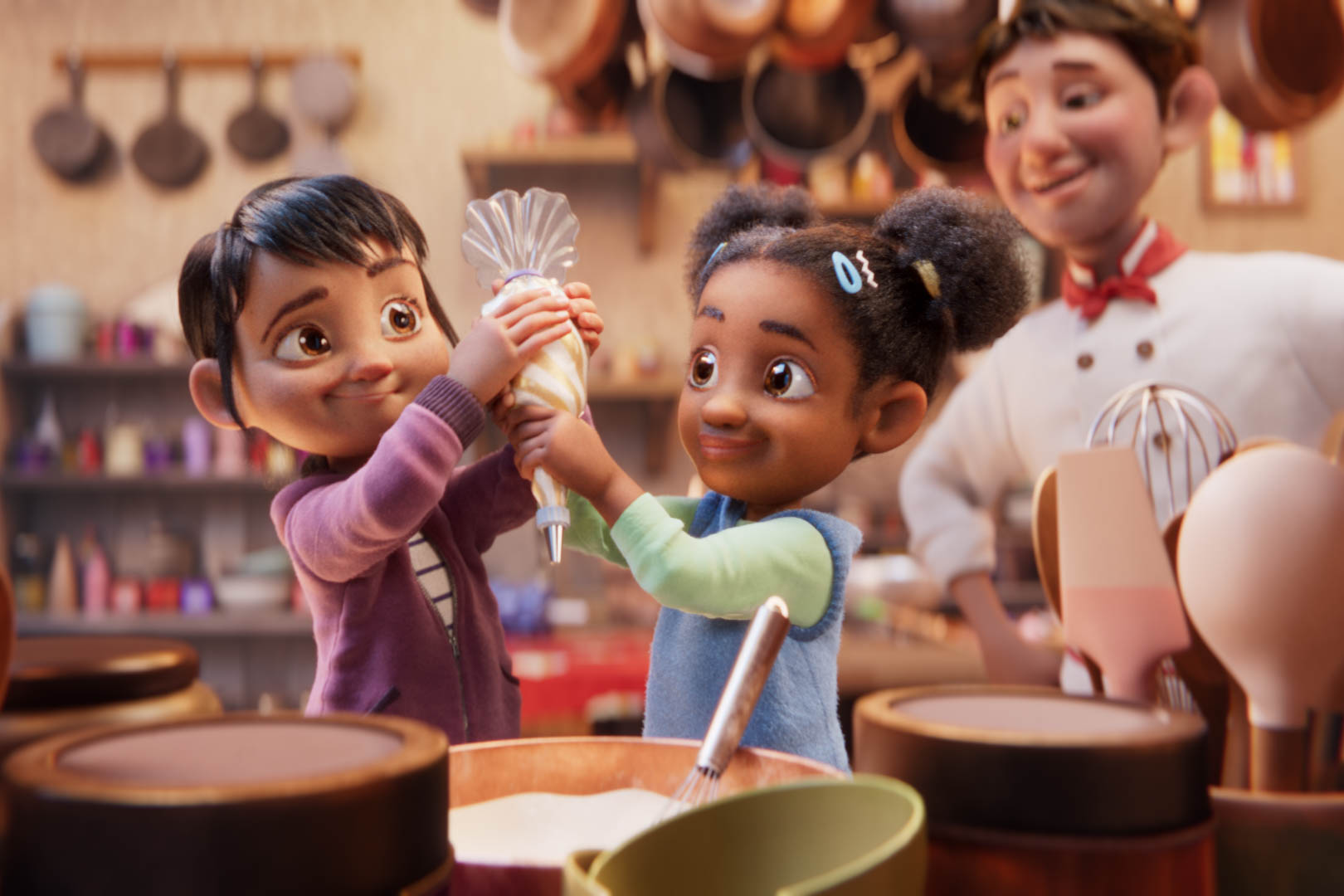 See if you can spot these subtle references, from a Chick-fil-A Cow Ornament to "My pleasure"
Chick-fil-A super sleuths, it's time to tune in! There are plenty of hidden surprises waiting for you in the third annual Chick-fil-A holiday short film, live now at EvergreenHills.com.
In this year's adventure, Sam and her friend CeCe learn the importance of finding joy in the unexpected. The two friends stumble into The Whoopsery, a whimsical bakery in the town of Evergreen Hills that transforms seemingly imperfect creations into extraordinary, one-of-a-kind treats.
Ready to find this year's hidden surprises? See if you can spot these subtle Chick-fil-A® references, from a Chick-fil-A Cow Ornament to "My pleasure."
Icedream® Cone Ornament: In the opening scene, you'll spot an Icedream® Cone ornament hanging on the Christmas tree in CeCe's family home. This surprise gets the most screen time in this year's film, as viewers get another peek at the Icedream Cone towards the end of the film when the girls return from The Whoopsery.




Christmas Cow Ornament: Tucked into the container where CeCe unboxes her family's heirloom egg ornament is a special, Christmas-themed Cow ornament with a pop of our signature red. This surprise has made a sneaky appearance in the previous two Chick-fil-A holiday short films, The Time Shop and The Spark.




Closed on Sunday Sign: The Whoopsery is closed on Sundays, just like our Chick-fil-A® Restaurants. Being closed on Sunday is a practice established by Chick-fil-A Founder S. Truett Cathy that we still hold true to today.




Mayonnaise "Tuition Jar": Inspired by Truett Cathy's original tuition fundraiser, the film features an oversized mayonnaise jar labeled, "Scholarship Tips" on a stool in the bottom left corner as Sam and CeCe enter The Whoopsery. Since 1970, Chick-fil-A has invested more than $112 million in scholarships to help over 67,000 Team Members further their education and achieve their dreams.




Red Wagon: Also making an appearance when Sam and CeCe enter the Whoopsery, a red wagon is carrying crooked breads and baguettes. A nod to how a young Truett sold sodas out of a little red wagon, The Whoopsery uses a red wagon to display a few of its unique baked goods. The red wagon is a symbol of Truett's entrepreneurial spirit, even from a very young age.




Pi Pie: The optimistic baker at The Whoopsery creates a spin on a classic pie, turning the yummy dessert in the digits of the mathematical constant Pi. But did you know that March 14 (3.14) is also Truett Cathy's birthday? The Pi pie is yet another unexpected nod to our founder.




Hexagonal Biscuit Roller: This one might be tough to spot, unless you've worked in a Chick-fil-A Restaurant. A distinctive blue hexagonal biscuit roller is featured on a workstation in The Whoopsery, as Sam and CeCe are pulling their transformed ornament from the oven. This blue rolling pin is used by Chick-fil-A restaurant Team Members to shape the perfect buttermilk biscuits each morning.




"My pleasure": There's one final surprise! As Sam and CeCe leave The Whoopsery, they both thank the baker for the valuable lesson they learned, and he responds with "My pleasure!", a phrase that Chick-fil-A restaurant Operators and their Team Members use daily in our restaurants.




Visit EvergreenHills.com to watch Sam and CeCe in this year's holiday short film, and — while you're there — step inside The Whoopsery™ digital experience to make and send your own sweet surprise.