Need some inspiration to go running? How about this guy who's dressed as a Chick-fil-A Cow?
Jade Costen knows a lot about setting goals and staying fit.

He's one the world's top triathletes and completed three Ironman Races last year. The Ironman is considered one of the most daunting sporting events on the planet: a 2.4-mile swim, followed by a 112-mile bicycle ride and finishing with a marathon run, which is 26.2 miles.
Costen is also a Chick-fil-A Restaurant Operator, and so for his latest physical challenge, he took inspiration from something familiar.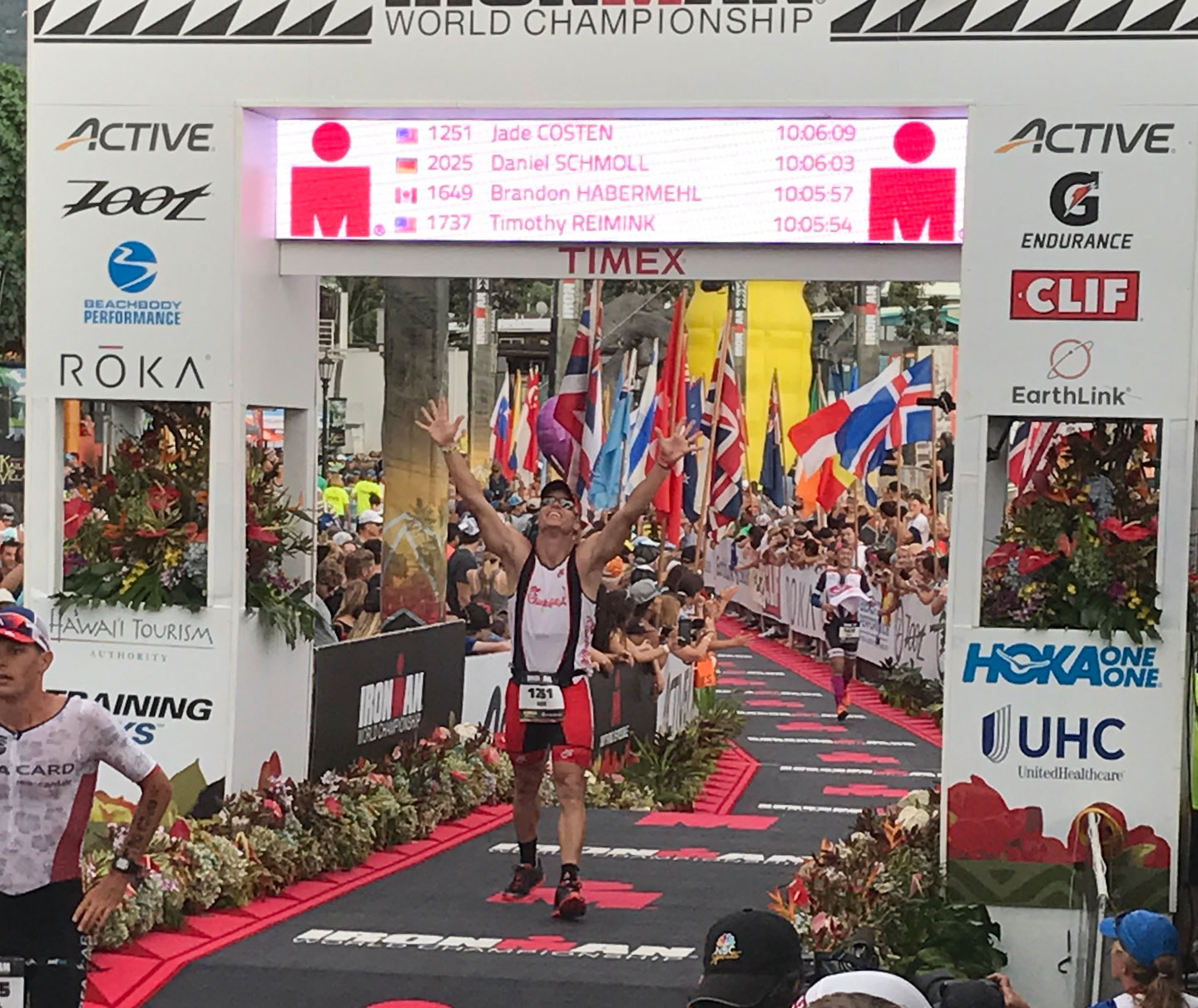 How It All Started

After becoming a Chick-fil-A Operator in December 2012 at the Thruway Shopping Center Chick-fil-A in Winston Salem, North Carolina, Costen connected to the local running community. In his first day on the job, he issued a challenge for runners in the local YMCA's Mistletoe Half Marathon.
"I went to the race organizers and said anyone who beat me in the race would get a free meal. And anyone who participated could bring in their race bib and get a free sandwich."

His offer got a lot of attention.

"Seriously," he says. "Who doesn't want a free combo?"

Costen had so much fun with the promotion, the wheels started turning for even more creative ideas. It didn't take long before he came up with one: "I wondered what it would be like if the Cow ran this race."

That's right: running a half marathon in the famous Chick-fil-A Cow suit. He knew it was a lofty goal, so he started small.

"I couldn't just begin with [a half marathon]," he says, "I had to start with a 5K."

His first Cow race was a success as he was able to complete the 3.1 miles in the heavy, hot suit. Costen did another 5k, and then another in his quest to make it to the half marathon.

He says he hit a turning point when he participated in a one-mile fun run… and won.

"I was first in the cow division," Costen jokes.

That boost of confidence carried him into his big event: the half marathon. He strapped on the suit and tackled the 13-mile race, fighting through less than desirable conditions.

"It was brutal," Costen says. "It was raining and the suit got incredibly heavy. But I finished."
Creating a High-Performance Cow

Costen knew if he was going to keep running as the famed bovine mascot, he would need to make a few changes, so he called the company that makes all of Chick-fil-A's Cow suits with an odd request.

"The restaurant Operator called me and said he wanted a Cow suit that he could run long races in," says Lenoir Iwanowski of International Mascots. "We worked closely with Chick-fil-A's corporate office and started brainstorming on how we could make it happen."

Costen was heavily involved in the process. He visited the company's office where they took his measurements and let him test out prototypes.

"The Operator gave us his suggestions and when we had a prototype ready, he came to our office, put it on, and ran around the parking lot," Lenoir laughs. "It was just awesome."

Several prototypes and about eight months after the initial idea, the High-Performance Cow was born.

"It looks like every other Chick-fil-A Cow you see waving on the side of the road," Costen says. "But the inside is very different. It has much greater visibility, it is much lighter and the lining is moisture-wicking material that pulls the sweat away as you run."

With the High Performance Cow ready to race, Costen took on the Mistletoe Half Marathon again as well as five more 5Ks.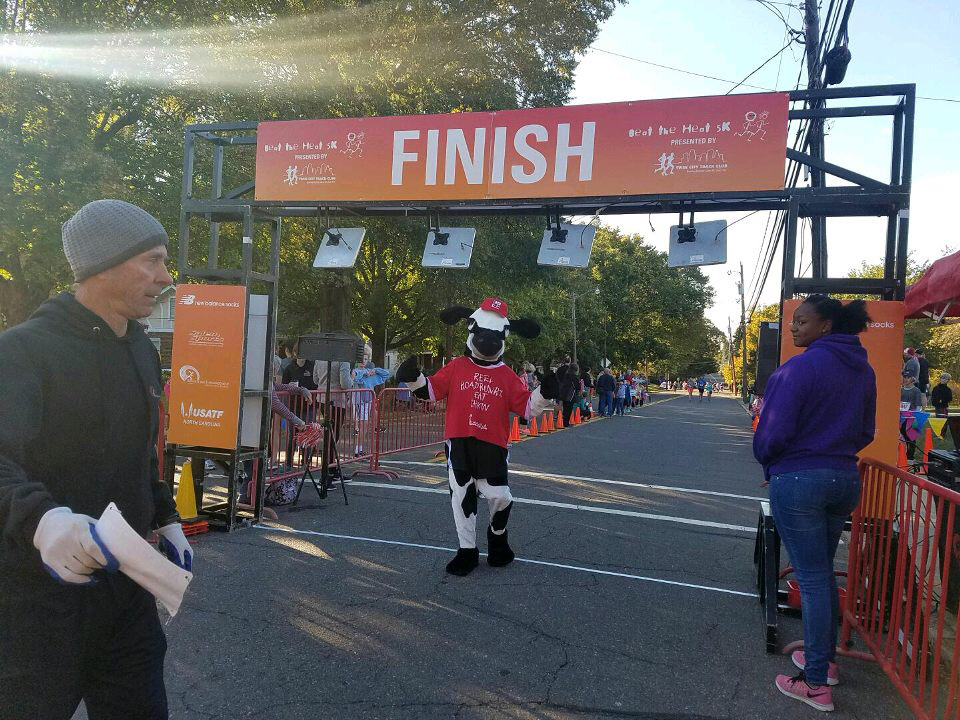 Still Competing

Between all this Cow-building and half-marathon running, Costen has managed to keep doing triathlons. In fact, he incorporates Chick-fil-A into those events, as well.

"I wear a Chick-fil-A running kit: shirt, shoes, and socks," he says. "I'm Chick-fil-A'ed out. People see the logo and they cheer for me. It's super encouraging."

That encouragement carried him through his three Ironman races in 2016, including the Ironman World Championship in Hawaii. It's an incredible achievement, and one he doesn't take lightly: "It's such a cool experience to push yourself to the outer limits of what you think is possible."
He credits Chick-fil-A with being a driving force for his success in last year's races.

"There's some spillover from the restaurant: I'm on my feet every day," he says. "When I'm not in the restaurant, I'm training. So, I get in these races and it's just an extension of my everyday life. That has a lot to do with the racing accomplishments. Well, that and the Egg White Grill. I eat our food all the time and there are a lot of great nutrition options to fuel my body during training."

And it's definitely working. This was his second time in the World Championship, and he finished an hour and forty minutes faster than his previous one.

His lightning fast finishes have pushed him to elite status: In his age group, Costen is ranked 4th in the United States and 9th in the world.

It's hard for him to believe.

"How is that even possible? I'm just a dude running in a cow suit."

Costen plans to take a break from the triathlons this year, but is still going to do plenty of races as the High-Performance Cow. In fact, he looks at it as an opportunity to encourage people to get active.

"The cow inspires people to run," he says. "I want to model a healthy lifestyle for my family and the community."