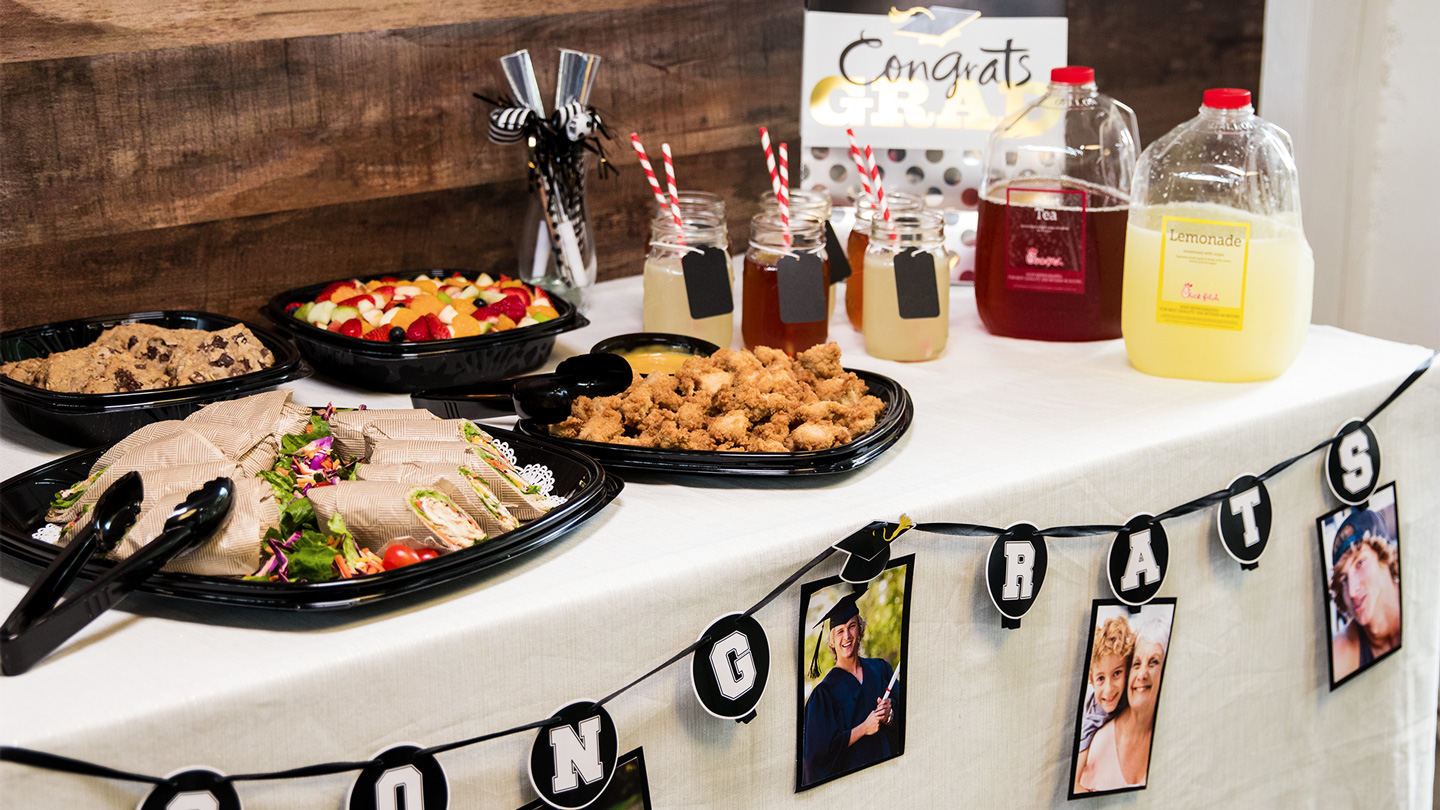 How to throw a great graduation party
After years of homework, reports, tests, projects, and more homework, the big payoff is here: graduation. It's a proud moment for every parent. Whether you're throwing a backyard barbecue or a sparkling reception, give your senior a special shindig that celebrates those hard-earned diplomas.

Of course, Chick-fil-A catering can take care of the food with trays of nuggets, Grilled Chicken Cool Wraps®, fruit, salad and delicious cookies. (Start your order here!)

Here are a few other ideas to help make your graduate's party meaningful.

Welcome your guests
Line your driveway or walkway with photos of the graduate. Start farthest away from the house with baby pictures and end at the door with the official cap and gown portrait. Guests will be able to watch the graduate grow up before they even get to the guest book. You can also string the photos together to create a garland to hang over a fireplace or across a dining room table.

Sign in (creatively!)
Speaking of guest books, here's a fun way to mark down those memories: Have attendees sign Jenga pieces. Another option: Grad Libs! This witty twist on Mad Libs is sure to get some laughs. Use this at a sign-in table and have guests drop their submission into a big bowl. Here's a free printable version.

Hashtag fun
Set up a photo booth area for guests to snap selfies and assign a hashtag for everyone to use and provide snazzy props. (Free hashtag printable here.) Clever superlative props will have everyone deciding who is the class clown or is most likely to succeed.

Gifts that get the job done
If the graduate is heading off to college, a freshman year survival kit could be a real lifesaver. Fill a small storage bin with things like a dry erase board for the dorm room door, mechanical pencils, highlighters, flip flops for the shower and some ear plugs in case he or she winds up with a snoring roommate.

Want to go a little more nostalgic? Try jewelry that points your grad in the right direction. A compass necklace like this one with a "Oh, the places you'll go" note is sure to be touching. These cufflinks are the perfect mix of sentiment and utility, as he sets out to brave the world.

Decorations and goodies galore
Make flatware festive by wrapping forks and knives in white napkins and cinching each set together with a black ribbon in the center. Put them all in a basket and they will look like little diplomas.
Farewell
When the party is over, send fellow graduates on their way with small creative gifts. Fill up light bulb jars like this with candy. (You can really make it "glow" by using yellow gumballs). Finish the jar off with a tag that says "Your future looks bright."