The stories behind inspiring acts of kindness
Chick-fil-A Team Members and guests are continuously proving that a spark of hope can be found in all of us and that even little things can shine through during challenging times. Below are a few of our favorite moments that have made us smile recently.
First-grader stages mini-prom for his beloved nanny

In May, seven-year-old Curtis Rogers turned to his local Chick-fil-A restaurant in Raleigh, N.C. to help him surprise his babysitter, Rachel Chapman, with a "mini prom night" in his backyard. Although he was only a first-grader, Curtis knew that Rachel was sad when her last high school prom was cancelled because of COVID-19. When interviewed by a celebrity talk show host, he said it had been two months since he'd seen his nanny and he wanted to do something special for her.

With help from his Mom, Elissa, Curtis staged a mini-prom, complete with Rachel's favorite Chick-fil-A menu items served on fine china. He found a purple bow-tie to compliment her lavender prom gown, decorated the white tablecloth with her favorite flowers and made sure they danced with appropriate social distancing—measured by a pool noodle. Curtis told a local reporter, "It doesn't matter what happens to you, it matters what happens to the people you love."
Odessa, Texas Team Members surprise coworker with 90th birthday party

On July 27, a very special Chick-fil-A Team Member got the surprise of her life when Odessa Town Center Chick-fil-A Team Members pulled off her secret 90th birthday party. Ann Mefford, known as "Miss Ann," by her fans, was sent home out of caution for safety when COVID-19 surged in the area. Without many living family members, she started going stir- crazy away from her job as a dining room attendant. Miss Ann returned to work soon after the dining room closed, stuffing salad kits where she could wave to take-out customers through the glass.

When restaurant Operator Rusty Dunn and his team learned that Miss Ann had a milestone birthday coming up, they organized a "drive by" celebration. "I was amazed how many of our high school and college kids showed up- it was a big deal," said Dunn. They were joined by dozens of other locals, including firefighters and police, who arrived with signs, cards and gift cards totaling more than $1,500. Southern Living even joined in the celebrations, asking readers to send birthday cards to Miss Ann. Their story sparked even more joy, with more than 150 birthday cards arriving for Ms. Ann from ten different states.
A different sort of birthday surprise in Georgia

Brycen, an elementary student in Evans, GA, visits his local Chick-fil-A restaurant regularly with his Mom, Lakeya Collins. In November, Brycen had a birthday and received an unexpected $150 as a gift. Instead of purchasing something for himself, he told his Mom that he wanted to buy meals for people experiencing homelessness. So, Lakeya and Brycen bought 20 Chicken Sandwiches and 20 orders of Mac & Cheese to give away. What happened next blew Mom and son away.

"Exactly 20 men and women came forward for the food, but each one gave Brycen money from their pockets," said Ms. Collins. "When I tried to refuse their money, one of the women told me not to block their blessings." Brycen walked away with $80 in birthday money that he never anticipated and a lifetime lesson about gratitude.
Random act of kindness in Jacksonville leads to more sparks of joy

A spontaneous gesture from Rick Alverez, a Team Member at Chick-fil-A River City Marketplace in Florida, also wound up multiplying joy. One day, Rick noticed a woman in the drive-thru line who appeared to be young and fighting cancer. He learned that her name was Lauren and she was undergoing treatment at a nearby hospital, so he offered her a complimentary milkshake. Lauren left the restaurant and began texting her friends and family about the happy surprise.

News of her serendipity reached her brother-in-law, Lukas Fortunato, who works in the Chick-fil-A Support Center (the company's corporate headquarters) in Atlanta. Lukas immediately called the restaurant to praise Alverez for his kindness and said that Lauren's last chemo treatment would happen the following week. When Rick and his restaurant Operator learned this news, they decided to surprise Lauren and the doctors and nurses treating her with a celebratory lunch. "It shows a lot about the Chick-fil-A community and what they stand for," said Lauren. "That was a good cherry on top as I finished out my last round of chemo."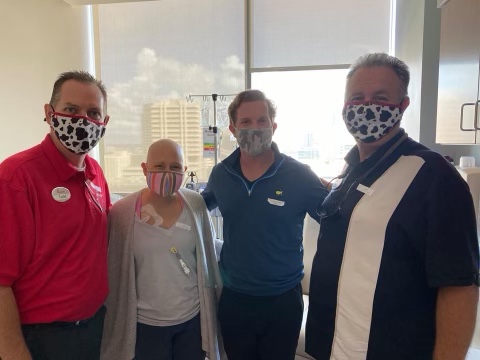 Thoughtful siblings raise money to feed local healthcare workers

Arthur and Ingrid Guo of Alpharetta, GA are still in high school, but they've represented the United States internationally as rising champions of chess. The siblings also operate a non-profit, Eagle Chess, providing chess instruction and competition opportunities for underprivileged young people in their community. (Their goal is to share the joy they've experienced through their sport and use chess as an educational tool to build self-esteem, advance critical thinking skills and help fight social prejudice.)

When COVID-19 hit the Atlanta area, they decided to focus their fundraising experience on sparking joy for beleaguered healthcare workers. In September, they raised enough money to feed 800 frontline caregivers at five different Atlanta-area hospitals. Miriam Troutman, HR and Community Liaison for Chick-fil-A Johns Creek, wrote, "If these two teenagers can make such a big impact on their community, then we all can do something to help!"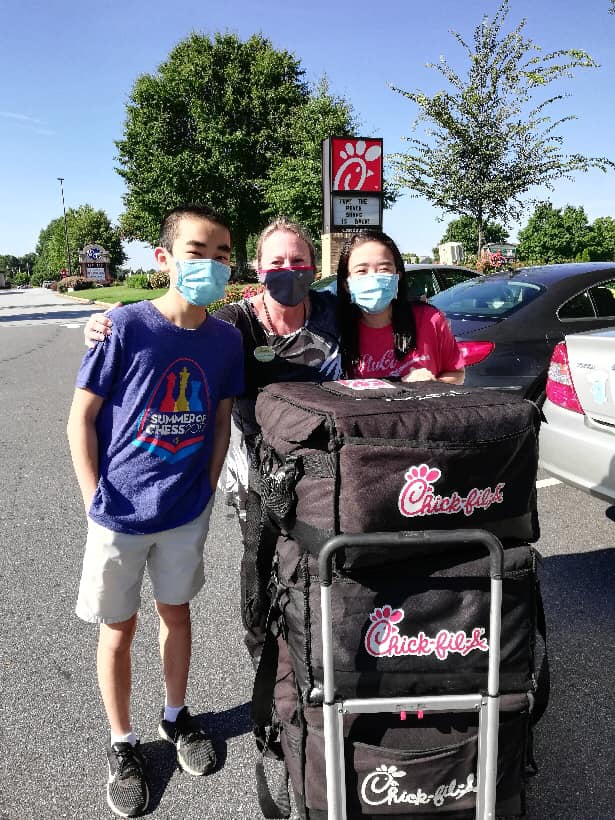 Local sports reporter drafted to work at Chick-fil-A by a former high school athlete

Dave was a high school sports reporter who often interviewed athletes after their games at the Chick-fil-A restaurant in Boynton Beach, FL. He struck up a close bond with Marcus Thermilus, a Team Member who played basketball in the area. When Dave broke his foot and was on crutches for six months, Marcus started hand-delivering Dave's regular order to his car, eager to talk with Dave who had become his mentor. During one of those occasions, Marcus learned that Dave's job was eliminated when the pandemic shut down competitive sports.

Marcus shared the news with the restaurant's Operator, Justin Mize, who described Dave as a raving fan who never met a stranger. Justin talked with Regional Managing Director Jennifer Brown and they decided to offer Dave a job helping the restaurant with catering sales. In October, Dave officially joined the Chick-fil-A restaurant's team—all the result of Marcus and his "second-mile" service, which led to their unlikely friendship.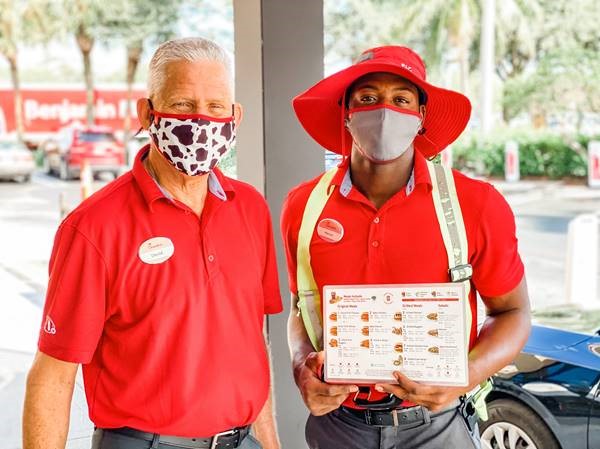 Lighting the way

Restaurants from Azusa, CA to Raleigh, NC are sparking joy through beautiful holiday light displays, brightening the season for guests across the country. Chick-fil-A Atlanta Highway continued its annual tradition of hanging 200,000 lights on and around the restaurant, and Chick-fil-A Kissimmee hosted a festive light show for Guests to enjoy this holiday season. Chick-fil-A East Lake even created "East SnowfLake Lane," a holiday-themed drive-thru.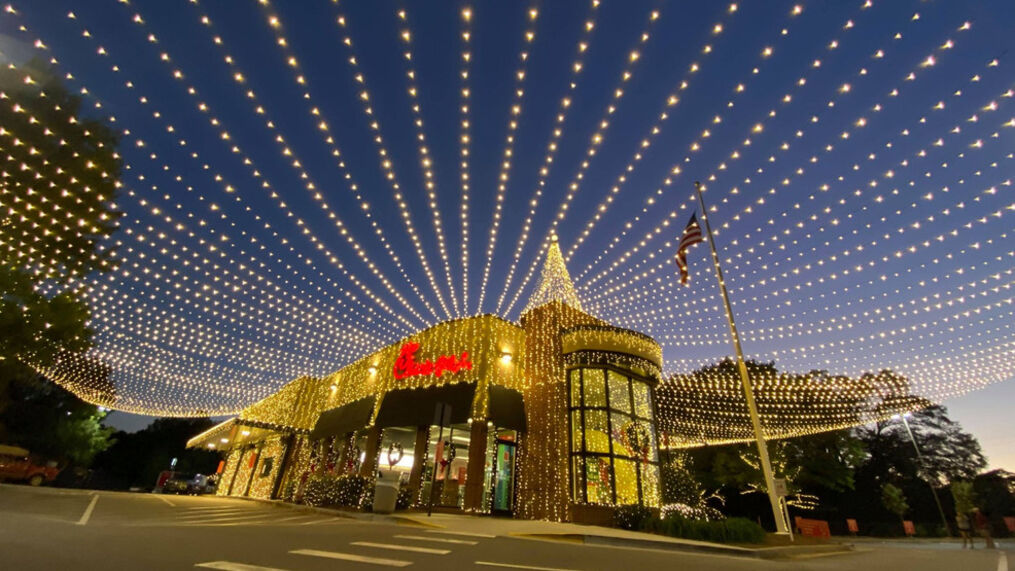 Kindness is contagious

These stories underscore a scientific truth: kindness really is contagious. Providing encouragement to those around us is a gift we can all give- no matter the season. As the world continues to experience unprecedented hardships through this pandemic, we can all spread hope and joy in unexpected ways.