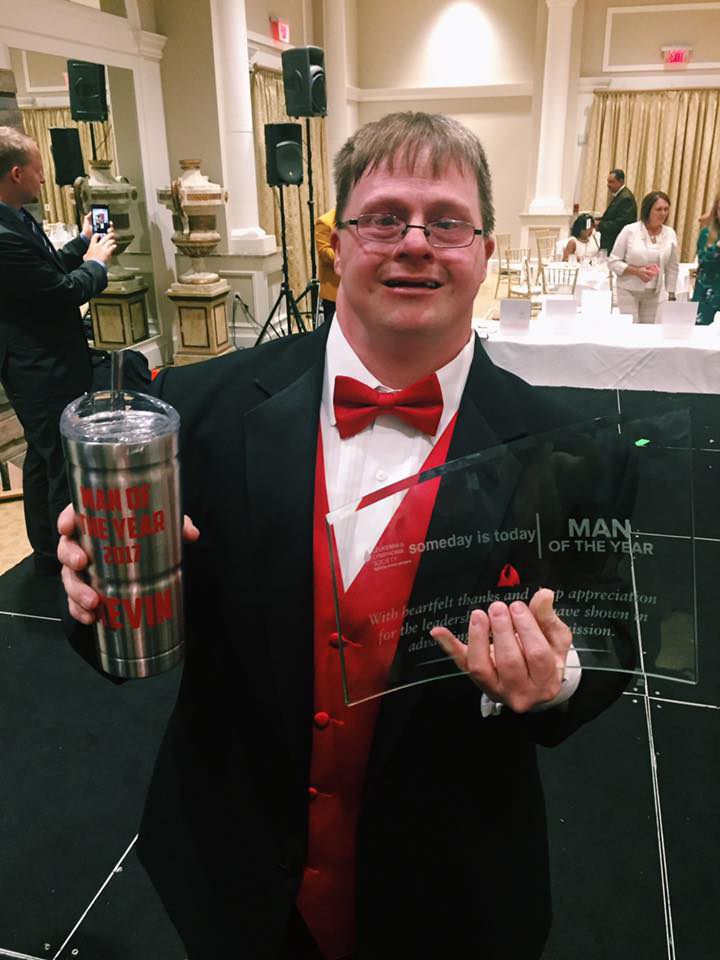 Chick-fil-A team member named "Man of the Year"
On the eve of Kevin Melancon's 45th birthday, he received one of the biggest surprises of his life. He was named Man of the Year by the local Leukemia & Lymphoma Society chapter.

"It was actually the first time I've seen him break down emotionally," said Lonny Melancon, of his son who was born with Down syndrome.

"When my wife and I had Kevin, we were extremely concerned how, and even if, he would be accepted for how he was born," added Lonny Melancon. "He has always tried to do the right thing for people and today he is basically a local celebrity."

A Little Goes a Long Way

Being named Man of the Year was an honor Kevin Melancon never dreamed of and one that started gaining momentum months before. That's when Melancon was given a $5 tip by Mike Placek, a regular customer at the Lafayette, La., Chick-fil-A restaurant where Melancon has worked for 19 years.

It's what Melancon did with the tip would that would start a movement in the local community and on social media.

Instead of keeping the money for himself, he put it in a donation box at the register. When Placek asked why, Melancon replied, "There are other people who need it more than I do."

Placek took to Facebook to share the inspiring story, posting, "What a great man he is...I vote to make him man of the year." The post quickly topped five thousand likes, including one by Paul Durand and another by Jim Doré.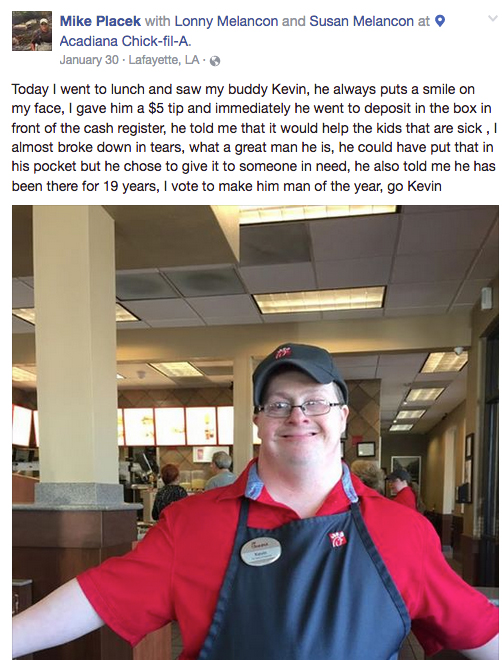 Durand, president of a local bank, and Doré, a local businessman and former Man of the Year himself, were both moved by Melancon's generosity. Durand nominated Melancon for Man of the Year, one of the top honors in the community, and both men pledged fundraising support. In order to be considered for Man of the Year, Melancon would have to raise donations for the Leukemia and Lymphoma Society.
"At first, we felt very intimidated because all the other nominees for Man of the Year were all very connected and known leaders in the community – from business men and women to local politicians," said Lonny Melancon. "But with the community support along with Kevin's competitive nature, we thought we could at least raise a couple of thousand dollars."

Team Kevin
They founded "Team Kevin" and raised $81,563 for the Society – the most of all nominees, earning Melancon the "Man of the Year" title and contributing more than a quarter of the $300,000 total grant money raised by the entire Lafayette Campaign of the Mississippi and Louisiana Chapter. They money will help the Society's mission to cure blood cancers.

At the awards ceremony, Melancon named the grant in honor of his aunt, Mary Romero, who lost her fight to cancer several years ago.

"They were very close," said Lonny Melancon. "When Kevin stepped on stage to accept the honor, I had no idea what he was going to say. I was extremely moved when he dedicated it to my sister."

"This was one of the most inspiring Man of Year events we've had," Edie Riedel, campaign manager for the Man and Women of the Year Lafayette campaign. "We were overwhelmed by the amount of community support that Kevin received and I am pretty sure all 400 attendees at the award event were rooting for Kevin – even the other nominees. Kevin is a true inspiration."