Wheeler Mission Ministries applies $225,000 gift to open indoor play space
When Rick Alvis visited the Chick-fil-A® restaurant in Greenwood, Indiana, in 2020, he was simply looking for a safe and fun outing with his young grandson. But as he watched the youngster play on the indoor slide, a more ambitious thought crawled into his head.

"I started thinking about how cool it would be to have a similar play space at our Center for Women and Children," remembers Alvis, who is President and CEO for Wheeler Mission Ministries in Indianapolis. "Indiana weather can be unpleasant, which reduces options for children to burn off energy and exercise — especially if they don't have a permanent home."

He asked Restaurant Operator Rick Johnson if this was something Chick-fil-A might support.

"I loved the idea, but wasn't sure how to approach it," Johnson said. A few days later, he read an email about the Chick-fil-A True Inspiration Awards grants program's new focus on education, homelessness and hunger. "That was a lightbulb moment for me — Wheeler Mission Ministries fit hand and glove with Chick-fil-A's priorities."

From promotion to a promising future

Once he submitted the nomination, he encouraged the leadership teams at his restaurants to promote it on social media, which led to interest from other Indiana Operators familiar with the nonprofit. Rick Alvis engaged the Wheeler Mission family to raise awareness about voting for the True Inspiration Awards, too.

At the same time, Rick Johnson wanted to manage expectations. "I was thinking we might get lucky, and they would win a $75,000 grant at the most, but I never imagined they would be awarded such a large amount," he says. "When the check arrived, it was like trying to keep the best Christmas present a secret for six weeks — almost unbearable to contain our joy."
The $225,000 grant funded more than just a new indoor playground. Wheeler Mission Ministries overhauled its entire recreation room: installing new flooring, adding a fresh coat of paint, buying adjustable basketball rims to accommodate different age groups and building a divider between the basketball court and the playscape.
A game changer for Wheeler Mission Ministries families

Bethany LaRocco, Wheeler's director of family programming, says the new play space gives children much more than just a place to play.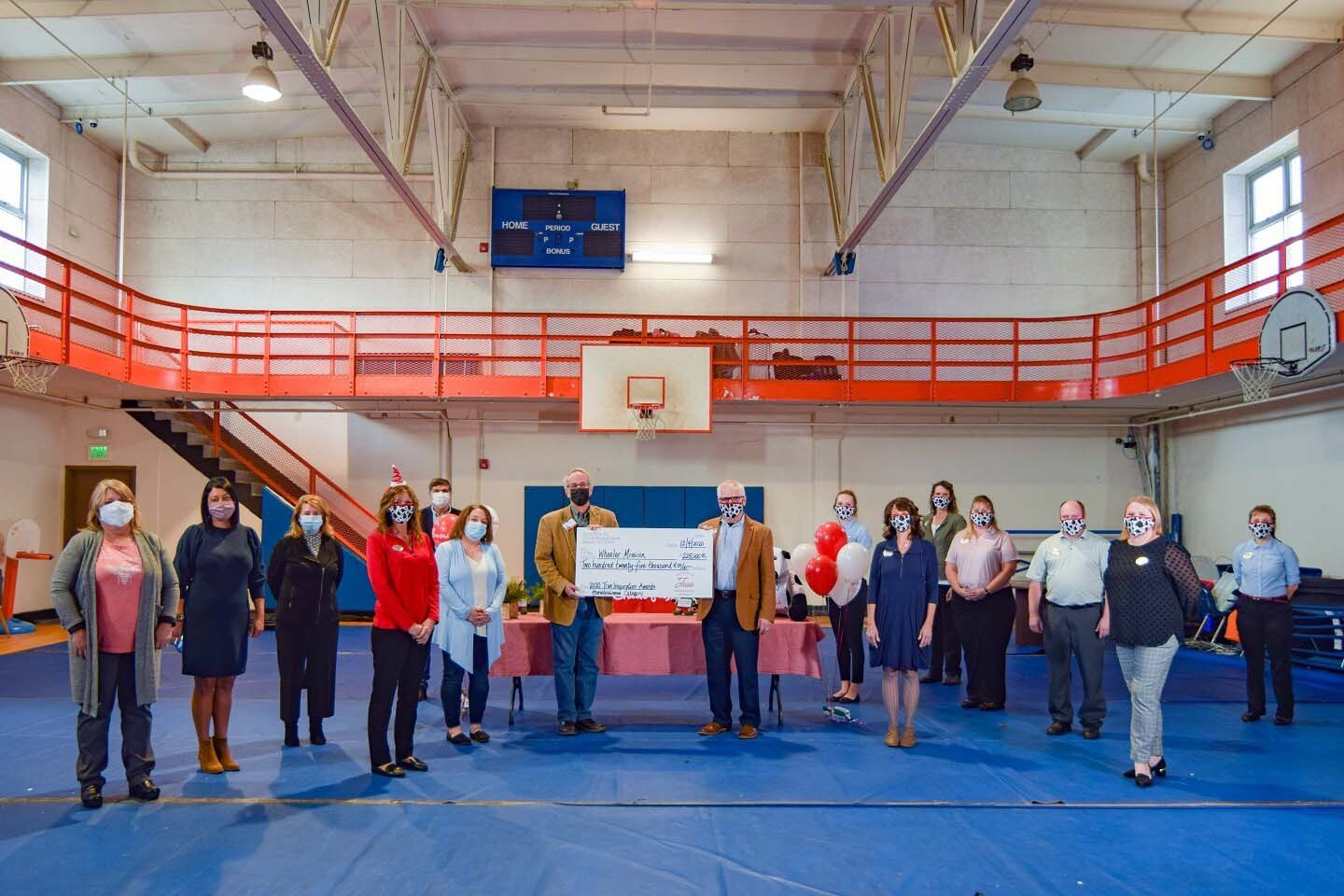 There are age-appropriate stations for infants through pre-K students. Two walls flanking the main area offer sensory integration exploration for children to learn about different patterns and textures. Best of all, the play space provides a non-threatening, non-institutional setting where parents can visit their children to feel a sense of normalcy.

"This is just an incredible gift," says LaRocco. "Our original playground was outdoors and on a busy street corner that was worrisome. Our new facility is not only weatherproof, but it's also more private and safer for our families." She describes the playground as a kind of memory-maker, too.

"We have a 10-year-old who has had a transient life due to homelessness," she says. "We're helping him plan his very first birthday party at our new indoor play space. The joy surrounding this is really palpable — for the first time in his life, he feels seen and loved."

Wheeler Mission Ministries was founded in 1893 to help those experiencing homelessness, hunger and addiction. It's the oldest continuously operating ministry of its kind in Indiana and has grown to include nine locations staffed by more than 180 employees, serving a vital need in the state. At its peak during the winter months, Wheeler typically serves 900 individuals per day. During the height of the COVID-19 pandemic, that number swelled to 1,200.

"When the pandemic was at its worst, I sent our deputy mayor a picture from our men's shelter," says Alvis. "Men were sitting shoulder to shoulder when they were supposed to be social distancing." That realization led the city to lease hotels that Wheeler now operates for the overflow population, quadrupling its reach.
Johnson says it was easy to generate support for the Wheeler Mission Ministries nomination because of its outstanding reputation in the state.

"Their work is not just about shelter and feeding the hungry," he says. "They are taking broken lives and bringing them to wholeness through counseling, job training and life-affirming care."

To learn more about our other grant winners and the impact they have on their communities, visit our True Inspiration Awards™ page.