That collective sigh of relief you hear from children this time of year signals the beginning of summer adventures. For the rest of us, the season can mean a chance to slow down and enjoy family and friends.
And all of it can be as close as our own back yards.
Transforming your outdoor space into a fun and inviting oasis for summer-long entertaining for the young and old(er) doesn't have to carry a hefty price tag or take loads of planning and sweat, says Alison O'Rourke, who leads Chick-fil-A's Interior Design Studio.
"It can be an unexpected treat," says Alison, who leads a team of designers responsible for restaurants nationwide. "It's a more relaxed time. You don't have to worry so much about kids getting up for school the next day, and you can have impromptu time with friends over dinner. We've been inside all winter, and it's time to get outside and enjoy the outdoors."
O'Rourke and her design colleague (and good friend since college) Allison Maucere recently held their own backyard summer kick-off party with family and friends. It was one fluid evening of dinner and fun that included multiple entertaining zones for adults, kids and the entire group.
"The Allisons", as they are affectionately called at Chick-fil-A, say the first step is to invest in a few key items and collect others you probably already have at home. Next, it's time to throw that first summer gathering, which creates an easy, go-to plan for the rest of the summer. So when you run into those friends at the pool you've been meaning to ask over for dinner, or your children want more bonding time with their buddies, impromptu invitations can be worry-free.
Here area few of the duo's elegant, yet simple and inexpensive, ideas to get you started:
1. It's All About the Atmosphere:
Use string lights, candles and lanterns to transform the space from dusk to dark. This creates a feeling of warmth and intimacy – and it's beautiful.
"It can create the effect of a ceiling outside if you are able to hang them above the dining table in the adult area," O'Rourke says. "Lighting is a key element. It can create a room outside, with a warm atmosphere and soft glow."
Create different zones. You can have an adult table, an area for serving, a kids dining area, a game zone, a cozy fire pit and dessert area. Let your imagination guide you.
Try tossing some blankets over inexpensive hay or straw bales for sitting around a fire pit or S'mores-making area. And when you are done with summer, you can use the hay in the landscaping – or for back-to-school Halloween decorating.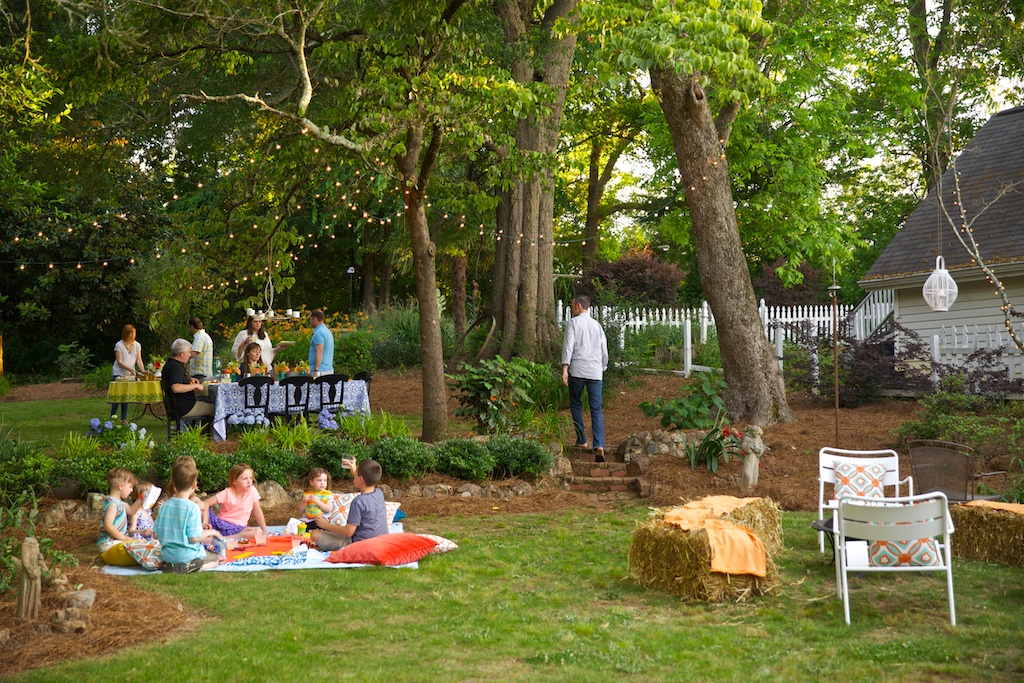 2. Setting the Table: Play with Scale, Color and Texture
"It doesn't have to be expensive, but if you pay attention to the details, it can add exponentially to the experience," Maucere says. "It doesn't all have to match."
Bring the inside out! Make your outdoor space as comfortable as the interior of your home. Use your dining chairs, candles, serving pieces, even silverware.
Invest in reusable items that can be tossed in the dishwasher. Acrylic cups and melamine plates are perfect for outdoors because they are not breakable.
Use colorful linens – a table cloth, a runner and cloth napkins – with lots of patterns. You can also pick up some colorful remnants at a fabric store, in different sizes to layer onto the table.
Napkins in colorful patterns, whether cloth or paper, are a nice touch.
Think about how to add color and texture to the table with fresh flowers and colorful vases. Mason jars or re-purposing drinking glasses are a good choice. Use flowers from your yard and add in with a few specialty ones from the florist.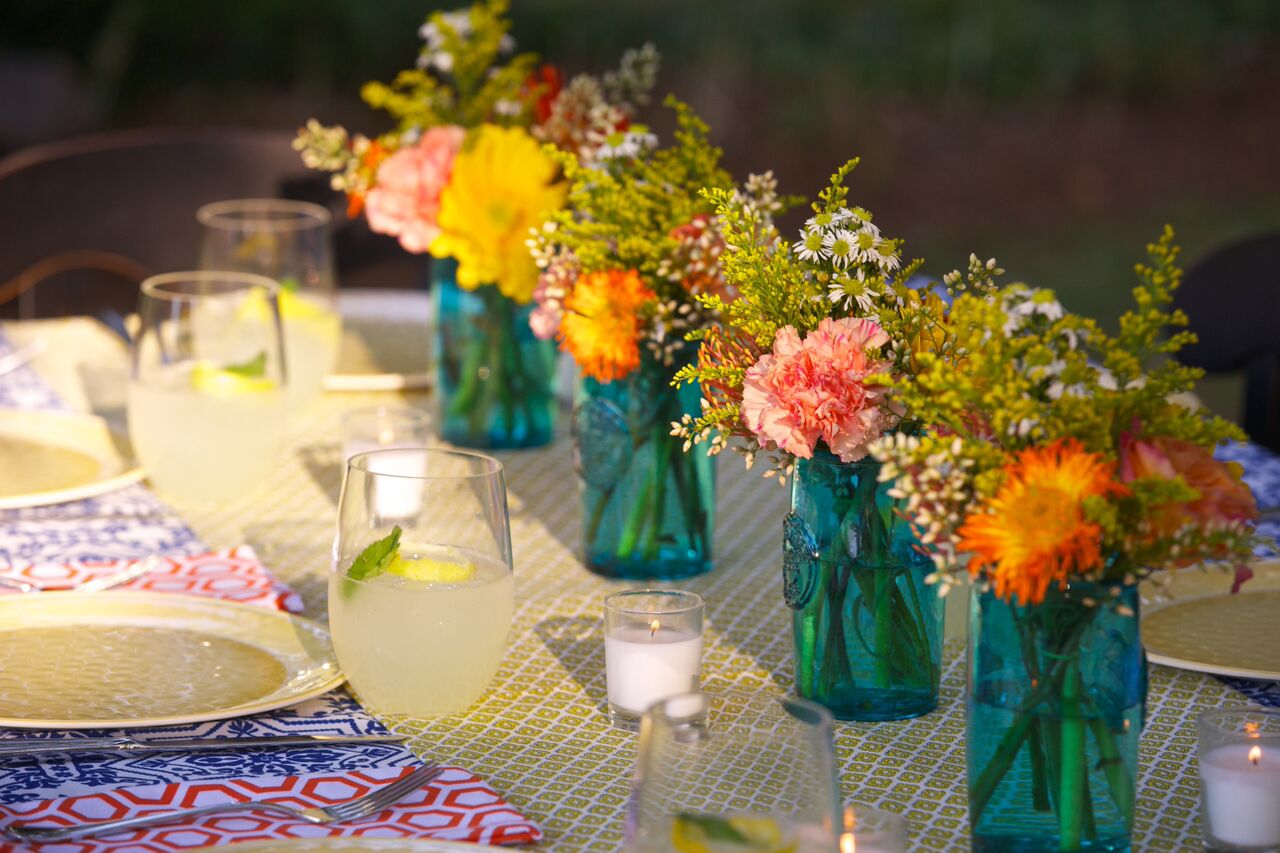 Create a fun area for the kids using colorful quits and pillows. They can roll around and transform the area throughout the night, from pillow fights to creating tents.
3. Kids Will be Kids (Even When They are Adults)
Use spray paint to create a Twister game area, and see how quickly the adults join in. It's easy to create the circle template, or any other fun shapes using some poster board or large construction paper. Older kids can run with this idea.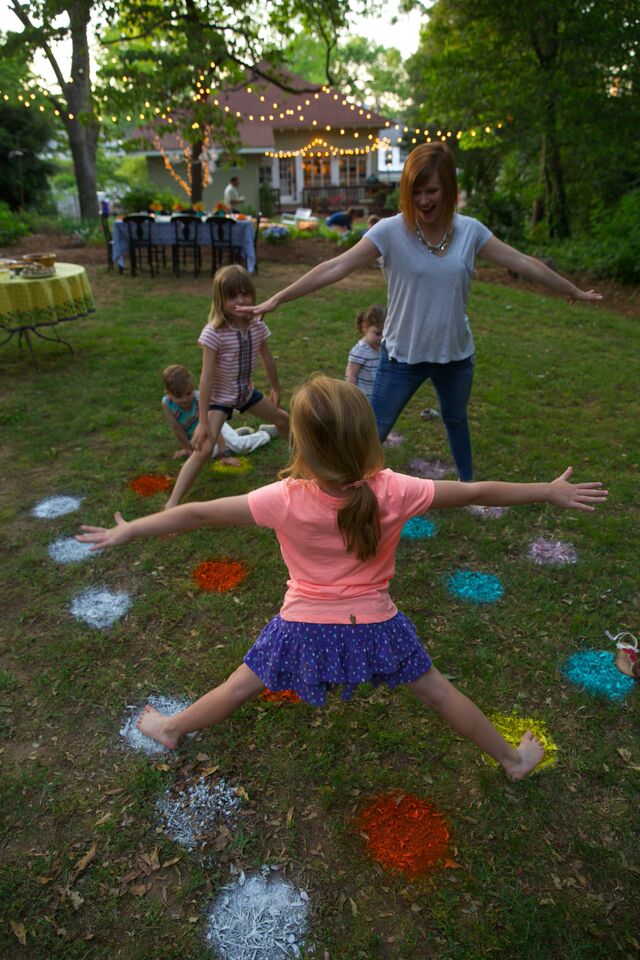 Break out the glow sticks when it gets dark (a great dollar-store purchase) and let the kids use their imagination on how they want to play with them. Some ideas: inside blown-up latex balloons; inside recycled plastic bottles filled with water; or just connected together in a million ways.
Set aside some spaces for the kids to use the quilts to set up tents and tell stories.
Have sparklers to use around the fire pit.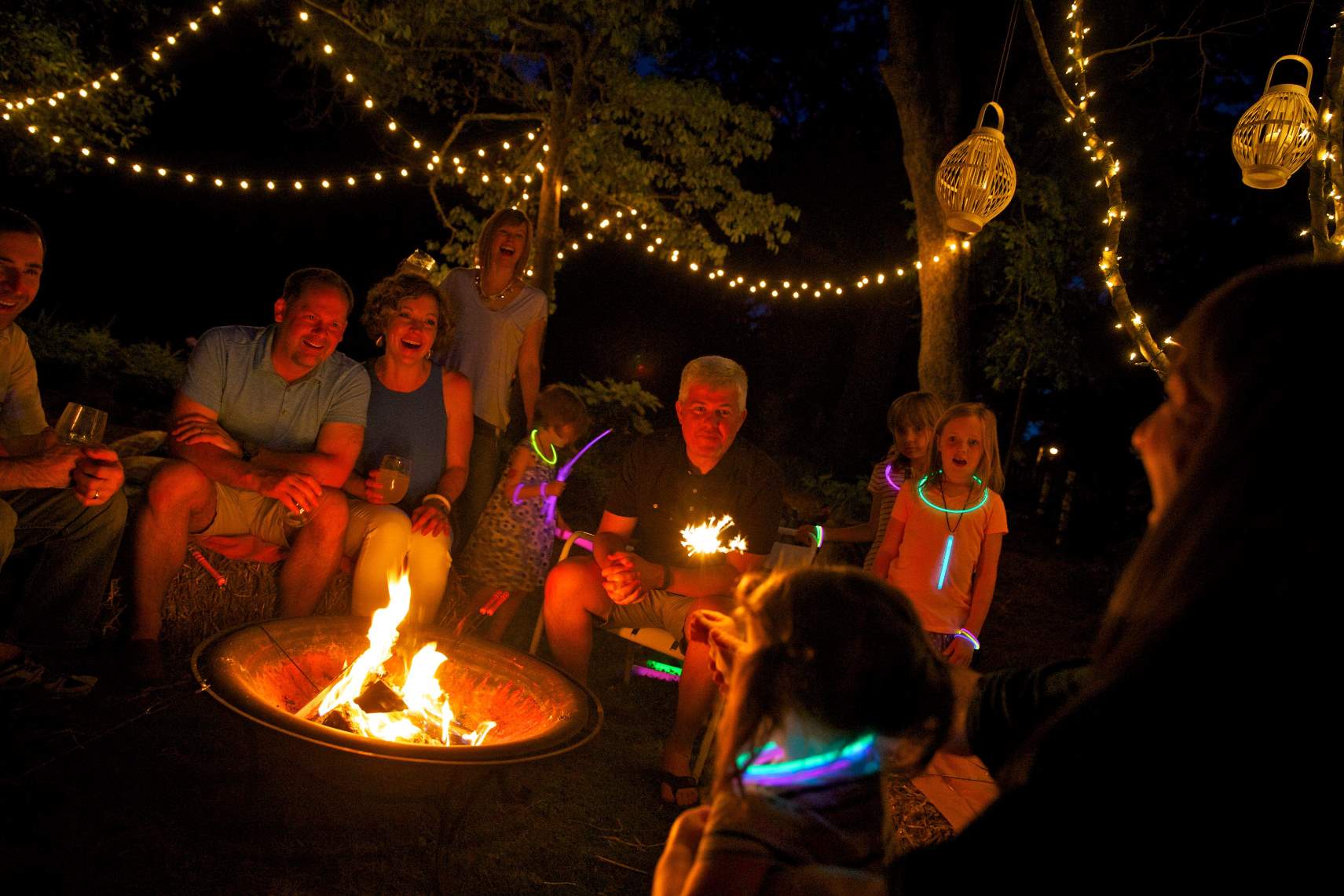 4. Food for Body and Soul: Simplicity Wins
"This is all about simplicity," O'Rourke says, "keeping it all light and simple with no pressure to go over the top. You can be both elegant and practical and quickly pull together an experience you can enjoy along with your family and friends without feeling you have a list of a million things you still need to do."
Allow time with your friends and family – keep the food simple. Order the food and serve it on your own beautiful platters and bowls to dress it up.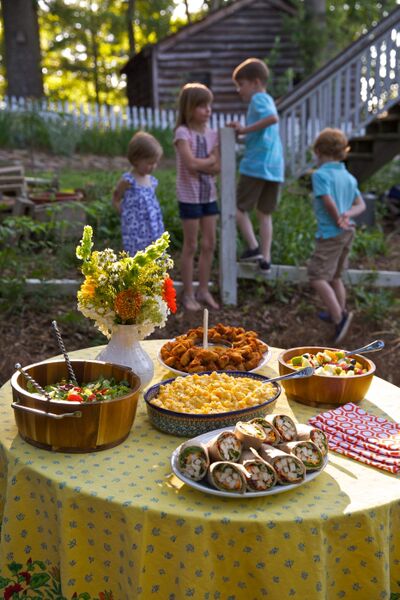 Use lemon slices and mint to garnish your tea, water and lemonade. Serve these in clear or colorful containers to create interest.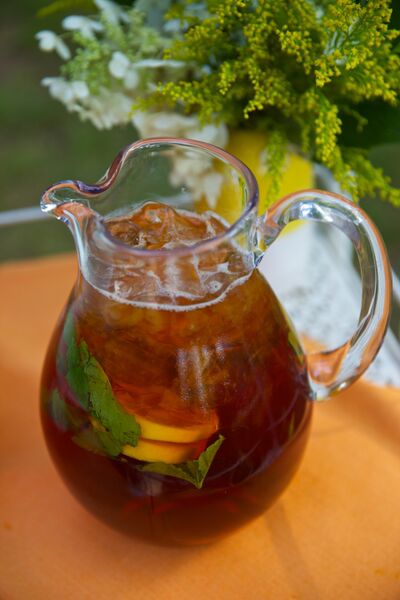 Create a couple of unique twists with the food you order. You can make a yummy dessert sandwich with Chick-fil-A cookies and roasted marshmallows. The kids can even help make popsicles with Chick-fil-A lemonade.
S'mores! A hit with everyone – create a platter with a variety of white and dark chocolate to make it more interesting.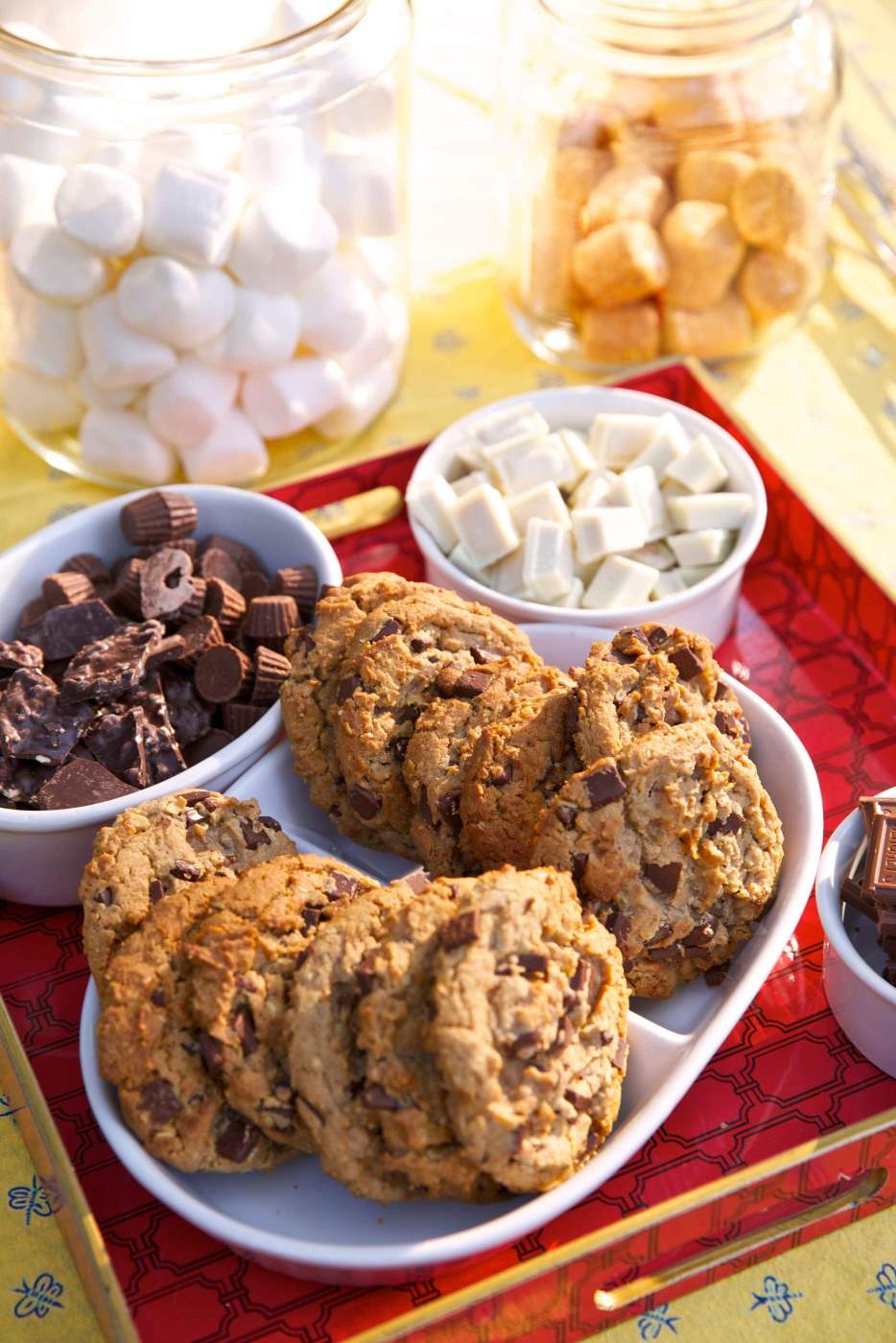 If you can find a beverage cart, it's a handy place to display drinks and the dessert, and you can move it to wherever the fun happens to be taking place.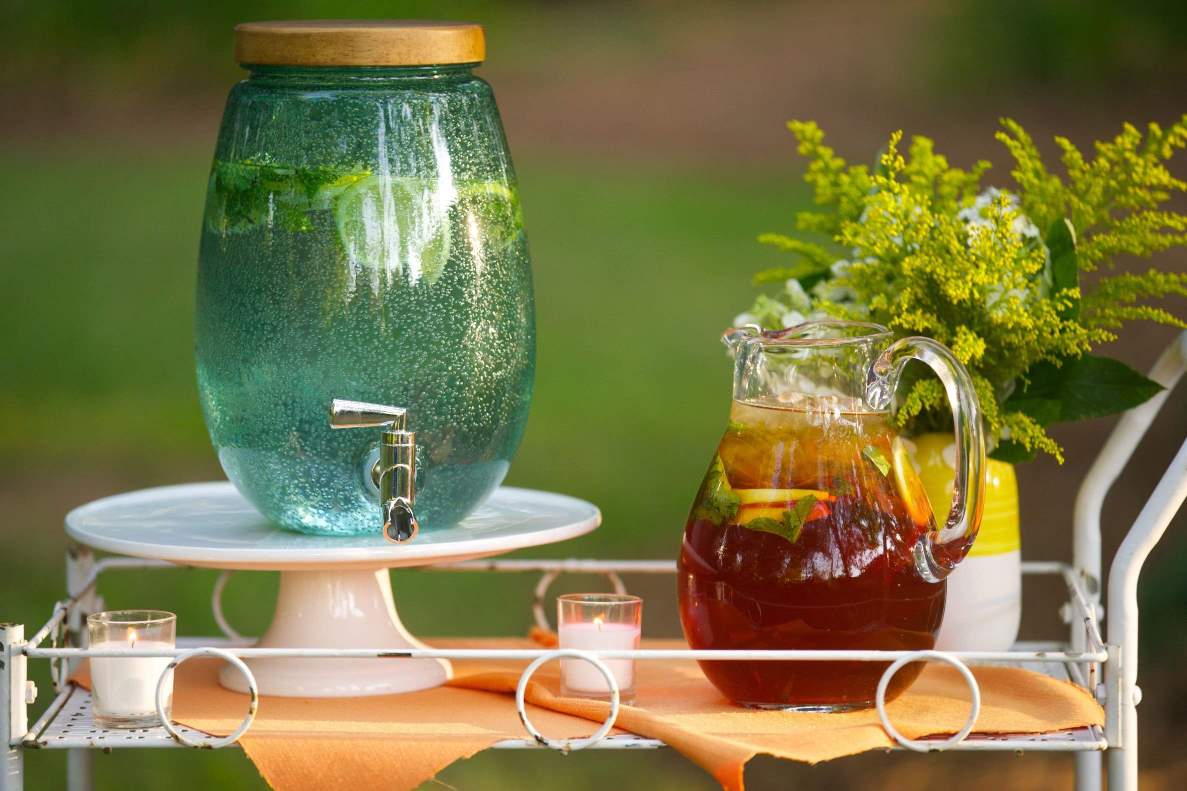 5. Relax, Make Connections and Have Fun!
"The yard is a great place to entertain," Maucere says. "It can accommodate a large group and gives the kids space to run around. You don't feel pressure about things being broken or stained, and there is less cleanup at the end of the night. It's the perfect place to bring everyone together in a simple way this summer."