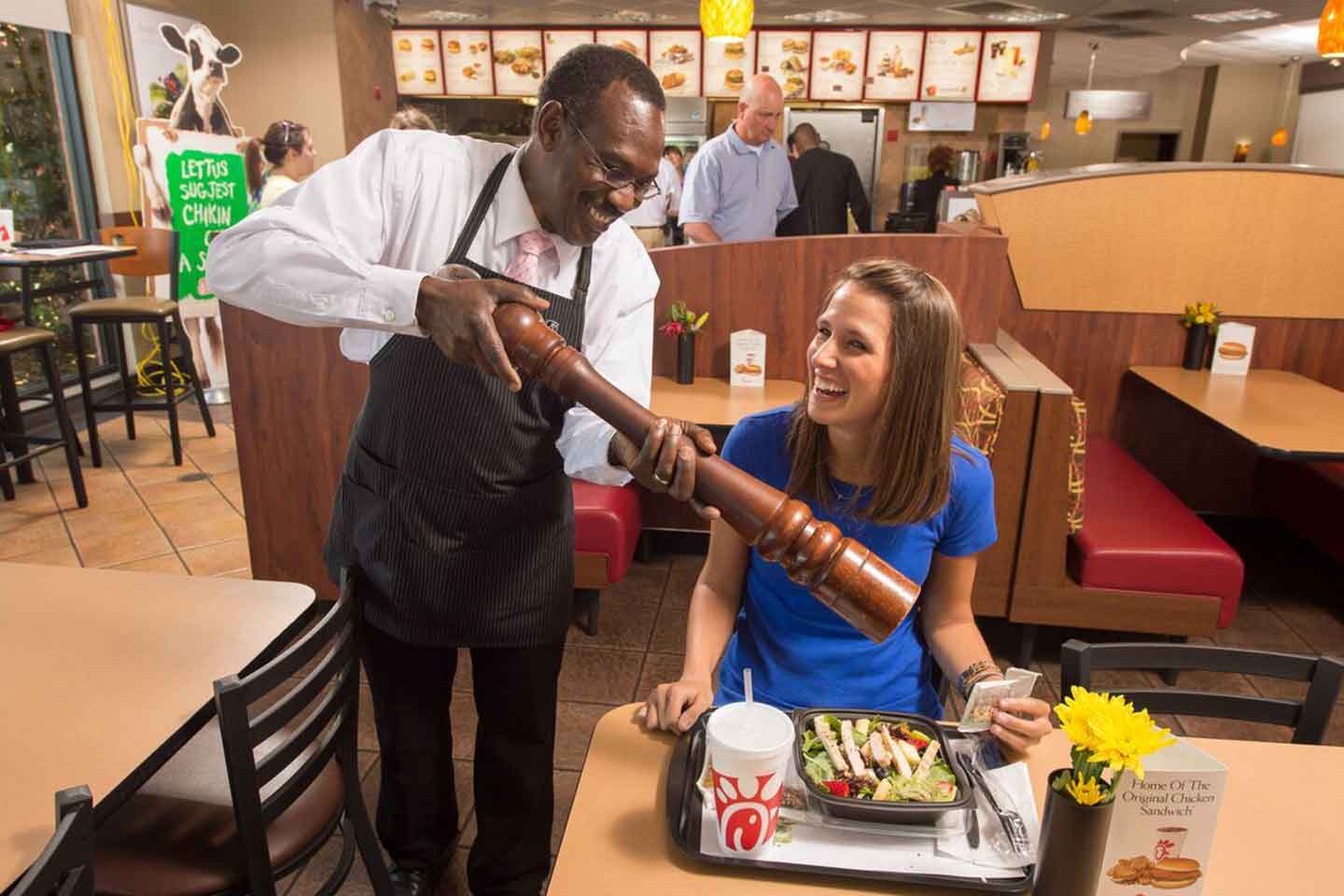 Unique ways Chick-fil-A Team Members go above and beyond
From a friendly, "my pleasure," to remembering a customer's name to an occasional extra packet of your favorite sauce, Chick-fil-A restaurant Team Members often find small ways to make sure guests have the best experience possible.
Milkshakes and Handling Snakes
But sometimes, restaurant Team Members go really out of their way.
Like in Ardmore, Oklahoma, when a restaurant manager helped local officers remove an unwanted guest from a customer's car – a 5-foot long "Black Rat Snake" that slid under the hood.
Team Member Tracy Curington used a squeegee stick to, as he puts it, "encourage the snake to leave," and called in local officials for backup.

"I don't care for snakes, but I'm not deathly afraid of them," Curington said. "In that moment, I was thinking about our guests. I just responded as anyone would have."Thankfully, the snake issue isn't very common and more often than not, what actually plagues restaurant guests are items they've forgotten.

Going the Distance
"Part of the order wasn't in the guest's bag," said Jared Wilson, a Team Member at the Westchester Commons Chick-fil-A in Midlothian, Virginia, who was caught on camera running as fast as he could to catch up with guest as he drove off!
The 23-second video went viral almost as fast as Wilson was sprinting. As of July 2018, the video has over 3.8 million views.
"I figured there was only one thing I could do – and I think it was the right thing to do!"
Wilson said the guest drove about a tenth of a mile away before he could catch up.
"I hadn't run that fast in a long, long time. I was pretty winded," he said with a laugh.
Team Members Turned Pit Crew
Joey Hall, Colton Rucker and Hunter Greenlee, three Team Members from the in Tyler, Texas, braved the near 100-degree temperature to help a guest whose car battery had died.

The three pushed the car into an open spot in the parking lot, and then later helped get the battery going after the guest finished her meal.
Hannah Johnson was at the Chick-fil-A, snagged the picture of the Team Members and posted it on Facebook.
"I saw how friendly they were to the driver," Johnson said. "They weren't annoyed at all and acted like it was just part of their job."
From snakes to forgotten orders and protecting customers from dive-bombing birds, to serving as an impromptu pit crew, when the unexpected happens, have no fear! Chick-fil-A Team Members are here!