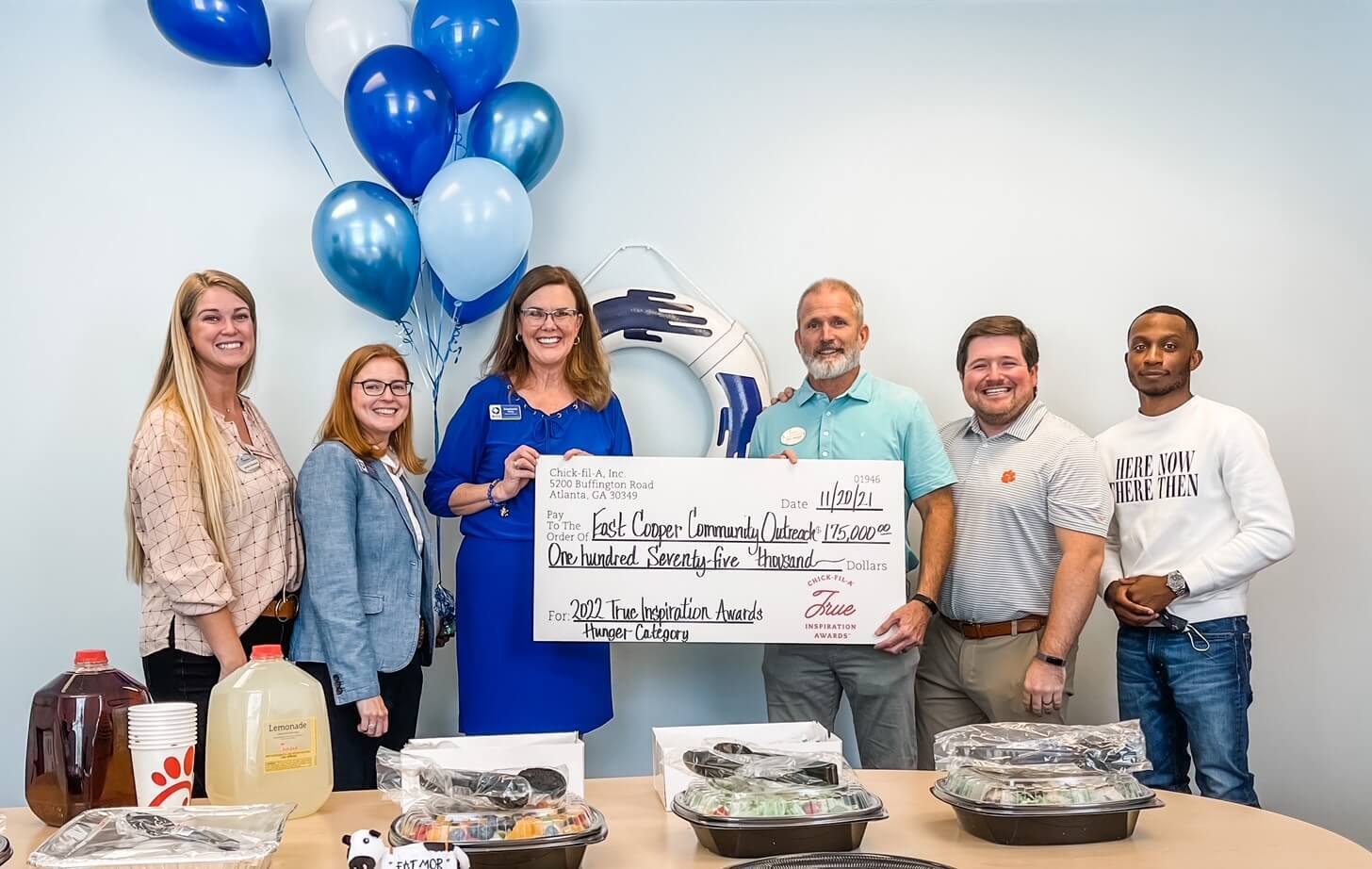 Learn how this Charleston, S.C.-area nonprofit has turned into a permanent community resource with a food pantry, financial and prescription assistance, medical services and more.
This year, 34 nonprofits are starting the year off strong thanks to the Chick-fil-A True Inspiration Awards® grant program, which recognizes organizations that address education, hunger or homelessness in our local communities. Chick-fil-A awarded a total of $5 million to recipients spanning 19 states and 33 cities, with grants ranging from $50,000 to $350,000 to help these nonprofits further their impact in 2022 and beyond.

East Cooper Community Outreach (ECCO) is one of our winners from the Southeast region.

Meeting people where they are
Founded in 1989 to provide emergency relief following Hurricane Hugo, East Cooper Community Outreach (ECCO) has since grown into a permanent community resource. Thousands of individuals each year receive help through ECCO's Wellness Food Pantry, Financial & Prescription Assistance Programs, Dental & Medical Clinics, Clothing Closet, Asset Development Program, and more. Enhanced through personal interactions with staff who provide individualized support and coaching, ECCO meets clients where they are and helps navigate challenges with care and compassion.

ECCO is also a place where people who want to help their neighbors can find meaningful ways to share their time and talents. Grant funding through the True Inspiration Awards program will be used to support ECCO's Client Choice Wellness Food Pantry and Client Navigation team, which provides daily assistance and resources to help local families.

"These funds will help provide critical support for the essential services ECCO provides to over 2,500 local families," says Stephanie M. Kelley, Executive Director, ECCO. "From food and household cleaning supplies available in ECCO's Wellness Food Pantry, to the encouragement, advice, and coaching provided by our Client Navigation team, ECCO aims to fulfill our mission with excellence. We believe our greatest impact comes from providing help and hope to our neighbors facing financial hardships and working compassionately alongside our neighbors to improve the community in which we live."

Want to learn more?

If you're interested in learning more about this incredible organization and how you can get involved, visit ECCO's website.

To meet all of our 2022 grant recipients, visit our winners page.