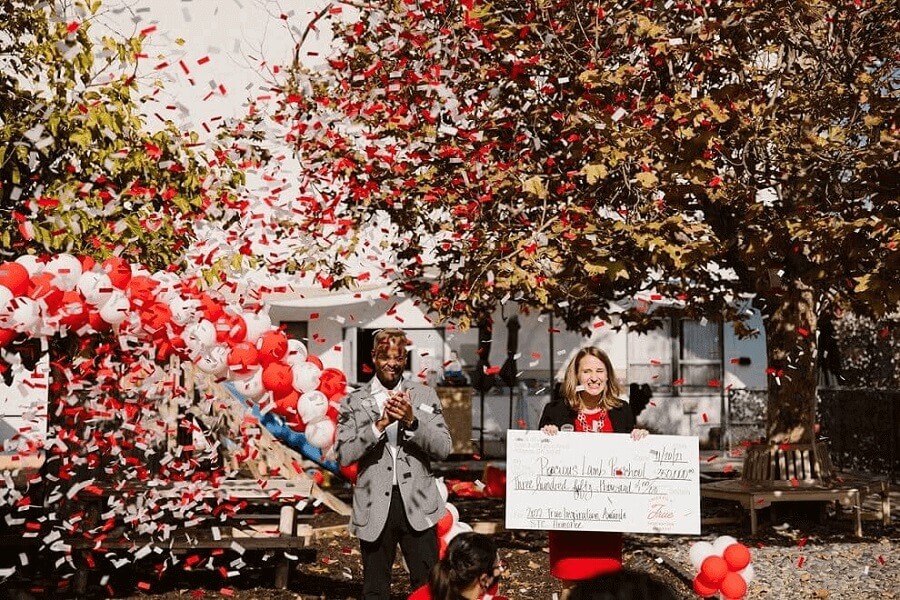 Get to know the incredible recipient organizations that are providing life-changing support for children and communities across the country
This year, 34 nonprofits are starting the year off strong thanks to the Chick-fil-A True Inspiration Awards™ grant program, which recognizes organizations that address education, hunger or homelessness in local communities. Chick-fil-A awarded a total of $5 million to recipients spanning 19 states and 33 cities, with grants ranging from $50,000 to $350,000 to help these nonprofits further their impact in 2022 and beyond.
Here's a look at a few of this year's winners:
S. Truett Cathy Honoree Precious Lamb Preschool (Long Beach, Calif.) helps break the cycle of homelessness, one child at a time. The preschool offers free early education and care to more than 500 children living in local shelters and rehabilitation centers. Nominating Operator John Howard of Chick-fil-A Long Beach said, "The work this organization does on a daily basis reflects the mission and purpose behind the True Inspiration Awards. This grant will help further their efforts to provide access to support through a nurturing, whole-family approach that enables young children to thrive. They are so deserving."
The Maui Farm (Makawao, Hawaii) is a farm-based, family-centered organization that was originally founded in 1985 when community members gathered around a kitchen table to discuss the local foster care system. In 2005, the organization transitioned its programming to address the growing issue of homelessness on the island. Today, more than 15 families facing homelessness, food insecurity, unstable living conditions and countless other challenges call The Maui Farm home.
Legal Outreach (Queens, N.Y.) serves low-income, mostly minority and/or first-generation urban youth from underserved neighborhoods in New York City. The nonprofit's law-based curriculum focuses on providing students with the necessary tools to achieve success at a high academic level and gain the confidence and social skills to pursue their professional goals.
The Little Bit Foundation (Brentwood, Mo.) story began with a coat and a chance encounter. When Co-founder Rosemary Hanley arrived at a St. Louis city elementary school to provide winter coats for students, she saw kids arriving with very few jackets. Hanley returned home that day determined to support…if even just a little bit. Over the last two decades, The Little Bit Foundation has evolved and expanded to do far more than provide coats and other essentials for under-resourced students in the St. Louis area.
Behind Every Door (Dallas, TX) operates a network of community centers and builds relationships to create spaces for transformation in underserved neighborhoods, with programming for all ages: from after-school care for children to bingo events for seniors. "Through well-thought-out programs designed to educate children, expose them to new experiences, disciple families and teach social emotional skills, we know that individuals can begin to thrive and experience a new mindset regardless of the circumstances," said Darrion Lewis, President, Behind Every Door.
East Cooper Community Outreach (Mount Pleasant, S.C.) was founded in 1989 to provide emergency relief following Hurricane Hugo. Since then, the organization has grown into a permanent community resource serving thousands of individuals each year. "These funds will help provide critical support for the essential services ECCO provides to over 2,500 local families," says Stephanie M. Kelley, Executive Director, ECCO.
River City Community Development Corporation (Elizabeth City, N.C.) was founded in 1990 with the belief that all people should be given the opportunity to reach their full potential. From providing affordable housing, to supporting job creation and training, to offering business development, health and wellness, cultural awareness, and youth empowerment, the organization is focused on creating bright futures in Elizabeth City and Northeastern North Carolina.
Continuing a legacy

The True Inspiration Awards program was created in 2015 to carry on Chick-fil-A Founder S. Truett Cathy's legacy of generosity and community service. Since then, 204 grants have been distributed to organizations located across 36 states, Washington, D.C., and Canada, impacting more than 2.4 million individuals.

Visit the True Inspiration Awards pages to read about these incredible organizations, see the full list of 2022 winners, and to learn more about this program.