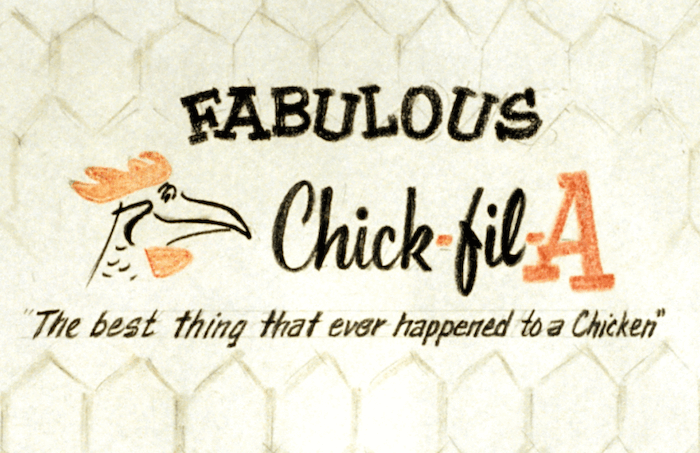 Learn the story behind our name.
Ever wonder what the "A" in Chick-fil-A® means? It's representative of our top-quality chicken, and it informs all the little things we do, from using fresh ingredients to serving Guests with a smile.
When we first opened our doors in 1967, our founder Truett Cathy wanted the company's name to reflect the top quality customers should expect each time they visited a restaurant. That's why he chose Chick-fil-A: "Chick" to represent our signature menu item, and "fil-A" as a play on the word "filet," with a small twist. He replaced "et" with "A" to represent the "Grade-A" quality of our chicken.

And while some aspects of our restaurants have changed over the years, that commitment to "Grade-A" top quality has never wavered. From the big things, like rigorous safety standards, to all the little things, like the "my pleasures," we want customers to know – no matter which restaurant they visit – they will receive the high-quality food, service and hospitality that they've come to expect from Chick-fil-A.
So today, the meaning of the "A" has evolved from the quality of our Original Chicken Sandwich and encompasses "All" the little things we do, starting with fresh, quality ingredients. Produce is delivered fresh to our restaurant kitchens up to six times a week. Team Members chop and prepare our salads fresh daily, and our signature biscuits are baked fresh throughout the morning. We're continually adding wholesome options and using cleaner, responsibly sourced ingredients to create a menu that is increasingly nutritious and sustainable, while never sacrificing delicious taste.
Beyond our food, our top-quality approach extends to the way we care for Team Members and communities, how we treat our Guests, and our cleanliness and safety standards. Operators and Team Members pay special attention to detail when it comes to preparing, packaging and serving every meal, inside and outside of the restaurants. We've spent the past five decades continually refining our restaurant experience to give Guests our best every day.
So that "A" is for "Grade-A" top quality. "Above" and beyond. "A" higher standard. Getting our "A-game" on. To sum it up, "A" is for all the little things we do each day to bring you our best.